Query Returned 18 Items
Forgotten Tribe - Debut: Knuckles #10 (Sonic Archie Group)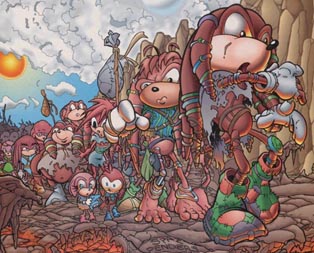 Believe it or not, The Floating Island is NOT the only place to find echidnas...sadly the Floating Island echidnas have forgotten the existence of "The Lost Tribe". Centuries ago before the appearance of the Great White Comet threatened the echidna civilization of Downunda, the people were thrown into an uproar in a debate over how to handle the coming of the comet. While one side argued to use the Chaos Emerald technology to "uplift" a portion if the ground, another side simply ventured that they seek land elsewhere. Led by a radical called Arrakis, they took only the technology that was needed and fled the site only to watch while the Echidnas used the expirimental technology to uplift the newly christened "Floating Island" and barely escaping the Comet which exploded upon impact and shaped out the Great Downunda Crater. The tribe traveled as far as they could seeking out the fabled lost city of Albion, but as each step grew more weary the little technology they had fizzled out and the became the victims of Overlander attacks, hard luck, getting run off of land, and even later on into the years - Robotnik assaults. Similar to Guardianship, The Tribe is led by a "Mitre" with Athair being prophecised as its last one, but in his last days, Knuckles took command and helped them to finally locate thier lost city - almost a century later. The tribe has now been accepted into Albion, where they are finally happy and free from the dangers and hardships they once experienced...
Details
Full Name: The Forgotten Tribe
Nick Name: The Lost Echidnas
Species: Echidna
Place Of Residence: Albion
Abilities: None
Weapons: None
Known Relatives: The Floating Island Echidnas
Weakness: None

Associations
Known Mitres (not all of them): Arrakis, Himon, Athair
Last Assistant to Mitre: Yanar
| | | |
| --- | --- | --- |
| | | |
Freedom Fighters - Debut: Sonic #0 (Sonic Archie Group)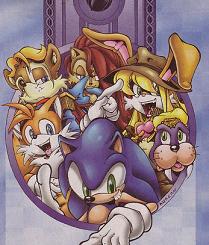 When Dr. Robotnik took over Mobotropolis over a decade ago, one small band of Mobians stood out among the rest as a major force to be reckoned with. Residing in Knothole Village and led by Princess Sally, Sonic, Tails, Rotor, and Antoine are the original members of this group of "rabble rousers" (according to Robo-Robotnik). Growing up together without their parents they are a tight-knit family of sorts in their own right. The main core of the team is Sonic, Sally, Tails, Bunnie, Antoine, and Rotor. The Freedom Fighters help out any Mobian in need and do anything to hamper and/or ruin Robotnik's plans. Their mission is to defeat Robotnik (no matter the version) forever and to reclaim Mobotropolis and restore the Kingdom of Acorn.
Sonic
- The one-hedgehog robot wreaking crew. The generally brash and impatient member of the group, but has a heart of gold. He embodies the fighting spirit of the Freedom Fighters.
Sally
- The clear-cut leader and tactical mission planner of the group. She's a skilled fighter in her own right and whose patience and diplomacy contrasts with Sonic, but it works well with the two since they trust each other when it counts.
Tails
- The youngest member of the group and has the widest range of skills. Besides being a skilled fighter, he's fast, can fly, and also has some technological know-how.
Bunnie
- The strongest member of the group with her roboticized parts. She's always ready to take on Robotnik and besides her strength, she can fly, has a plasma cannon, and can extend her robotic limbs
Antoine
- The oldest member of the group who's a trained swordsman and well versed in the duties of those who work to protect the royal family.
Rotor
- The tech-wiz of the group. His only weak spot is handling computers, but most of the gadgets the Freedom Fighters have are courtesy of Rotor. Whether it's Tails' Sea Fox, Bunnie's enhancements, or his own "Party-Hearty Quadra Sonic Rock n' Roller," you can be sure that Rotor is one behind it.
Amy Rose
- A very recent addition to the group after "aging" a bit. Energetic and always wanting to prove that she's just as capable as everyone else.
Dulcy
- Dulcy isn't around much, but helps out whenever Sonic "whistles" for her or she notices something isn't going well. She's more or less a Freedom Fighter in reserve.
Details
Original Members: Sonic, Sally, Tails, Antoine, Rotor
Current "Active" Members: Sonic, Sally, Tails, Bunnie, Rotor, Antoine, Amy Rose, Fiona
Current "Non-Active" Members: Dulcy
Species: Varies
Age: Varies
Year Of Birth: Varies
Residence: Knothole
| | | |
| --- | --- | --- |
| | | |
Horizontal And Vertical - Debut: Sonic #2 (Sonic Archie Group)
Anyone familiar with Superman's nemesis Mr. Mxyzptlk , the reality warping imp from the fifth dimension, is bound to get a field day off these two. In a deliberate spoof on Superman's "greatest foe" - Al (The Short one) and Cal (The Tall one), are the epitome of annoyance in Sonic's universe. A group of troublemaking imps, Al and Cal hail from an area called the Unknown Zone and basically: all they ever want to do is play! They can warp reality with a single thought and it usually relates to nothing but complete confusion for Sonic and Tails. Either playing practical jokes on each other or thier victims or just spreading a little mischief, Al and Cal are basically screwy from the get go. However even they were not able to escape the madness that was the Ultimate Annihilator. When the massive nuclear powered weapon exploded "killing" Doctor Robotnik - it caused the buffers between Zones to literally break down, resulting in the creation of new ones, the destruction of old ones, or the mutations of other ones. The latter is what happened to the Unkown Zone - and when Sonic and tails were dragged into it yet again, they came to find that the dimension had now reverted into a complete warzone with a "roboticiszed" Al and Cal permanently locked in war: the complete opposite of thier previous incarnation. Sonic and Tails, after wearing off the effects of the zone on themselves, managed to escape without harm, but for right now Al and Cal's dimension is still "World War 3" and whether or not they managed to change the effects that the Annihilator had on the zone and themselves, is still questionable...

Details
Nick Names: Al & Cal
Species: Reality Warping Imps
Age: Unknown
Year Of Birth: Unknown
Residence: The Unknown Zone
Likes: War
Dislikes: Peace
Abilities: You name it - nine times out of ten they can do it
Weakness: N/A
Weapons & Items: No need for weapons, manipulate magic and reality
| | | |
| --- | --- | --- |
| | | |
King Acorn's Secret Service - Debut: Sonic #61 (Sonic Archie Group)
King Acorn originally had Geoffrey create this "strike force" in an attempt to find out the TRUE fate of his wife, Queen Alicia, and his son, Elias, as the Brotherhood had hidden the truth for so long. Successful in their first mission and with current peacefulness in Mobotropolis at the time with Ixis Naugus defeated and Dr Robotnik dead, King Acorn disbanded Sally's Freedom Fighters in favor of the Secret Service. When Sonic and the Freedom Fighters went out into space and Robo-Robotnik attacked Mobotropolis, the team did what it could to evacuate the Mobians into Knothole--except for Valdez who elected to stay behind to hold off the Shadow-bots. On her solo mission, Hershey discovered that Valdez had definitely been roboticized and was now a servant in Robo-Robotnik's army. With Robo-Robotnik around, the Secret Service and the Freedom Fighters had been working together--yet separately in many cases--to try to reclaim Mobotropolis. However, after Robo-Robotnik reprogrammed Heavy & Bomb and infested the remaining members with nano-bots, the Secret Service is off active duty for an unspecified amount of time.
Geoffrey
- The leader of the group and assembled the original team as per King Acorn's specifications: "A strike force of no more than 5 agents capable of covert assignments inside foreign territories."
Valdez
- The first recruit and a chameleon from the Floating Island. His camouflaging ability and knowledge of the Floating Island were his most most valuable assests to the team. He's no longer a member as he has been roboticized.
Wombat Stu
- The second recruit and youngest member of the group. His super hearing, quickness, and agility are his biggest assests. He also has a ton of fighting experience as a member of the Downunda Freedom Fighters.
Hershey
- The third recruit and the only "local" member besides Geoffrey. Her greatest assests are her quick thinking as well as her computer skills.
Heavy & Bomb
- The fourth and fifth recruits. Heavy's ability to hack into computers and Bomb's "explosive" attack from which he can rebuild himself are their contributions to the team.
Details
Original Members: Geoffrey St. John, Valdez, Wombat Stu, Hershey, Heavy, and Bomb
Current Members: Geoffrey & Hershey
Residence: Knothole
Abilities: Various
Weapons & Items: Various
| | | |
| --- | --- | --- |
| | | |
Original Freedom Fighters - Debut: Sonic #142 (Sonic Archie Group)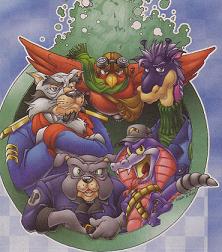 The Original Freedom Fighters were the role models of young Sonic and Sally. They organized the evacuation during Robotnik Prime's takeover of Mobotropolis, and they organized the building of Knothole Village. However, they were betrayed by one of their own, Private Trey Sclaes. In a characteristic move, Robotnik roboticized Slaces along with the group and threw them all into the Void. They have not been seen since.
Details
Species: Varies
Age: Varies
Year Of Birth: Varies
Residence: The Void

Associations
Members: Colonel Tig Stripe, Spot Long, Sir Peckers, Private Trey Sclaes, MP Bull Bones
Overlanders - Debut: Sonic #50 (Sonic Archie Group)
You think that Sonic's world is populated by all animals with Snively and Robotnik being the exceptions? Think again...Overlanders are in quite large abundance on the planet, but are only concentrated in small areas. Not making much interaction with the "mutated animals" of the planet, Overlanders are perceived as warlike, quite willing to kill whenever necessary, and often VERY dangerous. In fact this is the species that Doctor Robotnik and his nephew Snively hail from. Usually in Flashback sequences, The Kintobor family (Robotnik) seems to hold high position in Overlander society. In fact just like society today, their society operates like ours - only more contained and futuristic. there are judges, police, scientists, large armies, black people, white people, etc...the list goes on and on. For now the first person in Sonic's world that has disproven the "sterotype" that all Overlander's are bad is Nate Morgan. The Great War against the Overlanders and The Kingdom Of Acorn before Robotnik's near planetary takeover, the Overlanders being responsible for the coma of Queen Alicia and death of Geoffrey St. John's father - even Robotnik's presence alone is enough to give them all a bad name. Anti-Overlander sentiment (racism) often runs rampant among the furries, but not all the Overlanders are villians, but not all of them are exactly friendly. Their origins on the Planet Mobius, however, still remain a mystery...

Details
Species: 4-fingered humans
Residence: Station Square (aka Hidden City of the Ancients)
Abilities: None
Weakness: None
Weapons & Items: Usually carrying weapons - guns, ammo, and anything else in thier arsenal

Associations
Former Leader: Colin Kintobor (Dr Robotnik's brother)
| | | |
| --- | --- | --- |
| | | |
Substitute Freedom Fighters - Debut: Sonic Live (Sonic Archie Group)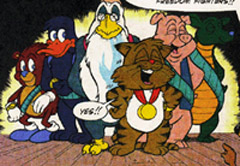 The Substitute Freedom Fighters were created after an incident involving the total capture of the core Freedom Fighters after falling into a trap Robotnik's. They managed to rescue them and it was decided they needed a backup group and Larry Lynx was chosen to become the leader.
Details
Current Member Names: Larry, Cyril, Dylan, Penelope, Hamlin, Arlo
Year Of Birth: N/A
Age: Varies among members
Base Of Operations: Knothole City
Wolf Pack - Debut: Sonic #46 (Sonic Archie Group)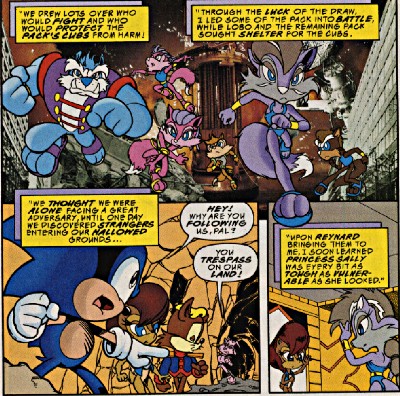 A "Native American-like" tribe of wolves, the Wolves were once a proud race, honored in thier heritage and living only off of what nature provided for them The lived in an uncharted area called "The Great Unknown" which lay just beyond the Great Canyon. However - shortly after Robotnik's coup of Mobotropolis, their lives were thrust into turmoil as Robotnik ran them off of thier native lands, and roboticised thier people. Only a handfull are left unrobotisiced, while the rest fight valiantly to free thier lands. Princess Sally, Sonic, and Antione stumbled upon them after recieving a Freedom Fighter list via King Acorn (Game Guy - Sonic SatAM) and sought to unite other Freedom Fighters for thier cause. After some rather hilarious moments with Antione's "curse" and defeating a Waste Pod, the Wolf Pack Freedom Fighters became valuable allies ever since.
Lupe
- The leader of the Wolf Pack (currently roboticized and not with the pack), Lupe is the oldest of everyone, somewhere along the lines of 30 years old. Already married and with children, Marcos & Maria, Lupe left her home to protect the freedom of their people while her husband Lobo stayed home to watch the children. That alone shows you how strong of a woman she is.
Canus
- The second member of the group, Canus is the gentle giant. Large and burly, yet kind and well meaning, Canus serves as the strength of the group as well as its cook. He's mostly quiet and is the only member who can usually keep Reynard and Diablo from biting each others heads off.
Leeta And Lyco
- The third and fourth members - these pink wolves are the "identical twins" of the group. Both extremely acrobatic and wiry they work best as a team ALWAYS and are especially willing to help whenever needed.
Reynard
- Never one to spitefully lash out but ALWAYS one to question everything, reyanard was the person that first discovered Sonic, Sally, and Antione trespassing in the Wolf Caves. He's usually very inquisitive much to Diablo's nerves and this usually results in a tizzy between the two.
Diablo
- If ever there was a grump, Diablo is IT. Anyone remember Grouchy Smurf - give him fur and make him look like an animal and you have Diablo Wolf. This dark furred vulpine is the most stubborn and usually ends up getting into it with Reynard
Aerial and Athena
- The final members of the group came MUCH LATER and caused quite an uproar aong the Wolf Pack when they came along. You see, Aerial and her sister Athena are two overlander girls. Athena being deaf, and Aerial being fully talkative, both are the lone survivors of a forgotten Overlander City...
Drago
- (No longer a freedom fighter) Needless to say, Drago WAS the traitor (suspected by Lupe) in the "Death Of Princess Sally" and has become a shame to the Wolf Pack
Details
Current Members: Reynard, Canus, Diablo, Leeta, Lyco, Aerial, Athena
Year Of Birth: Varies
Age: Varies
Base Of Operations: The Great Unknown And Great Canyon
| | | |
| --- | --- | --- |
| | | |