Query Returned 61 Items
Matthew Corgi - Debut: STC #96 (Sonic Fleetway Character)
"Woooo!"
"Every night at six o'clock every family in every zone gathers around their TV to watch Doctor Robotnik's daily broadcast. No one wants to but it's the law!" Matthew Corgi on the other hand didn't want to watch Robotnik every night so decided to interrupt his broadcast to bring the citizens of Mobius a new live show called "Mock The Doc". This show involved different Mobians dressing up as Robotnik and trying to do a good impression of him. All the viewers really enjoyed seeing their ruler made fun of, except for Robotnik himself who sent Troopers around to Matthew's studio. The idea was that the Troopers would take down Matthew live on air so that everyone would learn what happens to those who mock the doc. But the Troopers got confused when they saw all the fake Robotniks and started blasting each other apart instead. So Robotnik decided to shut the station down in person, but when he got to there he found that Matthew had escaped along with the other Mobians and had left the camera rolling so he could humiliate the doctor one last time.

Details
Species: Corgi
Color: Light brown (Wears blue)
Eyes: Black
Age: Unknown
Residence: Unknown
Likes: Mocking Doctor Robotnik
Dislikes: Boring TV Broadcasts
Abilities: None
Weakness: None
Weapons & Items: Microphone

Associations
Enemies: Doctor Robotnik
| | | |
| --- | --- | --- |
| | | |
Megatox - Debut: STC # 10 (Sonic Fleetway Character)
During the early years of Sonic's rebellion he encountered Megatox in the sewers beneath the Chemical Plant Zone. He was leading a group of freed slaves through the sewers despite protests that they were haunted. During the walk Sonic was struck by Mega Mack and knocked out. A horrible face emerged from the chemical and revealed itself to be a scientist who had helped Robotnik create the chemical in the first place. The creature said that it had been working in a compartment when it was accidentally flooded with Mega Mack but rather than dying he had somehow bonded with the substance. Immune to all physical attacks Megatox slowly poisoned Sonic with Mega Mack, however when Sonic tunnelled out of the sewers and created a whirlpool Megatox was sucked out and sent spiralling out of the sewers. Sonic and the slaves then made their bid for freedom.
When Robotnik had been defeated and the Chemical Plant Zone was slowly shut down Megatox came together inside an abandoned factory and slowly began building up the pressure. When Sonic and Tails arrived to investigate he attacked Sonic with new frightening powers that he had built, he could come together transforming parts of himself into a solid thanks to the power of electricity. Using iron fists to smash he was fine as long as he could revert back to liquid and allow Sonic to just fall straight through him. Winning he boasted to Sonic that soon he would explode and the Mega Mack would flood Sonic's beloved Emerald Hill Zone with a Tidal Wave and nothing will be able to live there for a century. Sonic pretended that the illness was slowing him then when Megatox reverted to Solid Sonic struck and Megatox fainted leaving just an ocean of Mega Mack. When the clean up crew arrived they bottled the unconscious Megatox and promised Sonic that they would store it somewhere safe in a Neutralised reinforced tank, Megatox was never heard of again. Sonic was left wondering weather the Marxio Bros. who owned the Chemical Plant Zone knew about Megatox or not?

Details
Species: Mutant bonded with Mega Mack
Color: Purple
Eyes: Green and Red
Residence: Chemical Plant Zone
Likes: Unknown
Dislikes: Sonic
Abilities: Solid/Liquid State, poison touch
Weakness: In liquid state has no power, in solid state can be hurt

Associations
Enemies: Sonic
Allies: Robotnik, Marxio Bros.???
| | | |
| --- | --- | --- |
| | | |
Mesmer - Debut: STC #84 (Sonic Fleetway Character)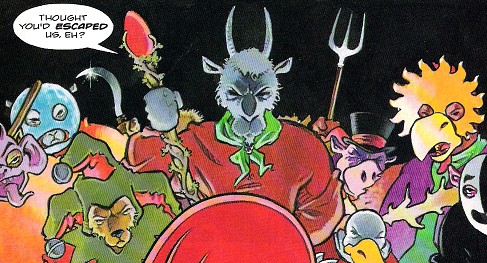 Mesmer hypnotised an entire village into believing that they were followers of a cult and had to make a sacrifice in order to get good crops every year. The sacrifice he chose for this was his own sister, but it turned out the whole event was a set up to lure out Knuckles (Who was staying at a local tavern called The Green Man after crossing the Mobian Channel). After rescuing the girl Knuckles took her to a safe place and let her stand guard while he rested for an hour. But since she was under Mesmer's control she went back to the village and told her brother where Knuckles was. Once captured Knuckles was made the new sacrifice but was soon able to escape and get the staff used to control the villagers from Mesmer, breaking the spell. After being defeated Robotnik revealed himself to being disguised as the tavern's landlord and told Knuckles of his plans to use Mesmer's powers to rule Mobius. But this plan was never put into action and Mesmer didn't appear again after this.
Details
Full Name: Unknown
Nick Names: None
Species: Ram
Color: Whitish Grey
Eyes: Black
Age: Unknown
Residence: Unnamed Village
Likes: Unknown
Dislikes: Unknown
Abilities: Hypnosis
Weakness: Can't use powers if staff is removed
Weapons & Items: Staff

Associations
Family: Sister (Name not revealed)
Allies: Doctor Robotnik
Enemies: Knuckles The Echidna
| | | |
| --- | --- | --- |
| | | |
Metallix Mark 1 - Debut: STC # 24 (Sonic Fleetway Character)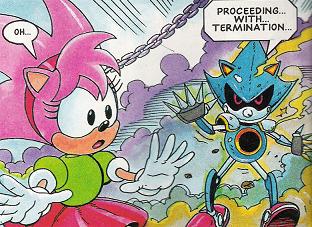 The original Metalix created by Grimer for Doctor Robotnik was quite simply perfect, the design was sleek yet powerful. Capable of speeds matching Sonic and equipped with the ability of flight, a blaster equipped on the stomach and impressive strength Metallix, the Metal Sonic was completely superior. Robotnik was so impressed with the design that even after Sonic defeated the Metallix on the Miracle Planet he set up a production line in his old base on the Special Zone, there he allowed them to create an army with which Sonic would have no chance again, but when the Metallixes turned on him the destroyed them using an inbuilt self destruct switch hidden in their design.
Details
Species: Robot
Color: Blue
Residence: The Special Zone
Dislikes: Sonic, Robotnik
Abilities: Flight, Blaster, increased strength, super speed
Weakness: The neck

Associations
The Brotherhood of Metallix:
Creators: Grimer, Robotnik

Appearances
24
25
26
27
28
49
50
54
55
56
57
58
59
60
61
62
67
68
69
70
71
72
79
| | | |
| --- | --- | --- |
| | | |
Metallix Mark 2 - Debut: STC # 108 (Sonic Fleetway Character)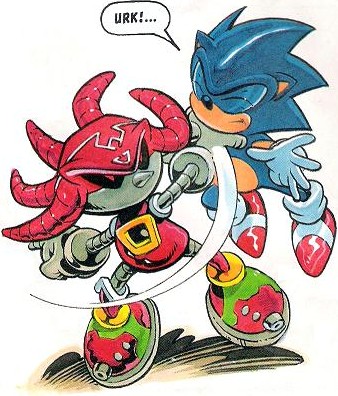 Almost as soon as the Metallixes had been decommissioned Grimer was prepared to restart the project. He claimed the problem was that a design based on Sonic was unstable but they now had a new enemy just as powerful as Sonic to beat. The design based on Knuckles never saw the light of day whilst Robotnik was still emperor but once he had lost his power and been kidnapped by the Drakon Empire he took to drastic measures.
The Emperor Ko-Door challenged Robotnik to provide a champion to fight Sonic in a trial to the death which they would use to decide weather or not Sonic was guilty of attacking a Drakon Sentinel in the Aqautic Ruins Zone. Robotnik turned to Grimer and created a new range of Metallixes. These newer designs may not be as sleek and fast as the original but had lightning fast reactions and impressive strength that caught Sonic off guard. Not only did the metallix successfully knock Sonic out and kidnap him for trial on their first encounter but it squarely smashed Sonic in a dual to the death in the arena. Robotnik had suggested that he let Metallix become a temporary Prosectioner for the trial. If it hadn't been for Tails who helped Sonic escape and crushed the Metallix beneath a bulkhead door, Sonic would have been killed. Despite Tails interference Ko-Door ruled that Sonic was innocent and refused a retrial. Despite his anger Robotnik was later seen to be developing more of these Metallixes in his base on Flickies Island but fortunately Robotnik never used them.
Grimer was obvious proud of his creation and later used one to kidnap Sonic, squarely beating the hedgehog in a match. Fortunately for Sonic he was released with no memory of the encounter and fake rubble suggesting he had beat it, allowing his ego to remain intact.

Details
Species: Robot
Color: Red
Residence: Flickies Island
Dislikes: Sonic, Robotnik
Abilities: Blaster, increased strength

Associations
Creators: Grimer, Robotnik

Appearances
108
109
110
And More
| | | |
| --- | --- | --- |
| | | |
Mr. Blobnik - Debut: STC # 59 (Sonic Fleetway Character)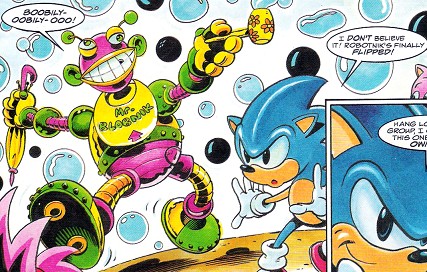 Surprisingly Mr Blobnik was one of Doctor Robotnik's better creations, or rather Grimers. Sonic and the gang responded to a call about a deadly badnik plaguing the Metropolis Zone when they discovered Mr. Blobnik and Sonic jokingly took the robot on alone. Robotnik watched Grimer controlling the robot from his Citadel, threatening him because of his "Ridiculous" creation. Unfortunately a Metallix arrived and kidnapped Grimer giving Robotnik the first sign that the Brotherhood was out of his control. Meanwhile Mr. Blobnik's secret weapon was out of batteries giving Sonic an easy victory as he literally tore Mr. Blobnik apart. When Mr Blobnik exploded he released a gigantic bubble which captured Sonic and the head split apart from the rest of the body, sprouted arms so it looked like a spider, grabbed the harmless Sonic who was stuck in the bubble beneath it.
So Doctor Robotnik's most ridiculous creation was actually the first to succeed in capturing Sonic but thanks to the Brootherhood of Metallix Robotnik let Sonic go free to face them.

Details
Species: Robot
Color: Purple and Yellow
Abilities: Creating Blobs

Associations
Creators: Grimer, Doctor Robotnik
Target: Sonic
| | | |
| --- | --- | --- |
| | | |
Nack the Weasel - Debut: STC # 53 (Sonic Fleetway Character)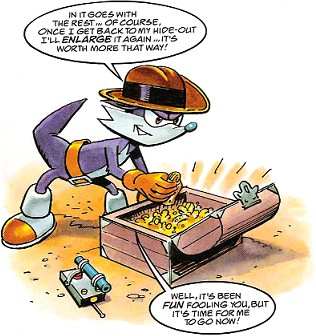 Nack was once a member of the Special Zone's Chaotix, a group of heroes who worked in the Special Zone keeping it safe, but Nack never seemed to fit in with the other members, he was quiet and reserved. When Knuckles arrived in the Special Zone and Chaotix went up against the Brootherhood of Mettalix Nack made a run for safety and ended up betraying the rest of Chaotix in return for his own life, but in the end the Mettalix turned on him and he was knocked out, Chaotix took him to serve time in jail for his betrayal. Nack escaped and was hunted down for quite a long time by his former team mates who eventually caught up with him on the Floating Island where he was spiriting away the Treasure hidden in the Lost Pyramid by shrinking it down thanks to a device he had built, but Knuckles caught the device and used it to restore the treasure in his ship so he couldn't escape.
A long time later Nack took revenge on the Chaotix team when he was employed by Lord Sidewinder to kidnap Super Sonic, he succeeded in taking them by surprise and shrinking them all but without Vector at the controls the ship crashed meaning he missed Sonic. Sonic managed to get a capsule of Nack's head which he had used to shrink them down and turned it on Nack who shrank down to Sonic's size, and carried on shrinking into nothing…
A loooong time later Nack returned, he had managed to restore his size and now he could manipulate his size at will, using his powers to rob a bank under Sonic's nose. Sonic and Nack fought it out but before Nack squashed Sonic like a bug the police arrived and Nack fled. Nack then worked with Grimer to help him find Doctor Robotnik who like Nack had shrank down to nothing. Nack and Grimer managed to find Shanazar and recover Doctor Robotnik who had somehow turned back into Kintobor, but not for long. When the time came to leave Shanazar Nack was with Robotnik as they smashed the world's together and was last seen helping Robotnik stumble away after being beaten by Sonic yet again…

Details
Full Name: Nack T. Weasel
Species: Weasel
Color: Purple
Eyes:
Likes: Money
Abilities: Shrinking and enlarging objects
Weakness: Just a normal guy apart from that
Weapons & Items: Gun, shrinking capsules

Associations
Betrayed: Chaotix
Worked for: Lord Sidewinder, Grimer, Robotnik
Enemies: Sonic

Appearances
53
54
55
56
57
58
Knuckles Knock Out Special
89
90
142
148
149
150
164
165
| | | |
| --- | --- | --- |
| | | |
Norris Wimple - Debut: STC #102 (Sonic Fleetway Character)
Norris Wimple could well be the biggest nerd on Mobius as his interests include UFO spotting, measuring the boot marks of sports players and badnik spotting. The last of these hobbies got him into trouble twice, so Amy and Tekno had to save both times him before he decided to give up on this hobby. A while later he got on TV for making a possible UFO sighting even though he had yet to get the film developed. D.R.A.T (The Doctor Robotnik Appreciation Tribe) thought that this photo might be of a secret weapon being developed by Robotnik instead of a UFO and set out to get the film off Norris. However, Amy and Tekno managed to save him once again, and when the film was developed it turned out that Norris had mistaken Tails for a UFO in the first place so the photo was worthless (Except to Tails who thought it was a good likeness).

Details
Species: Unknown
Color: Peach with red hair
Eyes: Black
Age: Unknown
Residence: Metropolis City
Likes: Badnik spotting, UFO spotting, measuring the boot marks of sports players, Fabian Vane
Dislikes: "The Curse of Robotnik", being mocked
Abilities: None
Weakness: Oblivious to danger, can't tell friend from foe, believes everything he reads
Weapons & Items: Sonic costume

Associations
Hero: Fabian Vane
Allies: Amy Rose, Tekno The Canary
Enemies: D.R.A.T.
| | | |
| --- | --- | --- |
| | | |
Nutzan Bolt - Debut: STC # 35 (Sonic Fleetway Character)
"Now for the Neck Saw! Ha ha ha!"
Nutzan Bolt was once Robotnik's chief operative in the Chemical Plant Zone, a fiendishly clever robot obsessed with Mega Mack. He had planned to dismantle the barrier that held the Mega Mack supply in the zone. His main adversaries were the Freedom Fighters the Flock, a band of outlaw sheep who constantly dogged his efforts. He was eventually defeated when Tails joined forced with the Flock and managed to crush him thanks to a fluke computer malfunction. However Nutzan Bolt was not to be defeated, his head detached itself from his body and he made a new one out of living ice. He proceeded to freeze the zone, informing it's inhabitants he would kill them all if they didn't hand over Tails dead or alive. Unfortunately, when Tails did arrive he managed to annoyed Nutzan Bolt so much that he melted, drowning in his own Mega Mack.

Details
Species: Robot
Color: Purple/White
Eyes: Black
Residence: Chemical Plant Zone
Dislikes: The 'S' Word
Abilities: The Neck Saw, Survive decapitation
Weakness: Temper

Associations
Employees: Sol Furic, Tess Tube
Enemies: Tails, The Flock
| | | |
| --- | --- | --- |
| | | |
Okrym-Ro - Debut: STC #78 (Sonic Fleetway Character)
Orkym-Ro was an evil Tantaror priest who died after a long illness. After dieing his body was placed in a stone coffin for transport to the after life. Three of his followers then took a ship and using the Tantaragor idol transported themselves to Mobius in order to collect slaves. They believed that Orkym-Ro had to be buried in a sacred monument, and to build such a monument they would need slaves from Mobius. Somehow news of the ghost ship spread and Captain Plunder enlisted Knuckles help to seize the Ghost Ship and escape with the Idol, however Knuckles soon returned and the heretics reclaimed their means of going home. Fortunately it had all been a trick, Knuckles was working with Ekkletos, the spiritual leader of the Tantaror and they were now already back in their own dimension and captured, ready for punishment for capturing people from other worlds.

Details
Species: Tantaror
Color: Orange

Associations
Followers: Heretic Tantarors
Enemies: Ekkletos