Query Returned 61 Items
Shirob - Debut: STC # 19 (Sonic Fleetway Character)
Shirob was once the oldest and most powerful of the Enchanter Kings, however through his studies he made contact with the evil one, driving him insane. Consumed by his power Shirob fled the Nameless Zone across the dimension bridge and transformed into Trogg so no-one would recognise him. However, when he attempted to return and invade the Nameless Zone he was humiliated in a fluke victory by Tails who tricked him into falling of the bridge. He saved himself by grabbing onto a rope and pulling himself back up to safety. Humiliated Trogg revealed himself to the other Enchanter Kings and pretended to be Trogg's prisoner so they would send help to rescue him. That plan also failed thanks to Tails and Errol Blackthorn. His last attempt to conquer the Nameless Zone he captured the Enchanter Kings and tried to turn them to darkness like him. He was defeated by Tails, Knuckles and Morain Blackthorn (Errol's sister). When the Dark One was destroyed though Trogg attacked Knuckles, but slowly began to transform back into Shirob and rejoined the ranks of the Enchanter Kings, later to surrender to the Goblin Empire.

Details
Alias: Trogg
Species: Magical Fox
Color: Orange
Age: Old
Residence: The Nameless Zone
Abilities: Powerfull Magic

Associations
Friends: The Enchanter Kings

Appearances
19
20
21
59
60
61
62
63
64
143
144
| | | |
| --- | --- | --- |
| | | |
Sol Furic - Debut: STC # 37 (Sonic Fleetway Character)
"When Nutzan Bolt took charge of the Chemical Plant Zone I thought that I could work with him and make changes for the better. Sab thought that I was a fool, she wanted to carry on fighting. I left the flock to work with Nutzan Bolt, but things didn't turn out like I expected. I ended up fighting Sab and Nutzan Bolt turned out to be a homicidal maniac. I was imprisoned by the Flock, but when Nutzan Bolt started rip the zone apart I escaped, I was going to rejoin the flock but I was to late. The explosion killed them all and I was knocked out."
That was the story of Sol Furic when he related his life story to Tails. The rebel sheep met Tails in the Chemical Plant Zone in the Zonerunner's second visit to the Chemical Plant Zone and helped him get through a mob of dislocated citizens and get to a safe house. The ex-leader of the Flock who fought with Sab was shocked to see Sol alive. After Tails saved Sol from execution by Sab's gun he joined the two of them in a trek to the surface to take out Nutzan Bolt before he could do any more damage, but when they arrived in the Ice Palace Sab and Sol were knocked out by Nutzan Bolt almost straight away. When Sab and Sol awoke the Palace was melting however thanks to the Zonerunners microputer the temperature was lowered again. Sab and Sol left with the Zone Runner and bid him goodbye, Sol surprised how modest the hero was, however he never knew exactly how Tails had beaten Nutzan Bolt, if he had he probably wouldn't of thought as highly of the zone's 'Savior'.

Details
Species: Sheep
Color: White
Eyes: Wears an eyepatch
Residence: Chemical Plant Zone

Associations
Friends: Sab, Tails
Enemies: Nutzan Bolt
| | | |
| --- | --- | --- |
| | | |
Sonic the Hedgehog - Debut: STC # 1 (Sonic Fleetway Character)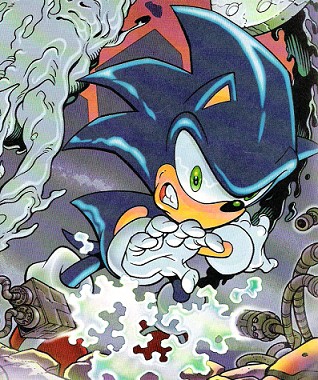 "More haste, more speed"
Sonic hates to stand still and will not rest until Dr Robotnik is defeated and Mobius is free. He is always keen to right wrongs and sticks by his friends – even when he grows impatient with them. He is undoubtedly the fastest creature in the universe but he is also cheeky and irreverent. Some say that the Fleetway Sonic is rude and offensive, which is completely true. Sonic likes to assert himself as leader of the freedom fighters but despite his attitude, deep down he cares about his friends no matter how rude he seems. Sonic used to be a brown normal hedgehog until an accident with the ROCC caused him to change into the blue speed demon he now is, he was also present when Doctor Kintobor turned into Doctor Robotnik and thanks to a time travel incident became the very reason that the egg was left in the fridge in the first place. Sonic leads the freedom fighters but his hasty decision making often leads him into trouble which is why he really needs his friends around him. When he is really stressed or around Chaos Energy he can transform into Super Sonic for a short time but he's unable to control or remember his actions whilst in this state. Whilst Robotnik took over Mobius Sonic took the pseudonym Bob Beaky and disguised himself and the gang as a travelling circus which roamed the land entertaining people and when the disguise failed Sonic was always ready for action. Serious ego problems mask what is otherwise a fairly likable character who always does what he can to help. He doesn't have much respect for anyone or anything, he likes to be right and loves to take the opportunity to prove himself. For some reason contact with Chaos turned his eyes green, something that even Porker's technology was unable to explain, however Sonic was the only person who found it easy to overcome the terror Chaos inspired, however after the death of Johnny Lightfoot he suffered a serious issue with his position. Sonic's dedicated to the protection of Mobius no matter what, hard headed and determined if a little rude he's here to stay…

Details
Alias: Bob Beaky, Super Sonic
Nick Names: Spikeball
Species: Hedgehog
Color: Blue (originaly brown)
Eyes: Black(then green)
Age: Young
Residence: Emerald Hill Zone
Abilities: Super speed, Super Sonic
Weakness: Rash, hasty, rude

Associations
Friends: Tails, Knuckles, Amy Rose, Johhny Lighfoot, Kintobor and Porker Lewis
Enemies: Dr. Robotnik, Super Sonic
Ancestors: Bravehog

Appearances
About Every Issue
| | | |
| --- | --- | --- |
| | | |
Super Sonic - Debut: STC # 7 (Sonic Fleetway Character)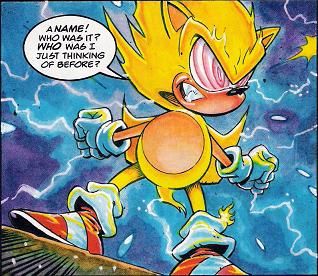 "The only thing I'm afraid of is that I might KILL you too QUICKLY And where's the fun in that?"
At the start Super Sonic was no more than an enraged Sonic, a Sonic who lost all of his responsibilities and just lived for the moment. He took pleasure in destroying whatever was in front of him, luckily for the world that was usually whatever Sonic was fighting, however there were some close calls where Super Sonic nearly killed innocent people. When he turned on his friends Amy managed to banish Super to the Special Zone and Sonic was split from him, however that didn't kill Super Sonic who was free to do what he liked in the special zone. So Sonic followed him and they fought, eventually managing to imprison Super Sonic in the Omni Viewer and stopping time. Even that was useless as Super realised what was happening and began to heat himself up, burning out the omni viewer and causing an enormous Electromagnetic Pulse. Sonic returned him to Mobius and used the pulse to destroy Robotnik's empire. Doing that reduced Super of all of his memories and powers and he wandered the streets as a lost child. Eventually he found resident magicians Ebony and Pyjamas and lived peacefully with them for a time. However he soon began to age and die, forced to hunt down the Chaos Emeralds to recharge. When he absorbed all of Chaos' energy he regained his powers and became a demon again, fighting Sonic to destroy the planet. Ebony used her magic to help Sonic but the hedgehog began to whither and die. Gloating Super Sonic prepared to kill them all when suddenly he returned to normal; Ebony hadn't hit the wrong hedgehog with her spell after all. Sonic was back, and he was here to stay this time.

Details
Species: Super Hedgehog
Color: Golden Yellow
Eyes: Swirly Red
Likes: Destroying things
Dislikes: Sonic
Abilities: Flight, laser beams, can set things alight just by touching them, uber speed, super strength, invincibility
Weakness: Depends on Chaos Energy

Associations
Friends: Ebony, Pyjamas
Enemies: Sonic,

Appearances
7
20
25
50
65
66
80
81
82
85
86
88
89
90
100
102
116
117
118
146
147
148
183
184
| | | |
| --- | --- | --- |
| | | |
Tails the Fox - Debut: STC # 2 (Sonic Fleetway Character)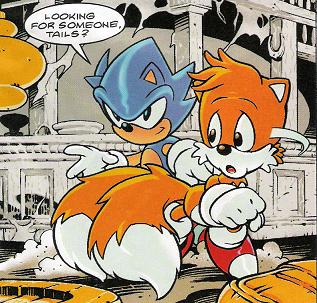 Tails first met Sonic when the Hedgehog saved his life by heaving him out of a swamp through one of his two tails. After demonstrating that he could fly Tails and Sonic soon became his friend and hero and Tails stuck with him in the fight against Doctor Robotnik. Neither as fast or strong as Sonic he stuck by the more adept hedgehog and helped as often as he could. Tails joined Johnny Lightfoot and Porker Lewis in a trip to the Special Zone where Sonic showed them the truth about Doctor Robotnik and Kintobar and with the others he was also dragged forwards in time whilst Robotnik took over. Joining the freedom fighters Tails wrote letters home to talk about his exploits and he also mentioned Sonic who he fought besides. Unfortunately he let his imagination take over and the Nameless Zone got the wrong end of the stick and when they were attacked by Trogg they summoned Tails to battle him. Through a mixture of amazing luck, flukey victories and good friends Tails became champion of the Nameless Zone, Zonerunner and hero of the Chemical Plant Zone and a renowned hero as Sonic's sidekick. He gained his own enemies such as Max Gamble, the Bounty Hunter Fleabyte, Nutzan Bolt and Trogg but somehow defeated them all. A mysterious Unicorn once offered Tails the chance to kill Robotnik but the fox turned him down, claiming shooting him in the back was immoral and the Unicorn praised Tails' valour and told him that Robotnik's downfall was not far off. After that happened Tails fell into obscurity, something he tried to rectify by asking Doctor Sorders to hypnotise him into becoming cool. Unfortunately the new angst ridden Tails was rude to Zone Leaders and picked a fight on some unruly characters and when the hypnotism wore off he found himself in a bad position, only saved thanks to Sonic. Never the less, Tails learnt from the experience and continued to grow up. He became more and more confident, and it was only thanks to his initiative that Sonic beat the Metallix Mark 2, Tails slamming a bulkhead door down on top of the robot. Although Tails never became the hero he wanted to be he earned the respect of most of Mobius and even though he never became much more of a sidekick to Sonic, he was the best Sidekick Sonic could of ever had. Even though Sonic rarely let it show, preferring to criticise every move Tails made, he really appreciated Tails efforts.
Details
Full Name: Miles Prower
AQA: Zonerunner, Hero of Mobius, Pixel Brain
Species: Fox
Color: Orange
Eyes: Blue
Residence: Emerald Hill Zone
Abilities: Flight

Associations
Friends: Sonic, Amy Rose, Porker Lewis, Johnny Lightfoot, Shaman Warpull, Errol Blackthorne, The Enchanter Kings, Moraine Blackthorne, Sol Furic, Sab, The Flock, Tantrum, Doctor Sorders
Enemies: Robotnik, Trogg, Goblins, Nutzan Bolt, Fleabyte
| | | |
| --- | --- | --- |
| | | |
The Bulk - Debut: STC #94 (Sonic Fleetway Character)
Homage to Marvel Super Hero, the Hulk. One of the many parodies Fleetway employed during it's tenure.
Listed as Doctor Bob Bobble

Details
Species: Unknown
Color: Purple
Eyes: White
Age: Unknown
Residence: New Tek City
Likes: Destruction
Dislikes: Being stopped from causing destruction
Abilities: Super Strength
Weakness: Muscles grow beyond movement
Weapons & Items: None

Associations
Enemies: Sonic The Hedgehog, Mighty The Armadillo, Espio The Chameleon, Vector The Crocodile, Charmee Bee
The Leaf - Debut: STC #113 (Sonic Fleetway Character)
The Leaf committed a number of thefts in a very rich part of Mobius known as Eldorado Zone. Because he worked at night everyone mistook his shadow for Tails, since their appearances were similar in the dark, so Tails was blamed for these robberies. When given a chance to prove his innocence Tails set up a trap for The Leaf and managed to catch him after a chase due to a failure in him mechanical wings.

Details
Species: Unknown (Possibly squirrel or chipmunk)
Color: Brown
Eyes: Black
Age: Unknown
Residence: Eldorado Zone (Formerly called Diamond Mine Zone)
Likes: Money and jewels
Dislikes: Unknown
Abilities: Fast flight using mechanical leaf-shaped wings
Weakness: Batteries can run out for mechanical wings
Weapons & Items: Mechanical leaf-shaped wings

Associations
Enemies: Miles "Tails" Prower
Trogg - Debut: STC # 16 (Sonic Fleetway Character)
Details
Alias: Shirob
Species: Monster
Color: Brown/Purple
Abilities: Powerfull Magic

Associations
Allies: The Dark One
Enemies: The Enchanter Kings, Tails

Appearances
16
17
18
19
20
21
59
60
61
62
63
64
Two Skinny Llamas - Debut: (Sonic Fleetway Character)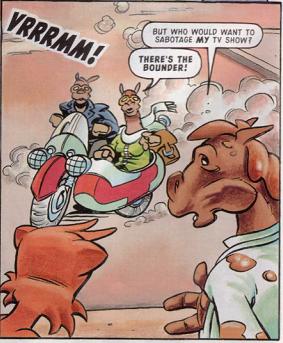 This pair of TV celebrity chefs hosted a show on Channel One but unfortunately their recipies were ruined when their half fat cream went missing. They followed the trail to Galloping Graeme and when several other chefs turned up a food fight erupted.
Details
Species: LLamas
Color: Brown
Eyes: White
Residence: Metropolis City
Abilities: Cooking

Associations
Rivals: Galloping Graeme, Gerry Corfu
Windy Wallis - Debut: STC # 102 (Sonic Fleetway Character)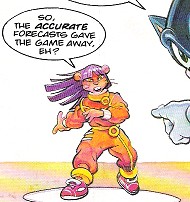 Windy Wallis the Weather Gerbil once had a promising career lined up as a weapons engineer for Robotnik, until Sonic defeated him and brought her world crashing down around her, so she became a weather forecaster instead. With her technical know how she built a machine to control the weather and became one of the best forecasters in the business because she was always right. But when her predictions became even more erratic and she caused flash floods and heat waves simultaneously Sonic hunted her down and destroyed the machine by spraying water on it. Windy was swept up by her own tornado and disappeared. She returned a long time later, this time to fight Tails who defeated her plans for revenge by piloting a flying toilet into her blimp and forcing her to crash down to earth. Her final appearance was alongside Agent X, once again fighting against the Freedom Fighters. But again she failed and escaped with him in a ship.
Details
Species: Gerbil
Color: Pink and Purple, wears Yellow
Eyes: Yellow
Abilities: Weather Control
Notes: Inspired by Wincey Willis (actually Florence Winsome Dimmock, but Wincey Willis was her stage name), the first weathergirl on TVAM, a morning TV program in the UK. Unfortunately the joke went over a lot of people's heads as Windy Willis left long before issue 100 came around, however in Nigel Kitching's defence Windy willis did look something like a gerbil, thanks to her unique cheeks :)

Associations
Friends: Agent X, Robotnik
Enemies: Sonic, Tails
| | | |
| --- | --- | --- |
| | | |