Query Returned 61 Items
Omen - Debut: STC #95 (Sonic Fleetway Character)
A magician sent by Robotnik along with two gorilla henchmen to stop the protest being held to protect the Fauna. He seemed to have a personal hatred towards Ebony and saw her as a rival magician during their battle. He would probably have won against her if one of his associates hadn't angered the Fauna enough to drive him out personally.

Details
Species: Either rat or mouse
Color: Brown (Wears yellow)
Eyes: Black
Age: Unknown
Residence: Presumably Metropolis City
Likes: Being the most superior magician
Dislikes: Ebony
Abilities: Magic
Weakness: Unknown

Associations
Enemies: Ebony, Pyjamas, Knuckles The Echidna
Omni Viewer - Debut: STC #8 (Sonic Fleetway Character)
The Omni Viewer is an old friend of Sonic and the Chaotix Crew, the latter's' choice mode of transport about the Special Zone. Nobody's quite sure where he comes from but he's been invaluable to both due to his power to travel instantaneously across Space, between Mobius and the Special Zone and even back and forwards in time. Unfortunately this advantage had backfired twice, when both Robotnik and the Metallix hacked into his systems for their own nefarious means. It's the Omni Viewers fault that Robotnik conquered Mobius in the first place.

Details
Color: White
Residence: Special Zone
Abilities: Space/Time Travel

Associations
Friends: Sonic, Chaotix Crew, Knuckles
Enemies: Robotnik, Metallix, Super Sonic
Oscar the Pig - Debut: STC # --- (Sonic Fleetway Character)
Details
Species: Pig
Colour: Pink
AKA: Porker Lewis

Associations
Employee: Hammerhead

Appearances
Knuckles Knock Out Special
Peter Android - Debut: STC #110 (Sonic Fleetway Character)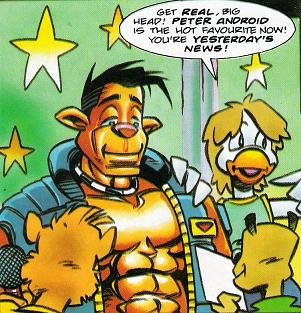 For anyone uninformed this is an in joke of the fickle nature of the British music industry, especially around boy bands. Peter Android is based of Peter Andre, a fading star who at one point had been the coolest man on the planet (according to the British Music Industry who have long since changed their minds, two thousand odd times.)
When the truth about Fabian Vane's rise to fame came out his career suddenly disappeared and according to Chloe his replacement was already lined up for the screaming girls to adore...

Details
Color: Golden orange
Eyes: Blue

Associations
Predecessor: Fabian Vane
Pochacamac - Debut: STC # 181 (Sonic Fleetway Character)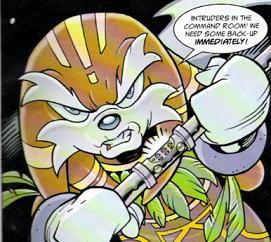 Pochacamac was the spiritual leader of the Echidnas, he provided guidance for his people in the war against the Drakon Empire. He stole the Chaos Emeralds from the Drakon empire and sent his daughter to retrieve a great warrior from the future. Tikal returned with Sonic and the Drakon Soldier who would eventually become Chaos. Pochacamac wanted to use to secure a peace settlement but the Drakon's attacked first. In the fight the Chaos Emeralds were hit and became unstable, as everyone fled the Drakon Fish was left stranded and became Chaos. According to Tikal this was the beginning of the Great War, however Pochacamac and Sonic were more concerned with fighting Chaos. When Sonic's physical attacks proved useless against the water fiend Pochacamac returned him to his own time using Chaos Energy which he took from Chaos, weakening the monster so Knuckles could deal with it… When the battle was over and the Drakon invaders were gone Pochacamac Tikal and Knuckles were left pondering their fate. This was the beginning of a war that would decide the fate of their entire race. With the exception of Knuckles who would still be alive eight thousand years later, everything else was lost to history…
Details
Species: Echidna
Color: Brown with yellow stripes
Eyes: Blue
Age: Old
Residence: 8,000 years ago, Megaopolis City

Associations
Daughter: Tikal
Friends: Knuckles, Sonic
Enemies: Drakon Empire
| | | |
| --- | --- | --- |
| | | |
Porker Lewis - Debut: STC # 1 (Sonic Fleetway Character)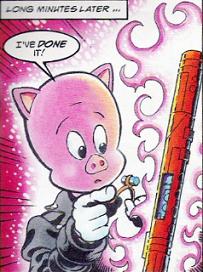 Porker Lewis was always just an ordinary pig. An ordinary pig who happened to be a mechanical genius but otherwise perfectly normal, one of the many animals Sonic regularly rescued. That all changed when Sonic invited Porker, Johnny Lightfoot and Tails to join him into the Special Zone to visit the Omni Viewer and to explain to them his own past and how Doctor Robotnik had come about. Unfortunately Robotnik had set up a trap and Porker was sucked forwards in time along with Sonic by six months. From then on he became a part of Sonic's freedom fighters.Porker soon began to show technical abilities and became the techno wiz of the gang, it was Porker who worked the Kintobor computer and downloaded Kintobor from the mainframe into a ring then onto a laptop. However the stress became too much for him and he retired to the Floating Island to help Knuckles restore the islands lost systems.
He was later revealed to be a refugee from the special zone and wanted criminal to boot. His original name had been Oscar the Pig, chief employee of Hammerhead. Oscar thought he was working to create a cheap clean and safe energy supply for the city, however he suspected something more. So one night he broke into Hammerheads office and discovered that he had actually been building an enormous super bomb. Oscar burned the records and fled, when Hammerhead was caught by police he made sure everyone believed Oscar had been his right hand man. Somehow Oscar escaped to Mobius and lived a normal life as Porker Lewis. Fortunately for Porker Lieutenant Furor played a ruse and let Porker go free with the words, "We're never going to see Oscar the Pig in the Special Zone again are we Porker?" Returned to the Floating Island Porker seemed to flit from one home to the other, helping whoever was convenient. Porker saved Knuckles life thanks to his control of the Guardian Robots and was the first one to identify exactly what Chaos was. He remained with Sonic until the end…

Details
Alias: Oscar th Pig
Species: Pig
Color: Pink
Eyes-Blue
Residence: Floating Island/Emerald Hill Zone
Abilities: Techno wizz
Weakness: Inimidated easily

Associations
Friends: Sonic, Tails, Johnny Lightfoot, Amy Rose, Knuckles
Enemies: Hammerhead, Robotnik, Zachary
| | | |
| --- | --- | --- |
| | | |
Professor Kintobor - Debut: STC #8 (Sonic Fleetway Character)
Professor Kintobor was a kind scientist, and a good friend of Sonic in the days before the accident which gave him his powers. In fact, it was Kintobor who gave him these powers. Sonic was already quite fast and in an experiment to see how fast he was the machine exploded imbuing Sonic with super powers. It was another scientific experiment with the ROCC which turned the goodly scientist into Doctor Robotnik, and in case nobody noticed Kintobor spelt backwards is… Unfortunately we now know with hindsight that it was Sonic who put the mouldy egg in the fridge and pulled the cables tripping Kintobor up, but he did it to defeat an even worse enemy. Kintobor returned twice, once in an alternate world where the accident had never happened and he lead an underground rebellion against the Metallix and once again when Robotnik travelled to Shanazar he temporarily turned back to Kintobor, unfortunately the effect was short lived and he became Robotnik again. After that Kintobor was never seen again…

Details
Species: Human
Eyes: Blue Glasses
Abilities: Scientific Genius
Weakness: Careless

Associations
Friends: Sonic
Creations: Kogg
| | | |
| --- | --- | --- |
| | | |
Pyjamas - Debut: STC #94 (Sonic Fleetway Character)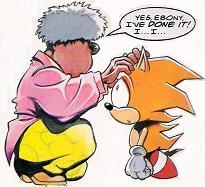 Pyjamas is best friends with Ebony and helps her run The Groovy Train, even though most of the time she talks of her psychic visions which many doubt are actually true. She attended the protest to save the Fauna along with Ebony and (vaguely) foresaw Knuckles's arrival. But since she doesn't have any fighting abilities she couldn't be much help to him and Ebony in the fight (Though she must have done some damage in the past if Robotnik wanted her arrested). A while after the Fauna incident Pyjamas predicted that a great evil was going to arrive at the coffee bar but was doubted by Ebony. This turned out to be one of her few accurate predictions as Super Sonic came there seeking a job. As opposed to Ebony's over trusting nature Pyjamas didn't trust him at all and made her opinion very clear on this. She preformed a "Mind Link" with Super Sonic saw visions of his evil past, which caused her great pain and revived Super Sonic's memories. After he refused to put the world at risk by using his powers again Pyjamas realised that he had changed and accepted him as a friend. Later it was Pyjamas's cautious nature and psychic powers that saved Super Sonic from his evil side after he used his powers to save a train full of people. During their outings she often had to remind Ebony about using his name too often while they were in public (So it does prove helpful to have someone paranoid about when dealing with former demons). Since Pyjamas did not appear in the final story it would be a safe bet that she stayed to watch The Groovy Train while the other two searched for the Chaos Energy.
Details
Species: Dog (Most possibly a Sheepdog)
Color: Light brown with white hair (Wears pink and yellow)
Eyes: Unknown
Age: Unknown
Residence: "The Groovy Train" Coffee Bar, Metropolis City
Likes: Protests, Mind reading, Fortune telling(?)
Dislikes: "Demons", people doubting her visions (Though she's aware they're not often right)
Abilities: Psychic visions, Mind Link
Weakness: Visions are rarely accurate, doesn't take much notice of the danger around her while she's having a vision, not very trusting

Associations
Friends: Ebony, Super Sonic
Allies: Knuckles The Echidna
Enemies: Doctor Robotnik, Omen, Biohazard

Appearances
94
95
96
116
117
118
146
147
148
| | | |
| --- | --- | --- |
| | | |
Roger Bodge - Debut: STC #103 (Sonic Fleetway Character)
Sonic saved his life after a bridge he made for the Jade Hill Zone collapsed underneath him so as a thank you he invited him over his house (Which he built himself). Unfortunately a Trooper he'd tried to convert into a robot butler recognised Sonic and started to attack. The Trooper's programming was so mixed up it self destructed and destroyed the Bodges' house. A while later Roger created a flying toilet that Tails used to battle Windy Wallis, but this fell apart too.

Details
Species: Chipmunk
Color: Black (Wears orange and yellow)
Eyes: Black
Age: Unknown
Residence: Jade Hill Zone
Likes: DIY
Dislikes: People mocking his DIY
Abilities: None
Weakness: Most of his creations aren't safe

Associations
Family: Gladys (Wife)
Allies: Sonic The Hedgehog, Miles "Tails" Prower
Ryan Baggit - Debut: STC # (Sonic Fleetway Character)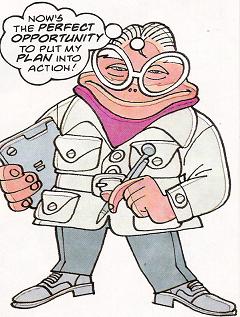 Ryan Baggit, Collector Supreme and the arch enemy of Norris Wimple. Ryan is the King of Collectors, trivia master extraordinaire. Ryan took advantage when Sonic agreed to do an autograph signing in the Metropolis Zone. Using a specially made pad and pen they created an energy barrier around Sonic, trapping him in an energy bubble. Ryan's fiendish plan to add Sonic the hedgehog to his collection would fulfil his dreams to be recognised by society for who he really was, and he also gained a great paper weight in return. He was challenged by Norris Wimple to a trivia quiz for Sonic's freedom, and the two sparred with information about Sonic's past exploits. Ryan won by recounting how Sonic defeated the Master Sentinel, but in the mean time Sonic rolled the energy bubble towards Ryan. In order to escape being caught by the electric shot Ryan released Sonic and got a Super-Spin Attack instead, but in his own words; "What an honour!"
Details
Full Name: Ryan Baggit
Nick Names: Collector Supreme
Species: Toad
Color: Pink
Eyes: Blue
Likes: Collecting Things
Dislikes: Being Hurt
Abilities: Super Trivia Knowledge
Weakness: Egoistical

Associations
Enemies: Norris Wimple
Heroes: Sonic
| | | |
| --- | --- | --- |
| | | |