Query Returned 61 Items
Errol Blackthorn - Debut: STC # 18 (Sonic Fleetway Character)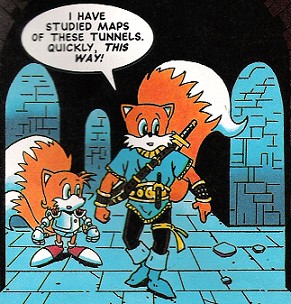 Errol Blackthorn was one of the best swordsfoxs in the Nameless Zone. Errol as set to be Tails accomplice on his journey into the Land Beyond to rescue Shirob the third Enchanter Kings. On the journey Errol learn that Tails reputation was a sham and his honour decreed that he had to expose him to the Enchanter Kings, however by the end of the journey he decided to keep the secret to himself after Tails saved his life. When Trogg kidnapped the other Enchanter Kings Errol went to the rescue but Trogg transformed him into a monster. When Knuckles defeated him Shaman Warpfull had him clapped in the strongest stocks in the Nameless Zone until they could cure him. Errol returned a long time later alongside his sister Morian as they attempted to free the Goblin Overlords.
Details
Species: Fox
Color: Ginger fur
Residence: Nameless Zone
Dislikes: Goblins
Weaponss: Sword

Associations
Hero/Fiend: Tails
Leaders: The Enchanter Kings, Shaman Warpull
Enemies: Trogg
Sister: Morain

Appearances
18
19
20
21
59
60
64
143
144
| | | |
| --- | --- | --- |
| | | |
Fabian Vane - Debut: STC #109 (Sonic Fleetway Character)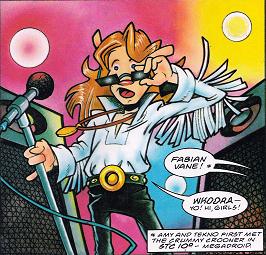 Fabian Vane was once a famous pop star in Metropolis after Robotnik was defeated who hired Amy and Tekno as bodyguards after being attacked on stage by a "fan". After more of his "fans" started attacking the girls found out that they were really out to get Fabian because he owed them large amounts of money for writing his songs, designing his clothes, plastic surgery, etc. Fabian was forced to pay them all back and lost his popularity once people realised he was a fake. He tried to get his fans back later by staging being kidnapped but again was exposed by Amy and Tekno. His other attempted comebacks included the haunted house gig in which he successfully demolished an entire building. Several of his remaining "fans" suggested that he go around the universe and share his "talents" with other worlds and they found the perfect vehicle in the Ring of Eternity. Fortunately for Fabian Amy, Tekno and max Gamble were returning home from their round the universe tour and stopped Fabian from doing anything so stupid. Suddenly the fans turned nasty and attacked Amy and Tekno and in an attempt to grab Max Gamble the Ring of Eternity was smashed. With their plans foiled the fans returned home and Fabian was forced to help Max Gamble repair the broken Ring before he could do the same.
Details
Species: Dog
Color: Peach with reddish blonde hair (Wears white)
Eyes: Black
Age: Unknown
Residence: Metropolis City
Likes: Himself, his music, money, his fans
Dislikes: Being unpopular
Abilities: None
Weakness: Easy to expose as a fraud

Associations
Allies: Amy Rose, Tekno The Canary
Enemies: Those he owes money to
| | | |
| --- | --- | --- |
| | | |
Galloping Graeme - Debut: STC (Sonic Fleetway Character)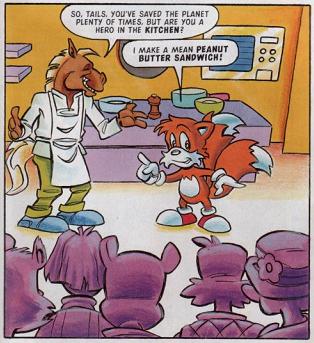 In the modern Mobius after the downfall of Robotnik a new age of enlightenment reached the populace in the shape of Cookery Programs. A relatively new program entitled Pizza the Action was hosted by Galloping Graeme who was chuffed to bits to have Tails as his first celebrity on the programme. Unfortunately whilst displaying his Chocolate Pudding Surprise Graeme's pudding started swelling until it flooded the stage and Tails had to rescue the audience from "death by chocolate". After the crisis was sorted out Graeme thanked Tails before being accosted by the two skinny llamas who blamed him for sabotaging their show, and then several more who had been ruined by mushy peas being put in their oven gloves… A food fight erupted but Tails soon noticed that one chef was missing, Gerry Corfu was nowhere to be seen. Graeme and Tails headed over to Gerry's show and ruined his "half baked plans" to become the Numero Uno chef.
Details
Species: Horse
Color: Brown
Eyes: White
Residence: Metropolis Zone
Abilities: Cookery
Weakness: Sabotage

Associations
Celebrities: Tails
Rivals: Gerry Corfu, Two Skinny Llamas
| | | |
| --- | --- | --- |
| | | |
Gerry Corfu - Debut: (Sonic Fleetway Character)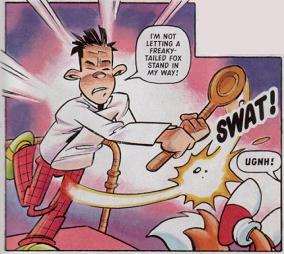 "I'm such a sweet dish"
Gerry Corfu was the best chef in Metropolis city, his sweet smile and audacious attempts to break records meant that he became the Numero Uno chef in town. Unfortunately, to stay there Gerry resorted to sabotaging other chefs shows, fortunately when Tails came to investigate he accidentally confessed everything live on show. He decided to drown tails in his record breaking "World's Largest Trigle" but Tails span his Tails and squashed Gerry in his own food and thus preventing him becoming the King Cook.

Details
Color: Pink
Residence: Metropolis City
Likes: Cooking
Dislikes: Rivals
Abilities: Sabotage
Weakness: Pride, pathetic

Associations
Rivals: Tails, Galloping Graeme, Two Skinny Llamas, Every other TV Chef
Jake - Debut: Knuckles Knock Out Special (Sonic Fleetway Character)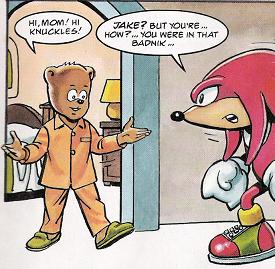 The Emerald Hill Folk fled to the Mushroom Hill Zone after the Death Egg was destroyed to keep them safe. Not long after arriving their peace was interrupted by the arrival of an Eggrobo which was running out of it's Internal Electronic Power Supply and needed a new source of energy. Sneaking through the darkness the Eggrobo attempted to snatch Jake through an open window and was interrupted by villagers. It blasted off into the sky and when the villagers looked into the bedroom Jake was gone.... The villagers called for Knuckles who hunted down the robot in the Lava Reef Zone, but before he could smash it the robot was consumed by flames and Knuckles assumed Jake was dead. In fact when he returned to give Jake's mum the bad news she explained that Jake woke up before the robot grabbed him and hid in the closet, he heard a lot of shouting and was to scared to come out. Knuckles was comforted and left relieved that the Emerald Hill Folk were safe again.
Details
Species: Bear
Color: Brown
Age: Young
Residence: Mushroom Hill Zone

Associations
Mother:
Guardian: Knuckles

Appearances
Knuckles Knock Out Special
| | | |
| --- | --- | --- |
| | | |
Johnny Lightfoot - Debut: STC # 8 (Sonic Fleetway Character)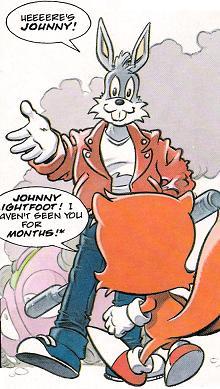 Johnny, along with Tails and Porker accompanied Sonic into the Special Zone to learn the truth about Robotnik's and Sonic's history. When they returned to Mobius some time later Johnny joined them to form the beginning of the Freedom Fighters. Johnny was strong and silent and became the group's dependable back up, the handy man of the group. He was a capable fighter, a trustworthy friend and completely lacked an ego of any kind. Johnny's disguise in the Bob Beaky parade was as a strongman with a twirling moustache, which he thought made him distinguished. When Robotnik was defeated Johnny disappeared for a while, visiting his gigantic family, rabbits apparently have a lot of siblings.
When he returned he betrayed the rest of the freedom fighters and captured them as they tried to invade Flickies Island. He revealed that he was in fact the mysterious Agent X who had been helping Robotnik back into power. This wasn't the real Johnny though but a copy called Shayde, from a shadow world who had done a deal with Robotnik. When Shayde sent Sonic back to his world Sonic freed Johnny and they escaped. On their bid for freedom they destroyed the black gem that allowed the shadows to exist and returned to their own world where they confronted a very angry clone who disappeared as soon as Johnny touched him.
When fighting Chaos the group realised they were against an impossible foe. When Porker arrived claiming to have the machine to destroy Chaos the gang thought they had won but one of the cables wasn't connected and Johnny leapt to connect it. He was hit by Chaos moments before he was dispersed. Sonic thought they'd won, except that when Johnny didn't climb to his feet he realised something was wrong. Johnny Lightfoot's death triggered an emotional backlash in Sonic and it soon transpired that he hadn't even managed to defeat Chaos; he had given his life for nothing…
Johnny wasn't forgotten, when Chaos was defeated and the sky cleared Sonic was sure he saw Johnny smiling down on them from the heavens.

Details
Species: Rabbit
Color: Grey
Eyes: Blue
Residence: Green Hill Zone
Weapons & Items: Metal Staff

Associations
Friends: Sonic, Tails, Amy, Knuckles, Porker Lewis, Tekno
Enemies: Robotnik, Grimer, Brutus, Agent X
| | | |
| --- | --- | --- |
| | | |
King Leer - Debut: STC # 107 (Sonic Fleetway Character)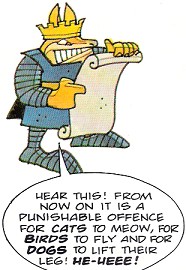 In ancient times when the people lived in tribes the only man with any real power was King Leer, ruler of the Hyena tribe. Since the other tribes were weak and divided they were forced to bow to the King's rule, and lived in fear of the Hyenas who ravaged and pillaged anyone who the King disliked. Strangely enough the King had some quite strange ideas in his head, outlawing some pretty stupid ideas (see the picture for more information). When a dog broke the law King leer sent his Hyenas to ransack the dog's cousins, the foxes. Luckily for the foxes Bravehog showed up and saved the village, but was captured. King Leer was about to torture Bravehog by shaving of his spines in public but the King's subjects revolted, freed Bravehog and King Leer was overthrown.
Details
Species: Hyena
Color: Orange
Likes: Power
Dislikes: Hedgehogs, Cats, Birds, Foxes
Abilities: An army of Hyenas
Weakness: Idiot, useless in battle

Associations
Enemies: Brvehog
Subjects: The Hyena Tribe
| | | |
| --- | --- | --- |
| | | |
Knuckles - Debut: STC # 33 (Sonic Fleetway Character)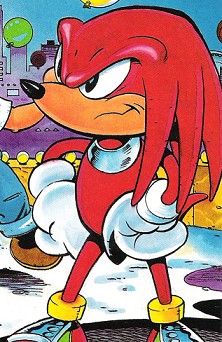 Gnarly and impatient, Knuckles doesn't always see eye to eye with anyone, particularly Sonic. In fact, when they first met Knuckles was tricked by Doctor Robotnik into believing that Sonic and Tails were evil. Knuckles eventually learnt the truth and became an ally of Sonic's, even though not the best of one they fought together several times although Knuckles grew tired of Sonic's cocky attitude. In one surprising role however Knuckles followed Tails into the Nameless Zone and agreed to pretend to be 'Sonic', Tails sidekick and fought against Trogg. Knuckles said he was glad to be in a zone which didn't worship Sonic like some kind of god. A loner by default his mission became to restore the Floating island to its former glory, which led to him meeting Doctor Zachary, the first of the ancient Echidna Race to return. Zachary however turned out to be evil and destroyed the Master Emerald and in order to make a new one Knuckles was forced to learn more about his ancestors from the Herd. Knuckles had agreed the house the Emerald Hill Folk after the destruction of the Death Egg and was joined by Porker Lewis who helped him work on the ancient systems that power the Island. Knuckles retrieved an ancient chest of documents which he could use to restore the Island from Captain Plunder but upon his return to the Island Doctor Zachary and Robotnik kidnapped the Emerald Hill Folk. Soon after the Emerald Hill Folk left leaving only Porker Lewis behind to help Knuckles, and several newly discovered Guardian Robots which Doctor Zachary had uncovered. Knuckles remained on the Floating Island for a while until Porker left the Island, but his peace was interrupted by the arrival of Chaos. With the Master Emerald and the Chaos Emeralds' gone Knuckles wanted to remain behind with his Island to die but he was knocked out by Amy Rose with a crowbar and rescued, he stayed with Sonic's gang after that. Sonic discovered some more secrets about his past when he travelled back in time, apparently Knuckles was alive and well around a thousand years ago at the time of the Drakon War, although exactly how he has remained so young for so long was never explained.
Details
Full Name: Knuckles the Echidna
Species: Echidna
Color: Red
Eyes: Blue
Residence: The Floating Island
Likes: Sprinting, playing pinball, roller coaster riding
Abilities: Super Strength, digging, gliding
Weakness: Naive, rash, predictable

Associations
Assistant: Porker Lewis
Friend: Sonic, Chaotix, Tails
| | | |
| --- | --- | --- |
| | | |
Kog - Debut: STC #109 (Sonic Fleetway Character)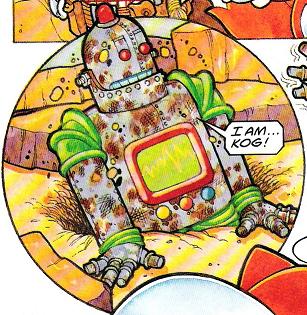 Kog was the first robot made by Doctor Kintobor who was shut down and forgotten about before his creator was changed into Robotnik. Many years after he was accidentally activated by a badnik attack on the former Citadel Robotnik site, which was being bulldozed at the time. After some confusion amongst the construction workers Kog was given a job as a tour guide teaching Mobians what the world was like before Robotnik ruined it.
Details
Species: Robot
Color: Silver and green
Eyes: Red
Age: Unknown
Residence: Citadel Robotnik
Likes: His creator
Dislikes: Unknown
Abilities: None
Weakness: Very primitive design

Associations
Allies: Miles "Tails" Prower
Madge - Debut: STC #100 (Sonic Fleetway Character)
Madge took Super Sonic off the streets after he lost his memory but had no idea herself about whom he was. She felt sorry for him because he kept having nightmares and couldn't remember who he was but her husband had no sympathy for "the boy" at all. The two argued about whether he should stay or go but Super Sonic made up his own mind to leave knowing he'd never find his memories by staying where he was. As a goodbye present she gave him Arthur's beer money so he could survive on the road for a while.

Details
Species: Unknown
Color: Brown
Eyes: Black
Age: Old
Residence: Metropolis City
Likes: Caring for the less fortunate
Dislikes: Bullying
Abilities: None
Weakness: None

Associations
Family: Arthur (Husband)
Friends: Super Sonic