Query Returned 114 Items
Heavy - Debut: Knuckles' Chaotix (Sonic Archie Character)
A former member of the Chaotix - Heavy was created by Dr. Robotnik from special gems known as "The Power Gems". Designed to search and repair systems that had been damaged, he is an exceptionally versatile robot - However, Robotnik built him too well. The gems he used to give Heavy (as well as his partner, Bomb) conciousness, also gave them conciences and free will. Discovering that they were actually tools for the mad doctor, they wanted no part of it and together they escaped from Robotropolis with the gems in tow and went to the Floating Island where they came upon the Chaotix and the imprisoned Freedom Fighters! Little did they know that another creation - the Metal Sonic, had followed them also - and NOW HE TOO was poweredby the gems!
When used, the Power Gems can accelerate metabolism so much that it can tun anything into a giant when used properly. So when Metal Sonic went on a rampage at Carnival Island - It was there that he turned into Super Metal Sonic, his gigantic large red form and threatened to stomp the Chaotix out of existance! Giving Knux a Power Gem, Heavy, Bomb, and The Chaotix watched as Knux gave the fatal blow that finally destroyed the Metal Sonic once and for all! Since then, they had tried to live a life of peace on the Floating Island but at the same time, wished to give back to the community that had accepted them so, which is why Heavy and Bomb relocated to Knothole and were members of King Acorn's Secret Service.
Unfortunately, during a recentreconaissance mission to Robotropolis, Robotnik realigned Heavy and Bomb's prgramming to his side, and they were assigned to sabotage Knothole and assassinate the royal family. They were stopped only at the last minute, and Heavy was sawed through by Sonic. Later, both of them were upgraded by Robotnik for an assassination attempt on Mina Mongoose, but this attempt failed and Heavy was defeated by Sonic.

Details
Species: Robot
Color: Gray
Eyes: N/A
Age: N/A
Year Of Birth: None
Residence: Knothole
Likes: ???
Dislikes: ???
Abilities: Hack into computers
Weakness: Very timid at times
Weapons & Items: Bomb

Associations
Partner: Bomb
| | | |
| --- | --- | --- |
| | | |
Hershey - Debut: Sonic #47 (Sonic Archie Character)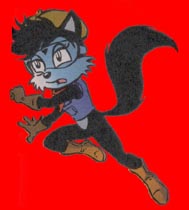 While Hershey was forgiven by everyone for her accidental role in the near death of Princess Sally, the guilt from the ordeal still bothers her and she has never forgiven Drago for using her, especially since she thought that he did love her. Currently, she's a member of King Acorn's Secret Service as Geoffrey recruited her for the job. Her smarts and agility make her valuable in a fight, even though she hates any kind of precipation or water. Still, she might even have a little crush on Geoffrey as well.
Details
Full Name: Hershey the Cat
Species: Cat
Color: Black
Eyes: Light Green
Age: 19
Year Of Birth: 3216
Residence: Knothole
Likes: ???
Dislikes: Water, being wet
Abilities: Decent Fighter, good at using computers
Weakness: Trusting
Weapons & Items: None

Associations
Ex-Boyfriend: Drago
Mother: Cocoa
Husband: Geoffrey St. John
High Sheriff - Debut: Sonic #58 (Sonic Archie Character)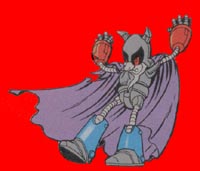 Residing in the country of Mercia, General D'Coolette - known there as the High Sheriff - may not be the strongest of Robotnik's underbosses - but he is the hardest case of them all. Please see the entry on General D'Coolette for more information.
Details
Real Name: General D'Coolette
Species: Coyote
Age: Unknown
Year Of Birth: Unknown
Residence: Knothole
Likes: ???
Dislikes: ???
Abilities: Power over Snottingham
Weakness: None documented
Weapons & Items: N/A
Hope - Debut: Sonic #92 (Sonic Archie Character)
Hope was two years old when the overlanders left Mobius after the Great War to search for a new home. While they travelled in space, she was in "coldsleep" which allowed her to learn about Mobius' history. When the overlanders returned to Mobius because of their power source being drained, she was the first one to see Sonic and was scared of him at first. Like the other Overlanders, she trusted Robotnik at first. However, she always felt he was hiding something and one day ran into a roboticized Mobian (though she didn't know that at the time) which scared her. When Robotnik revealed that the Overlanders were all being exposed to hazardous chemicals, he showed Colin, Agnes, and Hope that he was a robot and roboticized both Colin and Agnes. Hope escaped, but when she was surrounded by Shadowbots, Sonic and Sally rescued her. After spending time in Knothole, she realized that Overlanders and Mobians are not that much different. Knothole is the most beautiful place she'd ever seen and has been allowed to stay instead of going to Station Square along with the other Overlanders.

Details
Full Name: Hope Kintobor
Species: Overlander
Color: White
Eyes: Blue
Age: Unknown
Year Of Birth: Unknown
Residence: Robotropolis
Likes: ???
Dislikes: ???
Abilities: N/A
Weakness: N/A
Weapons & Items: None

Associations
Grandmother: Lady Agnes
Step-father: Colin Kintobor
Step-brother: Snively Kintobor
| | | |
| --- | --- | --- |
| | | |
Isaac - Debut: Sonic #146 (Sonic Archie Character)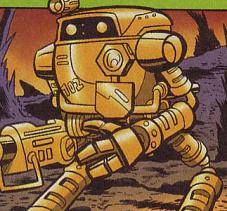 Isaac is a mysterious robot described by Tails as a "Gamma lookalike." He was discovered in asealed chamber by Shadow, who then awakened him. Isaac was created by a design team led by Ivan Kintobor. His hardware and software were designed by Professors Clarke and Niven respectively, about 12,000 years prior to his awakening by Shadow. After the Xorda bombed Earth, Isaac ensure Ivan's survival by monitoring him while he was in stasis.
Isaac was told to collect historical data, and he witnessed many important events in Mobius' history, such as the conquest of Mammoth Mogul, the rise of Echida Civilization and the foundation of the Kingdom of Acorn. Becuase of his explanation of his background, the freedom fighters were able to learn valuable historical information about Mobius.

Details
Species: Alpha 100 Series Mechanoid
Color: Gold
Eyes: N/A
Age: Over 10,000
Year Of Birth: Unknown
Residence: Unknown
Likes: Unknown
Dislikes: Unknown
Abilities: Unknown
Weakness: Unknown
Weapons & Items: Unknown

Associations
Head of Development Team: Professor Ivan Kintobor
Hardware Designer: Professor Clarke
Software Programmer: Professor Niven
| | | |
| --- | --- | --- |
| | | |
Ixis Naugus - Debut: Sonic #53 (Sonic Archie Character)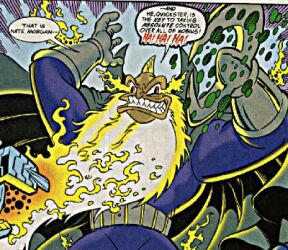 After Robotnik "died" in the Princess Sally ordeal - many of the smaller villians came out of hiding to effectively test thier mettle. Ixis Naugus however - is NOT a small time villian...Whereas Robotnik is the master of technology, Ixis Naugus is the master of sorcery....Ixis Naugus is a sorceror extraordinare. In the time of the Great War, before the coming of Robotnik, he was the royal wizard in Mobotropolis during King Acorn's rule. But before Robotnik came along - another overlander had graced Mobotropolis and his name was Nate Morgan. Nate had used his science to in effect create Power Rings - a new clean source that worked off the powers of the Chaos Emerald. Using this new technology, King Acorn and Nate Morgan ushered the Kingdom Of Acorn from a medieval state and into a technological golden age! Nate was declared a hero, Mobotropolis was rebuilt and rechristened "New Mobotropolis", The Power Ring was declared the official "Fifth Element" of Mobius, and Naugus became horrifically jealous...With technology replacing magic in the Kingdom Of Acorn, Naugus was no longer needed and felt quite threatened. Using the already high "Anti-Overlander" sentiment growing in Mobotropolis and his ability to manipulate the minds of other people due to Black Magic, Naugus formed a pact with Warlord Kodos - Robotnik's predecessor and framed Nate for the murder of various animals that were assaulted by a troop of Overlanders. Nate was acquitted, but banished himself from the kingdom, and Naugus was safe. Then came Robotnik....Naugus created a new and strange dimension called the "Zone of Silence". With war raging, Naugus decided to explore and become master of the "Zone of Silence." Eventually Kodos, Uma Arachnis, Feist, and even King Acorn pledged allegiance to him as Naugus reigned supreme. While, King Acorn was rescued from the zone by Sonic, Sally, and Geoffrey, Naugus continued his reign. The everything changed when Naugus, Kodos, and Arachnis escaped via one of Rotor's probes almost 11 years later after Naugus entered the zone. It was then that Naugus met Sonic and announced his plans to annihilate the Acorn Kingdom, destroy his objective - Nate Morgan, and absorb the raw energies of the Power Rings so that he can control ALL 5 of mobius' natural elements and take his place as ruler of Mobius! After a bit of globe-trotting, Naugus has finally been returned to the Zone of Silence, but no one knows if and when he'll be back.
Details
Species: Rhino/Lobster/Bat Hybrid
Color: Light brown
Eyes: Red
Age: Unknown
Year Of Birth: Unknown
Residence: Unknown
Likes: ???
Dislikes: ???
Abilities: Posesses the ability to control the 4 elements: Earth Water Wind and Fire and wishes to control the 5th element, the Power Ring
Weakness: Power Ring Energy used against him
Weapons & Items: Magic Scepter/Claw

Associations
Ancient Order of Ixis: These 3 merged to create Ixis Naugus: Agunus - Rhino ("master of earth"); Nusgau - Bat ("master of wind"); Suguna - Lobster ("master of water")
| | | |
| --- | --- | --- |
| | | |
Janelle-Li - Debut: Knuckles #11 (Sonic Archie Character)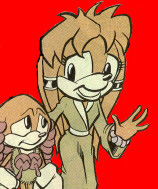 As the daughter of Sojourner, Janelle-Li was the first (and currently only) female Guardian of the Floating Island. Her husband died shortly after Athair was born. As inhabitants had finally been returned to the Floating Island after the Brotherhood spent years of cleaning up the nuclear waste, she raised Athair on her own for his eventual Guardian duties. When Athair reached the age of 9, Janelle-Li "abandoned" Athair for Haven. However, when the Ancient Walkers brought Athair to Haven and she was made aware of the fact that Athair was needed to be Mitre of the Lost Tribe of Echidnas, she took upon the mantle of Guardian again--leaving Haven and the Brotherhood. When she was going to die, Athair refused to leave the side of the Tribe, but Sabre, who was around 7 years old, went to Floating Island to continue the Guardian tradition.
Details
Species: Echidna
Color: Pink
Eyes: Blue
Age: Unknown
Year Of Birth: Unknown
Residence: Died of natural causes
Likes: ???
Dislikes: ???
Abilities: Chaos powers that all Guardians possess
Weakness: ???
Weapons & Items: None

Associations
Father: Sojourner
Son: Athair
Daughter-in-Law: Crystal-La
Grandson: Sabre
| | | |
| --- | --- | --- |
| | | |
Julayla - Debut: Sonic #18 (Sonic Archie Character)
Julayla was Sally's mentor and the closest thing Sally ever had to a real mother growing up. She trained Sally in her eventual duties as Princess-in-exile. When Julayla died, she left a chest full of items for Sally. One of them was a blue vest, which Sally now wears along with her boots. Another thing item in the chest led Sally on a quest. That quest resulted in Sally finding a scroll that said "To thine own self be true." Sally doesn't quite fully understand the real meaning behind those words yet, but will later on--if the future with Sally reigning as Queen happens to come to pass.

Details
Species: Cat or Woodchuck (Archie can't make up it's mind)
Color: Brown
Eyes: Blue
Age: Unknown
Year Of Birth: Unknown
Residence: Knothole (died of natural causes)
Likes: ???
Dislikes: ???
Abilities: N/A
Weakness: N/A
Weapons & Items: N/A
Jules - Debut: Sonic #46 (Sonic Archie Character)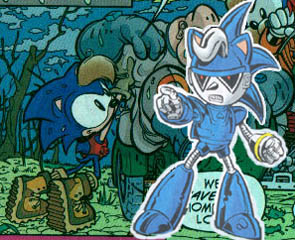 Jules was the first one ever to be roboticized. He was severely injured in a battle during the Great War and his brother, Charles, used his new invention the Roboticizer (which no one knew had been tweaked by Warlord Julian) to try to help heal him. With his free-will gone, he was a servant of Julian/Robotnik for 10 years until Charles gave him his free-will back using a power ring. Eventually, reunited with his wife Bernie, they both made the decision not to tell Sonic about them being in Robotropolis helping in the resistance until Robotnik was defeated. Now that they have finally met Sonic again, Jules finds it hard to be the father he feels he should be to Sonic since Sonic is so used to confiding to Charles and Sonic is usually hoping to talk to Charles instead of Jules. Jules gives Sonic his space and is always supportative of him no matter what.
Details
Species: Hedgehog
Color: Blue
Eyes: Robotic
Age: Unknown
Year Of Birth: Unknown
Residence: Knothole
Likes: ???
Dislikes: ???
Abilities: N/A
Weakness: N/A
Weapons & Items: Power ring wedding band

Associations
Wife: Bernie (Bernadette)
Son: Sonic
Brother: Sir Charles (Uncle Chuck)
| | | |
| --- | --- | --- |
| | | |
Julie-Su - Debut: Knuckles #4 (sonic archie character)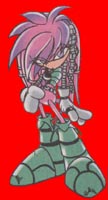 Julie-Su is a mystery to everyone, even sometimes herself. Hesitant to share her past with others - the only thing that is known for sure is her connection to The Dark Legion - The mercenary group of Pro-Techno echidnas currently led by Dimitri! Formerly one of the Dark Legion's greatest warriors, Julie-Su left in search of Knuckles. She seems to have a smart-alecky attitude towards anyone and everyone, and though she is as tough as the appearance she puts on the outside, if you get to know her - she can be a good friend. She has joined the Chaotix's cause reluctantly - due to the fact that she'd spend hard time in the Echidnaopolis jail if she didn't, and only once reverted back to the Legion - mainly to keep herself from being killed by Kragok and Enerjak. However Knuckles and The Chaotix gave her something she never had before - true loyalty and friendship... Her loyalties may not be as obvious to Vector The Crocodile - who doesn't trust her one bit, The Brotherhood Of Guardians - with the exception of Locke who put in a good word for her - who thinks there's more to her than meets the eye, and her ex-Dark Legion compatriots - who have branded her as a traitor, but as far as Knuckles is concerned - She's fine enough for him.
Details
Nick Names: Julie
Species: Echidna
Color: Pink
Eyes: Purple
Age: 17
Year Of Birth: Unknown due to being in the Twilight Zone
Place Of Residence: Echidnaopolis
Likes: ???
Dislikes: ???
Abilities: Excellent Fighter Physically plus certain parts of her body are enhanced cybernetically
Weakness: Hard to trust others
Weapons & Items: Stun Gun (Taser), Grappling Hook For Climbing, Plus Energy Laser Gun

Associations
Father: Luger (assumed dead)
Mother: Mari-Su (killed in an "accident" caused by Lien-Da and Kragok)
Half-Siblings: Kragok and Lien-Da
Grandfather: Moritori Rex
Foster Parents: Simon and Floren-Ca
| | | |
| --- | --- | --- |
| | | |