Query Returned 114 Items
Feist - Debut: Sonic #48 (Sonic Archie Character)
Feist was once an underling of Ixis Naugus who resided in the Zone of Silence. Sonic first encountered him when using Doctor Quack's machine to enter King Max's dream about his time in the Zone. Not much is known about Feist's origin, but it has been revealed that he actually despised Naugus.
When Super Shadow and Turbo Tails sealed all of the universe's Chaos Emeralds in the Zone of Silence, Feist, the only living being in the Zone, used the Chaos energy to reshape both the Zone and the Emeralds themselves. The Zone of Silence became the Special Zone, and the thousands of Chaos Emeralds became seven Emeralds, each of a different color.
Feist can apparently monitor Mobius Prime from the Special Zone. Because he has seen Sonic combating Naugus, he considers Sonic an ally, and granted him one of the new Chaos Emeralds. Feist also warned him that the next Emerald he asked for might not come so easily.

Details
Species=Unknown, possibly panda
Color=Black and White
Eyes=Green
Age=Unknown
Residence=The Special Zone
| | | |
| --- | --- | --- |
| | | |
Fiona Fox - Debut: Knuckles #26 (Sonic Archie Character)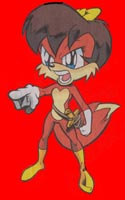 Several years ago, Fiona was among many other Mobian prisoners at an unknown base controlled by Robotnik. She met Mighty and Ray (who were also prisoners) who attempted to help her when a robot guard said that "other plans" were in store for her. Eventually the guards put down their rebellion and while Mighty and Ray were put in separate cages, she was taken to Robotnik himself. Sonic, who was infiltrating the base at the time, freed Mighty and Ray and the three tried to rescue her. However, when things didn't go according to plan and Ray mysteriously disappeared, Mighty started destroying the place by lifting machines like they were sheets of paper. Robotnik abandoned the base during the confusion and took Fiona with him.
Robotnik made a robot duplicate of Fiona and then left her in a cell to rot. She managed to dig her way out after awhile and she met Nic the Weasel. The two became friends and stuck together until a recent run-in with Mighty. Fiona is currently residing in Knothole City and has joined the Freedom Fighters as a member of both the "Brain Trust" subdivision and the regular combat team.
Fiona's grudge against Sonic eventually turned to respect, admiration, and eventually romantic feelings for him. Only after Fiona and Sonic began dating did Fiona learn that Tails had a crush on her. Despite the fact that this has strained the relationship between Sonic and Tails, Fiona does not seem to care about Tails' feelings at all. Fiona and Sonic continue to date and are often seen together.

Details
Species: Fox
Color: Dark Red
Eyes: Blue
Age: ???
Year Of Birth: ???
Residence: Knothole City
Likes: Her freedom
Dislikes: Unknown
Abilities: Fighting skills, Medical skills
Weakness: Lack of strength
Weapons & Items: Dagger

Associations
Friend: Nic the Weasel
| | | |
| --- | --- | --- |
| | | |
Fiona Fox (Robot) - Debut: Sonic #27 (Sonic Archie Character)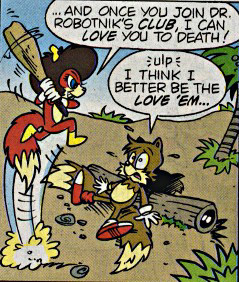 Who is Fiona Fox? Was she a real fox once that was used as the basis for this Robot Duplicate, or is that all she is? It's unknown at this time...After the fiasco with Princess Sally and Geoffrey St. John, Doctor Robotnik deemed his newest creation - The Auto Automation's "unusable" due to their instant rusting upon contact with water - a fault in the metal and production. However, there was one chance that he could not look up. tails - frustrated over being treated as a kid by the Freedom Fighters - decided to run away and came upon an island populated by a single fox named Fiona. What he didn't know was that Robotnik knew of his "argument" with Sonic and decided to manipulate it to his best ability. Creating an island that was ACTUALLY a roboticizer, and using Fiona as bait, Robotnik planned on capturing tails and roboticising him once and for all! Tails developed a love for for Fiona, not knowing what she really was, and upon her taking him to her den, she trapped him in the roboticiser as Robotnik revealed his plan! Tails managed to shed enough hair by twirling his tails and clogging the combines. The roboticiser exploded and Tails escaped, but afterwards Fiona let loose an all out attack - and would have drowned him had the rusting of her metal not immediately taken place...Tails escaped alive and discovered plans to load of shipment of weapons to Crocbot. Determining to prove himself to the Freedom Fighters, he left to stop it, but not before saying his goodbyes to Fiona. And as Tails pulled away in The Sea Fox, a single tear fell from the eyes of the rusted robot on the beach where they fought. She still stands there to this day...
Details
Species: Badnik/Auto-Automaton
Color: Dark red
Eyes: Blue
Residence: A Robot Island In The Middle Of The Mobian Ocean
Likes: ???
Dislikes: ???
Abilities: Usual roboticized abilities
Weakness: Water
Weapons & Items: N/A
| | | |
| --- | --- | --- |
| | | |
Fly Fly Freddy - Debut: Sonic #38 (Sonic Archie Character)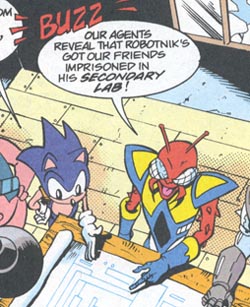 Fly Fly Freddy was first seen in an abandoned shack outside Robotroplois assisting Sonic, Hamlin, Penelope, Arlo and others to rescue Tails, Sally, Bunnie, Antoine from an ambush of cloaked Combots. Not much is known about him but he was roboticized and under Sleuth Doggy Dogg's control. He was totalled by Knuckles who stopped him from shooting Sonic when Sleuth revealed that he was a traitor and caused Freddy to be roboticized.
Details
Species: Fly
Color: Red
Eyes: Multiple
Age: Unknown
Year Of Birth: Unknown
Residence: Robotropolis
Likes: ???
Dislikes: ???
Abilities: Flying
Weakness: None
Weapons & Items: None
Gala-Na - Debut: Knuckles #12 (Sonic Archie Character)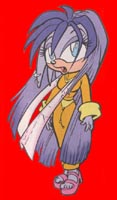 Gala-Na is the leader of the echidnas of Albion as the head of their Echidna Council. She dreams of the day when all the echidnas of Mobius live in Albion and hates the fact that the Brotherhood ignores her pleas to bring the echidnas of Echidnaopolis back to Albion. However, in things that she can control, she will do whatever it takes to achieve her objectives. The High Sheriff, who most likely did not even know Albion existed because of Albion's shields, was brought to be dismantled after Rob blew up his castle (though she didn't intervene when the High Sheriff was roboticizing other Mobians) since she felt the High Sheriff posed a threat. Fortunately for Antoine who was trying to get his father back, Knuckles disagreed with Gala-Na's position and allowed Antoine & Bunnie to escape with the High Sheriff. Unfortunately for Knuckles, by using his chaos powers to do it, he reinforced Gala-Na's fear of his powers so she attempted to have Knuckles' powers removed from him. The process was interrupted by Charmy & Safron who couldn't believe that echidnas (that aren't Legionnaires) would be hurting Knuckles. So in the end, all she accomplished was to enrage Knuckles and to cause his powers to increase even more.
Details
Species: Echidna
Color: Purple
Eyes: Blue
Age: Unknown
Year Of Birth: Unknown
Residence: Albion
Likes: The idea of all echidnas of Mobius living in Albion
Dislikes: The fact that the echidnas are not united
Abilities: None
Weakness: N/A
Weapons & Items: None

Associations
Other Members of Albion's Council: Rita-Li, Mykol
| | | |
| --- | --- | --- |
| | | |
General D'Coolette - Debut: Sonic #58 (Sonic Archie Character)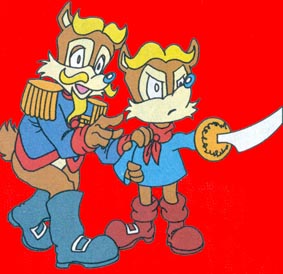 General D'Coolette is not only a general, but one of King Max's best friends. He was the one who advised King Max to create a Rebel Underground, though it was not finalized before Robotnik's coup and he was one of many who ended up being roboticized. As a Robian residing in the country of Mercia, General D'Coolette - known there as the High Sheriff - was one of Robotnik's underbosses. Upon Sonic and Tails' quest around the globe to locate Ixis Naugus, Sonic discovered him by complete accident. The General had no recollection of his son Antoine, Mobotropolis, or anything else of his past life - all he knew was his sworn allegiance to Doctor Robotnik and the "assimilation" of anyone that will oppose his will, even going as far as public hangings to get his point across, making him one of the more ruthless villians. Sonic and Tails - with assistance from Knuckles and Rob O' The Hedge - halted his operations from his castle by blowing it up.
Sally later used the Sword of Acorns to restore the general's free will, who is reunited with his son and now a fur-and-flesh Mobian once again. He is a General in Knothole Kingdom's army, but his declining health has hindered his involvement in military campaigns. The source of his ilness is unknown, although it is likely that he was poisoned by Anti-Antoine.

Details
Full Name: General Armand D'Coolette
Species: Coyote
Color: Brown
Eyes: Black
Age: Unknown
Year Of Birth: Unknown
Residence: Knothole
Likes: Serving the royal family
Dislikes: ??
Abilities: Swordsmanship, Leadership
Weakness: N/A
Weapons & Items: Sword
| | | |
| --- | --- | --- |
| | | |
General Stryker - Debut: Knuckles #5 (Sonic Archie Character)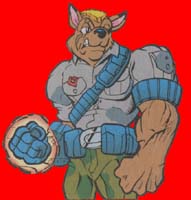 Stryker is the leader of the dingoes who have fought off and on with echidnas for many generations (even before the Guardian/Dark Legion split). He can be hotheaded and is never hesitant to fight at a moments notice. While he doesn't trust echidnas at all, he seems to sort of respect Knuckles after their fight and the fact that Knuckles wouldn't let the dingoes automatically be arrested or detained for any reason. Stryker even assisted Remington in the fight against the Dark Legion and Master Mogul. However, Stryker is tired of waiting for the Council of Echidnas to make good on their promise for housing for the stranded dingoes--who lost their city when Echidnaopolis returned--and was in the process of leading a dingo rebellion in Echidnaopolis as the Quantum Beam was fired sending everyone on the Floating Island into an unknown zone. What happened to him afterwards is unknown.
Details
Full Name: General Von Stryker
Species: Dingo
Color: Brown
Eyes: Black
Age: Unknown
Year Of Birth: Unknown
Residence: Echidnaopolis
Likes: ???
Dislikes: Echidnas
Abilities: Strong, good fighter
Weakness: Anger, lack of patience
Weapons & Items: Power Glove, Guns

Associations
Other Dingoes: Gerbil, Field Commander Rat
Son: General Kage
| | | |
| --- | --- | --- |
| | | |
Geoffrey St. John - Debut: Sonic #20 (Sonic Archie Character)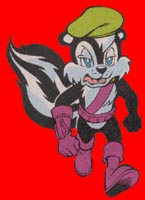 He is extremely loyal to the kingdom. He likes Sally, though he hasn't done anything blatant (only little subtle things) to get Sally to like him back ever since Sally told him that Sonic is the only one she truly loves. Always refered the Freedom Fighters as "Sally's Trainees" or "Rank Amateurs," he used to "tag along" on trips occasionally just in case the FF's need his "expertise". Geoffrey is actually good at what he does - now currently head of King Acorn's Secret Service. He's managed to tick off every FF from Sonic by accusing him of murder, to Antoine by accusing his father of being a traitor to the kingdom, and even to Knuckles by giving orders on his island! But the one person he shares a personal loathing for is Sonic the Hedgehog as neither of them can be around each other for less than 2 seconds without fighting like mad weasels! He resents this to all end and wishes one day he could have him out of his hair permanently to get what he wants - Sally Acorn - but due to the fact that he IS a good guy: which is doubtful - He'd never resort to those measures. Geoff also has a deep resentment for overlanders - it was overlanders who killed his father. So naturally he has VERY low thoughts of Nate Morgan - the latest overlander on the block...
Details
Nick Names: Geoff
Species: Mobian Skunk
Color: Black
Eyes: Blue
Age: 25
Year Of Birth: 3210
Residence: Knothole Kingdom
Likes: ???
Dislikes: Sonic (though it's more along the lines of "hate")
Abilities: Fighting
Weakness: Harsh and extremly arrogant to the point of total obnoxiousness
Weapons & Items: Hand crossbow with assortment of bolts

Associations
Father: Ian St. John (killed in the crash that left Queen Alicia & Elias on the Floating Island with the Brotherhood)
Wife: Hershey
| | | |
| --- | --- | --- |
| | | |
Harry - Debut: Knuckles #13 (Sonic Archie Character)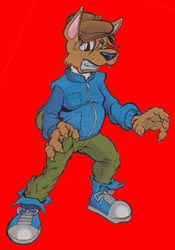 Harry was formerly a cabby in Echidnaopolis and was very happy with his simple life, preferring it to the militaristic life of following General Stryker. Full of street smarts, he was able to help out Constable Remington (as long as the parking tickets are taken care of & Remington "forgets" that he spoke with him) in terms of getting information about certain things happening in Echidnaopolis. However, like so many other things, Harry's life has changed since the Xorda conflict. After Robotnik took over Angel Island and made dingoes rule the echidnas, Harry acted as a spy for the echidnas and has been quite useful to the good guys.
Details
Species: Dingo
Color: Brown
Eyes: Black
Age: Unknown
Year Of Birth: Unknown
Residence: Echidnaopolis
Likes: Keeping to himself
Dislikes: Getting involved
Abilities: Driving
Weakness: N/A
Weapons & Items: Gun
Hawking - Debut: Knuckles #5 (Sonic Archie Character)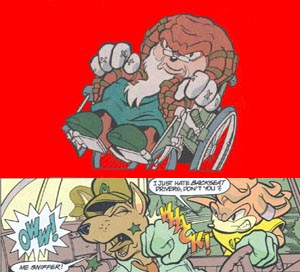 Hawking was the Guardian of the Floating Island when the Dingoes, life-long enemies of the echidnas in general, launched a nuclear attack on Echidnaopolis. Hawking used a dome shield to protect the city from the initial onslaught of the missiles, but the nuclear fallout threatened all life on the Floating Island. Using plans from Dimitri, he created the Hyper Zone Projector and placed Echidnaopolis (along with all other inhabitants of the Floating Island--including the dingoes) into pocket zones. While everyone was safe in their zones, the Brotherhood went about cleaning up the Floating Island and Hawking handed down the mantle of Guardianship to his son, Tobor. Eventually, Hawking returned all Floating Island inhabitants back to the Floating Island, except for Echidnaopolis and the Dingoes. Both returned thanks to the effects of Robotnik's Ultimate Annihilator, which erased all life on Mobius for an instant and broke down barriers between zones. However, when Hawking did his part to save Echidnaopolis, he ended up in a coma, which he never did wake up from and eventually died.
Details
Species: Echidna
Color: Brown
Eyes: Black
Age: 200+
Year Of Birth: Unknown
Residence: Died after being in a coma
Likes: ???
Dislikes: ???
Abilities: Tech wiz as well as chaos powers all Guardians possess
Weakness: n/a
Weapons & Items: Used a wheel-chair in his old age

Associations
Father: Mathias
Wife: Sonja-Ra
Son: Tobor
Daughter-in-Law: Voni-Ca
| | | |
| --- | --- | --- |
| | | |