Query Returned 114 Items
Aurora - Debut: Sonic #122 (Sonic Archie Character)
Aurora is a mysterious entity, considered the supreme diety of Mobius. She is omnipotent and omniscent, and is the guardian of the Chaos Force, the matter that controls the universe. She is more powerful even than the Ancient Walkers, since she controls them. She is capable of anything. It was Aurora who met Knuckles when he reached the Chaos Force, informing him that he must become one with the Chaos Force in order to fulfill his true destiny.
No one knows what Aurora has in store for people, save for Athair and the Ancient Walkers. She is seen sending heralds to announce a spirit's ascension to her plane of existance and also creating mortal visions for the sake of her plans. However, it seems that Aurora has a more hands-off approach to Mobius than desired when it doesn't directly involve her meddling, as she seemed to be indifferent about the Xorda invasion.

Details
Full Name: Aurora
Species: Omnipotent, but appears as an echidna
Color: Pink (echidna), N/A (omni)
Eyes: Blue (echidna), N/A (omni)
Age: N/A
Year Of Birth: N/A
Residence: The Chaos Force, The Afterlife
Likes: N/A
Dislikes: N/A
Abilities: Most likely anything and everything - dream making, shapeshifting, ressurrection, and travel between planes of existance are shown
Weakness: Does not fully understand mortal nature
Weapons & Items: N/A

Associations
Sub Gods: The Ancient Walkers
Mortal Links: Athair, Knuckles
Heralds: Chaos Force Chao
| | | |
| --- | --- | --- |
| | | |
Benedict - Debut: Knuckles #22 (Sonic Archie Character)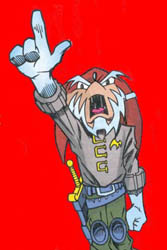 Benedict was chosen by Dimitri to become High Councilor of Echidnaopolis through an election rigged by the Dark Legion. The masses were clueless as to the fact that Pravda, the current High Councilor running for re-election, was turned into a vegetable to help enable the turn of events. Benedict was an excellent speaker able to gain support of many. However, when Benedict was trying to force Remington to swear loyalty to him, Remington refused, which surprised Benedict. When Benedict returned to base, the unconscious Knuckles emitted electromagnetic pulses causing all machinery to malfunction and shutdown, including Benedict and any Dark Legionnaire that didn't manage to get out of the base in time.
Details
Species: Echidna Robot
Color: Brown
Eyes: Blue
Age: N/A
Year Of Birth: N/A
Residence: Echidnaopolis
Likes: ???
Dislikes: ???
Abilities: Very good speaker
Weakness: Electromagnetic pulse
Weapons & Items: Sword
Bernie - Debut: Super Special #2 (Sonic Archie Character)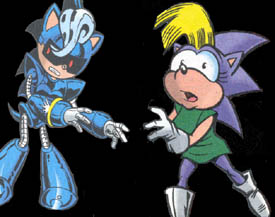 Bernie (as everyone calls her) is Sonic's mother. Like many Mobians, she took part in the Great War. After Sir Charles' first attempt at roboticization led to Jules losing his free will, she tried her best to get Charles to continue his work with no success. When she went to visit Warlord Julian to see what he was doing, Julian used Jules to roboticize her. When Charles came to find out what happened to her, Julian said that she was messing with the roboticizer and caused herself to be roboticized. Ten years later when Charles got his free will back, Bernie was one of the few that Charles managed to give their own wills back to. She reunited with Jules, and became part of the secret resistance in Robotropolis. Since being reunited with Sonic after the defeat of the original Robotnik, she's tried her best to be a supportive mother for Sonic since both she and Jules are aware that Sonic has grown up to be able to handle whatever life happens to send his way. As with all Robians (except her husband), Bernie has been turned back into a Mobian by Ceneca-9009.
Details
Full Name: Bernadette Hedgehog
Nick Names: Bernie
Species: Hedgehog
Color: Purple
Eyes: Robotic
Age: Unknown
Year Of Birth: Unknown
Residence: Knothole
Likes: ???
Dislikes: ???
Abilities: N/A
Weakness: N/A
Weapons & Items: Power ring wedding band

Associations
Husband: Jules Hedgehog
Son: Sonic
Brother-in-Law: Sir Charles (Uncle Chuck)
| | | |
| --- | --- | --- |
| | | |
Bomb - Debut: Knuckles' Chaotix (Sonic Archie Character)
Bomb is a robot who, like Heavy, had a free mind and joined the fight against Robotnik. after their acceptance as heroes, they joined King Acorn's secret service under the command of Geoffrey St. John. Bomb was a usefull ally because he could regenerate himself many times, meaning a single explosion would not harm him.
Unfortunately for the Kingdom, during a reconaissance mission to Robotropolis, Robotnik realigned Heavy and Bomb's programming to his side, and they were assigned to sabotage Knothole and assassinate the royal family. They were stopped only at the last minute, and Bomb's circutry was electromagnetically deactivated.
More recently, Heavy and Bomb were upgraded by Robotnik in order to assassinate Mina Mongoose. Her security team, consisting of several Freedom Fighters, took out all of the numerous Bombs. Because of his regenerative abilities, it is doubtful whether BOmb is truly gone for good.

Details
Species: Robot
Color: Red
Eyes: N/A
Age: N/A
Year Of Birth: None
Date of Death: 3236
Residence: Knothole
Likes: ???
Dislikes: ???
Abilities: Ability to blow himself up and transfer his data into another Bomb shell
Weakness: A big coward but can be brave when provoked
Weapons & Items: Himself

Associations
Partner: Heavy
| | | |
| --- | --- | --- |
| | | |
Bunnie Rabbot - Debut: Sonic #3 (sonic archie character)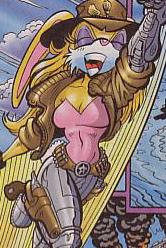 Lets get the hoo-ha outta he-uh
Bunnie Rabbot, with her southern belle accent and sugar-sweet disposition, is not only the strongest of all The Freedom Fighters, but the heart of the group as well. Since being taught some martial arts moves from Princess Sally herself, Bunnie's been able to flatten a door with one kick, split a boulder with a judo chop and "just plain ol' pound some Swatbot be-hind." Bunnie still maintains her perky personality despite squeaking and clanking if her joints aren't regularly oiled.
Bunnie's family comes from the Southern part of Mobius. Armed with a portable roboticizer, Swatbots captured and roboticized many southern Mobians, including Bunnie's parents. Bunnie escaped but was followed and later captured herself. It was there that she was rescued by Sonic and Rotor, but the roboticization process was halfway done, which left one arm and both legs roboticized. She has gone through much emotional pain because of this, yet she has matured into a loyal Freedom Fighter with exceptional strength and determination.
During the final days of Robotnik Prime's reign over Mobius, Bunnie developed feeligns for fellow Freedom Fighter Antoine D'Coolette, and for a very long time they were a couple. However, Bunnie noticed a sudden change in Antoine's attitude and they broke up, leaving Bunnie heartbroken and so desperate that she turned to Sonic for romance. However, when it was revealed that Antoine had actually been replaced by Anti-Antoine, Bunnie was reunited with the real Antoine and they continued from where they left off.

Details
Species: Rabbit
Color: Light orange
Eyes: Green
Age: 17
Year Of Birth: 3218
Place Of Residence: Knothole Village
Likes: Styling hair
Dislikes: Tight situations
Abilities: Extreme strength in left arm and legs, Flight, Plasma Gun in left arm
Weakness: None

Associations
Boyfriend: Antoine
| | | |
| --- | --- | --- |
| | | |
Ceneca-9009 - Debut: Sonic #118 (Sonic Archie Character)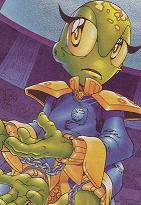 Ceneca-9009 is best known as the Bem scientist who was in charge of restoring most of the Robians on Mobius back to their original flesh forms. She was also responsible for making Robotnik MkII and Snively into creatures of flesh. Here's how it all happened: After Ceneca-9009 discovered the Bitoexans, a race made of metal, she was moved with pity and "derobotized" the whole race, unwittingly causing their extinction. The derobotizer was then made illegal. After a trial in which Sonic and Tails (in robot form) defeated Robotnik MkII and Snively (in flesh form), the Tribunal Magistrate of Argentium ordered that all Mobians be Robotized. But Ceneca-9009 abducted and DErobotized all Robians, causing herself to be sentenced to death. She was saved only by a timely and quite coincidential rescue made by none other than Sonic the Hedgehog.
Details
Species: Bem
Color: Green
Eyes: Gold
Age: Unknown
Year Of Birth: Unknown
Residence: Argentium
Likes: Unknown
Dislikes: Unknown
Abilities: Inventing
Weakness: Unknown
Weapons & Items: Robotizer

Associations
Friends: Amadeus and Rosemary Prower
| | | |
| --- | --- | --- |
| | | |
Charmy Bee - Debut: Knuckles' Chaotix (Sonic Archie character)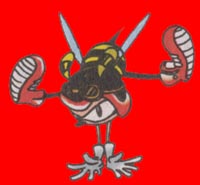 Charmy Bee is the most sophisticated of the Chaotix... this guy knows his P's and Q's - perhaps that may be because he's also the reluctant Crown Prince of the Bee Realm! Charmy flew to Floating Island several years ago in search of new types of flowers - but that was all not totally true - yes, he did go exploring but there was a deeper reason as well. Charmy was a runaway. Not wanting to accept the Princehood forced upon him by his parents Charmy ran off to the Floating Isle, and only his best friend, Mello, knew. It was there he met Mighty first and eventually joined the Chaotix when he and the others helped out Knuckles save the Freedom Fighters. Only he can handle tricky problems in such a cool and charming way, making him an invaluable member of the team. Charmy's small size and light weight make him a difficult target, which is compounded by his ability to fly out of any danger. His unique Buzz-dash can tear right through the most powerful of Badniks with relative ease; and using Ring Power, this little honey bee is even strong enough to lift his friends into the air with him. And in many people's opinion, he is the cutest of all of The Chaotix. He can shrink himself in size when he goes to fly and enlarge his size in normal mode - but in all honesty he has the biggest heart of all the Chaotix, and is often found hanging out with Mighty or being the peacekeeper between the argumentative Espio and stubborn Vector. Briefly, he has now returned to his home in Goldenhive Colony and accepted his destiny as Prince of the Bee Realm as well as reconciling with the family he ran away from.
Details
Nick Names: Charm
Species: Bee
Color: Yellow and black
Eyes: Green
Age: 16
Year Of Birth: 3219
Residence: Golden Hive Colony
Likes: ???
Dislikes: ???
Abilities: Able to switch back and forth from small flight mode to large walk mode
Weakness: Small, tends to run away from his own problems and EXTREMELY chatty
Weapons & Items: Stinger

Associations
Fiancee: Safron
Family: The King, Queen, and Princess of the Golden Hive Colony (no names yet)
| | | |
| --- | --- | --- |
| | | |
Cheddarmund - Debut: Sonic #92 (Sonic Archie Character)
Cheddarmund is an Overlander who traveled with Colin Kintobor and his group to the stars. He seems to be an expert at computers and technology, as Colin is seen depending on Cheddarmund's claculations to find out that they had landed on Mobius. Unfortunately for Cheddarmund, his genius is also brought into service by the former Robo-Robotnik for a special project. For his hard work on the project - perfecting robotization by touch - Robo-Robotnik shook his hand - and turned him into a motionless robot on the spot.

Details
Full Name: Cheddarmund
Species: Overlander
Color: White
Eyes:
Age: N/A
Year Of Birth: N/A
Residence: Robotropilis
Likes:
Dislikes:
Abilities: Computers, mechanical technology
Weakness:
Weapons & Items: Portable computer

Associations
Boss: Colin Kintobor
Croc Bot - Debut: Tails' Mini-Series Book #1 (Sonic Archie Character)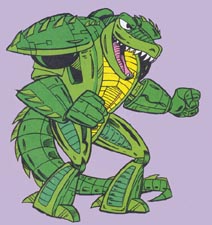 Originally hailing from the rough terrain of Downunda, Crocbot is probably one of the STRONGEST Underbosses Robotnik has. However he is also the largest evil streak - and would do anything in his will to not only dethrone Doctor Robotnik - but kill Tails at ANY COST. Especially seeing as how it was Tails who was responsible for destroying his body and fusing him permanently to his tank with a bomb! Upon reaching Downunda, Tails encountered the Downunda Freedom Fighters - a group of Australian FF's that sought to free to thier country from Robotnik's rule. Inviting himself on his quest after he was recued and taken to Athair - Knuckles' grandfather, Tails and Guru Emu - in an attempt to rescue one of thier comrades, Wombat Stu, let loose with a supply of Bomberangs. As Crocbot was hit with the bomberang, his tank skidded out of control and went flying into the Floating Island crater where the tanks nuclear core exploded. But Crocbot was NOT gone for good. After Tails left he set up his new base in that very crater! Taking his new army of Combots on loan from Doctor Robotnik, that area served as his base of operations until The Downunda Freedom fighters destroyed it and finally liberated thier country from his grip. This time Crocbot lost the entire lower half of his body, but he still wasnt through - he had managed to capture one of the Downunda FF's and implanted a mind control chip on him. It wasn't until Sonic and Tails came along on thier quest to locate Ixis Naugus, that Crocbot was finally stepped on for good. Taken in custody, Sonic took Crocbot's battered remains back to Mobotropolis only to have it stolen by part of Snively's gang in an attempt to revive all of Doctor Robotniks associates after his "death" - the possible purpose being: to fully rebuild him. Crocbot's wherabouts at this time, are unknown...
Details
Species: Crocodile Badnik
Color: Green
Eyes: Yellow
Age: Unknown
Year Of Birth: Unknown
Residence: Downunda
Likes: ???
Dislikes: ???
Abilities: Fused to his Mega mech Tank, thanks to Tails
Weakness: N/A
Weapons & Items: Mega Mech Tank
| | | |
| --- | --- | --- |
| | | |
Dimitri - Debut: Sonic #35 (Sonic Archie Character)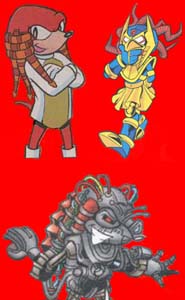 As the leader of the Dark Legion, Dimitri has never seen eye to eye with the Brotherhood of Guardians. Although he eventually came to a wary peace agreement with the guardian Kncukles, relations have not always been so good. Dimitri and his brother Edmund created the Chaos Syphon which was supposed to return the Floating Island onto the Mobius Mainland. However, it backfired and infused Dimitri with the emerald energy instead. Dimitri went positively insane with the power of 11 Chaos Emeralds howling inside him, and he became the villainous Enerjak.
He remained buried in an avalanche under Mount Fate until he was revived centuries later. There he rebuilt his "master city" of Nekronopolis - Echidnaopolis remade - until Knuckles and The Chaotix shot him into deep space. Thanks to Mammoth Mogul, Enerjak returned where he resumed leadership of the Legion from Kragok, his own grandson several generations removed. Enerjak didn't realise that he was a pawn in Mogul's scheme and after all those centuries of Chaos energy he could do nothing as every drop of it was drained out of him, reducing him to his true age - that of a shriveled old echidna that could barely breathe.
Seeking to keep him alive, the DL managed to infuse his aged body with cybernetic parts, making him a cyborg barely capable of living. Under this condition, he has been forced to accept the help of his once-hated relative Kncukles, whose help has proved useful on several occasions. Dimitri's current whereabouts are unknown, and Lein-Da has taken over the Dark Legion.

Details
Other Alias: Enerjak
Species: Echidna
Color: Red
Eyes: Green
Age: 377
Day Of Birth: Day 271 of the Year 2858
Residence: Floating Island
Likes: ???
Dislikes: The Council of Echidnas of Echidnaopolis
Abilities: Able to control electricity and has greatly enhanced strength thanks to his cybernetic parts
Weakness: Must rely on his cyborg appendages in order to stay alive
Weapons & Items: Cyborg Echidna complete with giant claw attached to hand and various electrical components

Associations
Great-Great-Grandparents: Kayla-La and Jordann
Father: Byron
Mother: Angel-La
Brother: Edmund (his twin)
Son: Menniker
Other Relations: All subleaders of the Dark Legion
| | | |
| --- | --- | --- |
| | | |