Query Returned 114 Items
Vector the Crocodile - Debut: Sonic The Hedgehog: Triple Trouble (sonic archie character)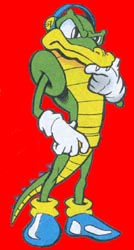 Usually the FIRST member of the Chaotix to get into trouble - Carefree and happy-go-lucky, Vector never lets a serious situation get in the way of a good time (or his favorite song). This cool croc is never without his headset, even in the most dire of battles. If there's anything Vector loves as much as music, it's eating and speeding when he isn't jammin' with his friends or investigating the local food courts. It's not yet known exactly how Vector got hooked up with the Chaotix or with Knuckles for that matter as it seems the two have known each other quite a while....Vector's buzzing spin attack, whereby he rolls himself up into a ring shape, is not as quick as the usual Sonic Spin, but it does have a much wider range. His Power Boost move works like a jump within a jump, giving this cool croc some extra height. Vector lived a normal crocodile life on the Floating Island. Early on, Vector learned to love music and has been listening to the upbeat songs all the way through childhood. Now, he helps Knuckles out by guarding the island with him and doing other things he might need help with. Vector can get quite annoying at times with his booming walkman and his rap talk, but he's ALWAYS good friend to others - except maybe Julie-Su - and can help out a lot when he's needed. Vector doesn't exactly trust Julie - to tell the truth he can't stand her - and finds it his job to keep an eye on her. He deeply resents the fact that Knuckles seems to often spend more time with her and less with them, but he's slowly accepting it.
Details
Full Name: Vector Crocodile
Nick Names: None
Species: Crocodile
Color: Green
Eyes: Black
Age: 16
Year Of Birth: 3219
Place Of Residence: The Floating Island - Swampy Swamp
Likes: Music
Dislikes: The Dark Legion
Abilities: Extremely powerful swimmer
Weakness: Hard to trust others
Weapons & Items: His walkman doubles as a super sonic sound device which allows Vector to manipulate sound, Ring Tether

Associations
Chaotix: Espio, Charmy, Mighty, Ray, Julie-Su
| | | |
| --- | --- | --- |
| | | |
Wynmacher - Debut: Knuckles #6 (Sonic Archie Character)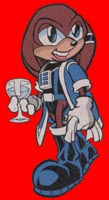 A cook and an athlete in his college days, Wynmacher is the one who helped Lara-Le find herself after her disastrous relationship with Locke. Easy going and very affectionate toward Lara-Le, he has a healthy relationship with Knuckles, who doesn't mind him at all.
Details
Nick Name: Wyn
Species: Echidna
Color: Brown
Eyes: Blue
Age: 44
Year Of Birth: 3193
Residence: Echidnaopolis
Likes: Cooking
Dislikes: ???
Abilities: N/A
Weakness: N/A
Weapons & Items: None

Associations
Wife: Lara-Le
Step-Son: Knuckles
Son: Kneecapeon Mace
Xenin - Debut: Knuckles #22 (Sonic Archie Character)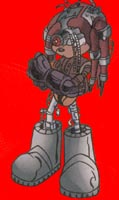 Did you hear why dingos are generally considered the laziest, most shiftless furballs around? No? Because all they do is hang around! HA HA HA HA!
Xenin is the strongest member of the Dark Legion as he was "rebuilt" to be able to withstand Knuckles' attacks--which he can. He's "more than an echidna" and completely ruthless as he doesn't care whether he kills anyone who stands in his way or not. He just follows his orders and has "fun" beating or threatening others. He also tells really dumb jokes.

Details
Species: Echidna
Color: Brown
Eyes: Robotic
Age: Unknown
Year Of Birth: Unknown
Residence: Floating Island with the Legion
Likes: Fighting/Threatening enemies; following Dimitri's orders
Dislikes: ???
Abilities: Very Strong, has great indurance
Weakness: None
Weapons & Items: Plasma Gun
Zonic - Debut: Super Special #8 (Sonic Archie Character)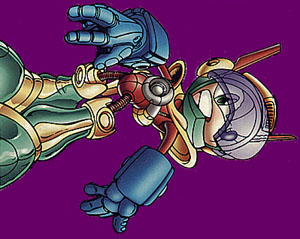 Zonic is a zone cop and has the responsibility to make sure that balance is kept between the different realities. He walks sideways as a result of being from the No Zone. He's the one responsible for allowing the Freedom Fighters to use the Cosmic Interstate without incident during their missions in the past and asks for Sonic's help to take care of zone instabilities that occur from time to time. Zonic is in fact the No Zone's version of Sonic.
Details
Full Name: Zonic the Zone Cop
Species: Hedgehog
Color: Blue
Eyes: Green
Age: Unknown
Year Of Birth: Unknown
Residence: No Zone
Likes: Chili Dogs
Dislikes: ???
Abilities: N/A
Weakness: N/A
Weapons & Items: None