Query Returned 114 Items
King Maximillian Acorn - Debut: Sonic #36 (Sonic Archie Character)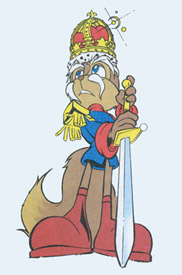 King Acorn has led a life of tough decisions and harsh realities. It began around the Great War when he thought he lost his wife after an Overlander attack on the kingdom. After that came the Great Robotnik coup that would change his life forever as he ended up being banished to The Zone Of Silence for 10 years by Warlord Julian A.K.A. Doctor Ivo Robotnik. While there he also met with Ixis Naugus, the former royal wizard (now completely mad) and creator of the zone Acorn had to spend his next ten years in! The effects of The Zone Of Silence are known to drive those in it to madness and the only way King Acorn could survive was by pledging fealty - and his kingdom - to Naugus with little or no hope of stopping Robotnik or ever escaping.
Over time the king lost total memory, and when Sonic and Sally came to rescue him they had no idea of what thier effects could cause. Prolonged exposure to the Zone Of Silence also brought along rapid crystallization to the body - Full crystallization meant instant death. Sonic, Sally, and Rotor managed to stop the process in time but for quite a while the king lay in a coma until Sonic probed his mind courtesy of Doctor Quack's Dream Watcher. The king was fully uncrystallized thanks to the help of the magical Crown and Sword Of Acorns.
The King's health has always been an issue: first his crystallization, then his paralysis from the waist down, and more recently he fell into a coma after being poisoned by Anti-Antoine. The current King is Max's son, Elias.

Details
Species: Mobian Squirrel
Color: Light Brown
Age: Unknown
Year Of Birth: Unknown
Residence: Knothole
Likes: ???
Dislikes: ???
Abilities: N/A
Weakness: Stubborn
Weapons & Items: Sword of Acorns

Associations
Father: King Frederic Acorn
Wife: Alicia Acorn
Son: Elias Acorn
Daughter: Sally Alicia Acorn
Daughter-in-law: Meg Acorn
| | | |
| --- | --- | --- |
| | | |
King Sonic (M:25YL) - Debut: (Sonic Archie Character)
This character is a version of the character Sonic as portrayed in the Mobius: 25 Years Later setting, a possible future of Mobius Prime. Information revealed in this profile is not relevant to the character in the "present day" setting, which is set in the Mobian year year 3237.
In Mobius 25 Years later, Sonic has become the king. He is married to Sally, and they have two children, Sonia and Manik. Sonic is in many ways similar to his childhood self, but there are also several differences. For instance, Sonic has become far more reclusive and resentful of his royal posts. He often refuses to socialise at all, and has even stopped speaking to his former best friend, Miles "Tails" Prower.
King Sonic has a particular dislike for Knuckles, the guardian of Angel Island, with whom he rarely sees eye to eye and hasn't for years.

Details
Full Name: Olgilve(?) Maurice Hedgehog
Species: Hedgehog
Color: Blue
Eyes: Green
Age: 42
Date Of Birth: Day 162 of the Year 3220
Residence: Mobotropolis
Likes: Unknown
Dislikes: Unknown
Abilities: Speed and related abilities
Weakness: Unknown
Weapons & Items: None

Associations
Wife: Queen Sally
Children: Sonia, Manik
| | | |
| --- | --- | --- |
| | | |
Kneecapeon - Debut: Sonic #139 (Sonic Archie Character)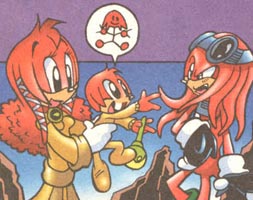 ":p"
"Kneecaps the Echidna? Mom, that has got to be the worst name I've ever heard for a kid!"
When Knuckles returned to Angel Island after a year of being away, he found the island greatly changed. The government was run by sadistic dingoes, the Dark Legion guarded the Emerald, he was thought to be a figure of prophecy called the Avatar.......and then, as a final straw, there was the baby echidna that Lara-Le foisted upon him as his baby brother who promptly started whacking him in the head!
Kneecaps is an adorable but precocious infant echidna boy. He loves his rattle as much as he likes hitting Knuckles with it, and does this quite frequently when Knuckles is holding him. He speaks infant gibberish to express his feelings, though most people obviously can't understand him. Though he is a child, he seems to have a very good grasp of the situation, and can discern good from evil.
And, of course, no baby is complete without his mommy right there beside him, and naturally Kneecaps is almost inseperable from her.

Details
Full Name: Kneecapeon Mace
Nick Names: Kneecaps
Species: Echidna
Color: Red
Eyes: Black
Age: About 1
Year Of Birth: 3236
Residence: Angel Island
Likes: His mommy and Knuckles
Dislikes: Bad people
Abilities: Can smack someone silly with his rattle
Weakness: Can't speak or walk yet-he's a baby!
Weapons & Items: Rattle and pacifier

Associations
Mother: Lara-Le
Father: Wynmacher
Half-Brother: Knuckles
| | | |
| --- | --- | --- |
| | | |
Knuckles The Echidna - Debut: Sonic #13 (Sonic Archie Character)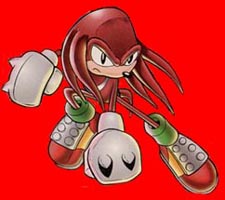 Born on an island in the heavens, the blood of my ancestors flows inside me. My duty is to guard the Master Emerald.
Raised by his father from an early age to take on the responsibilities of guarding the Floating Island and the chaos emerald, Knuckles has gone through many problems - including thinking that he lost his father into the Forbidden Zone when he was only nine years old, fighting Sonic the Hedgehog on numerous occasions, multiple Chaos Emerald thiefs including Doctor Robotnik and Mammoth Mogul, discovering the existance of The Dark Legion, and even dealing with Enerjak - The ancient Echidna evil of history - who just so happens to be his great uncle several generations removed. But each problem he has overcome and has emerged greater, becoming fully worthy of his title passed down through heritage - Guardian Of The Floating Island. Knuckles is very brave, but VERY short-tempered as well. He's curious as to how his world works and what has happened to him though and is always hungry for answers to his many questions and he takes his role as Guardian of the Floating Island very seriously. Knuckles has made amends with Sonic and even though they operate on two completely different aspects - they each respect each other and often find that thier problems aren't really that much different. Knuckles receives aid in his duty as guardian from the Chaotix: Mighty the Armadillo, Espio the Chameleon, Vector the Crocodile, and Charmy Bee. It was with their help that Knuckles was able to stop Dr. Robotnik's plan to imprison the Freedom Fighters! Ever since then he found out that maybe it wasn't so bad having help around occasionaly - and the Chaotix are always there to back him up whenever needed! Always hot on the trail of finding out secrets relating to his past and heritage, Knuckles seeks to make a relationship with the man he never knew: Locke - his father, the mother he never got a chance to love: Lara - who just so happens to be marrying someone else after divorcing Locke, dealing with Julie-Su, a rogue echidna that once served the Dark Legion, dealing with his Great Grandfather Athair - the mystic that gave up his role as guardian, and coming to terms with the family that he really never got a chance to love. Knuckles' life is never easy or simple but he enjoys his job and honestly wouldn't trade it for anything in the world. When Knuckles collects seven chaos emeralds and 50 power rings, he becomes Hyper Knuckles! As Hyper Knuckles, all of his natural abilities are enhanced. He is also invincible to all attacks and glows a flashing hot pink color.

Details
Nick Names: Rad Red, Knux
Species: Echidna
Color: Red
Eyes: Purple
Age: 16 years
Date Of Birth: Day 251 of the Year 3220
Place Of Residence: The Floating Island, Echidnaopolis
Abilities: Super Speed (Only when powered up), Glide Attack, Knuckle Punch, Super Knuckle Attack, Whirlwind Attack, Basic Gliding, Digging, And Climbing
Weakness: Girls, Extreme Light, and Heavy Sunlight.
Weapons: Power Rings, Chaos Emeralds

Associations
Father: Locke
Mother: Lara-Le
Step-Father: Wynmacher
Half-Brother: Kneecapeon Mace
| | | |
| --- | --- | --- |
| | | |
Kodos - Debut: Sonic #43 (Sonic Archie Character)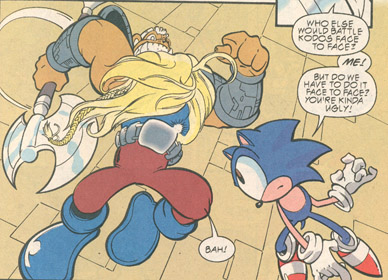 RRAAARRGGGH!!!
A large muscular lion with an attitude for everything and a spiteful hatred of overlanders, Warlord Kodos carries his Battle Axe wherever he goes and is NEVER afraid to use it...Originally the Minister Of War in the Kingdom Of Acorn, Kodos served during the time that Ixis Naugus was the Royal Wizard. Aiding Naugus in his his quest to frame Nate Morgan, Kodos' hatred of overlanders led to an attack of Overlander troops, which resulted in the deaths of part of his own ground troops, and Nate's eventual exile from the kingdom. Satisfied that he had no more overlanders to bother him, Kodos set about to continue his job. It wasn't until later that a young overlander named Julian Kintobor - later to become Doctor Robotnik - came upon the scene. When Kodos "disappeared," King Acorn gave Kodos' duties in the Great War to Kintobor - who was willing to shed his knowledge of the Overlanders and defeat their troops once and for all. Kodos had sensed that Julian might want to take over the Kingdom and was planning on recruiting Julian and showed Julian the entrance to the Zone Of Silence. Kintobor soon went to banishing his first obstacle, Kodos, in his agenda to fully take over the Kingdom ! Kodos survived his imprisonment in the zone until Ixis Naugus came along - and it was there that Kodos pledged fealty to Naugus, becoming his "hired muscle" of sorts, along side his second companion the female warrior Arachnis. Kodos holds a spiteful grudge against Robotnik, and an even larger grudge against Sonic and Sally - who are allies of the Kingdom of Acorn, and when it comes to death Kodos is QUITE WILLING to pass it out in doses - making him a deadly foe. Currently though it could be possible his death is upon us after falling within a ravine in the Great Forest. It's unknown for now if he's alive or not.

Details
Species: Lion
Color: Brown
Eyes: Red
Age: Unknown
Year Of Birth: Unknown
Residence: Killed falling into a fissure in the Great Forest
Likes: ???
Dislikes: ???
Abilities: Extremely Strong and well skilled
Weakness: n/a
Weapons & Items: Battle Axe
| | | |
| --- | --- | --- |
| | | |
Kragok - Debut: Knuckles #1 (Sonic Archie Character)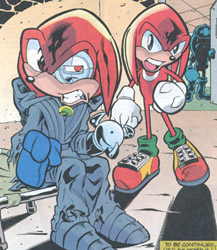 Enerjak may be the definitive Knuckles villian, but Kragok is the DEFINITE Knuckles rival! Just as evil as his Great Grandfather Enerjak, Kragok - the son of Luger - is 33-4 years old. An insane rival of Knuckles he's akin to looking at Knuckles in a mirror. Kragok hates Knuckles with a heated passion (which is mutual) and if you get the two in a room together they'll beat each other silly for hours and probably never stop. Kragok had been trapped in the Twilight Zone - the Dark Legion's old prison - along with Tobor, one of the lost guardians. However, when the portal to the zone opened up with a Dark Legion airship nearby, Tobor forced Kragok along with himself into the beam from the Quantum Cannon, which destroyed the cannon as well as killed them both.
Details
Species: Echidna
Color: Red
Eyes: Black
Age: 33/34
Year Of Birth: Unknown
Residence: The Twilight Zone (Dead)
Likes: ???
Dislikes: ???
Abilities: Third in command of the Dark Legion, Knuckles biggest rival
Weakness: None documented
Weapons & Items: Technology! Dark Legion! Tanks! Fire! Guns! THE CLAW

Associations
Father: Luger
Mother: Merin-Da
Sister: Lien-Da (Kommissar--his twin)
Step-Mother: Mari-Su
Half-Sister: Julie-Su
Son: Remington
| | | |
| --- | --- | --- |
| | | |
Lara-Le - Debut: Knuckles #4 (Sonic Archie Character)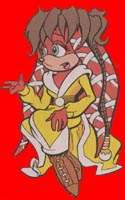 Lara-Le is Knux's mother. But she wishes she could have been more of a mother to him...You see a mother has almost no role in the upbringing of a guardian as all she did was basically give birth - and that it. This often led to many conflicts between her and Locke and overall their ultimate divorce. With the city of Echidnaopolis having vanished completely from the face of The Floating Island and trapped in it's own pocket zone due to a nuclear holocaust and The Hyper Zone Projector made by Hawking, the only traces of civilization were the "Marble Garden Zone" ruins left in its wake. Lara, as well as the city's inhabitants, had no way to escape the zone and thus so Knuckles went most of his life thinking that she was possibly dead. In truth - Guardians did have a way to exit back and forth between the Echidnaopolis Zone and the Floating Isle, and Locke often used this to his advantage. This meant that while Locke told Knuckles his mother was "gone," Lara could do nothing but sit trapped in Echidnaopolis without hope of ever seeing her son. It sounds cruel - but it certainly wasn't intentional...henceforth years later - due to The "Endgame" saga when Robotnik's Ultimate Annihilator exploded, it sent an omega wave of massive proportions all over Mobius, creating new zones, destroying some old ones, and breaking down the buffers protecting hidden ones. And one of those hidden zones now opened was none other than the lost city of Echidnaopolis! As Knuckles investigated, he came to face to face with his long lost mother. Currently they have established a relationship. Lara originally couldn't tell Knuckles the truth about Locke and how he was still alive and it broke her heart to do so. But that still doesn't keep her from trying to be an active figure in his life. Whether its talking to Julie-Su, or just dishing motherly advice, Lara cares the world for her son and is always ready to lend a shoulder whenever need. Currently she is on her honeymoon with her new husband, Wynmacher. While Knuckles still has problems dealing with the fact of a new stepfather, he also respects Wyn as well.
Details
Species: Echidna
Color: Red
Eyes: Green
Age: 37
Residence: Echidnaopolis
Likes: ???
Dislikes: ???
Abilities: None
Weakness: None
Weapons & Items: None

Associations
Sons: Knuckles (with Locke), Kneecapeon Mace (with Wynmacher)
Ex-Husband: Locke (Divorced)
Husband: Wynmacher
| | | |
| --- | --- | --- |
| | | |
Lara-Su (alternate universe) - Debut: Sonic #106 (Sonic Archie Character)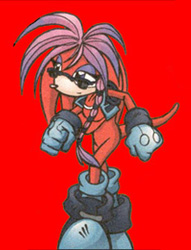 The daughter of Knuckles and Julie-Su, she was raised by Julie-Su and was led to believe that Remington killed Knuckles. However, in Lara-Su's attempt to change the past in her reality, she ended up in this Mobius' reality which was different from the one she knew. While she witnessed what she thought was Knuckles' "death" (she never did find out that Knux was faking it), she did manage to prevent Julie-Su from being killed by a sniper. When she returned to her proper world and time, she was finally told the truth about her father. Knuckles went crazy after asorbing a lot of chaos energy and is currently leading the Dark Legion attempting world conquest in her world.
Details
Species: Echidna
Color: Red
Eyes: Purple
Age: approx 14
Year Of Birth: approx 3241 (alternate future)
Residence: Floating Island (alternate)
Likes: ???
Dislikes: ???
Abilities: Can retract her knuckles at will and other chaos energy enhanced powers
Weakness: N/A
Weapons & Items: None

Associations
Father: Knuckles (alternate)
Mother: Julie-Su (alternate)
Other Relations: Brotherhood and Dark Legion (alternate)
| | | |
| --- | --- | --- |
| | | |
Lara-Su (M:25YL) - Debut: Sonic #131 (Sonic Archie Character)

Lara-Su has been raised by both of her parents, who have tried to shelter her from the kind of life they lived as kids/teenagers. However, Lara-Su resents it as she wants nothing more than to become a Guardian like her father and fight. She's quick-witted and has a short temper. She's also a very good fighter in her own right and does her best to follow her own path.
Details
Nick Name: Su
Species: Echidna
Color: Red
Eyes: Violet
Age: 16
Year Of Birth: 3245
Residence: Angel Island
Likes: Being a Guardian
Dislikes: Manik's crush on her
Abilities: Glide and manipulate chao energy
Weakness: None
Weapons & Items: N/A

Associations
Father: Knuckles
Mother: Julie-Su
Aunt: Lien-Da
Cousin: Rutan
Friends: Salma, Riki-Le, Sonia (before the "reset")
Lien-Da - Debut: Knuckles #22 (Sonic Archie Character)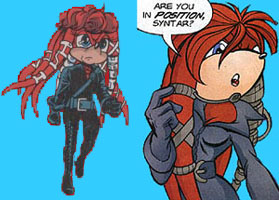 Kommissar, the twin sister of Kragok, is a schemer and like her brother has no qualms about killing as it is hinted that they masterminded the "accidental death" of their step-mother, who they both hated. They both didn't like Luger's more "peaceful" reign over the Dark Legion and their father "mysteriously disappeared" which allowed them to take over the Legion, with Kragok as first in command. Kommissar also has deep hatred for Julie-Su as she never wanted another sibling when her mother, Merin-Da, died due to illness. Currently she's the leader of the Flame Legion, a branch of the Dark Legion (which is the middle of its own civil war).
Details
Also Known As: Kommissar
Species: Echidna
Color: Red
Eyes: Blue
Age: 33/34
Year Of Birth: Unknown
Residence: Floating Island
Likes: ???
Dislikes: Julie-Su
Abilities: Leadership
Weakness: None
Weapons & Items: None

Associations
Father: Luger
Mother: Merin-Da
Brother: Kragok (her twin)
Step-Mother: Mari-Su
Half-Sister: Julie-Su
Nephew: Remington