Query Returned 114 Items
Locke - Debut: Sonic #33 (Sonic Archie Character)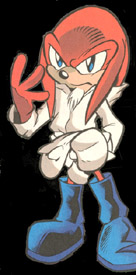 Locke, following the traditions handed down generation after generation, "abandoned" his son Knuckles and lied to him about his mother and family. It continues to haunt him to this day because of his doomed relationship with Lara-Le, who he still loves. This does not mean that he does not watch over Knuckles. Before it was only behind a computer screen in the confines of Haven - home of The Brotherhood Of Guardians of which he is currently a member. Before Knux was born Locke had a dream induced by the Ancient Walkers, that foretold of a dark dismal future in which Knuckles went up against what looked to be a giant Robotnik robot. Its unknown whether Knux died in the dream, but Locke was so spooked over it that he went to his grandfather Athair for help. After Athair telling him of the coming of the Guardian Savior, Locke began to experiment on himself, and subjected Knux' egg to Chaos Emerald Radiation, thus making his son a "living Chaos Battery." Locke is still unsure if he made the right choice or not. For advice, Locke goes to his father Sabre, though he doesn't always follow it or agree with it. Due to the tradition of guardians - the youngest one was destined to be left alone and to fend for themselves. After protest from Lara - his wife, Locke began training Knuckles and one day Knuckles watched in horror as he entered the large wall of flames in The Forbidden Zone. Knuckles now knows that his father exists and is ALWAYS asking questions which Locke is usually hesitant to answer. It almost seemed as if Locke's entire world was crumbling around him - The Brotherhood is constantly arguing with him, and Lara - now his ex-wife has gone on to marry anew. If ever the phrase "too little, too late" was to come into play - Locke may be king definition of it.
Details
Species: Echidna
Color: Red
Eyes: Blue
Age: 40
Place Of Residence: Haven
Likes: History, Science
Dislikes: Reading the Tombs (indirectly faith)
Abilities: Technology wiz, Glide and chaos emerald-induced powers
Weakness: Doesn't know how to listen or communicate, slow to change

Associations
Mother: Jenna-Lu
Father: Sabre
Ex-wife: Lara-Le
Son: Knuckles
Mentor: Archimedes
Various: The Brotherhood
| | | |
| --- | --- | --- |
| | | |
Lupe - Debut: Sonic #46 (Sonic Archie Character)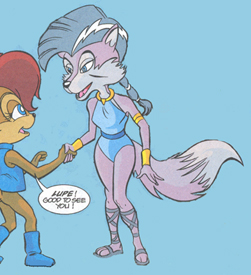 As the leader of the Wolf Pack, Lupe represented the strong spirit of the team and lent a helping hand toward Sally whenever she could. Lupe, in defiance of the general anti-overlander sentiment among Mobians, adopted two lonely overlander girls into the Pack. Unfortunately when the Pack reached home to reunite with the family members they had left behind, the Pack was caught off guard and captured by Uncle Chuck, who was under Robotnik's control--the current Robotnik (not the dead one). Lupe was roboticized, but she fought off the mind control long enough to enable the rest of the Pack to escape. As the control was starting to take affect, she figured she would be better off staying instead of becoming a possible danger to the Pack. In memory of her leadership and bravery, the Wolf Pack put up a tomb stone dedicated to Lupe. Due to nearly everyone being deroboticized, Lupe is now leading the Wolf Pack again.
Details
Species: Wolf
Color: Gray
Eyes: Blue
Age: 30s somewhere
Year Of Birth: Unknown
Residence: Unknown
Likes: ???
Dislikes: ???
Abilities: Leadership, fighting skills
Weakness: None
Weapons & Items: None

Associations
Husband: Lobo
Son: Marcos
Daughter: Maria
| | | |
| --- | --- | --- |
| | | |
Mammoth Mogul - Debut: Sonic & Knuckles: Mecha Madness (Sonic Archie Character)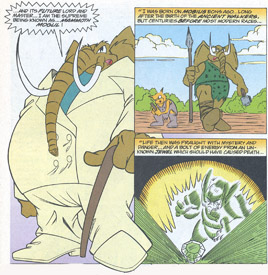 There is always someone else who is smarter, stronger and even more ruthless than you.
Mammoth Mogul was born eons ago a simple wooly mammoth that lived in the natural order of things, but his whole life changed when he came upon an unknown meteorite-like jewel that fell from the sky, embedded itself into its chest and granted him limitless power. He became master of all he surveyed, but was eventually dethroned by the other races of the planet. During the time afterwards, he discovered that the jewel he found was the most potent form of energy in the universe - the Chaos Emerald! With it he had evolved faster than any other animal on the planet and he was ready again after centuries of dormancy, to take his former position as Mobius' ruler. With Robotnik out of the way thanks to Snively and The Ultimate Annihilator, Mogul sought to take the Floating Island's Chaos Emerald, but failed realising the direct approach wouldn't work. Next he schemed to obtain the mystical Sword of Acorns - King Acorn's magical talisman that serves as an enery conduit capable of draining the powers out of anyone - or anything!...In his quest for power, it took the Chaotix and the Freedom Fighters combined to fully defeat him, but what they didn't realise is that in the end Mogul STILL had the sword and Sonic and Knuckles were left with the fake! With step one out of the way, his next appearance peaked as he drained EVERY DROP Enerjak's Chaos Emerald Power using the Sword of Acorns. Reducing Enerjak to aged dust, Mogul became super and reverted into "Master Mogul"! And infused with the power of 12 Chaos Emeralds with all but the Floating Islands emeralds left he went completely mad with power! After battling Super Sonic, Hyper Knuckles, and Turbo Tails, The Freedom Fighters, The Chaotix, General Stryker, and even with Athair and The Ancient Walkers stepping in, Mogul succeeded in getting into the Island's Chaos Chamber but had absorbed TOO MUCH POWER and thanks to Locke and Sabre - Knuckles' father and grandfather - he finally ended up encased forever in the newly dubbed "Master Emerald" - which consisted of a 14th Chaos Emerald with Mogul's life essence trapped dormant in its core! Recently, Mogul escaped from the core when RoboRobotnik (SA-style Eggman) shattered the Master Emerald. Mogul hasn't been seen or heard from since.

Details
Species: Mammoth
Color: Light brown
Eyes: Glowing
Age: Unknown
Year Of Birth: Unknown
Residence: Unknown, was inside the Master Emerald
Likes: Giving long speeches on how much power he has
Dislikes: Sonic, Tails and Knuckles, and the rest of the good guys, since they messed his plans up
Abilities: Looked good as a Master Emerald-incased dicoration, but is otherwise unknown in location
Weakness: being off guard when giving an ego talk
| | | |
| --- | --- | --- |
| | | |
Mari-An - Debut: Knuckles #11 (Sonic Archie Character)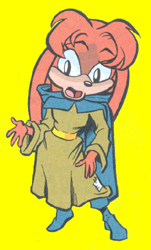 A member of the Lost Tribe of Echidnas looking for Albion, when the Tribe arrived in Mercia she realized that her brothers were missing. When Knuckles was going to search for them by himself, she showed him that she knows how to take care of herself and the two went off together. Eventually they split up to cover more ground, and when she ran into Knuckles again, he was with Rob, who challenged her to a fight on a log in the nearby creek. After easily knocking Rob into the water, the two exchanged a glance and it was love at first sight. The trio ran into Sonic and Tails and the five of them saved Yanar from being hung by the High Sheriff and rescued the Tribe (who had been captured and were working as slaves). While Knuckles led the Tribe to Albion, she decided to stay in forests of Mercia with Rob in his fight against the High Sherriff.
Details
Species: Echidna
Color: Light Red/Dark Orange
Eyes: Purple
Age: Unknown
Year Of Birth: Unknown
Residence: Mercia
Likes: ???
Dislikes: ???
Abilities: hand to hand combat
Weakness: None documented
Weapons & Items: Staff/Sword

Associations
Brothers: Zax, Raynor
Husband: Rob O' The Hedge (they also have a child)
| | | |
| --- | --- | --- |
| | | |
Menniker - Debut: Knuckles #1 (Sonic Archie Character)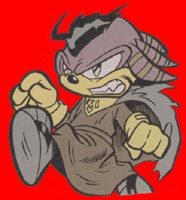 Menniker was very devoted to his father, Dimitri, and when Dimitri (as Enerjak) was believed dead (buried under Mount Fate) he still continued to visit. He saw some energy released and figured that his dad was asking him to continue his work. While Menniker pretended to comply with the technology reduction put in place by the Echidna Council and enforced by Edmund, as the first Guardian, Menniker secretly rallied all the echidnas outraged by the Council's decision. This group would become to be known as the Dark Legion. After Steppenwolf exiled Menniker and his group into the Twilight Zone, Menniker and the Dark Legion eventually escaped. Menniker planned a surprise attack on the Floating Island with the overlanders. However, Aaron, the current Guardian at the time, accidentally discovered the plot and tried to disarm the missile when the overlander leader fired it. Menniker jumped on the missile to stop Aaron but mentioned to Aaron not to press a button since it would cause the missile to detonate. Aaron purposely pressed it, killing them both, but saved the Floating Island.
Details
Species: Echidna
Color: Unknown
Eyes: Unknown
Age: Unknown
Year Of Birth: Unknown
Residence: Echidnaopolis/Twilight Zone (dead)
Likes: His father, technology
Dislikes: Edmund, Steppenwolf, echidnas that followed the Council
Abilities: Leadership, cleverness
Weakness: None
Weapons & Items: Gun

Associations
Father: Dimitri
Uncle: Edmund
Cousin: Steppenwolf
| | | |
| --- | --- | --- |
| | | |
Merlin Prower - Debut: Sonic Live (Sonic Archie Character)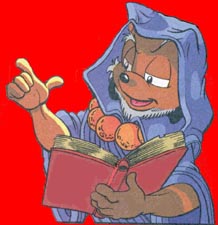 Meet the last of our mystery men - Merlin Prower, a sorcerer and charlatan, Merlin was once under the reign of King Acorn as Royal Wizard - possibly after Ixis Naugus was banished by Robotnik. Those that DO know of his existance DONT even know of the person that they were actually meeting. Sonic met him only once as a child, trading a bag of "shiny stones" for Tails' sneakers, and as Sonic sped off - Merlin vanished in a puff of smoke. When Knuckles met him, he was on his quest for the Sword Of Acorns - and since he didn't know anything of Tails' real name - Miles Prower - Knux never made the connection to Merlin Prower. Tails knows possibly NOTHING of him, and neither does anyone else. However - it has been hinted at in spoilers that Merlin may posibly know of tails' role as The Chosen One. What he knows and when he wil take action is yet to be seen. But for right now - we, and Tails, will just have to wait....
Details
Species: Fox
Color: Orange
Eyes: Blue
Age: Unknown
Year Of Birth: Unknown
Residence: Unknown
Likes: ???
Dislikes: ???
Abilities: POSSIBLE liason to The Ancient Walkers, a sorcerer and charlatan, he can tap into abilities even Sonic, Knuckles, and Tails have yet to discover
Weakness: None documented
Weapons & Items: None

Associations
Nephew: Tails
Brother: Amadeus
Sister-in-Law: Rosemary
| | | |
| --- | --- | --- |
| | | |
Mighty the Armadillo - Debut: Knuckles' Chaotix (Sonic Archie Character)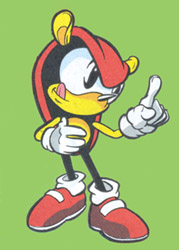 Mighty lived a regular life on the Floating Island as he grew up. He and Sonic are close friends as they met several years ago in an unknown base run by Robotnik that they shut down with the help of a squirrel named Ray. However, Ray went missing during that incident and it was only recently that Ray was rescued from the limbo he'd been in for years. Mighty joined up with the Chaotix when Robotnik threatened the Happyland Amusement Park. Since then Mighty has helped Knuckles much in his task of guarding the Floating Island and is loyal to Knuckles' cause as one of the founding members of "The Chaotix." Mighty also had his hand in being the first to meet Charmy Bee upon his venture to the Floating Island and introducing the bee to all his friends there. He can jump up the steepest of walls with ease, and when he kicks-off, he can take even the most wary of Badniks by surprise. Mighty likes to lift weights and brag a heck of a lot about his strength, but the dude really is humble, even if it doesn't show at times. He's very good friends with everybody and helps them whenever they need it.
Details
Species: Armadillo
Color: Red & Black
Eyes: Blue
Age: 15
Year Of Birth: 3220
Residence: Floating Island
Likes: ???
Dislikes: ???
Abilities: Strength: Mighty's strength is much larger than that of a regular animal allowing for some amazing feats
Weakness: Tends to jump headlong into situations without thinking.
Weapons & Items: N/A

Associations
Best Friend: Ray the Squirrel
| | | |
| --- | --- | --- |
| | | |
Mina the Mongoose - Debut: Sonic #76 (sonic archie character)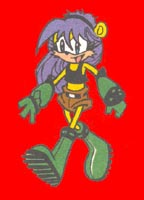 When the Freedom Fighters returned from space, Sonic met Mina in the re-named "Robotropolis" while she was attempting to find Robotnik (SA-style Eggman) so she could find out why her family had to be roboticized. Sonic stopped her and Mina is currently living in Knothole. Rosie gave Mina the responsibility of baby-sitting some of the younger children. Mina first displayed that she also has super speed when she saved Sonic and herself from an attack from Com-bots by getting them away from them. She's not anywhere near as fast as Sonic. Sonic was originally the only friend she seemed to have in Knothole and she likes him a lot. However, she now has a major singing career and love (Ash) of her own.
Details
Species: Mongoose
Color: Yellow
Eyes: Teal
Age: 15
Year Of Birth: 3220
Place Of Residence: Knothole Village
Likes: Sonic
Dislikes: Tragedies
Abilities: Super Speed, singing
Weakness: Not Thinking Ahead

Associations
Mother: Isabella
Boyfriend: Ash
Mobie - Debut: Sonic #32 (Sonic Archie Character)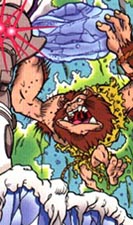 GRFMF??
Mobie was found incased in ice by Antoine after an ambush of swatbots attacked them. Mobie is believed to be 8000 yrs old. After revived, he put up a fight and went in search for anyone he knew from 8000 years ago I assume.. Like they would be around. After recapturing him again and to help ihs problem with his sense of 'unearthly' environments, Uncle Chuck let Mobie off in the Mobian Jungle where Snively would wreak havoc with the the Eco-Destroyer. But would then suffer consequences. At this time, Mobie is most likely still residing in the jungle.

Details
Species: Mobus Ursidae Sapiens
Eyes: Black
Age: Approx. 8000 years
Year Of Birth: N/A
Residence: Mobian Jungle
Likes: Painting
Dislikes: Beinf confused and adjusting to the new surroundings
Abilities: Great strength
Weakness: Hard time of trying to understand anyone
Weapons & Items: Club
Monk - Debut: Knuckles #30 (Sonic Archie Character)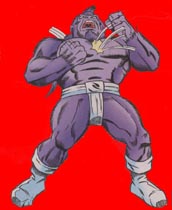 Monk usesd to bully Knuckles when Knuckles was around 10 years old. He became so good at it that the Brotherhood (in disguise) threw him off the Floating Island. After about 5-6 years, Monk managed to return. Wanting to go back to old times, he tried to bully Knuckles again but found that Knuckles wasn't exactly the same. However, that was the least of his worries as Hunter used him and Knuckles as his next targets for his hunting game. Forced to work with Knuckles due to a collar that caused immense pain when the two were separated, he attacked Hunter directly when Hunter was distracted trying to shoot Knuckles. Monk was shocked and fell a great distance to the ground below. Whether it was the shock or the fall that killed him is debateable.
Details
Species: Gorilla
Color: Purple
Eyes: Red
Age: Unknown
Year Of Birth: Unknown
Residence: Floating Island (dead)
Likes: Bothering/Fighting Knuckles
Dislikes: Being hurt by Knux
Abilities: Strong, big, tall
Weakness: Brains (not very swift)
Weapons & Items: None
| | | |
| --- | --- | --- |
| | | |