Query Returned 114 Items
Steppenwolf - Debut: Knuckles #1 (Sonic Archie Character)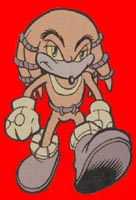 Always friendly with his cousin Menniker, he helped out his father, Edmund, in enforcing the "new" technology guidelines for the citizens of Echidnaopolis. However, unlike his father, he paid attention to the growing opposition which walked around the city in dark hoods. When he was found out watching a secret meeting of this group, Steppenwolf managed to avoid the laser fire and get a boogie to escape, but the boogie was shot down. He survived the crash and hid. However, members of the group were looking for him and Edmund, who was looking for Steppenwolf, was shot & killed from behind when he attack two of their members. After the members were gone, Steppenwolf cried over his dad's body and was eventually approached by the fire-ant called Christopheles. Christopheles promised to help and trained Steppenwolf in the sciences, built up his strength, and taught him how to access the power of the chaos emerald. Christopheles finally took Steppenwolf to a "secret" top of the line facility called "Haven." Meanwhile, the warring between the followers of the Council new law and the Dark Legion (as it was finally known as) got worse. Steppenwolf approached the Council and reminded them that there's always more than one option in whatever happens just before leaving to confront the Dark Legion. When he approached the Grandmaster, he was very surprised to find out that it was his cousin, Menniker. Steppenwolf still opened the portal to exile the Dark Legion though he didn't like it at all. Years later, Brutus Kintobor came to the Floating Island with evil intentions, but Steppenwolf had the fire-ants mentally attack all the overlanders who ran away promising not to return. This event caused him to allow his son, Moonwatcher, to learn about Haven as the two then alternated duties over watching the Floating Island and checking out the mainland of Mobius for any beings that might try to hurt the echidnas on the Floating Island. He obviously went down in history as a very important echidna among the citizens of Echidnaopolis as many generations later Hawking would show Knuckles a statue of Edmund & Steppenwolf each holding up the Floating Island.
Details
Species: Echidna
Color: Unknown
Eyes: Unknown
Age: Unknown
Year Of Birth: Unknown
Residence: Echidnaopolis (dead)
Likes: His father
Dislikes: ???
Abilities: Various tuning into the energies of a chaos emerald
Weakness: None
Weapons & Items: None

Associations
Father: Edmund
Uncle: Dimitri
Cousin: Menniker
| | | |
| --- | --- | --- |
| | | |
Swatbots - Debut: Sonic #1 (Sonic Archie Character)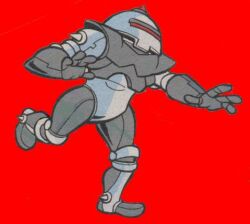 Usually found in the employ of Doctor Robotnik, Swatbots are most likely found patrolling the streets of Robotropolis. Programmed with the "Priority One" code, when Sonic the Hedgehog is sensed in the area they will go on a red alert and attack at all costs. Swatbots are easily taken out by Sonic most of the time, but they still maintain and serve a good purpose to the Doctor when necessary.
Details
Species: Robot
Color: Gray
Residence: Scattered throughout Mobius
Abilities: None
Weakness: None
Weapons & Items: Blasters
Tails - Debut: Sonic #0 (sonic archie character)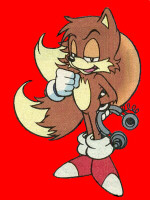 I wanna fly high so I can reach the highest of the heavens. Somebody will be waiting for me, so I have gotta fly higher!
Tails seemed to have been abondened after his parents were roboticized as a little kid, but even as a baby he was fond of Sonic and has hung out with Sonic, Sally, Rotor and Antoine from a very young age. His two tails have been of invaluable assistance to the Freedom Fighters as well. Tails Idolizes Sonic and wants to be like him. He's also committed to his cause and gets very determined to do his job when he takes part in missions, resulting in an extreme bravery.
When infused with enough Chaos Energy, Tails has the ability to become Turbo Tails. As Turbo Tails, all of his natural abilities are enhanced. He is also invincible to all attacks, and glows a dark orange color.
On one of his earliest solo adventures, Tails learend that he was the Chosen One who would bring about the Great Harmony. Although, as the Chosen one, Tails has defeated Master Mogul and saved the multiverse, it is possible that there will be more surprises in store for him.
Tails is a member of the "Brain Trust" subdivision of the Freedom Fighters but also joins the combat team on occasion. Currently, he is not on speaking terms with Sonic after finding out that Sonic was dating his crush, Fiona Fox.

Details
Full Name: Miles Prower
Nick Name: Tails
Species: Double Tailed Fox (debated at times as a Kitsune)
Color: Orange/Brown
Eyes: Light Blue
Age: 11
Date Of Birth: Day 297 of the Year 3225
Place Of Residence: Knothole Village
Abilities: Skilled With Magic, Good at Machine Maintenance, Flight Mode (Using Twin Tails), Whirlwind Attack, Helicopter Attack
Weapons: Power Rings, Chaos Emeralds, Tornado - Biplane, Sea Fox - submarine
Weakness: Not as fast as Sonic

Associations
Father: Amadeus Prower
Mother: Rosemary Prower
Uncle: Merlin Prower (Magician)
| | | |
| --- | --- | --- |
| | | |
Thunderhawk - Debut: Knuckles #16 (Sonic Archie Character)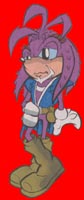 Monitor of the country of Downunda, this purple echidna is the loudmouth complainer of the group. He's always ready to make his opinion known--including thinking a Knuckles/Julie-Su pairing would be "interesting."
Details
Species: Echidna
Color: Purple
Eyes: Blue
Age: Unknown
Year Of Birth: Unknown
Residence: Haven
Likes: ???
Dislikes: ???
Abilities: Chaos powers that all Guardians possess
Weakness: n/a
Weapons & Items: None

Associations
Father: Spectre
Son: Sojourner
Tikal - Debut: Sonic #79 (Sonic Archie Character)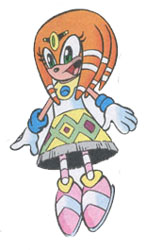 Tikal is the daughter of Pachamac, who was the leader of the Knuckles Clan, the warrior caste of the echidnas. When the Knuckles Clan accompanied the scientists in leaving Albion they arrived in Mysterious Cat Country and ended up battling with the natives. The scientists left, but the Knuckles Clan stayed. One day, Tikal and her father found a temple in the ruins. While Pachamac had to leave for a battle, Tikal stayed and discovered the chao and Chaos. She befriended them all. However, Pachamac decided the seven chaos emeralds that the chao had were needed and despite Tikal's pleadings went after them anyway. Chaos, trying to protect the chao, became angry and destructive until Tikal imprisoned Chaos in the Black Emerald. When Robotnik freed Chaos from the Black Emerald, Tikal's spirit was also freed. She found Knuckles who she accompanied until Chaos became Perfect Chaos. It was at that time that she finally changed from a glowing ball to her old echidna form. She helped Sonic become Super Sonic and after Perfect Chaos was defeated, she disappeared along with Chaos.
Details
Species: Echidna
Color: Orange
Eyes: Green
Age: Unknown
Year Of Birth: Unknown (hundreds of years ago)
Residence: Unknown
Likes: Chao, peace
Dislikes: Greed
Abilities: Show visions, manipulate chaos energy
Weakness: N/A
Weapons & Items: None

Associations
Father: Pachamac
| | | |
| --- | --- | --- |
| | | |
Tobor - Debut: Knuckles #17 (Sonic Archie Character)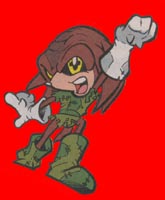 Tobor was the first Guardian in charge of Echidnaopolis after the nuclear attack incident on the Floating Island, which left the city in its own pocket zone. It wasn't long before Moritori Rex led the Dark Legion, with its tanks and blasters, against the citizens of Echidnaopolis, armed with only farming tools. Eventually, Tobor and Moritori went one-on-one, but when Tobor seemed to gain the advantage, Moritori used a device that transported the two of them into ruins on the Floating Island which buried the duo. Some time later, Tobor heard his father calling his name, but soon realized the Hawking mistook Moritori Rex for himself. After a day, Tobor freed himself from the rubble but with a feeling of shame, wandered the Mobian mainland where a doctor gave him cybernetic eyes to replace his failing real eyes. Many years later, Tobor finally returned to the Floating Island and met Julie-Su, who he attacked at first, but allowed her to take him to met Knuckles, the current Guardian. When Knuckles went to "interrogate" Kragok, Tobor eventually sensed trouble. While the portal to the Twilight Zone was still open, Tobor made sure that it closed with him and Kragok in the zone so that there would be one less Legionnaire to contend with. That same attitude was on display when the two finally managed to escape the Twilight Zone right in front of a Dark Legion aircraft, which was firing a beam that Tobor made sure to destroy along with Kragok even though he knew it meant his own death.
Details
Species: Echidna
Color: Brown
Eyes: Yellow
Age: Unknown
Year Of Birth: Unknown
Residence: Killed in a suicide stunt, which also killed Kragok
Likes: His family, especially his father
Dislikes: Moritori Rex, and all Dark Legionnaires
Abilities: Glide, sensing chaos energies
Weakness: His anger
Weapons & Items: n/a

Associations
Father: Hawking
Mother: Sonja-Ra
Wife: Voni-Ca
Son: Spectre
| | | |
| --- | --- | --- |
| | | |
Tommy Turtle - Debut: Sonic #117 (Sonic Archie Character)
Tommy was a friend that the Freedom Fighters had believed dead until recently. Sonic found that he was in the company of several villains, who were working for Robotnik. After Robotnik betrayed the villains, Tommy apparnetly gave his life to save Sonic. However, a year later, Sonic and comany met an identical turtle claiming to be Tommy. They trusted "Tommy" until he turned out to be a robot, but they found that the actual Tommy was alive and in the clutches of Robo-Dyne Systems. Once they rescued Tommy, he became a member of the Brain Trust portion of the Freedom Fighters. He is good frinds with Rotor. Because of an encounter with Robotnik's nanites, Tommy has recently gained the ability to change his shell into things such as wings or a jetpack.

Details
Species: Turtle
Color: Green
Eyes: Blue
Age: 17
Year Of Birth: 3220
Residence: Knothole Village
Likes: Organizing, Technology
Dislikes: Unknown
Abilities: Organizational skills, technical ability
Weakness: Unknown
Weapons & Items: None
| | | |
| --- | --- | --- |
| | | |
Uma Arachnis - Debut: Sonic #53 (Sonic Archie Character)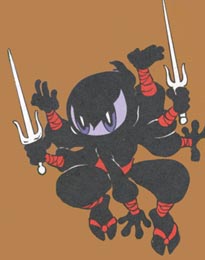 Uma Arachnis is "the mystery villain", extremely quiet and observant - All that is known of her is the fact that she somehow has ties to Ixis Naugus, whom she met in the Zone Of Silence. Being a spider, she can cling to walls, shoot webbing, and can move around like lighning in situations - making her a quick and agile oponnent. She rarely speaks unless it is necessary, and the other villians often find her bewildering. Her true motives are known only to herself, and not even Sonic or Sally know or have any recollection of who she is or what she wants. For now she still remains as the second wild card, and until Ixis Naugus or herself reveal her intentions, she used to slink back into the shadows behind Warlord Kodos and follow through her intentions - whatever they may be. Recently she laid her eggs in the Great Forest, just before dying from the effects of prolonged exposure to the toxins in Robotropolis.
Details
Species: Spider
Color: Black
Eyes: Purple
Age: Unknown
Year Of Birth: Unknown
Residence: Currently dead from radiation poisoning
Likes: ???
Dislikes: ???
Abilities: Ninja Warrior, Can cling to walls like a spider
Weakness: N/A
Weapons & Items: Nunchuckus, Sai

Associations
Partner: Kodos
| | | |
| --- | --- | --- |
| | | |
Uncle Chuck - Debut: Sonic #30 (Sonic Archie Character)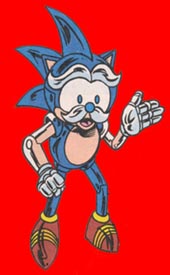 Chuck has had a hard life. He and his brother Jules were once two of the greatest heroes to the kingdom. Jules being the brawn, and Charles being the brains they were practically unstoppable! Charles was the Royal Engineer for the King and was given his title when he created the Roboticizer, a machine built to roboticize people's limbs lost in wars, accidents, and other tragedies. However, Warlord Julian (Later known as Robotnik) sabotaged the machine and made it so that it completely took away a person's will and roboticized them from head to toe. Charles didn't know of this deception, and when Jules was badly injured in the reat War, Chuck roboticised him, and Jules became a robotic vegetable, the first in Robotnik's army that would come along later.
Chuck blamed himself heavily and quit his job, opened up a chili dog chain raising his orphaned nephew Sonic (Jules' son) until Robotnik fully took over. Charles was later captured and roboticized in the Robotnik coup, and turned into a robot devoid of control just like Jules. However, thanks to Sonic, a power ring, and Charles own determimation, he broke control of his body away from Robotnik and served a spy for the Freedom Fighters. In the defeat of Robotnik, Charles finally felt at peace with himself after helping clear Sonic's name of murder in the supposed death of Princess Sally. He still blames himself for the roboticiser but he's not as harsh as he used to be.
Since being derobotized by Ceneca-9009, Sir Charles has become a senior member of the "Brain Trust" subdivision of the Freedom Fighters.

Details
Full Name: Sir Charles Hedgegog
Species: Hedgehog
Color: Light Blue
Age: Unknown
Year Of Birth: Unknown
Residence: Robotropolis/Knothole
Likes: ???
Dislikes: ???
Abilities: Knowledge, technical aptitude
Weakness: Extremely Self-Critical at times to the point where it seems he beats himself up over his mistakes
Weapons & Items: Roboticized weapons

Associations
Brother: Jules
Sister-in-Law: Bernie
Nephew: Sonic
| | | |
| --- | --- | --- |
| | | |
Universalamander - Debut: Sonic #4 (Sonic Archie Character)
You wanna stop me? You gotta go through me
Universalamander was created by Robotnik after a raid of capturing random animals which the only one was a salamander. The salamander was roboticized and enlarged because the buzzbombers mistook a certain button for the AC. As Universalamander trudged on threatening the Knothole Residents, Super Sonic (in his first appearance in the comic) appeared and shrunk it with some sort of shrink ray and Universalamander was left running away.

Details
Species: Robotic Salamander
Color: Green
Eyes: Red
Age: ???
Residence: Unknown
Likes: Chaos, Destruction
Dislikes: Anyone Who Faces Him
Abilities: Crush anything beneathe feet
Weakness: Lacks Intelligence
Weapons & Items: NA