Query Returned 282 Items
Eggman - Debut: Journey To Eggmanland (Sonic Anime Character)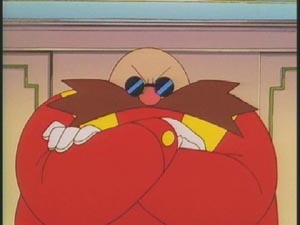 Extremely intelligent, Eggman uses his knowledge and cunning to attempt to take over or destroy the Earth of the Sky though he's stopped by Sonic all the time. Despite his smarts, he usually makes some sort of miscalculation that works against him in the end.
Details
Species: Human
Color: Human White
Eyes: Unknown
Age: Unknown
Residence: Eggmanland
Likes: Sara
Dislikes: Sonic
Abilities: Machinery, scheming
Weakness: N/A
Weapons & Items: Robots

Associations
Sonic the Movie Name: Robotnik
Elias - Debut: Knuckles #19 (Sonic Archie Character)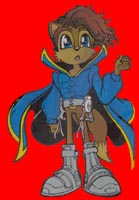 Prince Elias' background comes from the far-off Floating Island. Way back before Robotnik's coup, Queen Alicia and a toddler boy named Elias were carted off to a safe haven on the Floating Island. However, en route, they were attacked and King Acorn feared his wife and son dead. What was not known was that the convoy ships DID make it, but most of the crew died, barring Queen Alicia who fell into a near 10 year coma, Prince Elias, who remained unscathed, and one of the colonels under Geoffry St. John's late father. Discovered by the Guardians of the Floating Island during that time, they took in the Prince and raised him. While the Colonel stayed at the Royal Compound on the Floating Island, where the prince went to live at the age of 10. The Brotherhood made sure to keep the Queen in stasis until she could someday be revived. Prince Elias thought his father died in the Robotnik takeover, King Acorn thought his son died in the Great War, and Sally - who was a child at the time - knew where neither of them were.
Ten years later, King Acorn found word that that the Queen may still be alive and after sending The Secret Service to the Floating Isle, they came upon not only The Brotherhood Of Guardians but Prince Elias and the comatose Queen Acorn as well. The Prince returned and was given the throne. However, he rejected this and ran away to start a family. During the kingdon's recent troubles, and with his father comatose, Elias has reconsidered and become the current King.

Details
Full Name: Elias Acorn
Species: Ground Squirrel - Half Chipmunk, Half Squirrel
Color: Brown
Eyes: Blue
Age: ???
Year Of Birth: Unknown
Residence: Mobotropolis
Abilities: Very Thoughtful and can also take care of himself in a fight
Weakness: Lack of Speed
Weapons & Items: N/A

Associations
Father: King Maxmillian Acorn
Mother: Queen Alicia Acorn
Sister: Princess Sally Acorn
Wife: Meg Acorn
Step-daughter: Alexis
| | | |
| --- | --- | --- |
| | | |
Emerl - Debut: Sonic Battle (Sonic Sega Character)
Coming Soon...

Details
Full Name: The Gizoid
Romanized Name: ???
Species: Badnick
Color: Orange, Yellow
Eyes: Blue
Age: ???
Birthdate: ???
Height: ???
Weight: ???
Likes: Training and improving his abilities
Dislikes:
Abilities: Able to immitate anything he sees and improve his own battle capabilities
Weakness: Chaos Emeralds
Weapons & Items:

Associations
Friends: Sonic, Tails, Knuckles, Rouge, Amy, Cream, Shadow, Professor Gerald
Enemies: Dr. Eggman

Appearances
Sonic Battle...
Possibly Sonic Advance 3 (Never confirmed)
Emerson - Debut: Sonic #72 (Sonic Archie Character)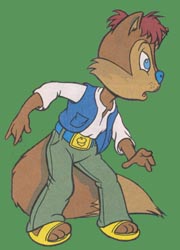 Prince Emerson meet an overlander boy called Paladin who was roughly the same age as he when walking though the forest. They were having a friendly conversation as Paladin was showing Emerson how to shoot a gun. However, when Paladin chose a bird as his target, Emerson jumped in the way of the shot and was killed. King Theodore found Emerson lying on the ground and saw Paladin who was running away. King Theodore forbade contact with overlanders, who he felt had to be fierce and violent and also began the policy among Mobians of not using guns.
Details
Full Name: Prince Emerson Acorn
Species: Squirrel
Color: Brown
Eyes: Blue
Age: Unknown
Year Of Birth: Unknown
Residence: Mobotropolis (in the past)
Likes: Hiking
Dislikes: Seeing an animal get hurt
Abilities: Climbing
Weakness: N/A
Weapons & Items: None

Associations
Father: King Theodore Acorn
Errol Blackthorn - Debut: STC # 18 (Sonic Fleetway Character)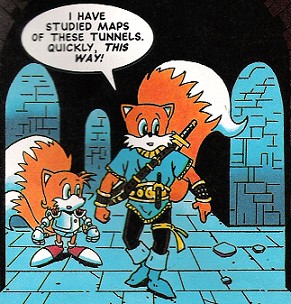 Errol Blackthorn was one of the best swordsfoxs in the Nameless Zone. Errol as set to be Tails accomplice on his journey into the Land Beyond to rescue Shirob the third Enchanter Kings. On the journey Errol learn that Tails reputation was a sham and his honour decreed that he had to expose him to the Enchanter Kings, however by the end of the journey he decided to keep the secret to himself after Tails saved his life. When Trogg kidnapped the other Enchanter Kings Errol went to the rescue but Trogg transformed him into a monster. When Knuckles defeated him Shaman Warpfull had him clapped in the strongest stocks in the Nameless Zone until they could cure him. Errol returned a long time later alongside his sister Morian as they attempted to free the Goblin Overlords.
Details
Species: Fox
Color: Ginger fur
Residence: Nameless Zone
Dislikes: Goblins
Weaponss: Sword

Associations
Hero/Fiend: Tails
Leaders: The Enchanter Kings, Shaman Warpull
Enemies: Trogg
Sister: Morain

Appearances
18
19
20
21
59
60
64
143
144
| | | |
| --- | --- | --- |
| | | |
Espio The Chameleon - Debut: Chaotix (Sonic Sega Character)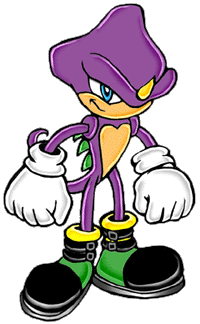 Espio is quick and strong, and loves freedom. He has an intense drive in everything he does - when he runs, he charges head-first and doesn't look back. Espio is an even bigger showoff than Sonic, and almost as fast, matched in speed only by Mighty and Sonic himself. His hot temper often leads him into rough situations, and his friend Charmy Bee sometimes has to remind him of his manners.
Espio values his freedom above all else, and holds a grudge against Robotnik for trapping him in the Combi Confiner several years ago. It was when Knuckles rescued him from the machine that Espio joined the fight against Eggman to protect Carnival Island.
Espio's lashing Tongue Attack can whip the hardest of Badniks into shape, he can charge right through badniks at top speed, and his whirling attack - a tornado version of the standard spin - can leave any opponents spinning their heads! His unique ability to run along walls and ceilings can get him out of any tight spots, and he can also change his color at will to blend into the scenery.

Details
Japanese Name: エスピオ・ザ・カミリオン
Romanized Name: Esupio za Kamirion
Species: Chameleon
Color: Purple (usually)
Eyes: Black
Age: 17 (Chaotix), 16 (Sonic Heroes)
Birthdate: March
Height: 110cm
Weight: 36kg
Residence: Isolated Island? Mushroom Hill Zone?
Likes: Freedom, Speed, Showing Off, Independence
Dislikes: Rules, Eggman, Charmy
Abilities: Speed, Whirl Attack, Running On Walls & Ceilings, Tongue Attack, Charge Attack, Incredible Balance, Stealth, Whirl-Dash
Weakness: Claustrophobic

Associations
Friends: Vector the Crocodile, Charmy Bee, Knuckles the Echidna, Mighty the Armadillo, Heavy, Bomb, Sonic the Hedgehog, Miles "Tails" Prower, Bark the Polarbear, Bean the Dynamite
Enemies: Dr. Eggman, Metal Sonic, Fang the Sniper

Appearances
Chaotix
Sonic the Fighters
Sonic Heroes
Shadow the Hedgehog
| | | |
| --- | --- | --- |
| | | |
Espio the Chameleon - Debut: Knuckles' Chaotix (Sonic Archie Character)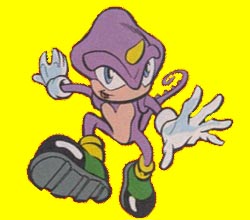 Espio The Chameleon is often quite reserved and his past is a mystery to all except maybe Knuckles....Espio the Chameleon is quick and strong, and has an intense drive in everything he does. Nothing is known of Espio's past by anyone, but it seems that he lived a normal chameleon's life, until he met Knuckles. Then his world was flung upside-down with all the things he had to help his newfound friend with. But Espio has stayed a loyal friend to Knux and the other Chaotix. Espio's lashing Tongue Attack can whip the hardest of Badniks into shape, and his whirling attack can leave any opponents spinning their heads! His unique ability to run along walls and ceilings can get him out of any tight spots, and he can also change his color at will to blend into the scenery. Espio is very secretive in nature and kind of short-tempered just like Knux. He's serious a lot, but is willing to be friendly when he has too. Espio is a vital member to the Chaotix. He can often be found with the rest of the team in their adventures on the Floating Island but when he's alone, he likes to hang out in his invisible treehouse home in The Rainbow Valley.
Details
Species: Chameleon
Color: Purple
Eyes: Blue
Age: 16
Year Of Birth: 3219
Residence: Floating Isle
Likes: ???
Dislikes: ???
Abilities: Stealth: Espio's natural ability to take the color of his surroundings and virtually turn invisible is very useful
Weakness: Not very strong
Weapons & Items: N/A

Associations
Best Friend: Valdez the Chameleon (currently roboticized)
| | | |
| --- | --- | --- |
| | | |
Evil Sonic (alternate universe) - Debut: Sonic #11 (Sonic Archie Character)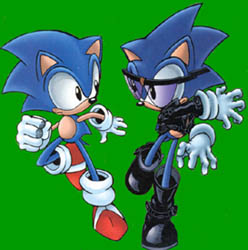 Sporting tinted shades, a leather jacket, and black shoes, Evil Sonic may look like a hokey villian - but he's EVERYTHING Sonic is: only meaner. Basically a punk, Evil Sonic is the type that commands trouble at every second, and if no trouble is there - then he goes out to cause trouble just for the heck of it! Sonic usually manages to outsmart him if the two aren't beating each others brains out in a speed filled fist fight - but every time that Evil Sonic has come back: its always with a new twist! Leader of the Anti-Freedom Fighters, Evil Sonic terrorizes his universe's Mobotropolis constantly, while that areas Doctor Robotnik, a kind country doctor, can only sit and do nothing. The Anti Freedom Fighters are his personal "goon squad" and together they have even travelled to Sonic's own universe to wreak some havoc. At one point he went as far as to ally himself with the real Doctor Robotnik, which only resulted in him making a permanent enemy out of his rival - The Anti-Knuckles!
But his biggest evil was none other than allying himself with The Robo Robotnik - the Robotnik from a parallel universe that would eventually come to be known as Robotnik Mk II. Stealing an artifact called "The Giant's Hand" from an area in the Cosmic Interstate known as the Nuetral Zone, Evil Sonic was partially responsible for Robo Robotnik's invasion of the various Sonic universes and his ultimate decapitation!
Because of Sonic Prime, SU Sonic, Sonia, & Manic he was captured and held in a prison cell under the watch of Zonic. He's a bit slippery, throught, and he escaped twice. The first time, he went to Mobius Prime, where he was recaptrued thanks to the efforts of Antoine Prime. The second time, however, he went to his own zone, where he got into a conflict with Anti-Antoine. Anti-Antoine was switched with Antoine Prime, and then Evil Sonic saw how good this was so he switched himself with Sonic Prime and caused trouble briefly.

Details
Species: Hedgehog
Color: Blue
Eyes: Green
Age: 16
Year Of Birth: 3219
Residence: Mobotropolis
Likes: Causing trouble, destorying things
Dislikes: Sonic, order
Abilities: Super Speed
Weakness: N/A
Weapons & Items: None

Associations
Gang: Anti-Freedom Fighters
| | | |
| --- | --- | --- |
| | | |
Fabian Vane - Debut: STC #109 (Sonic Fleetway Character)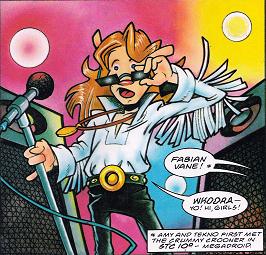 Fabian Vane was once a famous pop star in Metropolis after Robotnik was defeated who hired Amy and Tekno as bodyguards after being attacked on stage by a "fan". After more of his "fans" started attacking the girls found out that they were really out to get Fabian because he owed them large amounts of money for writing his songs, designing his clothes, plastic surgery, etc. Fabian was forced to pay them all back and lost his popularity once people realised he was a fake. He tried to get his fans back later by staging being kidnapped but again was exposed by Amy and Tekno. His other attempted comebacks included the haunted house gig in which he successfully demolished an entire building. Several of his remaining "fans" suggested that he go around the universe and share his "talents" with other worlds and they found the perfect vehicle in the Ring of Eternity. Fortunately for Fabian Amy, Tekno and max Gamble were returning home from their round the universe tour and stopped Fabian from doing anything so stupid. Suddenly the fans turned nasty and attacked Amy and Tekno and in an attempt to grab Max Gamble the Ring of Eternity was smashed. With their plans foiled the fans returned home and Fabian was forced to help Max Gamble repair the broken Ring before he could do the same.
Details
Species: Dog
Color: Peach with reddish blonde hair (Wears white)
Eyes: Black
Age: Unknown
Residence: Metropolis City
Likes: Himself, his music, money, his fans
Dislikes: Being unpopular
Abilities: None
Weakness: Easy to expose as a fraud

Associations
Allies: Amy Rose, Tekno The Canary
Enemies: Those he owes money to
| | | |
| --- | --- | --- |
| | | |
Fang The Sniper - Debut: Sonic & Tails 2 (Sonic Sega Character)
Every Rogue's Gallery needs its wild card and Fang fits the bill exceptionally! Not much is known about Fang the Sniper, whom holds the "honor" of being despised by everybody from Sonic and Knuckles to Doctor Eggman! Fang loves one thing, and one thing only; the incredible driving force that we call cash. He is known to double cross anyone at any time, and would stab his own family (assuming he has one) in the back for a profit! Like all the antagonists, he's got his eye on those shiny stones they call the Chaos Emeralds; but unlike the rest, he's not after the Emeralds for their awesome power (of which he has
no
clue), he's more interesed in the gems' apprasal value.
Also known as Nack the Weasel, Fang is a freelancing bounty and treasure hunter who will work for whichever side pays him more, but most often he'll just be working for himself. He knows every trick in the book, and a few that aren't. Though he may be clever, if there's anything he isn't, it's quick. He gets around using a speedy little airbike called the Marvelous Queen, but he can also leap to lofty heights using his long tail as a spring. He has a spiffy little popgun too!

Details
Japanese Name: ファング ザ スナイパー
Romanized Name: Fangu za Sunaipaa
Nick Names: Nack the Weasel
Species: Weasel
Color: Purple
Eyes: Black
Age: ???
Birthdate: November 11
Height: ???
Weight: ???
Likes: Anything worth money (especially pretty jewels)
Dislikes: ???
Abilities: Tail Hop, Popgun Attack
Weakness: Lack of Speed and Power
Weapons & Items: Popgun, Marvelous Queen (air-bike)

Associations
Enemies: Sonic the Hedgehog, Miles "Tails" Prower, Knuckles the Echidna, Dr. Eggman, Amy Rose, Espio the Chameleon, Bark the Polarbear, Bean the Dynamite

Appearances
Sonic & Tails 2
Sonic Drift 2
Sonic the Fighters
| | | |
| --- | --- | --- |
| | | |