Query Returned 282 Items
Tails the Fox - Debut: STC # 2 (Sonic Fleetway Character)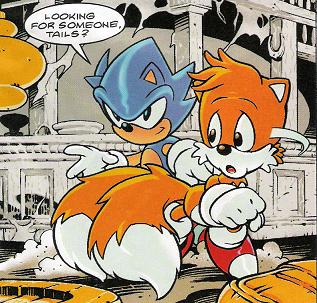 Tails first met Sonic when the Hedgehog saved his life by heaving him out of a swamp through one of his two tails. After demonstrating that he could fly Tails and Sonic soon became his friend and hero and Tails stuck with him in the fight against Doctor Robotnik. Neither as fast or strong as Sonic he stuck by the more adept hedgehog and helped as often as he could. Tails joined Johnny Lightfoot and Porker Lewis in a trip to the Special Zone where Sonic showed them the truth about Doctor Robotnik and Kintobar and with the others he was also dragged forwards in time whilst Robotnik took over. Joining the freedom fighters Tails wrote letters home to talk about his exploits and he also mentioned Sonic who he fought besides. Unfortunately he let his imagination take over and the Nameless Zone got the wrong end of the stick and when they were attacked by Trogg they summoned Tails to battle him. Through a mixture of amazing luck, flukey victories and good friends Tails became champion of the Nameless Zone, Zonerunner and hero of the Chemical Plant Zone and a renowned hero as Sonic's sidekick. He gained his own enemies such as Max Gamble, the Bounty Hunter Fleabyte, Nutzan Bolt and Trogg but somehow defeated them all. A mysterious Unicorn once offered Tails the chance to kill Robotnik but the fox turned him down, claiming shooting him in the back was immoral and the Unicorn praised Tails' valour and told him that Robotnik's downfall was not far off. After that happened Tails fell into obscurity, something he tried to rectify by asking Doctor Sorders to hypnotise him into becoming cool. Unfortunately the new angst ridden Tails was rude to Zone Leaders and picked a fight on some unruly characters and when the hypnotism wore off he found himself in a bad position, only saved thanks to Sonic. Never the less, Tails learnt from the experience and continued to grow up. He became more and more confident, and it was only thanks to his initiative that Sonic beat the Metallix Mark 2, Tails slamming a bulkhead door down on top of the robot. Although Tails never became the hero he wanted to be he earned the respect of most of Mobius and even though he never became much more of a sidekick to Sonic, he was the best Sidekick Sonic could of ever had. Even though Sonic rarely let it show, preferring to criticise every move Tails made, he really appreciated Tails efforts.
Details
Full Name: Miles Prower
AQA: Zonerunner, Hero of Mobius, Pixel Brain
Species: Fox
Color: Orange
Eyes: Blue
Residence: Emerald Hill Zone
Abilities: Flight

Associations
Friends: Sonic, Amy Rose, Porker Lewis, Johnny Lightfoot, Shaman Warpull, Errol Blackthorne, The Enchanter Kings, Moraine Blackthorne, Sol Furic, Sab, The Flock, Tantrum, Doctor Sorders
Enemies: Robotnik, Trogg, Goblins, Nutzan Bolt, Fleabyte
| | | |
| --- | --- | --- |
| | | |
The Bulk - Debut: STC #94 (Sonic Fleetway Character)
Homage to Marvel Super Hero, the Hulk. One of the many parodies Fleetway employed during it's tenure.
Listed as Doctor Bob Bobble

Details
Species: Unknown
Color: Purple
Eyes: White
Age: Unknown
Residence: New Tek City
Likes: Destruction
Dislikes: Being stopped from causing destruction
Abilities: Super Strength
Weakness: Muscles grow beyond movement
Weapons & Items: None

Associations
Enemies: Sonic The Hedgehog, Mighty The Armadillo, Espio The Chameleon, Vector The Crocodile, Charmee Bee
The Leaf - Debut: STC #113 (Sonic Fleetway Character)
The Leaf committed a number of thefts in a very rich part of Mobius known as Eldorado Zone. Because he worked at night everyone mistook his shadow for Tails, since their appearances were similar in the dark, so Tails was blamed for these robberies. When given a chance to prove his innocence Tails set up a trap for The Leaf and managed to catch him after a chase due to a failure in him mechanical wings.

Details
Species: Unknown (Possibly squirrel or chipmunk)
Color: Brown
Eyes: Black
Age: Unknown
Residence: Eldorado Zone (Formerly called Diamond Mine Zone)
Likes: Money and jewels
Dislikes: Unknown
Abilities: Fast flight using mechanical leaf-shaped wings
Weakness: Batteries can run out for mechanical wings
Weapons & Items: Mechanical leaf-shaped wings

Associations
Enemies: Miles "Tails" Prower
Thunderhawk - Debut: Knuckles #16 (Sonic Archie Character)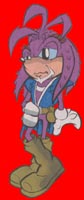 Monitor of the country of Downunda, this purple echidna is the loudmouth complainer of the group. He's always ready to make his opinion known--including thinking a Knuckles/Julie-Su pairing would be "interesting."
Details
Species: Echidna
Color: Purple
Eyes: Blue
Age: Unknown
Year Of Birth: Unknown
Residence: Haven
Likes: ???
Dislikes: ???
Abilities: Chaos powers that all Guardians possess
Weakness: n/a
Weapons & Items: None

Associations
Father: Spectre
Son: Sojourner
Tikal - Debut: Sonic Adventure (Sonic Sega Character)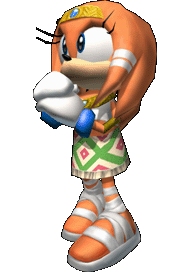 The servers are the seven Chaos. Chaos is power, power enriched by the heart. The controller serves to unify the Chaos...
Long ago, Tikal was the daughter of Pachacamac, chieftan of the Echidna tribe. She, believing strongly in peace and harmony, was very turned off by the tribe's greed and warful ways. Seeking relinquishment, Tikal felt at peace when at a nearby mysterious temple which held the seven mystical Chaos Emeralds (the servers), and the Master Emerald (the controller). This shrine was also home to the Chao, who lived in peace under the protection of a powerful and trusting force. Tikal had easily made peace with this force, and in return it allowed to play peacefully with the Chao. It was this same barrier that was preventing the Echidna tribe from stealing the seven Emeralds for their own power-hungry purposes.
Tikal did all she could to prevent their full on attack against the shrine, not even the emotion of her cause was enough to sway the decision of her greedy father, who had her, along with many innocent Chao, trampled by his men to clear the seemingly clear path open to harness this emmense power. But then, the shrine's once peaceful and gentle guarding force, now filled with rage and anger as thick as the atmosphere surrounding it, absorbed the power of the Chaos Emeralds, and slaughtered every last one of the Echidnas. Though she hated them, Tikal, barely able to withstand the horror of this meaningless destruction found only one solution. She used the controlling powers of the Master Emerald to seal the guarding force, Chaos, along with her own soul, within the gem's confines.
Much time passed, and eventually the Master Emerlad was shattered open by Dr. Eggman, releasing both Tikal and the still vengeful Chaos. Using her ability to show visions of the past, she assisted our heroes in defeating Chaos, and turning him back into the loving, peaceful creature he once was. Afterwards, they both dissapeared. Where? We may never know.

Details
Japanese Name: ティカル
Romanized Name: Tikaru
Species: Echidna
Color: Orange
Eyes: Aqua
Age: 14 (spirit/deceased)
Height: 95 cm
Weight: ???
Likes: Peace, Chao
Dislikes: Meaningless War and Greed
Abilities: Temporarily Warping People Back in Time
Weakness: Limited to a Spiritual Body

Associations
Father: Pachacamac

Appearances
Sonic Adventure
Sonic Adventure 2
Sonic Adventure 2: Battle
| | | |
| --- | --- | --- |
| | | |
Tikal - Debut: Sonic #79 (Sonic Archie Character)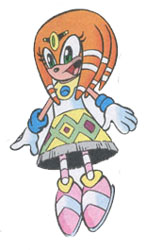 Tikal is the daughter of Pachamac, who was the leader of the Knuckles Clan, the warrior caste of the echidnas. When the Knuckles Clan accompanied the scientists in leaving Albion they arrived in Mysterious Cat Country and ended up battling with the natives. The scientists left, but the Knuckles Clan stayed. One day, Tikal and her father found a temple in the ruins. While Pachamac had to leave for a battle, Tikal stayed and discovered the chao and Chaos. She befriended them all. However, Pachamac decided the seven chaos emeralds that the chao had were needed and despite Tikal's pleadings went after them anyway. Chaos, trying to protect the chao, became angry and destructive until Tikal imprisoned Chaos in the Black Emerald. When Robotnik freed Chaos from the Black Emerald, Tikal's spirit was also freed. She found Knuckles who she accompanied until Chaos became Perfect Chaos. It was at that time that she finally changed from a glowing ball to her old echidna form. She helped Sonic become Super Sonic and after Perfect Chaos was defeated, she disappeared along with Chaos.
Details
Species: Echidna
Color: Orange
Eyes: Green
Age: Unknown
Year Of Birth: Unknown (hundreds of years ago)
Residence: Unknown
Likes: Chao, peace
Dislikes: Greed
Abilities: Show visions, manipulate chaos energy
Weakness: N/A
Weapons & Items: None

Associations
Father: Pachamac
| | | |
| --- | --- | --- |
| | | |
Tobor - Debut: Knuckles #17 (Sonic Archie Character)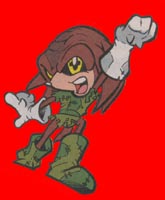 Tobor was the first Guardian in charge of Echidnaopolis after the nuclear attack incident on the Floating Island, which left the city in its own pocket zone. It wasn't long before Moritori Rex led the Dark Legion, with its tanks and blasters, against the citizens of Echidnaopolis, armed with only farming tools. Eventually, Tobor and Moritori went one-on-one, but when Tobor seemed to gain the advantage, Moritori used a device that transported the two of them into ruins on the Floating Island which buried the duo. Some time later, Tobor heard his father calling his name, but soon realized the Hawking mistook Moritori Rex for himself. After a day, Tobor freed himself from the rubble but with a feeling of shame, wandered the Mobian mainland where a doctor gave him cybernetic eyes to replace his failing real eyes. Many years later, Tobor finally returned to the Floating Island and met Julie-Su, who he attacked at first, but allowed her to take him to met Knuckles, the current Guardian. When Knuckles went to "interrogate" Kragok, Tobor eventually sensed trouble. While the portal to the Twilight Zone was still open, Tobor made sure that it closed with him and Kragok in the zone so that there would be one less Legionnaire to contend with. That same attitude was on display when the two finally managed to escape the Twilight Zone right in front of a Dark Legion aircraft, which was firing a beam that Tobor made sure to destroy along with Kragok even though he knew it meant his own death.
Details
Species: Echidna
Color: Brown
Eyes: Yellow
Age: Unknown
Year Of Birth: Unknown
Residence: Killed in a suicide stunt, which also killed Kragok
Likes: His family, especially his father
Dislikes: Moritori Rex, and all Dark Legionnaires
Abilities: Glide, sensing chaos energies
Weakness: His anger
Weapons & Items: n/a

Associations
Father: Hawking
Mother: Sonja-Ra
Wife: Voni-Ca
Son: Spectre
| | | |
| --- | --- | --- |
| | | |
Tommy Turtle - Debut: Sonic #117 (Sonic Archie Character)
Tommy was a friend that the Freedom Fighters had believed dead until recently. Sonic found that he was in the company of several villains, who were working for Robotnik. After Robotnik betrayed the villains, Tommy apparnetly gave his life to save Sonic. However, a year later, Sonic and comany met an identical turtle claiming to be Tommy. They trusted "Tommy" until he turned out to be a robot, but they found that the actual Tommy was alive and in the clutches of Robo-Dyne Systems. Once they rescued Tommy, he became a member of the Brain Trust portion of the Freedom Fighters. He is good frinds with Rotor. Because of an encounter with Robotnik's nanites, Tommy has recently gained the ability to change his shell into things such as wings or a jetpack.

Details
Species: Turtle
Color: Green
Eyes: Blue
Age: 17
Year Of Birth: 3220
Residence: Knothole Village
Likes: Organizing, Technology
Dislikes: Unknown
Abilities: Organizational skills, technical ability
Weakness: Unknown
Weapons & Items: None
| | | |
| --- | --- | --- |
| | | |
Trogg - Debut: STC # 16 (Sonic Fleetway Character)
Details
Alias: Shirob
Species: Monster
Color: Brown/Purple
Abilities: Powerfull Magic

Associations
Allies: The Dark One
Enemies: The Enchanter Kings, Tails

Appearances
16
17
18
19
20
21
59
60
61
62
63
64
Two Skinny Llamas - Debut: (Sonic Fleetway Character)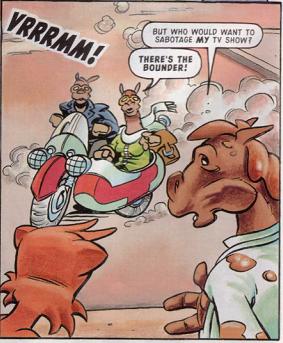 This pair of TV celebrity chefs hosted a show on Channel One but unfortunately their recipies were ruined when their half fat cream went missing. They followed the trail to Galloping Graeme and when several other chefs turned up a food fight erupted.
Details
Species: LLamas
Color: Brown
Eyes: White
Residence: Metropolis City
Abilities: Cooking

Associations
Rivals: Galloping Graeme, Gerry Corfu