Query Returned 282 Items
Bark the Polarbear - Debut: Sonic the Fighters (Sonic Sega Character)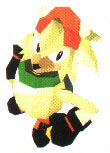 There isn't much more to Bark than what you see. His speed is as slow as his legs make him appear, and his throws are as hard, painful and awe-inspiring as his long arms and upperbody would make you think.
He has only appeared once, in which time he was in possession of the yellow Chaos Emerald.

Details
Japanese Name: バァク・ザ・ポォラベァ
Romanized Name: Baaku za Poorabea
Species: Polarbear
Color: Yellow
Age: 17
Birthdate: June
Height: 181 cm
Weight: ???
Residence: Aurora Icefield Zone?
Likes: ???
Dislikes: ???
Abilities: Body Throw
Weakness: ???

Associations
Enemies: Dr. Eggman, Metal Sonic, Fang the Sniper

Appearances
Sonic the Fighters
Bartleby - Debut: Wedding Bell Blues (Sonic SU Character)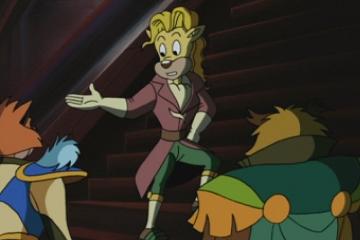 "What song? Oh wonderful. You drag me to the bowels of the city to hear imaginary music! How could it get any better?"
Bartleby is probably the most important character in Sonic Underground who isn't part of the main cast, unlike Sonic, Manic and Sonia he refuses to travel around fighting Robotnik but he isn't part of Robotnik's evil schemes either. He stands directly in the middle, a close friend of Sonia who would probably quite like to marry her purely for the status in society but until Sonia comes to the throne he hedges his bets and refuses to oppose Robotnik in public. Bartleby has a mutual hatred with Sonic and Manic, and his relationship with Sonia is testing at times, especially as in her absence he continues to flirt with every other eligible woman in Robotropolis. Although he has a decent heart and secretly hates Robotnik, Bartleby does little to help the resistance unless he can get something in return or Sonia forces his hands. If the Queen ever returned Bartleby promises that he would be the first to join her retinue, but until she does he remains squarely neutral with equal contempt for both sides but kept in place by the wealth and money he so dearly loves.

Details
Species:
Eyes:
Age:
Residence:
Likes:
Dislikes:
Abilities:
Weakness: A Coward
Weapons & Items:

Associations
Friends: Sonia,
Allies: Robotnik
Pests: Sonic, Manic, Sleet, Dingo

Appearances
Wedding Bell Blues
Come Out Wherever You Are
Winner Fakes All
Artifact
Head Games
Begginings
Haircraft In Space
Bartleby The Prisoner
| | | |
| --- | --- | --- |
| | | |
Bean the Dynamite - Debut: Sonic the Fighters (Sonic Sega Character)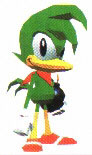 It is said that anyone with a fixation on explosives is leaning on the demented side. Bean is by no means an exception. This guy likes bombs, and he likes 'em a lot. Don't let his innocent facade fool you, this guy is hauling major firepower.
Other than hanging out in a dynamite factory, little is known of Bean. Though according to rumours (though this has not been confirmed), Bean could be the son of Bin, a character from the original Sega arcade classic Dynamite Dux.

Details
Japanese Name: ビーン・ザ・ダイナマイト
Romanized Name: Biin za Dainamaito
Species: Duck
Color: Green
Age: 15
Birthdate: June
Height: 157 cm
Weight: ???
Likes: Explosives
Dislikes: ???
Abilities: Bomb attacks
Weakness: ???
Weapons & Items: Bombs

Associations
Enemies: Dr. Eggman, Metal Sonic, Fang the Sniper.

Appearances
Sonic the Fighters
Benedict - Debut: Knuckles #22 (Sonic Archie Character)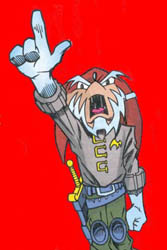 Benedict was chosen by Dimitri to become High Councilor of Echidnaopolis through an election rigged by the Dark Legion. The masses were clueless as to the fact that Pravda, the current High Councilor running for re-election, was turned into a vegetable to help enable the turn of events. Benedict was an excellent speaker able to gain support of many. However, when Benedict was trying to force Remington to swear loyalty to him, Remington refused, which surprised Benedict. When Benedict returned to base, the unconscious Knuckles emitted electromagnetic pulses causing all machinery to malfunction and shutdown, including Benedict and any Dark Legionnaire that didn't manage to get out of the base in time.
Details
Species: Echidna Robot
Color: Brown
Eyes: Blue
Age: N/A
Year Of Birth: N/A
Residence: Echidnaopolis
Likes: ???
Dislikes: ???
Abilities: Very good speaker
Weakness: Electromagnetic pulse
Weapons & Items: Sword
Bernie - Debut: Super Special #2 (Sonic Archie Character)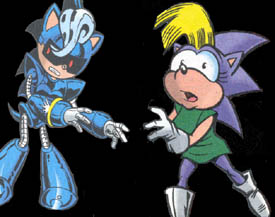 Bernie (as everyone calls her) is Sonic's mother. Like many Mobians, she took part in the Great War. After Sir Charles' first attempt at roboticization led to Jules losing his free will, she tried her best to get Charles to continue his work with no success. When she went to visit Warlord Julian to see what he was doing, Julian used Jules to roboticize her. When Charles came to find out what happened to her, Julian said that she was messing with the roboticizer and caused herself to be roboticized. Ten years later when Charles got his free will back, Bernie was one of the few that Charles managed to give their own wills back to. She reunited with Jules, and became part of the secret resistance in Robotropolis. Since being reunited with Sonic after the defeat of the original Robotnik, she's tried her best to be a supportive mother for Sonic since both she and Jules are aware that Sonic has grown up to be able to handle whatever life happens to send his way. As with all Robians (except her husband), Bernie has been turned back into a Mobian by Ceneca-9009.
Details
Full Name: Bernadette Hedgehog
Nick Names: Bernie
Species: Hedgehog
Color: Purple
Eyes: Robotic
Age: Unknown
Year Of Birth: Unknown
Residence: Knothole
Likes: ???
Dislikes: ???
Abilities: N/A
Weakness: N/A
Weapons & Items: Power ring wedding band

Associations
Husband: Jules Hedgehog
Son: Sonic
Brother-in-Law: Sir Charles (Uncle Chuck)
| | | |
| --- | --- | --- |
| | | |
Big - Debut: STC # 184 (Sonic Fleetway Character)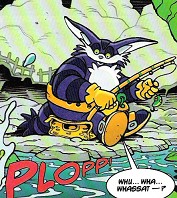 In the last issue of the Sonic Adventure, the last new strip before the comic went into reprints Big the Cat cameod in one frame... Super Sonic had defeated Chaos and tossed the Drakon fish away where it landed with a plop near a large big purple cat with a fishing rod who wondered what had caused the noise... Of course we don't know if this was Big or not, but it seems pretty clear that's who it was meant to be, completing the Sonic Adventure cast list except for E102 Gamma...
Details
Full Name: Never actually given, assumedly called Big the Cat
Species: Cat
Color: Purple
Eyes: Green
Big the Cat - Debut: Sonic Adventure (Sonic Sega Character)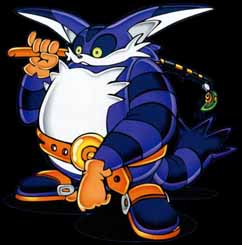 Many people think of Big's character as simply dumb and lazy. That's probably the worst way to describe him. Big desires the same thing we all want, to live a care-free life, and does what he can to live it. A life, or course, we could all tell him is impossible to obtain. But nontheless, he tries to avoid the hustle and bustle that comes with an eventful life.
Big perfers to stay out of trouble, and spends most of his time in the Mystic Ruins, fishing and hanging out with his best friend Kaeru-kun (Froggy).

Details
Japanese Name: ビッグ・ザ・キャット
Romanized Name: Biggu za Katto
Species: Cat
Color: Purple
Eyes: Yellow
Age: 18
Birthdate: December 23
Height: 200 cm
Weight: 280 kg
Residence: Mystic Ruins
Likes: Fish, Kaeru-kun (Froggy)
Dislikes: the harsh realities of life...
Abilities: Fishing, Swimming
Weakness: His Large Size, Speed
Weapons & Items: Fishing Rod, Power Rod, Life Belt, Lures

Associations
Best Friend: Kaeru-kun (Froggy)

Appearances
Sonic Adventure
Sonic Shuffle
Sonic Adventure 2
Sonic Adventure 2: Battle
Sonic Heroes
| | | |
| --- | --- | --- |
| | | |
Black Doom - Debut: Shadow the Hedgehog (Sonic Sega Character)
Black Doom is an ancient and powerful alien, hell bent on invading Earth no matter what it take. The ruler of the Black Arms he worked alongside Professor Gerald to create Shadow, using his DNA to help recreate the hedgehog. This link gave him a measure of control over Shadow, so when they returned fifty years later Shadow was more than tempted to help him retrieve the Chaos Emeralds.
His problem that the Black Comet wouldn't be able to successfully land on Earth was solved when Shadow lost the Chaos Emeralds to him and he teleported the Black Comet down with Chaos Control. Then he proceeded to take over the planet, using humans to feed his organic ship and growing more powerful. Shadow however broke free of his conditioning and defeated him, saving the planet.

Appearances
Shadow the Hedgehog
Blaze the Cat - Debut: Sonic Rush (Sonic Sega Character)
Blaze is a Queen from another dimension who protects and controls Sol Emeralds in a role similar to that of Sonic and Knuckles combined. She has the power to control flames with her body, but since she was teased about it when she was younger, she wears a cape to disguise the ability. However, when needed, she will toss the cape in a heartbeat.

Appearances
Sonic Rush
Sonic The Hedgehog (2006)
Bomb - Debut: Knuckles' Chaotix (Sonic Archie Character)
Bomb is a robot who, like Heavy, had a free mind and joined the fight against Robotnik. after their acceptance as heroes, they joined King Acorn's secret service under the command of Geoffrey St. John. Bomb was a usefull ally because he could regenerate himself many times, meaning a single explosion would not harm him.
Unfortunately for the Kingdom, during a reconaissance mission to Robotropolis, Robotnik realigned Heavy and Bomb's programming to his side, and they were assigned to sabotage Knothole and assassinate the royal family. They were stopped only at the last minute, and Bomb's circutry was electromagnetically deactivated.
More recently, Heavy and Bomb were upgraded by Robotnik in order to assassinate Mina Mongoose. Her security team, consisting of several Freedom Fighters, took out all of the numerous Bombs. Because of his regenerative abilities, it is doubtful whether BOmb is truly gone for good.

Details
Species: Robot
Color: Red
Eyes: N/A
Age: N/A
Year Of Birth: None
Date of Death: 3236
Residence: Knothole
Likes: ???
Dislikes: ???
Abilities: Ability to blow himself up and transfer his data into another Bomb shell
Weakness: A big coward but can be brave when provoked
Weapons & Items: Himself

Associations
Partner: Heavy
| | | |
| --- | --- | --- |
| | | |