Query Returned 282 Items
Octobot - Debut: Sonic The Hedgehog: Triple Trouble (Sonic Archie Character)
Far beneath the surface of the Great Mobian Ocean rests an underwater bot base - home of the malicious Octobot, a giant blue mech squid that serves as one of Robotnik's underbosses! In fact, Octobot's existance under the seas would have remained unknown to the Freedom Fighters had Tails not encountered him during the maiden voyage of the Sea Fox. Octobot hates Tails with a passion almost as strong as Crocbot and would also gladly kill him for virtually ruining his many plans. Discovering the underwater roboticisation factory once mainted by Jaws ( One of the badniks from Sonic 1), Tails destroyed the submerged base and left Octobot a complete laughing stock among the Bot community. However what Tails didn't know was that Octobot wanted revenge - and while on a mission to prove himself in Downunda, Octobot scuttled the Sea Fox by puncturing it with his drill tentacles and drug Tails beneath the ocean in an attempt to drown him. Tails was rescued by The Forty Fathom Freedom Fighters - a group of underwater FF's and later saved, but Octobot's fate during the rescue? Crushed beneath the massive weight of thier largest member - Fluke The Blue Whale. Octobot survived the incident - though somewhat flat - and hasn't been seen since: most likely stewing in his own juices over revenge. But it is known that he is not completely destroyed and still continues to hold a HUGE grudge against the guy that started it all - Tails The Fox.

Details
Species: Octopus Badnik
Color: Blue/Gray
Eyes: Red
Age: Unknown
Year Of Birth: Unknown
Residence: Downunda
Likes: ???
Dislikes: ???
Weakness: N/A
Weapons & Items: 8 Drill-Like Tentacles
| | | |
| --- | --- | --- |
| | | |
Okrym-Ro - Debut: STC #78 (Sonic Fleetway Character)
Orkym-Ro was an evil Tantaror priest who died after a long illness. After dieing his body was placed in a stone coffin for transport to the after life. Three of his followers then took a ship and using the Tantaragor idol transported themselves to Mobius in order to collect slaves. They believed that Orkym-Ro had to be buried in a sacred monument, and to build such a monument they would need slaves from Mobius. Somehow news of the ghost ship spread and Captain Plunder enlisted Knuckles help to seize the Ghost Ship and escape with the Idol, however Knuckles soon returned and the heretics reclaimed their means of going home. Fortunately it had all been a trick, Knuckles was working with Ekkletos, the spiritual leader of the Tantaror and they were now already back in their own dimension and captured, ready for punishment for capturing people from other worlds.

Details
Species: Tantaror
Color: Orange

Associations
Followers: Heretic Tantarors
Enemies: Ekkletos
| | | |
| --- | --- | --- |
| | | |
Old Man - Debut: Journey To Eggmanland (Sonic Anime Character)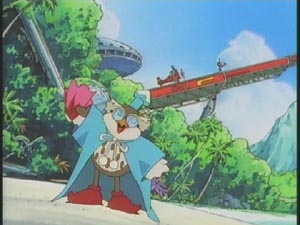 Forgetful and slow best describe the Old Man. According to him, he used to be an expert pilot during his prime, which is long gone.
Details
Species: Owl
Color: Gray
Eyes: Black
Age: Unknown
Residence: Unknown
Likes: Flying, listening to music
Dislikes: N/A
Abilities: Flying
Weakness: Can't see well
Weapons & Items: N/A
Omen - Debut: STC #95 (Sonic Fleetway Character)
A magician sent by Robotnik along with two gorilla henchmen to stop the protest being held to protect the Fauna. He seemed to have a personal hatred towards Ebony and saw her as a rival magician during their battle. He would probably have won against her if one of his associates hadn't angered the Fauna enough to drive him out personally.

Details
Species: Either rat or mouse
Color: Brown (Wears yellow)
Eyes: Black
Age: Unknown
Residence: Presumably Metropolis City
Likes: Being the most superior magician
Dislikes: Ebony
Abilities: Magic
Weakness: Unknown

Associations
Enemies: Ebony, Pyjamas, Knuckles The Echidna
Omni Viewer - Debut: STC #8 (Sonic Fleetway Character)
The Omni Viewer is an old friend of Sonic and the Chaotix Crew, the latter's' choice mode of transport about the Special Zone. Nobody's quite sure where he comes from but he's been invaluable to both due to his power to travel instantaneously across Space, between Mobius and the Special Zone and even back and forwards in time. Unfortunately this advantage had backfired twice, when both Robotnik and the Metallix hacked into his systems for their own nefarious means. It's the Omni Viewers fault that Robotnik conquered Mobius in the first place.

Details
Color: White
Residence: Special Zone
Abilities: Space/Time Travel

Associations
Friends: Sonic, Chaotix Crew, Knuckles
Enemies: Robotnik, Metallix, Super Sonic
Oscar the Pig - Debut: STC # --- (Sonic Fleetway Character)
Details
Species: Pig
Colour: Pink
AKA: Porker Lewis

Associations
Employee: Hammerhead

Appearances
Knuckles Knock Out Special
Pachacamac - Debut: Sonic Adventure (Sonic Sega Character)
An unknown number of years ago, Pachacamac was leader of a tribe of Echidnas. The tribe had always strived on their own greed and desire for power, but it wasn't until his mother had died that Pachacamac had lost every bit of compassion and empathy in his heart, even for his own daughter, Tikal. It was he who had led the Echidna tribe to steal the Chaos Emeralds, which would grant their people absolute power, and was even willing to lead them trampling over his own daughter and innocent Chao creatures that stood in their way. This, of course, enraged Chaos, guardian of the Chao, who shortly thereafter absorbed the power of the Chaos Emeralds himself, and totaled the once great Echidna civilization.

Details
Nick Names: ƒpƒ`ƒƒƒJƒ}
Romanized Name: Pachakama
Species: Echidna
Color: Red
Eyes: ???
Age: 52 (deceased)
Height: 115 cm
Weight: 48 kg

Associations
Daughter: Tikal

Appearances
Sonic Adventure
Paladin - Debut: Sonic #72 (Sonic Archie Character)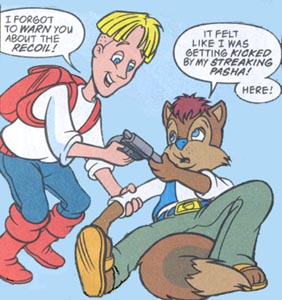 Paladin meet a squirrel named Emerson who was roughly the same age as he when walking though the forest. They were having a friendly conversation as Paladin was impressed by Emerson's climbing ability and decided to show Emerson how to shoot a gun in return. However, when Paladin chose a bird as his target, Emerson jumped in the way of the shot and was killed. Paladin was horrified and didn't know what to do and just ran from the scene when he heard someone shouting "Emerson."
Details
Species: Overlander
Color: White
Eyes: Blue
Age: Unknown
Year Of Birth: Unknown
Residence: Megaopolis (in the past)
Likes: Target Practice
Dislikes: Killing a "sentinent" being
Abilities: Shooting
Weakness: N/A
Weapons & Items: Gun
Palo - Debut: Cry of the Wolf (Sonic SatAM Character)
Leader of Southern Freedom Fighters

Details
Species: Rhino
Color: Gray
Eyes: Black
Age: Unknown
Year Of Birth: Unknown
Residence: Unknown
Likes: N/A
Dislikes: N/A
Abilities: N/A
Weakness: N/A
Weapons & Items: N/A
Peter Android - Debut: STC #110 (Sonic Fleetway Character)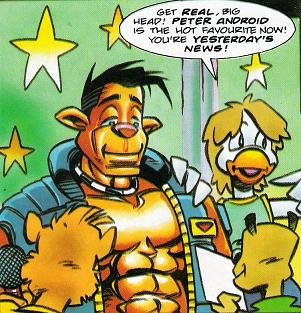 For anyone uninformed this is an in joke of the fickle nature of the British music industry, especially around boy bands. Peter Android is based of Peter Andre, a fading star who at one point had been the coolest man on the planet (according to the British Music Industry who have long since changed their minds, two thousand odd times.)
When the truth about Fabian Vane's rise to fame came out his career suddenly disappeared and according to Chloe his replacement was already lined up for the screaming girls to adore...

Details
Color: Golden orange
Eyes: Blue

Associations
Predecessor: Fabian Vane