Query Returned 282 Items
Mr LaTour - Debut: The Price Of Freedom (Sonic SU Character)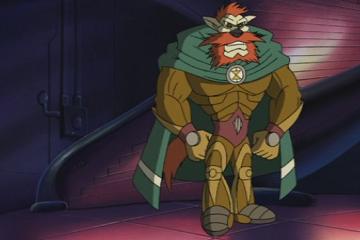 Details
Species:
Eyes:
Age:
Residence:
Likes:
Dislikes:
Abilities:
Weakness:
Weapons & Items:

Associations
Daughter: Mindy LaTour
Mr. Blobnik - Debut: STC # 59 (Sonic Fleetway Character)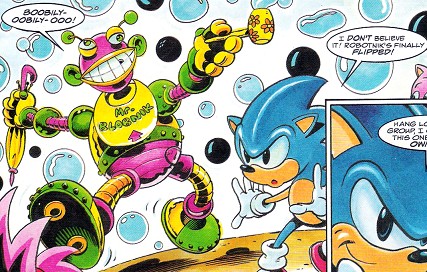 Surprisingly Mr Blobnik was one of Doctor Robotnik's better creations, or rather Grimers. Sonic and the gang responded to a call about a deadly badnik plaguing the Metropolis Zone when they discovered Mr. Blobnik and Sonic jokingly took the robot on alone. Robotnik watched Grimer controlling the robot from his Citadel, threatening him because of his "Ridiculous" creation. Unfortunately a Metallix arrived and kidnapped Grimer giving Robotnik the first sign that the Brotherhood was out of his control. Meanwhile Mr. Blobnik's secret weapon was out of batteries giving Sonic an easy victory as he literally tore Mr. Blobnik apart. When Mr Blobnik exploded he released a gigantic bubble which captured Sonic and the head split apart from the rest of the body, sprouted arms so it looked like a spider, grabbed the harmless Sonic who was stuck in the bubble beneath it.
So Doctor Robotnik's most ridiculous creation was actually the first to succeed in capturing Sonic but thanks to the Brootherhood of Metallix Robotnik let Sonic go free to face them.

Details
Species: Robot
Color: Purple and Yellow
Abilities: Creating Blobs

Associations
Creators: Grimer, Doctor Robotnik
Target: Sonic
| | | |
| --- | --- | --- |
| | | |
Nack The Weasel - Debut: Sonic The Hedgehog: Triple Trouble (Sonic Archie Character)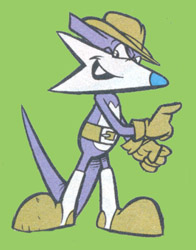 Nack is a sleazy and violent bounty and treasure hunter, hated by most and mistrusted by anyone who knows of him. Nack is known to double cross anyone in his path and would stab his own mother in the back if he could find a profit in it. He works for whichever side pays him more, but most often he'll just be working for himself. He gets around using a speedy little ion-powered airbike called the Marvelous Queen, but he can also leap to lofty heights using his long tail like a spring.
After laying low for months, he was hired by Robotnik Mk II to assassinate Mina Mongoose, but he was caught by the Freedom Fighters. He's currently in jail and, unfortunately for him, sharing a cell with some fromer accomplices who he double crossed.

Details
Species: Weasel
Color: Purple
Eyes: Black
Age: Unknown
Year Of Birth: Unknown
Residence: Original Base - Floating Island
Likes: Money, Pretty Girls
Dislikes: ???
Abilities: Expert Bounty & Treasure Hunter, High Tail-Bounce
Weakness: N/A
Weapons & Items: Marvelous Queen (Airbike), Pop Gun

Associations
Sister: Nicolette (known as Nic the Weasel)
Former Partners: Sleuth, Drago, Sgt. Simian, Flying Frog, Lightning Lynx, Predator Hawk
Former Gang Underlings: Karl, Conor, Jeff (unnamed in their appearances; these are their names in the story script due to Axer)
| | | |
| --- | --- | --- |
| | | |
Nack the Weasel - Debut: STC # 53 (Sonic Fleetway Character)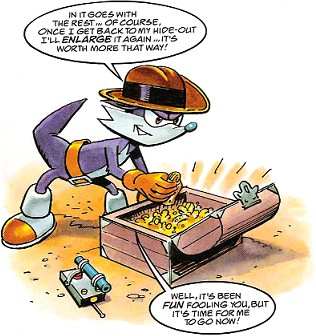 Nack was once a member of the Special Zone's Chaotix, a group of heroes who worked in the Special Zone keeping it safe, but Nack never seemed to fit in with the other members, he was quiet and reserved. When Knuckles arrived in the Special Zone and Chaotix went up against the Brootherhood of Mettalix Nack made a run for safety and ended up betraying the rest of Chaotix in return for his own life, but in the end the Mettalix turned on him and he was knocked out, Chaotix took him to serve time in jail for his betrayal. Nack escaped and was hunted down for quite a long time by his former team mates who eventually caught up with him on the Floating Island where he was spiriting away the Treasure hidden in the Lost Pyramid by shrinking it down thanks to a device he had built, but Knuckles caught the device and used it to restore the treasure in his ship so he couldn't escape.
A long time later Nack took revenge on the Chaotix team when he was employed by Lord Sidewinder to kidnap Super Sonic, he succeeded in taking them by surprise and shrinking them all but without Vector at the controls the ship crashed meaning he missed Sonic. Sonic managed to get a capsule of Nack's head which he had used to shrink them down and turned it on Nack who shrank down to Sonic's size, and carried on shrinking into nothing…
A loooong time later Nack returned, he had managed to restore his size and now he could manipulate his size at will, using his powers to rob a bank under Sonic's nose. Sonic and Nack fought it out but before Nack squashed Sonic like a bug the police arrived and Nack fled. Nack then worked with Grimer to help him find Doctor Robotnik who like Nack had shrank down to nothing. Nack and Grimer managed to find Shanazar and recover Doctor Robotnik who had somehow turned back into Kintobor, but not for long. When the time came to leave Shanazar Nack was with Robotnik as they smashed the world's together and was last seen helping Robotnik stumble away after being beaten by Sonic yet again…

Details
Full Name: Nack T. Weasel
Species: Weasel
Color: Purple
Eyes:
Likes: Money
Abilities: Shrinking and enlarging objects
Weakness: Just a normal guy apart from that
Weapons & Items: Gun, shrinking capsules

Associations
Betrayed: Chaotix
Worked for: Lord Sidewinder, Grimer, Robotnik
Enemies: Sonic

Appearances
53
54
55
56
57
58
Knuckles Knock Out Special
89
90
142
148
149
150
164
165
| | | |
| --- | --- | --- |
| | | |
Nate Morgan - Debut: Sonic #64 (Sonic Archie Character)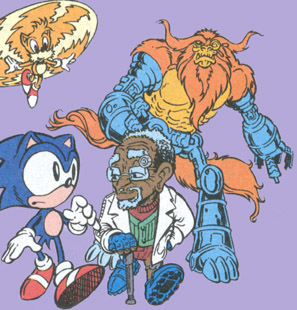 In a place where Overlanders are at times hated and feared, Nate is the brightest exception. A small black male with a large glowing heart - Nate is the first person to have set the world of Mobius on its collective ear; him being one of the first people to learn how to master the art of Ring Forging...It all started back in Megapolis, home of the Overlanders. After creating the Ring forge,his assistant Julian Kintobor - better known later as Doctor Ivo Robotnik - sabotaged the Forge resulting in a massive explosion that destroyed a part of the city. No lives were lost, but Nate - being the head of the Geo-Physicians department of the Overlanders was brought in for trial and subsequently sentenced to banishment from the city. Possibly knowing of Kintobor's treachery - Nate took the Ring Forge and began his lifelong banishment. After crossing the Mobian Badlands tired, without food, and nearing death he had finally managed to reach the Great forest where he passed out after encountering a troop by King Frederic - Sally's grandfather. Barring complaints from those such as Ixis Naugus and Warlord Kodos about having an overlander in their midst, Frederic commanded that Nate be nursed back to health and in return for thier services, Nate asked to use his Ring forge technology and one of the King's Chaos Emeralds to help the medieval society of Mobotropolis. The outcome of this partnership? The birth of the city of New Mobotroplis, the declaration of the Power Ring as the 5th element of Mobius due to its innate properties, the ushering in of the Mobian golden Age - and a new life for Nate. From there Nate became official advisor to the king and an "uncle" to King Max as he first ascended the throne, and a teacher to the kingdom - even teaching Sonic's father and his greatest student: Sonic's Uncle Chuck, the art of forging Power Rings that he had held a secret for so long. But his happiness was not to last. Technology was replacing the ways of magic and sorcery - and this meant that Ixis Naugus - the royal wizard was now losing his edge on the Kingdom...Enlisting the aid of Warlord Kodos, already consumed with hate for the overlander, they set about a plan to frame Nate. While Nate and a group of students were out and escorted by Kodos and his troops, Naugus went about manipilating a troop of Overlanders in the Great Forest. And when both sides met, Naugus had used his magics to make the both sides turn it into a mini battle. Many of either side were either killed or hurt and when Kodos awoke in the hospital - both he and Naugus went on and on about how none of this would have happened had the king not entrusted the help of an overlander. It soon led to another trial in which Nate was acquitted, but Naugus had succeeded in his plan and the seeds of Anti-Overlander sentiment had already begun to grow. Not wanting a repeat of what had happened in Megapolis - Nate left Mobotropolis again to continue elsewhere. Dropping his Ring Forge in the
then undiscovered
Knothole Village "Lake Of Rings," Nate migrated to the southern tundra where he befriended a yeti that was almost dying. Healing the hurt beast and naming him "Eddy," they lived out thier days in exile in a castle atop a cliff. It wasn't until YEARS LATER that Sonic and Tails discovered them. On the trail of Ixis Naugus, now a fugitive to the kingdom, they learned his story and asked him to return with them to help make a difference in a city that was still dealing with the pain of Robotnik's takeover. With Nate's help and his HUGE Power ring cache, Ultra Sonic and Hyper Tails managed to seal Ixis Naugus - also enhanced by the rings back into the prisonlike Zone Of Silence. But it was at the consequence of one life - Nate's lifelong friend Eddy died in the battle. Sonic, Nate, and Tails returned to the kingdom and Nate - who came face to face with King Acorn after all those years, learned just what happened to his old assistant: Julian Kintobor, now Ivo Robotnik who had come along from his own banishment just as Nate had left the kingdom. Nate vowed to resume his post as advisor to the King and vowed to help him and the FF's in their times of need. And even though there are still those that show racist Anti-Overlander actions in the city: due to Robotnik's actions, Nate proves that not all overlanders are bad. Realizing the danger the newly returned overlanders were in, Nate went to Robotropolis to try to save them, but Robotnik decided to use Nate as bait to trap Sonic in the city so that eventually he could roboticize Sonic. However, just as Robotnik thought he had Sonic and the Freedom Fighters trapped, the shield-dome failed. When Robotnik went to check out what happened, he saw Nate and knew what Nate had done and then roboticized Nate, who was turned into a statue. It is assumed that Nate (still in statue form) perished when Robotropolis was nuked.
Details
Full Name: Nathaniel Beauregard Morgan
Nick Names: Nate
Species: Overlander
Eyes: Brown
Age: Unknown
Year Of Birth: Unknown
Residence: Roboticized in Robotropolis
Likes: ???
Dislikes: ???
Abilities: Able to forge manmade Power Rings
Weakness: A bit old and slow
Weapons & Items: N/A

Associations
Known Relatives: None
| | | |
| --- | --- | --- |
| | | |
Nic the Weasel - Debut: Knuckles #26 (Sonic Archie Character)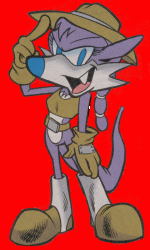 As Nack's younger sister, she's determined to be a better bounty hunter than her brother. Except for one mission in which they both worked together (capturing Knuckles), they mainly don't cross paths as they try to out do the other in terms of money, treasure, and gems.
Details
Full Name: Nicolette
Species: Weasel
Color: Purple
Eyes: Blue
Age: ???
Year Of Birth: ???
Residence: ???
Likes: Money and Gems
Dislikes: ???
Abilities: Sharp shooter
Weakness: Doesn't always think things through
Weapons & Items: Gun, Airship

Associations
Brother: Nack the Weasel
Nicole - Debut: Sonic In Your Face Special (Sonic Archie Character)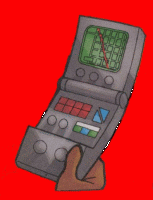 A near sentient thinking, talking handheld computer Nicole is possibly the most special Freedom Fighter on the whole team. Why? She's from the future. She is a gift to the present Princess Sally from Queen Sally in the future! It is that that in the decisive battle with Doctor Robotnik, Nicole will be destroyed. Nicole was in fact created by the future version of Rotor years after those events happened. Commanded by King Sonic and Queen Sally, Nicole was sent into the past as a gift to help the Princess. But Nicole is more than a computer she is also a valued friend to all the Freedom Fighters as she is always there for Sally to talk to personally and has even saved Sonic from the grips of death and permanent roboticisation. Always full of info she is also a bit of a jokester as she occasionally likes to give Sonic a jolt of electricity when he uses her. As Sally put it "She is a gift to myself, from myself...A friend when I needed one the most" and without her they may never be able to see the day when Robotnik will be defeated or to fully appreciate Julayla's last words upon her death - "To thine own self be true".
Details
Species: None - Palm Held Computer
Year Of Birth: Unknown
Residence: Knothole Village
Abilities: Near sntient with abilities to decipher codes, symbols and other mind bending puzzles
Weakness: Machines have a bad rep among furries
Weapons & Items: Ability to act as an energy conduit as well as other functions you can find in a computer

Associations
Owner: Sally
Creator: Rotor (many years in the future)
| | | |
| --- | --- | --- |
| | | |
Nicole - Debut: Heads or Tails (Sonic SatAM Character)
Accessing, Sally...
Nicole is the computer that Sally's father programmed for her. Nicole is stockpile of information (some of it is/was inaccessible to Sally until Sal's 18), but is not your standard computer as she has a personality of her own. She can speak as highly educated being in one second (for Sally) and speak in layman's terms the next (for Sonic).

Details
Color: Gray
Residence: Knothole
Abilities: Analyzing, hacking, displaying holograms, talking
Weakness: N/A
Weapons & Items: Built-in laser
Norris Wimple - Debut: STC #102 (Sonic Fleetway Character)
Norris Wimple could well be the biggest nerd on Mobius as his interests include UFO spotting, measuring the boot marks of sports players and badnik spotting. The last of these hobbies got him into trouble twice, so Amy and Tekno had to save both times him before he decided to give up on this hobby. A while later he got on TV for making a possible UFO sighting even though he had yet to get the film developed. D.R.A.T (The Doctor Robotnik Appreciation Tribe) thought that this photo might be of a secret weapon being developed by Robotnik instead of a UFO and set out to get the film off Norris. However, Amy and Tekno managed to save him once again, and when the film was developed it turned out that Norris had mistaken Tails for a UFO in the first place so the photo was worthless (Except to Tails who thought it was a good likeness).

Details
Species: Unknown
Color: Peach with red hair
Eyes: Black
Age: Unknown
Residence: Metropolis City
Likes: Badnik spotting, UFO spotting, measuring the boot marks of sports players, Fabian Vane
Dislikes: "The Curse of Robotnik", being mocked
Abilities: None
Weakness: Oblivious to danger, can't tell friend from foe, believes everything he reads
Weapons & Items: Sonic costume

Associations
Hero: Fabian Vane
Allies: Amy Rose, Tekno The Canary
Enemies: D.R.A.T.
| | | |
| --- | --- | --- |
| | | |
Nutzan Bolt - Debut: STC # 35 (Sonic Fleetway Character)
"Now for the Neck Saw! Ha ha ha!"
Nutzan Bolt was once Robotnik's chief operative in the Chemical Plant Zone, a fiendishly clever robot obsessed with Mega Mack. He had planned to dismantle the barrier that held the Mega Mack supply in the zone. His main adversaries were the Freedom Fighters the Flock, a band of outlaw sheep who constantly dogged his efforts. He was eventually defeated when Tails joined forced with the Flock and managed to crush him thanks to a fluke computer malfunction. However Nutzan Bolt was not to be defeated, his head detached itself from his body and he made a new one out of living ice. He proceeded to freeze the zone, informing it's inhabitants he would kill them all if they didn't hand over Tails dead or alive. Unfortunately, when Tails did arrive he managed to annoyed Nutzan Bolt so much that he melted, drowning in his own Mega Mack.

Details
Species: Robot
Color: Purple/White
Eyes: Black
Residence: Chemical Plant Zone
Dislikes: The 'S' Word
Abilities: The Neck Saw, Survive decapitation
Weakness: Temper

Associations
Employees: Sol Furic, Tess Tube
Enemies: Tails, The Flock
| | | |
| --- | --- | --- |
| | | |