Query Returned 282 Items
Lupe - Debut: Cry of the Wolf (Sonic SatAM Character)
Lupe is the leader of the 10 remaining wolves that make up the Wolf Pack Freedom Fighters. Her father was captured by Robotnik near the beginning of Robotnik's take-over. Very courageous and clever, she plans out the many successful raiding missions the Wolf Pack have had.

Details
Species: Wolf
Color: Gray
Eyes: Blue
Age: Unknown
Year Of Birth: Unknown
Residence: The Great Unknown
Likes: Nature
Dislikes: Destruction of homeland, Robotnik
Abilities: Leadership
Weakness: N/A
Weapons & Items: N/A
Madge - Debut: STC #100 (Sonic Fleetway Character)
Madge took Super Sonic off the streets after he lost his memory but had no idea herself about whom he was. She felt sorry for him because he kept having nightmares and couldn't remember who he was but her husband had no sympathy for "the boy" at all. The two argued about whether he should stay or go but Super Sonic made up his own mind to leave knowing he'd never find his memories by staying where he was. As a goodbye present she gave him Arthur's beer money so he could survive on the road for a while.

Details
Species: Unknown
Color: Brown
Eyes: Black
Age: Old
Residence: Metropolis City
Likes: Caring for the less fortunate
Dislikes: Bullying
Abilities: None
Weakness: None

Associations
Family: Arthur (Husband)
Friends: Super Sonic
Mama Robotnik - Debut: Mama Robotnik's Birthday (Sonic AoStH Character)
The most evil person on the planet, Mama Robotnik is the spitting image of Robotnik, minus the mustache. So evil they keep her locked up in the asylum, but when she does escape, Robotnik does his best to keep away from her; she is the only person he fears. Angered by her son's inability to act extremely evil, take over Mobius, and capture Sonic, Mama Robotnik takes complete control of Robotnik's operations. Her plans are extremely sophisticated and which could probably if it hasn't for Robotnik's robot. She is usually recaptured at the end of the failure, much to Robotnik's delight, only to promise she'll escape again.

Details
Species: Human
Color: White
Eyes: Black
Age: N/A
Residence: Insane Asylum
Likes: Seeing Robotnik rule
Dislikes: Seeing Robotnik fail
Abilities: Strong when angry
Weakness: Considered insane
Mammoth Mogul - Debut: Sonic & Knuckles: Mecha Madness (Sonic Archie Character)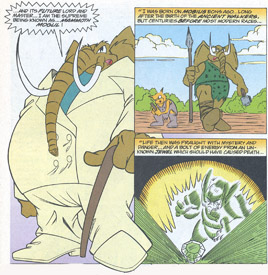 There is always someone else who is smarter, stronger and even more ruthless than you.
Mammoth Mogul was born eons ago a simple wooly mammoth that lived in the natural order of things, but his whole life changed when he came upon an unknown meteorite-like jewel that fell from the sky, embedded itself into its chest and granted him limitless power. He became master of all he surveyed, but was eventually dethroned by the other races of the planet. During the time afterwards, he discovered that the jewel he found was the most potent form of energy in the universe - the Chaos Emerald! With it he had evolved faster than any other animal on the planet and he was ready again after centuries of dormancy, to take his former position as Mobius' ruler. With Robotnik out of the way thanks to Snively and The Ultimate Annihilator, Mogul sought to take the Floating Island's Chaos Emerald, but failed realising the direct approach wouldn't work. Next he schemed to obtain the mystical Sword of Acorns - King Acorn's magical talisman that serves as an enery conduit capable of draining the powers out of anyone - or anything!...In his quest for power, it took the Chaotix and the Freedom Fighters combined to fully defeat him, but what they didn't realise is that in the end Mogul STILL had the sword and Sonic and Knuckles were left with the fake! With step one out of the way, his next appearance peaked as he drained EVERY DROP Enerjak's Chaos Emerald Power using the Sword of Acorns. Reducing Enerjak to aged dust, Mogul became super and reverted into "Master Mogul"! And infused with the power of 12 Chaos Emeralds with all but the Floating Islands emeralds left he went completely mad with power! After battling Super Sonic, Hyper Knuckles, and Turbo Tails, The Freedom Fighters, The Chaotix, General Stryker, and even with Athair and The Ancient Walkers stepping in, Mogul succeeded in getting into the Island's Chaos Chamber but had absorbed TOO MUCH POWER and thanks to Locke and Sabre - Knuckles' father and grandfather - he finally ended up encased forever in the newly dubbed "Master Emerald" - which consisted of a 14th Chaos Emerald with Mogul's life essence trapped dormant in its core! Recently, Mogul escaped from the core when RoboRobotnik (SA-style Eggman) shattered the Master Emerald. Mogul hasn't been seen or heard from since.

Details
Species: Mammoth
Color: Light brown
Eyes: Glowing
Age: Unknown
Year Of Birth: Unknown
Residence: Unknown, was inside the Master Emerald
Likes: Giving long speeches on how much power he has
Dislikes: Sonic, Tails and Knuckles, and the rest of the good guys, since they messed his plans up
Abilities: Looked good as a Master Emerald-incased dicoration, but is otherwise unknown in location
Weakness: being off guard when giving an ego talk
| | | |
| --- | --- | --- |
| | | |
Manic the Hedgehog - Debut: Wedding Bell Blues (Sonic SU Character)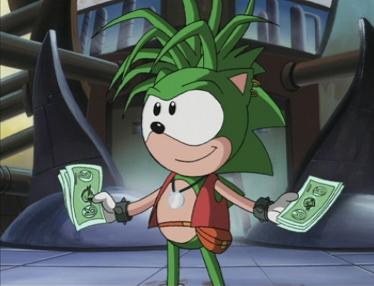 Manic the Hedgehog is Sonic's brother, part of the trio of triplet children beneath Queen Aleena. He travels with Sonic and Sonic across Mobius in the search for their mother, although for Manic there's always time for a bit of thievery for the immoral hedgehog. Unlike the others who had luxurious or at least decent upbringings, Manic was snatched from the doorstep of the home Queen Aleena had left him at and brought up in a den of thieves. He has morals, but stealing and lying come second nature to the most world weary and upbeat of the three children. His instrument of choice is the drums through which he can shake the earth and fire the strongest beams, and he's able to keep up with Sonic (almost) by riding a hover board which he's an expert at.
Details
Full Title: Prince Manic
Species: Hedgehog
Color: Green
Eyes: Black
Residence: On the Move
Likes:
Dislikes:
Abilities:
Weakness:
Weapons & Items: Drums

Associations
Brother: Sonic
Sister: Sonia
Mother: Queen Aleena
| | | |
| --- | --- | --- |
| | | |
Mari-An - Debut: Knuckles #11 (Sonic Archie Character)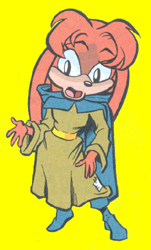 A member of the Lost Tribe of Echidnas looking for Albion, when the Tribe arrived in Mercia she realized that her brothers were missing. When Knuckles was going to search for them by himself, she showed him that she knows how to take care of herself and the two went off together. Eventually they split up to cover more ground, and when she ran into Knuckles again, he was with Rob, who challenged her to a fight on a log in the nearby creek. After easily knocking Rob into the water, the two exchanged a glance and it was love at first sight. The trio ran into Sonic and Tails and the five of them saved Yanar from being hung by the High Sheriff and rescued the Tribe (who had been captured and were working as slaves). While Knuckles led the Tribe to Albion, she decided to stay in forests of Mercia with Rob in his fight against the High Sherriff.
Details
Species: Echidna
Color: Light Red/Dark Orange
Eyes: Purple
Age: Unknown
Year Of Birth: Unknown
Residence: Mercia
Likes: ???
Dislikes: ???
Abilities: hand to hand combat
Weakness: None documented
Weapons & Items: Staff/Sword

Associations
Brothers: Zax, Raynor
Husband: Rob O' The Hedge (they also have a child)
| | | |
| --- | --- | --- |
| | | |
Maria Robotnik - Debut: Sonic Adventure 2 (Sonic Sega Character)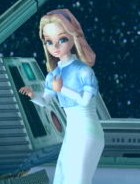 The young girl Maria Robotnik, granddaughter of Gerald Robotnik, was a young, loving girl, crippled by a disease which severly weakened her but still filled with hopes and dreams. That is until GUN killed her along with most of the people aboard the space colony ARK in an attempt to shut down and cover up Gerald's research.
It is only within Shadow's own memory that Maria still exists. He has faint memories of her in which she, before being shot, begged Shadow to make a promise to her: make all the people of Earth happy. Despite everything he tries to remain true to that.

Details
Japanese Name: マリア・ロボトニック
Romanized Name: Maria Robotonikku
Species: Human
Hair: Light Brown
Eyes: Blue
Age: ??? (deceased)
Height: ???
Weight: ???
Likes: ???
Dislikes: ???
Abilities: ???
Weakness: ???

Associations
Grandfather: Pr. Gerald Robotnik
Cousin: Dr. Eggman

Appearances
Sonic Adventure 2
Sonic Adventure 2: Battle
Shadow the Hedgehog
Matthew Corgi - Debut: STC #96 (Sonic Fleetway Character)
"Woooo!"
"Every night at six o'clock every family in every zone gathers around their TV to watch Doctor Robotnik's daily broadcast. No one wants to but it's the law!" Matthew Corgi on the other hand didn't want to watch Robotnik every night so decided to interrupt his broadcast to bring the citizens of Mobius a new live show called "Mock The Doc". This show involved different Mobians dressing up as Robotnik and trying to do a good impression of him. All the viewers really enjoyed seeing their ruler made fun of, except for Robotnik himself who sent Troopers around to Matthew's studio. The idea was that the Troopers would take down Matthew live on air so that everyone would learn what happens to those who mock the doc. But the Troopers got confused when they saw all the fake Robotniks and started blasting each other apart instead. So Robotnik decided to shut the station down in person, but when he got to there he found that Matthew had escaped along with the other Mobians and had left the camera rolling so he could humiliate the doctor one last time.

Details
Species: Corgi
Color: Light brown (Wears blue)
Eyes: Black
Age: Unknown
Residence: Unknown
Likes: Mocking Doctor Robotnik
Dislikes: Boring TV Broadcasts
Abilities: None
Weakness: None
Weapons & Items: Microphone

Associations
Enemies: Doctor Robotnik
| | | |
| --- | --- | --- |
| | | |
Max - Debut: Underground Masquerade (Sonic SU Character)
Details
Species:
Eyes:
Age:
Residence:
Likes:
Dislikes:
Abilities:
Weakness:
Weapons & Items:
Megatox - Debut: STC # 10 (Sonic Fleetway Character)
During the early years of Sonic's rebellion he encountered Megatox in the sewers beneath the Chemical Plant Zone. He was leading a group of freed slaves through the sewers despite protests that they were haunted. During the walk Sonic was struck by Mega Mack and knocked out. A horrible face emerged from the chemical and revealed itself to be a scientist who had helped Robotnik create the chemical in the first place. The creature said that it had been working in a compartment when it was accidentally flooded with Mega Mack but rather than dying he had somehow bonded with the substance. Immune to all physical attacks Megatox slowly poisoned Sonic with Mega Mack, however when Sonic tunnelled out of the sewers and created a whirlpool Megatox was sucked out and sent spiralling out of the sewers. Sonic and the slaves then made their bid for freedom.
When Robotnik had been defeated and the Chemical Plant Zone was slowly shut down Megatox came together inside an abandoned factory and slowly began building up the pressure. When Sonic and Tails arrived to investigate he attacked Sonic with new frightening powers that he had built, he could come together transforming parts of himself into a solid thanks to the power of electricity. Using iron fists to smash he was fine as long as he could revert back to liquid and allow Sonic to just fall straight through him. Winning he boasted to Sonic that soon he would explode and the Mega Mack would flood Sonic's beloved Emerald Hill Zone with a Tidal Wave and nothing will be able to live there for a century. Sonic pretended that the illness was slowing him then when Megatox reverted to Solid Sonic struck and Megatox fainted leaving just an ocean of Mega Mack. When the clean up crew arrived they bottled the unconscious Megatox and promised Sonic that they would store it somewhere safe in a Neutralised reinforced tank, Megatox was never heard of again. Sonic was left wondering weather the Marxio Bros. who owned the Chemical Plant Zone knew about Megatox or not?

Details
Species: Mutant bonded with Mega Mack
Color: Purple
Eyes: Green and Red
Residence: Chemical Plant Zone
Likes: Unknown
Dislikes: Sonic
Abilities: Solid/Liquid State, poison touch
Weakness: In liquid state has no power, in solid state can be hurt

Associations
Enemies: Sonic
Allies: Robotnik, Marxio Bros.???
| | | |
| --- | --- | --- |
| | | |