Query Returned 282 Items
Gerry Corfu - Debut: (Sonic Fleetway Character)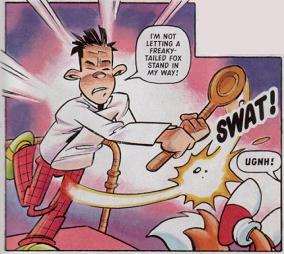 "I'm such a sweet dish"
Gerry Corfu was the best chef in Metropolis city, his sweet smile and audacious attempts to break records meant that he became the Numero Uno chef in town. Unfortunately, to stay there Gerry resorted to sabotaging other chefs shows, fortunately when Tails came to investigate he accidentally confessed everything live on show. He decided to drown tails in his record breaking "World's Largest Trigle" but Tails span his Tails and squashed Gerry in his own food and thus preventing him becoming the King Cook.

Details
Color: Pink
Residence: Metropolis City
Likes: Cooking
Dislikes: Rivals
Abilities: Sabotage
Weakness: Pride, pathetic

Associations
Rivals: Tails, Galloping Graeme, Two Skinny Llamas, Every other TV Chef
Griff - Debut: Warp Sonic (Sonic SatAM Character)
Griff is the leader of the Freedom Fighters that live in Lower Mobius. The power that supports life in Lower Mobius was giving out and during a fight against the tunnel rats, he found out about the power rings the Knothole team has. Griff isn't very trusting and instead of asking them for help with Lower Mobius' power problem, Griff charmed his way with Sally so that he could steal the Power Rock. In the end, Sonic saved Lower Mobius by defeating the rats and Griff gave back the Power Rock. Sonic split the rock in half to help out Griff who was very grateful.

Details
Species: Goat
Color: Orange
Eyes: Black
Age: Unknown
Year Of Birth: Unknown
Residence: Lower Mobius
Likes: Doing whatever it takes to protect Lower Mobius
Dislikes: Tunnel Rats, Robotnik
Abilities: Charming
Weakness: N/A
Weapons & Items: N/A
Grounder - Debut: The Super Special Sonic Search And Smash Squad (Sonic AoStH Character)
A robot on treads, Grounder is the second member of the SSSSSS (Super Special Sonic Search & Smash Squad) who with Scratch is constantly trying to capture Sonic. Having even less intelligence than Scratch, Grounder is easily bossed around and had to be a decoy in some occasion. Having a gadget for almost any situation in him, Grounder doesn't have the slightest idea how to use them in order to capture Sonic. Grounder is also finding himself blown into pieces when Sonic takes care of Robotnik's current plan.

Details
Species: Robot
Color: Blue-Green
Eyes: Black
Age: N/A
Residence: Mobius
Likes: Capturing Sonic
Dislikes: Scratch getting credit
Abilities: None
Weakness: Defeated Easily
Gun Commander - Debut: Shadow the Hedgehog (Sonic Sega Character)
The highest ranking officer of the G.U.N (Guardian Units of Nations) Federation Forces. He remained unshakeable as the Black Arms invaded, concentrating on saving the few areas he could as he tried to help the President escape. He is known for having a "heart of stone" and for thinking on his feet in battle.
He holds a deep hatred for Shadow, he later revealed he was a child on board the ARK when the G.U.N. soldiers invaded. He saw Professor Gerald creating Shadow alongside Black Doom. He long suspected Shadow was a traitor, working alongside the Black Arms but he was proved wrong when Gerald revealed he had created Shadow and the Eclipse Cannon to destroy the Black Comet. Apparently the G.U.N. commander wasn't too callous to apologise to Shadow for making assumptions.

Appearances
Shadow the Hedgehog
Harry - Debut: Knuckles #13 (Sonic Archie Character)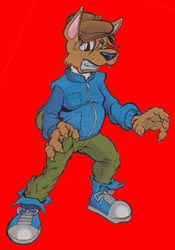 Harry was formerly a cabby in Echidnaopolis and was very happy with his simple life, preferring it to the militaristic life of following General Stryker. Full of street smarts, he was able to help out Constable Remington (as long as the parking tickets are taken care of & Remington "forgets" that he spoke with him) in terms of getting information about certain things happening in Echidnaopolis. However, like so many other things, Harry's life has changed since the Xorda conflict. After Robotnik took over Angel Island and made dingoes rule the echidnas, Harry acted as a spy for the echidnas and has been quite useful to the good guys.
Details
Species: Dingo
Color: Brown
Eyes: Black
Age: Unknown
Year Of Birth: Unknown
Residence: Echidnaopolis
Likes: Keeping to himself
Dislikes: Getting involved
Abilities: Driving
Weakness: N/A
Weapons & Items: Gun
Hawking - Debut: Knuckles #5 (Sonic Archie Character)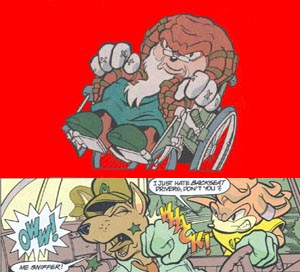 Hawking was the Guardian of the Floating Island when the Dingoes, life-long enemies of the echidnas in general, launched a nuclear attack on Echidnaopolis. Hawking used a dome shield to protect the city from the initial onslaught of the missiles, but the nuclear fallout threatened all life on the Floating Island. Using plans from Dimitri, he created the Hyper Zone Projector and placed Echidnaopolis (along with all other inhabitants of the Floating Island--including the dingoes) into pocket zones. While everyone was safe in their zones, the Brotherhood went about cleaning up the Floating Island and Hawking handed down the mantle of Guardianship to his son, Tobor. Eventually, Hawking returned all Floating Island inhabitants back to the Floating Island, except for Echidnaopolis and the Dingoes. Both returned thanks to the effects of Robotnik's Ultimate Annihilator, which erased all life on Mobius for an instant and broke down barriers between zones. However, when Hawking did his part to save Echidnaopolis, he ended up in a coma, which he never did wake up from and eventually died.
Details
Species: Echidna
Color: Brown
Eyes: Black
Age: 200+
Year Of Birth: Unknown
Residence: Died after being in a coma
Likes: ???
Dislikes: ???
Abilities: Tech wiz as well as chaos powers all Guardians possess
Weakness: n/a
Weapons & Items: Used a wheel-chair in his old age

Associations
Father: Mathias
Wife: Sonja-Ra
Son: Tobor
Daughter-in-Law: Voni-Ca
| | | |
| --- | --- | --- |
| | | |
Heavy - Debut: Knuckles' Chaotix (Sonic Archie Character)
A former member of the Chaotix - Heavy was created by Dr. Robotnik from special gems known as "The Power Gems". Designed to search and repair systems that had been damaged, he is an exceptionally versatile robot - However, Robotnik built him too well. The gems he used to give Heavy (as well as his partner, Bomb) conciousness, also gave them conciences and free will. Discovering that they were actually tools for the mad doctor, they wanted no part of it and together they escaped from Robotropolis with the gems in tow and went to the Floating Island where they came upon the Chaotix and the imprisoned Freedom Fighters! Little did they know that another creation - the Metal Sonic, had followed them also - and NOW HE TOO was poweredby the gems!
When used, the Power Gems can accelerate metabolism so much that it can tun anything into a giant when used properly. So when Metal Sonic went on a rampage at Carnival Island - It was there that he turned into Super Metal Sonic, his gigantic large red form and threatened to stomp the Chaotix out of existance! Giving Knux a Power Gem, Heavy, Bomb, and The Chaotix watched as Knux gave the fatal blow that finally destroyed the Metal Sonic once and for all! Since then, they had tried to live a life of peace on the Floating Island but at the same time, wished to give back to the community that had accepted them so, which is why Heavy and Bomb relocated to Knothole and were members of King Acorn's Secret Service.
Unfortunately, during a recentreconaissance mission to Robotropolis, Robotnik realigned Heavy and Bomb's prgramming to his side, and they were assigned to sabotage Knothole and assassinate the royal family. They were stopped only at the last minute, and Heavy was sawed through by Sonic. Later, both of them were upgraded by Robotnik for an assassination attempt on Mina Mongoose, but this attempt failed and Heavy was defeated by Sonic.

Details
Species: Robot
Color: Gray
Eyes: N/A
Age: N/A
Year Of Birth: None
Residence: Knothole
Likes: ???
Dislikes: ???
Abilities: Hack into computers
Weakness: Very timid at times
Weapons & Items: Bomb

Associations
Partner: Bomb
| | | |
| --- | --- | --- |
| | | |
Heavy - Debut: Chaotix (Sonic Sega Character)
Heavy was one of Dr. Eggman's head mechanics. He allegedly escaped from him, along with his partner Bomb, to assist Knuckles and the Choatix protect Carnival Island, though it is possible they were merely spies sent from Eggman. No one ever knew for sure...

Details
Japanese Name: ???
Romanized Name: ???
Species: Badnik
Color: Silver
Eyes: None
Age: NA
Birthdate: NA
Height: ???
Weight: Unknown, but most likely heavy... :P
Residence: NA
Likes: NA
Dislikes: NA
Abilities: None
Weakness: Weight
Weapons & Items: ???

Associations
Creator: Dr. Eggman
Partner: Bomb
Hershey - Debut: Sonic #47 (Sonic Archie Character)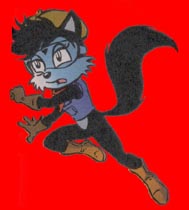 While Hershey was forgiven by everyone for her accidental role in the near death of Princess Sally, the guilt from the ordeal still bothers her and she has never forgiven Drago for using her, especially since she thought that he did love her. Currently, she's a member of King Acorn's Secret Service as Geoffrey recruited her for the job. Her smarts and agility make her valuable in a fight, even though she hates any kind of precipation or water. Still, she might even have a little crush on Geoffrey as well.
Details
Full Name: Hershey the Cat
Species: Cat
Color: Black
Eyes: Light Green
Age: 19
Year Of Birth: 3216
Residence: Knothole
Likes: ???
Dislikes: Water, being wet
Abilities: Decent Fighter, good at using computers
Weakness: Trusting
Weapons & Items: None

Associations
Ex-Boyfriend: Drago
Mother: Cocoa
Husband: Geoffrey St. John
High Sheriff - Debut: Sonic #58 (Sonic Archie Character)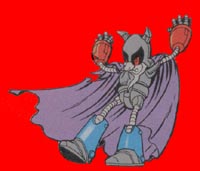 Residing in the country of Mercia, General D'Coolette - known there as the High Sheriff - may not be the strongest of Robotnik's underbosses - but he is the hardest case of them all. Please see the entry on General D'Coolette for more information.
Details
Real Name: General D'Coolette
Species: Coyote
Age: Unknown
Year Of Birth: Unknown
Residence: Knothole
Likes: ???
Dislikes: ???
Abilities: Power over Snottingham
Weakness: None documented
Weapons & Items: N/A