Query Returned 282 Items
Antoine D' Coolette - Debut: Sonic #0 (Sonic Archie Character)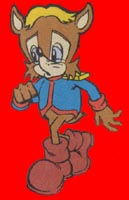 Antoine used to be a coward during the reign of Robotnik Prime. It was very easy to make fun of him with both his French accent (Zee way ee spoke lieek thees) and his supreme cowardness--and Sonic took advantage of that many times. However, he had grown up from that and displayed more courage after he assisted in Robotnik Prime's defeat. He was still a coward in some areas, but ever since Bunnie revealed that she liked him, Antoine had more confidence in himself and the two were, for a time, an inseparable couple. He became a better friend with Sonic, and the teasing was seriously reduced, especially after Antoine rescued his Robian father, General D'Coolette.
Because of Evil Sonic's personal vendetta against Anti-Antoine, Anti-Antoine and Antoine Prime were switched. For months, nearly everyone believed that Antoine Prime had lost interest in Bunnie and become a cold-hearted soldier, while the truth was that he has been replaced. None of the inhabitants of Mobius Prime knew about this until Anti-Antoine violently attempted to take the throne, causing Sonic to realize the truth and execute a reversal of the switch, restoring Antoine Prime to Mobius Prime and reuniting him with Bunnie Rabbot.

Details
Nick Names: Ant, Twan
Species: Coyote
Color: Brown
Eyes: Blue
Age: 19
Year Of Birth: 3216
Place Of Residence: Knothole Village
Likes: Challenges that he can face
Dislikes: Challenges that he cannot face
Abilities: Knowledge of fencing
Weakness: Unknown
Weapons & Items: Sword

Associations
Girlfriend: Bunnie Rabbot
Father: General D' Coolette
| | | |
| --- | --- | --- |
| | | |
Archimedes - Debut: Sonic & Knuckles (Sonic Archie Character)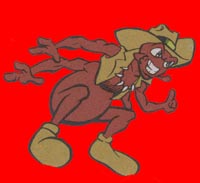 It was after the first meeting with the Chaotix that Knuckles that met Archimedes. In a "test" of sorts, Archy "kidnapped" the Chaotix and held them "prisoner" in The lost Grand Conservatory where he awaited Knuckles to find him via various clues scattered across The Floating Island. It took Knuckles awhile but when he found him and the Chaotix they all had no idea of what was to happen next.
After the first defeat of Enerjak, Archy has been like a mentor to Knuckles, but he has kept several secrets. Fire ants live to VERY ripe old ages and Archy is no exception. He trained several previous guardians including Knuckles's own father, Locke. Archimedes knew of Locke as well as the Guardian homebaseat Haven, even though Knux thought them all to be dead. Archy is also a valued member of The Council Of Ants. The Council - which resides in the Lava Reef Zone serve as advisors to the echidna guardians in their time of need.
After Robotnik took over Angel Island, Archimedes was charged by Locke with doing all he could to protect the Master Emerald. This he did. Also, Archimedes hypothesised correctly that Knuckles would regain his chas powers if exposed to the Master Emerald.

Details
Nick Names: Archy (Pronounced AR-KEY)
Species: Fire ant
Color: Dark Red
Eyes: Black
Age: Unknown
Year Of Birth: Unknown
Residence: Floating Isle
Likes: ???
Dislikes: Being eaten
Abilities: Able to breathe fire through his mouth and dissappear and reappear ala teleportation
Weakness: Often covers up many truths
Weapons & Items: N/A

Associations
Father: Semper Infidelis
Grandfather: Deo Volente
| | | |
| --- | --- | --- |
| | | |
Argus - Debut: To Catch A Queen (Sonic SU Character)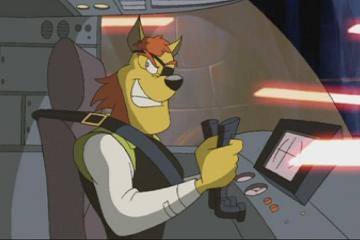 Details
Species:
Eyes:
Age:
Residence:
Likes:
Dislikes:
Abilities:
Weakness:
Weapons & Items:
Ari - Debut: Game Guy (Sonic SatAM Character)
Ari was the leader of a band of Freedom Fighters. Unfortunately, the entire group was captured by Robotnik and Robotnik promised Ari their freedom if Ari helped lure Sonic into a trap. Ari kept his part of the deal, however, Robotnik roboticized Ari's friends while Ari was doing his part. Dulcy and Sally rescued Ari and then Ari saved Sonic to make amends. Ari ended up getting sucked into the Void (the trap Robotnik created for Sonic), but before he did, he told Sonic about the King's list and that other Freedom Fighters around Mobius were looking for Sally. When Naugus found a way to open the Void, Ari returned in time to help join the fight against Robotnik's Doomsday Project.

Details
Species: Ram
Color: Gray
Eyes: Black
Age: Unknown
Year Of Birth: Unknown
Residence: Knothole
Likes: Helping the Freedom Fighter cause
Dislikes: Robotnik
Abilities: Leadership
Weakness: Trusting
Weapons & Items: N/A
Arrakis - Debut: Knuckles #10 (Sonic Archie Character)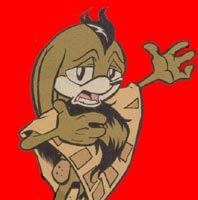 600 years ago, Kayla-La and Jor-dann discovered a white comet on a collision course with Echidnaopolis, the Downunda city filled with echidnas. While Kayla-La thought of a plan to raise the city into the skies, Arrakis pleaded for the echidnas to stay on the Mobius mainland where they belong and just to look for a new place to settle. While the Echidna Council chose to follow Kayla-La's plan, Arrakis convinced the Council to allow every citizen to make their own choice of whether to go to into the clouds or to re-settle elsewhere on Mobius. Arrakis lead those who decided to find a new home elsewhere. Things were tough going for the echidnas he led, but the Ancient Walkers came to him one night and told him to find Albion--the place where echidnas sprang forth. Arrakis was the first mitre of the Lost Tribe of Echidnas, who were mostly forgotten in history until Athair was chosen to be Mitre.
Details
Species: Echidna
Color: Unknown
Eyes: Unknown
Age: Unknown
Year Of Birth: Unknown
Residence: Dead
Likes: ???
Dislikes: ???
Abilities: Leadership, speaking
Weakness: N/A
Weapons & Items: None
| | | |
| --- | --- | --- |
| | | |
Arthur - Debut: STC # 102 (Sonic Fleetway Character)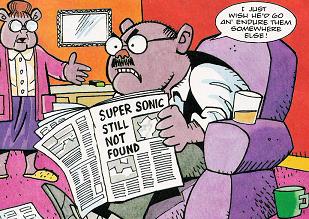 "At least the trains ran on time which is more than you can say now"
When Madge took in the amnesiac Super Sonic the young hedgehog he became haunted by images of a yellow demon trying to kill everyone on Mobius. Madge tried to comfort him much to the disapproval of her husband Arthur. Despite the fact Arthur was never seen without a newspaper neither of them made the connection between the demon Super Sonic on the headline and the young boy upstairs. Madge and Arthur had a row in which she accused him of preferring things back when Robotnik was still in charge, however Super interrupted by deciding to leave. Arthur was pleased to let him go and he urged Madge to agree. In a last act of defiance Madge gave Super Sonic Arthur's beer Money to him to help him on his way…

Details
Colour: Purple
Residence: Metropolis Zone

Associations
Wife: Madge
Adopted: Super Sonic
Ash - Debut: Sonic #134 (Sonic Archie Character)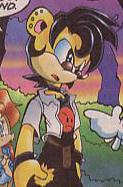 During Sonic's absence in space, Mina began dating her manager, Ash. Ash is a very caring Mongoose who loves Mina a lot, but he doesn't really see eye to eye with Sonic. The two are quite competitive and tend to get on each others' nerves quite a bit.
When Mina's life was threatened by Nack's assasination attempt and Sonic was put in charge of her security, Ash was especially unhappy. He accused Mina of still loving Sonic and subconciously writing her songs about him. The broke up briefly, but when Mina was attacked again by Heavy and Bomb, it was Ash who saved her life and the two were brought back together, resolving the love triangle once and for all.

Details
Species: Mongoose
Color: Yellow
Eyes: Dark Blue
Age: Unknown
Year Of Birth: Unknown
Residence: Knothole City
Likes: Mina
Dislikes: Sonic
Abilities: N/A
Weakness: N/A
Weapons & Items: N/A

Associations
Girlfriend: Mina
Athair - Debut: Tails' Mini-Series Book #2 (sonic archie character)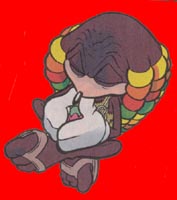 Athair was a guardian, but he is the only one who willingly gave up the role. Out of the entire Sonic and Knuckles comics cast, Athair is the most mysterious character of them all - his past is so intertwined with Mobius' history, guardianship, Mitreship, and the Ancient Walkers that only he knows his whole story - period. Athair first met Tails on his trip to Downunda, infiltrating Robotnik's base there led by Crocbot. After being attacked by the Wing Dingo Squadron and left for dead, The Downunda Freedom Fighters took Tails to "the old man of the crater". Tails woke up to find none other than a wrinkled old man, bent over with a cane... deeming Tails "The Chosen One", Athair told him that now was only the beginning of events that were to play forth in the future.
Athair told tales of Mobius' ancient past, the coming of the great Chaos Emerald meteor, and also revealed the secret that the "Great Downunda crater" was once the place where The Floating Isle sat before it rose into the sky... how did Athair know all of this? The Ancient Walkers - three mystical diety like beings that come in the form of giant tribal masks. When Tails awoke from his dazed slumber in the crater, he found every trace of Athair gone.
Much later, Athair was invlolved when Mammoth Mogul revealed his plan. After near-destroying Enerjak, Mogul, seeking to absorb the Chaos Emeralds of the Floating Island into himself - turned hyper and became Master Mogul: powered with the enegies of 12 Chaos Emeralds, it took Super Sonic, Hyper Knuckles, Turbo Tails, The Chaotix, The Freedom Fighters, the Echidna Security Team, and The dingoes - and NONE of the them could bring him down. That is, until Athair appeared. With the Ancient Walkers, Athair rescued Sonic, Knuckles, and Tails from dimensional limbo and dropped off the Chaos Syphon - the device used to create Enerjak. It was only with the syphon that the trio got the upper hand to defeat Mogul - but NOT before Athair vanished again...
So what is his relation to Knuckles and the guardians? It wasn't until weeks after the Mogul incident that Knuckles found out. Years ago, Athair himself was a guardian. Father to Sabre, Athair heeded what he called "a beckoning" from the Ancient Walkers. Following his call, he discovered The Forgotten Tribe - a group of Echidnas that decided to not go along with the decision to raise the Island. Simiar to Guardians, The tribe was led by "Mitres" instead. The most recent one had died and Athair had just seemed to enter the picture. Out of sheer heart, Athair renounced the ways of the Guardian to help the poorer shambles that were the Forgotten Tribe find their "Lost City Of Albion", homeland to the echidna race that had vanished centuries ago. Athair took Knuckles to see the Tribe, and on the last night of his mitreship, he vanished mysteriously again. Knuckles - with the help of Rob O' the Hedge, an echidna named Yanar, and Rob's betrothed Mari-An, located the city after more than 600 years of the Tribe looking. Knuckles still wonders to this day what happened to Athair, but had he looked in the sky, he would have seen clouds in the shape of Athair and The Ancient walkers that smiled down upon him...

Details
Nick Names: Ol' Weirdo
Species: Echidna
Color: Brown
Eyes: Blue
Age: approximately 109
Place Of Residence: With the Ancient Walkers
Likes: ???
Dislikes: ???
Abilities: Glide, hover, chaos emerald and Ancient Walker-induced powers
Weakness: State of Health is tied to the Ancient Walkers
Weapons & Items: Cane

Associations
Mother: Janelle-Li
Father: Unknown
Wife: Crystal-La
Son: Sabre
Grandson: Locke
Great-Grandson: Knuckles
| | | |
| --- | --- | --- |
| | | |
Aurora - Debut: Sonic #122 (Sonic Archie Character)
Aurora is a mysterious entity, considered the supreme diety of Mobius. She is omnipotent and omniscent, and is the guardian of the Chaos Force, the matter that controls the universe. She is more powerful even than the Ancient Walkers, since she controls them. She is capable of anything. It was Aurora who met Knuckles when he reached the Chaos Force, informing him that he must become one with the Chaos Force in order to fulfill his true destiny.
No one knows what Aurora has in store for people, save for Athair and the Ancient Walkers. She is seen sending heralds to announce a spirit's ascension to her plane of existance and also creating mortal visions for the sake of her plans. However, it seems that Aurora has a more hands-off approach to Mobius than desired when it doesn't directly involve her meddling, as she seemed to be indifferent about the Xorda invasion.

Details
Full Name: Aurora
Species: Omnipotent, but appears as an echidna
Color: Pink (echidna), N/A (omni)
Eyes: Blue (echidna), N/A (omni)
Age: N/A
Year Of Birth: N/A
Residence: The Chaos Force, The Afterlife
Likes: N/A
Dislikes: N/A
Abilities: Most likely anything and everything - dream making, shapeshifting, ressurrection, and travel between planes of existance are shown
Weakness: Does not fully understand mortal nature
Weapons & Items: N/A

Associations
Sub Gods: The Ancient Walkers
Mortal Links: Athair, Knuckles
Heralds: Chaos Force Chao
| | | |
| --- | --- | --- |
| | | |
Baby T - Debut: Sonic Past Cool (Sonic SatAM Character)
Baby T is the terapod that Tails found close to Knothole one day. He played dirt hockey with Tails and the two became good friends.

Details
Species: Terapod
Color: Gray
Eyes: Blue
Age: Unknown
Year Of Birth: Unknown
Residence: Boulder Bay
Likes: Playing
Dislikes: N/A
Abilities: N/A
Weakness: N/A
Weapons & Items: N/A

Associations
Mother: Momma T