Query Returned 420 Items
Professor Neinstein - Debut: STC # 39 (Sonic Fleetway )
This was a famous Mobian Physicist, invented a machine capable of absorbing and transmitting device which Robotnik managed to get his hands on and used on Sonic.

Associations
Known by: Porker
Professor VonSchilmmer - Debut: Too Tall Tails (Sonic AoStH Character)
The crazy professor, VonSchilmmer is the first inventor Sonic turns to for help with Robotnik. VonSchilmmer has a wide variety of weapons, if only he could remember where he put them or fully understand what he's doing. Sonic continually puts up with him because VonSchilmmer is able to invent some of the craziest inventions ever seen and many of them actually work and help Sonic. Although he is sometimes finding himself captured by Robotnik, VonSchilmmer is able hold his own. Accompanying Sonic and Tails on their adventures sometimes, VonSchilmmer has something for almost any situation.

Details
Species: Human
Color: Blue
Eyes: Black
Age: N/A
Residence: Mobius
Likes: Inventing
Dislikes: Robotnik winning
Abilities: Can Invent
Weakness: Crazy
Pyjamas - Debut: STC #94 (Sonic Fleetway Character)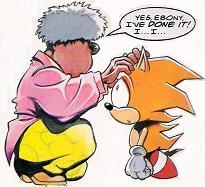 Pyjamas is best friends with Ebony and helps her run The Groovy Train, even though most of the time she talks of her psychic visions which many doubt are actually true. She attended the protest to save the Fauna along with Ebony and (vaguely) foresaw Knuckles's arrival. But since she doesn't have any fighting abilities she couldn't be much help to him and Ebony in the fight (Though she must have done some damage in the past if Robotnik wanted her arrested). A while after the Fauna incident Pyjamas predicted that a great evil was going to arrive at the coffee bar but was doubted by Ebony. This turned out to be one of her few accurate predictions as Super Sonic came there seeking a job. As opposed to Ebony's over trusting nature Pyjamas didn't trust him at all and made her opinion very clear on this. She preformed a "Mind Link" with Super Sonic saw visions of his evil past, which caused her great pain and revived Super Sonic's memories. After he refused to put the world at risk by using his powers again Pyjamas realised that he had changed and accepted him as a friend. Later it was Pyjamas's cautious nature and psychic powers that saved Super Sonic from his evil side after he used his powers to save a train full of people. During their outings she often had to remind Ebony about using his name too often while they were in public (So it does prove helpful to have someone paranoid about when dealing with former demons). Since Pyjamas did not appear in the final story it would be a safe bet that she stayed to watch The Groovy Train while the other two searched for the Chaos Energy.
Details
Species: Dog (Most possibly a Sheepdog)
Color: Light brown with white hair (Wears pink and yellow)
Eyes: Unknown
Age: Unknown
Residence: "The Groovy Train" Coffee Bar, Metropolis City
Likes: Protests, Mind reading, Fortune telling(?)
Dislikes: "Demons", people doubting her visions (Though she's aware they're not often right)
Abilities: Psychic visions, Mind Link
Weakness: Visions are rarely accurate, doesn't take much notice of the danger around her while she's having a vision, not very trusting

Associations
Friends: Ebony, Super Sonic
Allies: Knuckles The Echidna
Enemies: Doctor Robotnik, Omen, Biohazard

Appearances
94
95
96
116
117
118
146
147
148
| | | |
| --- | --- | --- |
| | | |
Queen Aleena - Debut: Wedding Bell Blues (Sonic SU Character)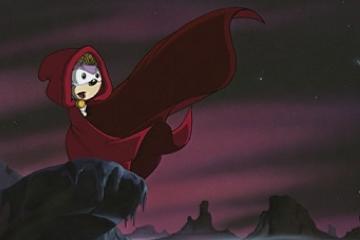 Details
Species: Hedgehog
Eyes:
Age:
Residence:
Likes:
Dislikes:
Abilities:
Weakness:
Weapons & Items:

Associations
Children: Sonic, Sonia, Manic
Ray The Flying Squirrel - Debut: Sega Sonic The Hedgehog (Sonic Sega Character)
Next to nothing is known about the flying squirrel they call Ray. He once worked along side Sonic and Mighty in destroying Eggman Island. Afterwards, the three went their seperate ways, and Ray hasn't been heard from since.
What is known about Ray is that though he is a little on the slow side, he's very agile, and obtains the ability to glide. He's also able to swing on to things using his tail. That's about it..

Details
Japanese Name: ƒŒƒC ƒU ƒtƒ‰ƒCƒ"ƒO ƒXƒNƒ[ƒŒƒ‹
Romanized Name: Rei za Furaingu Sukuwaareru
Species: Flying Squirrel
Color: Yellow And Brown
Eyes: Black
Birthdate: June
Height: ???
Weight: ???
Residence: ???
Likes: ???
Dislikes: ???
Abilities: Spin Attack, Spin Dash, Agility, Tail Grab, Gliding
Weakness: Possible Lack of Strength and Speed

Associations
Friends: Sonic the Hedgehog, Mighty the Armadillo
Enemies: Dr. Eggman

Appearances
Sega Sonic Arcade
Ray the Squirrel - Debut: Knuckles #26 (Sonic Archie Character)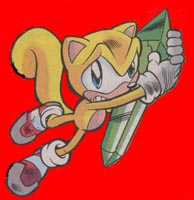 Several years ago, Ray was among many other Mobians being taken to an unknown base controlled by Robotnik. On the way to the base, Ray was polite to everyone and even gave up his seat to a girl. He also met Mighty, who was also being held captive, and Sonic, who was on one of his first ever Freedom Fighter missions. Inside the base, he and Mighty attempted to help a fox named Fiona when a robot guard said that "other plans" were in store for her. Eventually the guards put down their rebellion and put Mighty and Ray in separate cages, while Fiona was taken to Robotnik himself. Sonic freed Mighty and Ray and the three tried to rescue her. However, things didn't go according to plan and when Ray touched the power stone, he mysteriously began to disappear. Sonic made a mad dash to get him, but he didn't succeed. Mighty was very upset over the whole thing, but Sonic told Mighty to never give up hope. When Mighty returned to the base recently along with Fiona and Nic, to everyone's surprise Ray was there still holding onto the power stone, but unable to escape. Nic "freed" Ray by blasting the gem, and Ray went with Mighty to the Floating Island where he was introduced to Mighty's friends in the Chaotix.
Details
Species: Squirrel
Color: Yellow
Eyes: Blue
Age: 15
Year Of Birth: 3220
Residence: Floating Island - Rocky Hill with Mighty
Likes: Helping others
Dislikes: ???
Abilities: Fly
Weakness: N/A
Weapons & Items: None

Associations
Best Friend: Mighty
| | | |
| --- | --- | --- |
| | | |
Receptionik - Debut: STC # (Sonic Fleetway )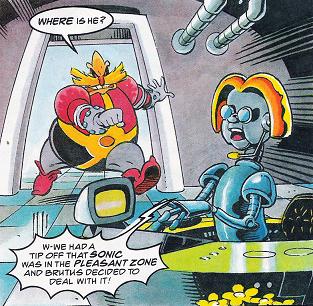 Robotnik's robot secretary, passes on all important information to his master and makes no complaint about the abuse from the temperamental Doctor.
Details
Species: Robot
Color: Greyish Blue
Eyes: Blue spectacles
Residence: Metropolis

Associations
Master: Robotnik
Remington - Debut: Knuckles #4 (Sonic Archie Character)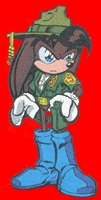 Knuckles cannot be everywhere at once - especially since Echidnaopolis rematerialized on the Island. Guardians guard the island but underneath them are the Constables that leads the Echidna Security Team in Echidnaopolis - The current one being the lop haired Remington. Contemplative and easy to get along with, Remington gets his orders i.e Knuckles and also has a secret connection to enigmatic Brotherhood. Remington, who was trained by the previous Constable Holmes, acts as a police chief to Echidnaopolis - oftentimes recruiting The Chaotix to handle some jobs in town. Though he is by no means a true member of The Chaotix team he will help and often gives the orders in Knuckles' absence to them. A well known villain of Remington and the Chaotix are none other than the Drug Dealer and Mob Boss - Downtown Ebony Hare, whose LSD food poisoning case resulted in the death of Mello, the near death of Charmy, and put the entire Chaotix into the hospital. Remington seeks to make sure people like Ebony are never let loose into the streets again - and though he can be condescing at times, he keeps his place with Knuckles and does realize that IN THE LONG RUN - it is Knuckles that gives the rules. Since Robotnik took control of Angel Island, however, Remington has become a lowly peasant like the rest of the echidnas. He was apparently killed, but is being stored by Robotnik for uncertain purposes.
Details
Species: Echidna
Color: Brown
Eyes: Blue
Age: 27
Year Of Birth: 3208
Residence: Echidnaopolis
Likes: ???
Dislikes: ???
Abilities: Excellent Physical Fighter, Good with diplomacy
Weakness: None
Weapons & Items: Occasionally carries a gun

Associations
Girlfriend: Komi-Ko
Father: Kragok
Aunts: Lien-Da, Julie-Su
| | | |
| --- | --- | --- |
| | | |
Renfield the Rodent - Debut: Knuckles' Chaotix (Sonic Archie Character)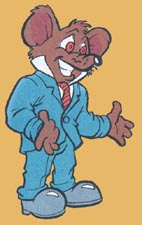 Renfield runs the Happyland Amusement Park on the Floating Island. First he helped Robotnik lure the Freedom Fighters into a trap, which resulted in the formation of the Chaotix since Knuckles needed help to save them. The next time he appeared he was using a "secret sauce" on the food served in the park to keep kids wanting to come back to eat the food at the park. However, he wasn't in control of the operatiion as Downtown Ebony Hare took over and put Renfield in his place. The dosage on the food was too high and resulted in Mello's death and putting the original four Chaotix members in the hospital. After Remington and the Chaotix shut down Ebony's operation, Renfield was allowed to continue running the amusement park--WITHOUT the sauce (unless he wants Remington to arrest him as an accomplice).
Details
Species: Rat
Color: Brown
Eyes: Reddish Brown
Age: Unknown
Year Of Birth: Unknown
Residence: Happyland Amusement Park on the Floating Island
Likes: Making Money
Dislikes: ???
Abilities: Slyness
Weakness: Can't defend himself
Weapons & Items: None

Associations
Bodyguard: Ripper
| | | |
| --- | --- | --- |
| | | |
Rob O' The Hedge - Debut: Knuckles #11 (Sonic Archie Character)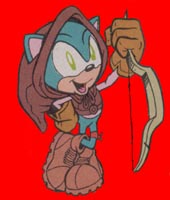 Faraway in the country of Mercia there once was a band of Freedom Fighters that fought against a tyrant known simply as "The High Sherriff" - an underboss of Doctor Robotnik. Their leader, a hedgehog called Rob headed the Krazy Kritter Freedom Fighters and their fight for freedom went on - until distaster struck...The entire roster of the Krazy Kritter FF's fell to the roboticizer, leaving Rob behind to fend for himself against the sherrif. Rob sent his only relative - a cousin named Amy Rose - off to Knothole village where she would be safe while he kept the fort. Enter a couple of years later when Sonic, Knuckles, and Tails arrive. While Knuckles had come face to face with Athair, an associate named Yanar, and a group of "lost echidnas" known as The Forgotten Tribe, Sonic, on quest to find Ixis Naugus, discovered that the High Sherriff was really the roboticized father of Antoine D'Coolette, one of the Knothole Village Freedom Fighters. Taken prisoner by General D'Coolette, Sonic, Tails, and Yanar awaited their fate while Knuckles, Rob, and an echidna named Mari-An sought to find out what became of the passengers of Tails' crashed biplane and the now kidnapped Forgotten Tribe. Sonic and Tails, after their own escape, helped Rob to free what was left of the Forgotten Tribe and save Yanar from facing a sentence of a public hanging but in the end it was not enough to restrain General D'Coolette who managed to escape in an explosion. Sonic and company rescued their friends and The Forgotten Tribe and parted ways with Rob, vowing to return. Afterwards - while on a quest to locate the lost city of Albion with Knuckles, Rob discovered his true love in the form of Mari-An, the same echidna that assisted Knuckles before. Together the two stayed behind and continue to live in the forests of Mercia. And together they guard the Stonehenge-like entrance to Albion.
Details
Species: Hedgehog
Color: Cyan
Eyes: Green
Age: Unknown
Year Of Birth: Unknown
Residence: Mercia
Likes: ???
Dislikes: ???
Abilities: Archer/ Assortment of trick Arrows
Weakness: A tad clumsy
Weapons & Items: Bow and Arrows

Associations
Cousin: Amy Rose
Wife: Mari-An (has a child)
| | | |
| --- | --- | --- |
| | | |