Query Returned 420 Items
Monkey Khan - Debut: Sonic #55 (Sonic Archie Character)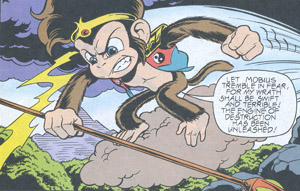 The engine of destruction has been unleashed!
Many years ago, before the roboticiser, Robotnik dealt in the process of creating "cyborgs" - half animal, half robot. However Robotnik quickly scrapped that project due to the fact that none of the Mobian Monkeys could handle it, except for one - Monkey Khan. Robotnik had built him to be TOO POWERFUL and as a result he ended up with a hotheaded powerhouse that he couldn't control. Locking Monkey Khan in a metallic crypt in which he couldn't escape, Khan rested there for 10 years until Sonic, Sally, and Antione accidentally discovered it and freed him. Sonic and Khan hit off on the wrong spot IMMEDIATELY and as a result they ended up fighting each other more than anything else. However in the long run they parted as friends as Khan left to return to his native home of the Dragon Kingdom. It wasn't until a few weeks later that Sonic and Tails discovered him at the base of Mount Stormtop under the control of The Iron King and Iron Queen. They managed to free Khan from the grip of the Iron Queen as well as destroying her "Eternal Flame" spell that she had set upon Mount Stormtop. Khan decided to stay there among the simple villagers and live out his supposed destiny as prophecised "Monkey King" of the Dragon Kingdom. He defended the villagers from various attacks until Robotnik (SA-style Eggman) took him off guard and captured all the villagers and roboticized them all. Monkey Khan has an intense hatred for all overlanders now. When Sonic was trying to warn the overlanders--who had just returned after a decade in space--of the dangers of Robotnik, Monkey Khan's attack in blind hatred scared the overlanders and they went straight into the "safety" of Robotnik.

Details
Nick Names: M.K
Real Name: Ken Khan
Species: Chinese Monkey
Color: Brown
Eyes: Blue
Age: Unknown
Year Of Birth: Unknown
Residence: The Dragon Kingdom/Mount Stormtop
Likes: ???
Dislikes: Overlanders
Abilities: Can control the weather with the power ring band around his head
Weakness: N/A
Weapons & Items: Atom Bat (Powered by A Chaos Emerald), a flying cloud

Associations
Father: Lau Khan
| | | |
| --- | --- | --- |
| | | |
Moritori Rex - Debut: Knuckles #16 (Sonic Archie Character)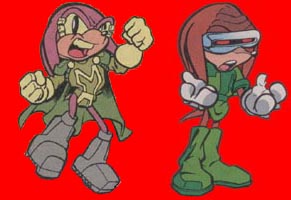 Moritori Rex was the grandmaster of the Dark Legion back during the eras of Guardian Hawking and Guardian Tobor (probably started earlier but those were his most important years). He had a son named Luger and has three grandchildren: the twins, Kragok and Kommissar (Lien-Da is her real name), and Julie-Su (who he rather have nothing to do with since she's a "traitor"). Moritori's claim to fame is that he figured out a way to spy on other zones without being detected. He used this ability to spy on Hawking and Tobor. Echidnaopolis had been taken off the Floating Island and put into it's own zone because of the dangerous radation levels from a dingo nuclear missile attack. Hawking went off to Haven and Tobor was now the official Guardian. Moritori decided to attack Echidnaopolis then and had a one-on-one fight with Tobor. He was losing the fight but he used his zone traveling device to take just the two of them to the Floating Island where some ruins collapsed on them. Then, Hawking searched the ruins for Tobor but he mistakening took Moritori instead thinking he had Tobor. Moritori then pretended to be "Tobor" and was a part of the Brotherhood and none of the Guardians knew anything was wrong. Unfortunately for Moritori Rex, the fact that the Brotherhood has kept Knuckles in the dark actually came in handy for when the real Tobor came back to the Floating Island after wandering Mobius in shame for decades. Things got worse for Moritori when Knuckles accidently found Haven and totally blew his cover (along with kicking his butt). Moritori Rex got some revenge back when the Dark Legion took over Haven, but they didn't get Locke or Spectre who both rectified that little situation. He was last seen working as a high level operative when Dimitri was in charge of the Legion. His current whereabouts are unknown.
Details
Species: Echidna
Color: Brown
Eyes: Brown
Age: Unknown
Year Of Birth: Unknown
Residence: Floating Island
Likes: ???
Dislikes: Knuckles & Julie-Su
Abilities: Great Schemer
Weakness: None
Weapons & Items: Optic eye beam laser

Associations
Grandfather: Dimitri
Father: Menniker
Son: Luger
Grandchildren: Kragok, Lien-Da (Kommissar), & Julie-Su
| | | |
| --- | --- | --- |
| | | |
Mr LaTour - Debut: The Price Of Freedom (Sonic SU Character)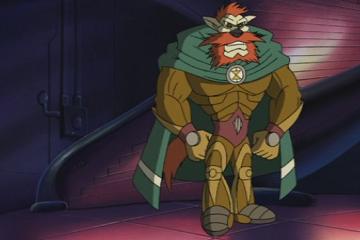 Details
Species:
Eyes:
Age:
Residence:
Likes:
Dislikes:
Abilities:
Weakness:
Weapons & Items:

Associations
Daughter: Mindy LaTour
Mr. Blobnik - Debut: STC # 59 (Sonic Fleetway Character)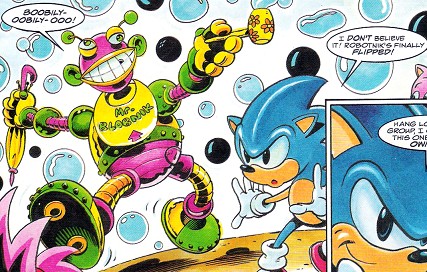 Surprisingly Mr Blobnik was one of Doctor Robotnik's better creations, or rather Grimers. Sonic and the gang responded to a call about a deadly badnik plaguing the Metropolis Zone when they discovered Mr. Blobnik and Sonic jokingly took the robot on alone. Robotnik watched Grimer controlling the robot from his Citadel, threatening him because of his "Ridiculous" creation. Unfortunately a Metallix arrived and kidnapped Grimer giving Robotnik the first sign that the Brotherhood was out of his control. Meanwhile Mr. Blobnik's secret weapon was out of batteries giving Sonic an easy victory as he literally tore Mr. Blobnik apart. When Mr Blobnik exploded he released a gigantic bubble which captured Sonic and the head split apart from the rest of the body, sprouted arms so it looked like a spider, grabbed the harmless Sonic who was stuck in the bubble beneath it.
So Doctor Robotnik's most ridiculous creation was actually the first to succeed in capturing Sonic but thanks to the Brootherhood of Metallix Robotnik let Sonic go free to face them.

Details
Species: Robot
Color: Purple and Yellow
Abilities: Creating Blobs

Associations
Creators: Grimer, Doctor Robotnik
Target: Sonic
| | | |
| --- | --- | --- |
| | | |
Mt. Mobius - Debut: Big Daddy (Sonic AoStH Place)
The tallest mountain on Mobius and surely the best one to stage any kind of attack from. It's snowcapped and extremely high.

Nack The Weasel - Debut: Sonic The Hedgehog: Triple Trouble (Sonic Archie Character)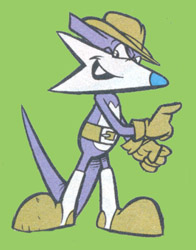 Nack is a sleazy and violent bounty and treasure hunter, hated by most and mistrusted by anyone who knows of him. Nack is known to double cross anyone in his path and would stab his own mother in the back if he could find a profit in it. He works for whichever side pays him more, but most often he'll just be working for himself. He gets around using a speedy little ion-powered airbike called the Marvelous Queen, but he can also leap to lofty heights using his long tail like a spring.
After laying low for months, he was hired by Robotnik Mk II to assassinate Mina Mongoose, but he was caught by the Freedom Fighters. He's currently in jail and, unfortunately for him, sharing a cell with some fromer accomplices who he double crossed.

Details
Species: Weasel
Color: Purple
Eyes: Black
Age: Unknown
Year Of Birth: Unknown
Residence: Original Base - Floating Island
Likes: Money, Pretty Girls
Dislikes: ???
Abilities: Expert Bounty & Treasure Hunter, High Tail-Bounce
Weakness: N/A
Weapons & Items: Marvelous Queen (Airbike), Pop Gun

Associations
Sister: Nicolette (known as Nic the Weasel)
Former Partners: Sleuth, Drago, Sgt. Simian, Flying Frog, Lightning Lynx, Predator Hawk
Former Gang Underlings: Karl, Conor, Jeff (unnamed in their appearances; these are their names in the story script due to Axer)
| | | |
| --- | --- | --- |
| | | |
Nack the Weasel - Debut: STC # 53 (Sonic Fleetway Character)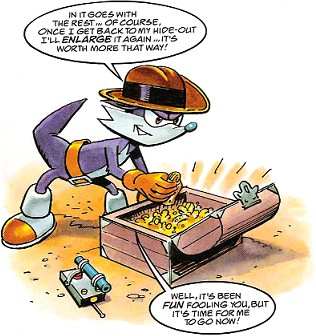 Nack was once a member of the Special Zone's Chaotix, a group of heroes who worked in the Special Zone keeping it safe, but Nack never seemed to fit in with the other members, he was quiet and reserved. When Knuckles arrived in the Special Zone and Chaotix went up against the Brootherhood of Mettalix Nack made a run for safety and ended up betraying the rest of Chaotix in return for his own life, but in the end the Mettalix turned on him and he was knocked out, Chaotix took him to serve time in jail for his betrayal. Nack escaped and was hunted down for quite a long time by his former team mates who eventually caught up with him on the Floating Island where he was spiriting away the Treasure hidden in the Lost Pyramid by shrinking it down thanks to a device he had built, but Knuckles caught the device and used it to restore the treasure in his ship so he couldn't escape.
A long time later Nack took revenge on the Chaotix team when he was employed by Lord Sidewinder to kidnap Super Sonic, he succeeded in taking them by surprise and shrinking them all but without Vector at the controls the ship crashed meaning he missed Sonic. Sonic managed to get a capsule of Nack's head which he had used to shrink them down and turned it on Nack who shrank down to Sonic's size, and carried on shrinking into nothing…
A loooong time later Nack returned, he had managed to restore his size and now he could manipulate his size at will, using his powers to rob a bank under Sonic's nose. Sonic and Nack fought it out but before Nack squashed Sonic like a bug the police arrived and Nack fled. Nack then worked with Grimer to help him find Doctor Robotnik who like Nack had shrank down to nothing. Nack and Grimer managed to find Shanazar and recover Doctor Robotnik who had somehow turned back into Kintobor, but not for long. When the time came to leave Shanazar Nack was with Robotnik as they smashed the world's together and was last seen helping Robotnik stumble away after being beaten by Sonic yet again…

Details
Full Name: Nack T. Weasel
Species: Weasel
Color: Purple
Eyes:
Likes: Money
Abilities: Shrinking and enlarging objects
Weakness: Just a normal guy apart from that
Weapons & Items: Gun, shrinking capsules

Associations
Betrayed: Chaotix
Worked for: Lord Sidewinder, Grimer, Robotnik
Enemies: Sonic

Appearances
53
54
55
56
57
58
Knuckles Knock Out Special
89
90
142
148
149
150
164
165
| | | |
| --- | --- | --- |
| | | |
Nate Morgan - Debut: Sonic #64 (Sonic Archie Character)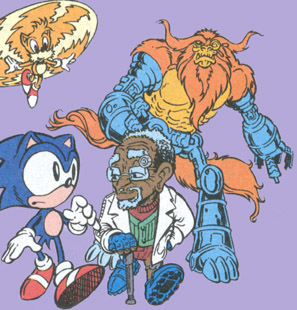 In a place where Overlanders are at times hated and feared, Nate is the brightest exception. A small black male with a large glowing heart - Nate is the first person to have set the world of Mobius on its collective ear; him being one of the first people to learn how to master the art of Ring Forging...It all started back in Megapolis, home of the Overlanders. After creating the Ring forge,his assistant Julian Kintobor - better known later as Doctor Ivo Robotnik - sabotaged the Forge resulting in a massive explosion that destroyed a part of the city. No lives were lost, but Nate - being the head of the Geo-Physicians department of the Overlanders was brought in for trial and subsequently sentenced to banishment from the city. Possibly knowing of Kintobor's treachery - Nate took the Ring Forge and began his lifelong banishment. After crossing the Mobian Badlands tired, without food, and nearing death he had finally managed to reach the Great forest where he passed out after encountering a troop by King Frederic - Sally's grandfather. Barring complaints from those such as Ixis Naugus and Warlord Kodos about having an overlander in their midst, Frederic commanded that Nate be nursed back to health and in return for thier services, Nate asked to use his Ring forge technology and one of the King's Chaos Emeralds to help the medieval society of Mobotropolis. The outcome of this partnership? The birth of the city of New Mobotroplis, the declaration of the Power Ring as the 5th element of Mobius due to its innate properties, the ushering in of the Mobian golden Age - and a new life for Nate. From there Nate became official advisor to the king and an "uncle" to King Max as he first ascended the throne, and a teacher to the kingdom - even teaching Sonic's father and his greatest student: Sonic's Uncle Chuck, the art of forging Power Rings that he had held a secret for so long. But his happiness was not to last. Technology was replacing the ways of magic and sorcery - and this meant that Ixis Naugus - the royal wizard was now losing his edge on the Kingdom...Enlisting the aid of Warlord Kodos, already consumed with hate for the overlander, they set about a plan to frame Nate. While Nate and a group of students were out and escorted by Kodos and his troops, Naugus went about manipilating a troop of Overlanders in the Great Forest. And when both sides met, Naugus had used his magics to make the both sides turn it into a mini battle. Many of either side were either killed or hurt and when Kodos awoke in the hospital - both he and Naugus went on and on about how none of this would have happened had the king not entrusted the help of an overlander. It soon led to another trial in which Nate was acquitted, but Naugus had succeeded in his plan and the seeds of Anti-Overlander sentiment had already begun to grow. Not wanting a repeat of what had happened in Megapolis - Nate left Mobotropolis again to continue elsewhere. Dropping his Ring Forge in the
then undiscovered
Knothole Village "Lake Of Rings," Nate migrated to the southern tundra where he befriended a yeti that was almost dying. Healing the hurt beast and naming him "Eddy," they lived out thier days in exile in a castle atop a cliff. It wasn't until YEARS LATER that Sonic and Tails discovered them. On the trail of Ixis Naugus, now a fugitive to the kingdom, they learned his story and asked him to return with them to help make a difference in a city that was still dealing with the pain of Robotnik's takeover. With Nate's help and his HUGE Power ring cache, Ultra Sonic and Hyper Tails managed to seal Ixis Naugus - also enhanced by the rings back into the prisonlike Zone Of Silence. But it was at the consequence of one life - Nate's lifelong friend Eddy died in the battle. Sonic, Nate, and Tails returned to the kingdom and Nate - who came face to face with King Acorn after all those years, learned just what happened to his old assistant: Julian Kintobor, now Ivo Robotnik who had come along from his own banishment just as Nate had left the kingdom. Nate vowed to resume his post as advisor to the King and vowed to help him and the FF's in their times of need. And even though there are still those that show racist Anti-Overlander actions in the city: due to Robotnik's actions, Nate proves that not all overlanders are bad. Realizing the danger the newly returned overlanders were in, Nate went to Robotropolis to try to save them, but Robotnik decided to use Nate as bait to trap Sonic in the city so that eventually he could roboticize Sonic. However, just as Robotnik thought he had Sonic and the Freedom Fighters trapped, the shield-dome failed. When Robotnik went to check out what happened, he saw Nate and knew what Nate had done and then roboticized Nate, who was turned into a statue. It is assumed that Nate (still in statue form) perished when Robotropolis was nuked.
Details
Full Name: Nathaniel Beauregard Morgan
Nick Names: Nate
Species: Overlander
Eyes: Brown
Age: Unknown
Year Of Birth: Unknown
Residence: Roboticized in Robotropolis
Likes: ???
Dislikes: ???
Abilities: Able to forge manmade Power Rings
Weakness: A bit old and slow
Weapons & Items: N/A

Associations
Known Relatives: None
| | | |
| --- | --- | --- |
| | | |
Navigator - Debut: Journey to Eggmanland (Sonic Anime Item)
The device that was given to Tails to help locate the generator. Tails managed to adjust it make it find Sonic & Metal Sonic later on and also used it to temporarily stop Metal Sonic, before it was destroyed.

Neckronopolis - Debut: Knuckles' Mini-Series Book #2 (Sonic Archie Place)
When Enerjak freed himself after being buried under Mount Fate, he used his chaos powers to create a massive city where Echidnaopolis once stood. He called it Neckronopolis and it was going to be the center of his empire. However, when Enerjak was launched into space within his Citadel (thanks to Locke), the city disappeared as quickly as it had been created.

Details
Inhabitants: Enerjak and the brain-washed Charmy, Espio, Mighty, & Vector
Location: In the "ruins" of Echidnaopolis
Disappeared: Knuckles' Mini-Series Book #3

Associations
Important Place: Enerjak's Citadel