Query Returned 420 Items
Nic the Weasel - Debut: Knuckles #26 (Sonic Archie Character)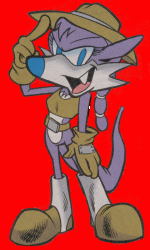 As Nack's younger sister, she's determined to be a better bounty hunter than her brother. Except for one mission in which they both worked together (capturing Knuckles), they mainly don't cross paths as they try to out do the other in terms of money, treasure, and gems.
Details
Full Name: Nicolette
Species: Weasel
Color: Purple
Eyes: Blue
Age: ???
Year Of Birth: ???
Residence: ???
Likes: Money and Gems
Dislikes: ???
Abilities: Sharp shooter
Weakness: Doesn't always think things through
Weapons & Items: Gun, Airship

Associations
Brother: Nack the Weasel
Nicole - Debut: Sonic In Your Face Special (Sonic Archie Character)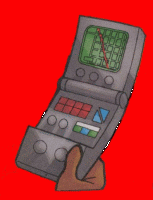 A near sentient thinking, talking handheld computer Nicole is possibly the most special Freedom Fighter on the whole team. Why? She's from the future. She is a gift to the present Princess Sally from Queen Sally in the future! It is that that in the decisive battle with Doctor Robotnik, Nicole will be destroyed. Nicole was in fact created by the future version of Rotor years after those events happened. Commanded by King Sonic and Queen Sally, Nicole was sent into the past as a gift to help the Princess. But Nicole is more than a computer she is also a valued friend to all the Freedom Fighters as she is always there for Sally to talk to personally and has even saved Sonic from the grips of death and permanent roboticisation. Always full of info she is also a bit of a jokester as she occasionally likes to give Sonic a jolt of electricity when he uses her. As Sally put it "She is a gift to myself, from myself...A friend when I needed one the most" and without her they may never be able to see the day when Robotnik will be defeated or to fully appreciate Julayla's last words upon her death - "To thine own self be true".
Details
Species: None - Palm Held Computer
Year Of Birth: Unknown
Residence: Knothole Village
Abilities: Near sntient with abilities to decipher codes, symbols and other mind bending puzzles
Weakness: Machines have a bad rep among furries
Weapons & Items: Ability to act as an energy conduit as well as other functions you can find in a computer

Associations
Owner: Sally
Creator: Rotor (many years in the future)
| | | |
| --- | --- | --- |
| | | |
Nicole - Debut: Heads or Tails (Sonic SatAM Character)
Accessing, Sally...
Nicole is the computer that Sally's father programmed for her. Nicole is stockpile of information (some of it is/was inaccessible to Sally until Sal's 18), but is not your standard computer as she has a personality of her own. She can speak as highly educated being in one second (for Sally) and speak in layman's terms the next (for Sonic).

Details
Color: Gray
Residence: Knothole
Abilities: Analyzing, hacking, displaying holograms, talking
Weakness: N/A
Weapons & Items: Built-in laser
No Zone - Debut: Super Special #8 (Sonic Archie Place)
The No Zone is a world that runs parallel to every other world in existence. Zonic monitors the activities of every reality from this world and deals with anomalies as well as he can.

Associations
Important Resident: Zonic
Norris Wimple - Debut: STC #102 (Sonic Fleetway Character)
Norris Wimple could well be the biggest nerd on Mobius as his interests include UFO spotting, measuring the boot marks of sports players and badnik spotting. The last of these hobbies got him into trouble twice, so Amy and Tekno had to save both times him before he decided to give up on this hobby. A while later he got on TV for making a possible UFO sighting even though he had yet to get the film developed. D.R.A.T (The Doctor Robotnik Appreciation Tribe) thought that this photo might be of a secret weapon being developed by Robotnik instead of a UFO and set out to get the film off Norris. However, Amy and Tekno managed to save him once again, and when the film was developed it turned out that Norris had mistaken Tails for a UFO in the first place so the photo was worthless (Except to Tails who thought it was a good likeness).

Details
Species: Unknown
Color: Peach with red hair
Eyes: Black
Age: Unknown
Residence: Metropolis City
Likes: Badnik spotting, UFO spotting, measuring the boot marks of sports players, Fabian Vane
Dislikes: "The Curse of Robotnik", being mocked
Abilities: None
Weakness: Oblivious to danger, can't tell friend from foe, believes everything he reads
Weapons & Items: Sonic costume

Associations
Hero: Fabian Vane
Allies: Amy Rose, Tekno The Canary
Enemies: D.R.A.T.
| | | |
| --- | --- | --- |
| | | |
Nutzan Bolt - Debut: STC # 35 (Sonic Fleetway Character)
"Now for the Neck Saw! Ha ha ha!"
Nutzan Bolt was once Robotnik's chief operative in the Chemical Plant Zone, a fiendishly clever robot obsessed with Mega Mack. He had planned to dismantle the barrier that held the Mega Mack supply in the zone. His main adversaries were the Freedom Fighters the Flock, a band of outlaw sheep who constantly dogged his efforts. He was eventually defeated when Tails joined forced with the Flock and managed to crush him thanks to a fluke computer malfunction. However Nutzan Bolt was not to be defeated, his head detached itself from his body and he made a new one out of living ice. He proceeded to freeze the zone, informing it's inhabitants he would kill them all if they didn't hand over Tails dead or alive. Unfortunately, when Tails did arrive he managed to annoyed Nutzan Bolt so much that he melted, drowning in his own Mega Mack.

Details
Species: Robot
Color: Purple/White
Eyes: Black
Residence: Chemical Plant Zone
Dislikes: The 'S' Word
Abilities: The Neck Saw, Survive decapitation
Weakness: Temper

Associations
Employees: Sol Furic, Tess Tube
Enemies: Tails, The Flock
| | | |
| --- | --- | --- |
| | | |
Octobot - Debut: Sonic The Hedgehog: Triple Trouble (Sonic Archie Character)
Far beneath the surface of the Great Mobian Ocean rests an underwater bot base - home of the malicious Octobot, a giant blue mech squid that serves as one of Robotnik's underbosses! In fact, Octobot's existance under the seas would have remained unknown to the Freedom Fighters had Tails not encountered him during the maiden voyage of the Sea Fox. Octobot hates Tails with a passion almost as strong as Crocbot and would also gladly kill him for virtually ruining his many plans. Discovering the underwater roboticisation factory once mainted by Jaws ( One of the badniks from Sonic 1), Tails destroyed the submerged base and left Octobot a complete laughing stock among the Bot community. However what Tails didn't know was that Octobot wanted revenge - and while on a mission to prove himself in Downunda, Octobot scuttled the Sea Fox by puncturing it with his drill tentacles and drug Tails beneath the ocean in an attempt to drown him. Tails was rescued by The Forty Fathom Freedom Fighters - a group of underwater FF's and later saved, but Octobot's fate during the rescue? Crushed beneath the massive weight of thier largest member - Fluke The Blue Whale. Octobot survived the incident - though somewhat flat - and hasn't been seen since: most likely stewing in his own juices over revenge. But it is known that he is not completely destroyed and still continues to hold a HUGE grudge against the guy that started it all - Tails The Fox.

Details
Species: Octopus Badnik
Color: Blue/Gray
Eyes: Red
Age: Unknown
Year Of Birth: Unknown
Residence: Downunda
Likes: ???
Dislikes: ???
Weakness: N/A
Weapons & Items: 8 Drill-Like Tentacles
| | | |
| --- | --- | --- |
| | | |
Okrym-Ro - Debut: STC #78 (Sonic Fleetway Character)
Orkym-Ro was an evil Tantaror priest who died after a long illness. After dieing his body was placed in a stone coffin for transport to the after life. Three of his followers then took a ship and using the Tantaragor idol transported themselves to Mobius in order to collect slaves. They believed that Orkym-Ro had to be buried in a sacred monument, and to build such a monument they would need slaves from Mobius. Somehow news of the ghost ship spread and Captain Plunder enlisted Knuckles help to seize the Ghost Ship and escape with the Idol, however Knuckles soon returned and the heretics reclaimed their means of going home. Fortunately it had all been a trick, Knuckles was working with Ekkletos, the spiritual leader of the Tantaror and they were now already back in their own dimension and captured, ready for punishment for capturing people from other worlds.

Details
Species: Tantaror
Color: Orange

Associations
Followers: Heretic Tantarors
Enemies: Ekkletos
| | | |
| --- | --- | --- |
| | | |
Old Man - Debut: Journey To Eggmanland (Sonic Anime Character)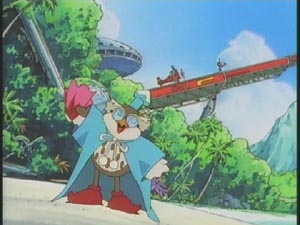 Forgetful and slow best describe the Old Man. According to him, he used to be an expert pilot during his prime, which is long gone.
Details
Species: Owl
Color: Gray
Eyes: Black
Age: Unknown
Residence: Unknown
Likes: Flying, listening to music
Dislikes: N/A
Abilities: Flying
Weakness: Can't see well
Weapons & Items: N/A
Omen - Debut: STC #95 (Sonic Fleetway Character)
A magician sent by Robotnik along with two gorilla henchmen to stop the protest being held to protect the Fauna. He seemed to have a personal hatred towards Ebony and saw her as a rival magician during their battle. He would probably have won against her if one of his associates hadn't angered the Fauna enough to drive him out personally.

Details
Species: Either rat or mouse
Color: Brown (Wears yellow)
Eyes: Black
Age: Unknown
Residence: Presumably Metropolis City
Likes: Being the most superior magician
Dislikes: Ebony
Abilities: Magic
Weakness: Unknown

Associations
Enemies: Ebony, Pyjamas, Knuckles The Echidna