Query Returned 420 Items
Omni Viewer - Debut: STC #8 (Sonic Fleetway Character)
The Omni Viewer is an old friend of Sonic and the Chaotix Crew, the latter's' choice mode of transport about the Special Zone. Nobody's quite sure where he comes from but he's been invaluable to both due to his power to travel instantaneously across Space, between Mobius and the Special Zone and even back and forwards in time. Unfortunately this advantage had backfired twice, when both Robotnik and the Metallix hacked into his systems for their own nefarious means. It's the Omni Viewers fault that Robotnik conquered Mobius in the first place.

Details
Color: White
Residence: Special Zone
Abilities: Space/Time Travel

Associations
Friends: Sonic, Chaotix Crew, Knuckles
Enemies: Robotnik, Metallix, Super Sonic
Original Freedom Fighters - Debut: Sonic #142 (Sonic Archie Group)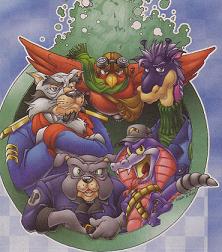 The Original Freedom Fighters were the role models of young Sonic and Sally. They organized the evacuation during Robotnik Prime's takeover of Mobotropolis, and they organized the building of Knothole Village. However, they were betrayed by one of their own, Private Trey Sclaes. In a characteristic move, Robotnik roboticized Slaces along with the group and threw them all into the Void. They have not been seen since.
Details
Species: Varies
Age: Varies
Year Of Birth: Varies
Residence: The Void

Associations
Members: Colonel Tig Stripe, Spot Long, Sir Peckers, Private Trey Sclaes, MP Bull Bones
Oscar the Pig - Debut: STC # --- (Sonic Fleetway Character)
Details
Species: Pig
Colour: Pink
AKA: Porker Lewis

Associations
Employee: Hammerhead

Appearances
Knuckles Knock Out Special
Overlanders - Debut: Sonic #50 (Sonic Archie Group)
You think that Sonic's world is populated by all animals with Snively and Robotnik being the exceptions? Think again...Overlanders are in quite large abundance on the planet, but are only concentrated in small areas. Not making much interaction with the "mutated animals" of the planet, Overlanders are perceived as warlike, quite willing to kill whenever necessary, and often VERY dangerous. In fact this is the species that Doctor Robotnik and his nephew Snively hail from. Usually in Flashback sequences, The Kintobor family (Robotnik) seems to hold high position in Overlander society. In fact just like society today, their society operates like ours - only more contained and futuristic. there are judges, police, scientists, large armies, black people, white people, etc...the list goes on and on. For now the first person in Sonic's world that has disproven the "sterotype" that all Overlander's are bad is Nate Morgan. The Great War against the Overlanders and The Kingdom Of Acorn before Robotnik's near planetary takeover, the Overlanders being responsible for the coma of Queen Alicia and death of Geoffrey St. John's father - even Robotnik's presence alone is enough to give them all a bad name. Anti-Overlander sentiment (racism) often runs rampant among the furries, but not all the Overlanders are villians, but not all of them are exactly friendly. Their origins on the Planet Mobius, however, still remain a mystery...

Details
Species: 4-fingered humans
Residence: Station Square (aka Hidden City of the Ancients)
Abilities: None
Weakness: None
Weapons & Items: Usually carrying weapons - guns, ammo, and anything else in thier arsenal

Associations
Former Leader: Colin Kintobor (Dr Robotnik's brother)
| | | |
| --- | --- | --- |
| | | |
Pachacamac - Debut: Sonic Adventure (Sonic Sega Character)
An unknown number of years ago, Pachacamac was leader of a tribe of Echidnas. The tribe had always strived on their own greed and desire for power, but it wasn't until his mother had died that Pachacamac had lost every bit of compassion and empathy in his heart, even for his own daughter, Tikal. It was he who had led the Echidna tribe to steal the Chaos Emeralds, which would grant their people absolute power, and was even willing to lead them trampling over his own daughter and innocent Chao creatures that stood in their way. This, of course, enraged Chaos, guardian of the Chao, who shortly thereafter absorbed the power of the Chaos Emeralds himself, and totaled the once great Echidna civilization.

Details
Nick Names: ƒpƒ`ƒƒƒJƒ}
Romanized Name: Pachakama
Species: Echidna
Color: Red
Eyes: ???
Age: 52 (deceased)
Height: 115 cm
Weight: 48 kg

Associations
Daughter: Tikal

Appearances
Sonic Adventure
Paladin - Debut: Sonic #72 (Sonic Archie Character)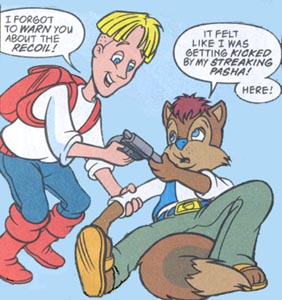 Paladin meet a squirrel named Emerson who was roughly the same age as he when walking though the forest. They were having a friendly conversation as Paladin was impressed by Emerson's climbing ability and decided to show Emerson how to shoot a gun in return. However, when Paladin chose a bird as his target, Emerson jumped in the way of the shot and was killed. Paladin was horrified and didn't know what to do and just ran from the scene when he heard someone shouting "Emerson."
Details
Species: Overlander
Color: White
Eyes: Blue
Age: Unknown
Year Of Birth: Unknown
Residence: Megaopolis (in the past)
Likes: Target Practice
Dislikes: Killing a "sentinent" being
Abilities: Shooting
Weakness: N/A
Weapons & Items: Gun
Palo - Debut: Cry of the Wolf (Sonic SatAM Character)
Leader of Southern Freedom Fighters

Details
Species: Rhino
Color: Gray
Eyes: Black
Age: Unknown
Year Of Birth: Unknown
Residence: Unknown
Likes: N/A
Dislikes: N/A
Abilities: N/A
Weakness: N/A
Weapons & Items: N/A
Peter Android - Debut: STC #110 (Sonic Fleetway Character)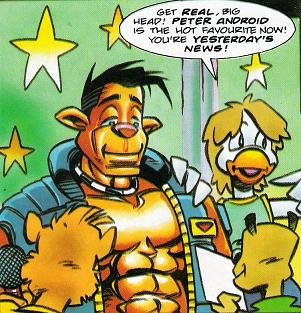 For anyone uninformed this is an in joke of the fickle nature of the British music industry, especially around boy bands. Peter Android is based of Peter Andre, a fading star who at one point had been the coolest man on the planet (according to the British Music Industry who have long since changed their minds, two thousand odd times.)
When the truth about Fabian Vane's rise to fame came out his career suddenly disappeared and according to Chloe his replacement was already lined up for the screaming girls to adore...

Details
Color: Golden orange
Eyes: Blue

Associations
Predecessor: Fabian Vane
Pinball Fortress - Debut: Attack on the Pinball Fortress (Sonic AoStH Place)
Robotnik's super fortress, the Pinball Fortress is one tough fortress. Capable of defending against almost any attacker, Robotnik is sure that his fortress won't fall and that he will be able to take over Mobius.

Planet Gremlyn - Debut: STC # 152 (Sonic Fleetway Place)
Planet Gremlyn is home to the Ultragem, hidden safely away in Castle Grimm, Amy and Tekno reached it through the Eternity Ring...

Details
Location: In a Distant Galaxy