Query Returned 420 Items
Robotnik Prime - Debut: Sonic #0 (sonic Archie character)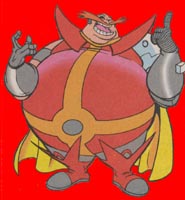 Years ago, in the time of the Great War, Robotnik Prime (then called Julian) was marked for death by his fellow Overlanders on the grounds of betrayal. Running away from the doom that awaited him, he and his nephew Snively took refuge with the benevolent King Acorn - who was already in dire need of help due to the worsening consequences of The Great War. Feeling that he could bring victory to the Mobians, King Acorn appointed Julian as Warlord in exchange for his knowledge of the Overlander armies. With Julian's charge, the Mobians won the Great War and in 3224, the last day of the Great War, King Acorn ordered the dismantling of the War Ministry and Julian's appointment to Minister of Science- just as Sonic's Uncle Chuck abandoned the post due to the roboticization of Jules, Chuck's brother.
Julian, however, had other plans. He had actually stolen the plans for the roboticizer from Sir Charles, and launched a coup on all of Mobotropolis. Rechristened "Ivo Robotnik", he banished King Acorn to the Zone of Silence indefinitely, and took over the now rechristened Robotropolis. From then on Robotnik gained more and more power through treachery, until he had virtually the entire planet under his rule. He uses the roboticizer as his main weapon, turning the good people of Mobius into his mindless robotic slaves. He also has an endless army of SWATbots and Badniks to carry out his evil intentions.
Thanks to Sonic and the Freedom Fighters, and some evildoings on Snively's part, Robotnik died in an attempt to kill Princess Sally and wipe Knothole off the face of the Planet with the Ultimate Annihilator - a large electron gun controlled by satellites that can focus on anywhere on the planet. When the Annihilator backfired, Robotnik Prime was wiped out of existence.
This entry describes the version of Robotnik from Mobius Prime, now deceased. For other versions of Robotnik, see Dr Robotnik (disambiguation).

Details
Full Name: Ivo Robotnik
Birth Name: Julian Ivo Kintobor
Nick Names: Ivo, Buttnik, Warlord Julian
Species: Overlander
Eyes: Coal Gray
Age: 45
Date Of Birth: Day 253 of the Year 3189
Date Of Death: Day 164 of the Year 3235
Place Of Residence: Robotroplis
Likes: 10w40, Roboticization, Torturing others
Dislikes: Any species other than himself
Abilities: Super Genius IQ, Huge mechanical intellect
Weakness: Very large and overweight
Weapons & Items: Swatbots, Roboticizer, Misc other other bots

Associations
Nephew: Snively
Brother: Colin Kintobor
Niece: Hope
| | | |
| --- | --- | --- |
| | | |
Robotropolis - Debut: Sonic #0 (Sonic Archie Place)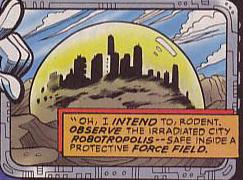 Robotropolis is currently uninhabited by organic life forms. It was destroyed by the Station Square nuclear missile attack, and is surrounded by a protective sheild. It's just as much of a threat as ever-- if the sheild were taken down, the nuclear fallout would be released into the area, and the consequences might be disastrous. For information on the city's history, see
Mobotropolis.
Details
Inhabitants: Robots
Location: Not too far away from the Great Forest

Associations
Important Past Resident: Robotnik Prime, Robo-Robotnik/Eggman and Snively
Robotropolis - Debut: Sonic Christmas Blast (Sonic AoStH Place)
Robotropolis makes an appearance and keeps it reputation as a dangerous city, even though little kids do live there trying to enjoy their lives.

Robotropolis - Debut: Heads or Tails (Sonic SatAM Place)
When Robotnik staged his coup, he changed the name of Mobotropolis to Robotropolis. This is where Robotnik's main headquarters is found as well as the roboticizer. Swatbots roam the city as the Knothole Freedom Fighters do most of their raiding here in their attempts to bring down Robotnik as well as their attempt to create a de-roboticizer.

Robotropolis - Debut: Sonic the Movie (Sonic Anime Place)
Robotropolis - Debut: Wedding Bell Blues (Sonic SU Place)
Details
Species:
Eyes:
Age:
Residence:
Likes:
Dislikes:
Abilities:
Weakness:
Weapons & Items:
Rocket - Debut: Sloooowww Going (Sonic AoStH Character)
Rocket, Mobius' fastest sloth alive. He and his family don't get around too much, but they are always willing to help and give anyone with enough time to listen some advice. He'll always help out in any situation and even though he's a little slow, he'll do what he can.

Details
Species: Sloth
Color: Brown
Eyes: Black
Age: N/A
Residence: Mobius
Likes: Helping
Dislikes: Robotnik
Abilities: None
Weakness: Slow
Roger Bodge - Debut: STC #103 (Sonic Fleetway Character)
Sonic saved his life after a bridge he made for the Jade Hill Zone collapsed underneath him so as a thank you he invited him over his house (Which he built himself). Unfortunately a Trooper he'd tried to convert into a robot butler recognised Sonic and started to attack. The Trooper's programming was so mixed up it self destructed and destroyed the Bodges' house. A while later Roger created a flying toilet that Tails used to battle Windy Wallis, but this fell apart too.

Details
Species: Chipmunk
Color: Black (Wears orange and yellow)
Eyes: Black
Age: Unknown
Residence: Jade Hill Zone
Likes: DIY
Dislikes: People mocking his DIY
Abilities: None
Weakness: Most of his creations aren't safe

Associations
Family: Gladys (Wife)
Allies: Sonic The Hedgehog, Miles "Tails" Prower
Rosie - Debut: Sonic #47 (Sonic Archie Character)
Rosie is the "mother-figure" for the Freedom Fighters. Sally's governess when Sally was very young, Rosie also watched over Sonic, Rotor, Antoine, and Tails when they were kids in Knothole. She's always calm and ready to listen to everyone's problems and give advice as needed. Rosie is also pretty perceptive in figuring out how to say or do just the right thing to cheer up anyone, especially the Knothole Freedom Fighters, whenever they need it.

Details
Species: Woodchuck
Color: Brown
Eyes: Blue
Age: Unknown
Year Of Birth: Unknown
Residence: Knothole
Likes: Helping others
Dislikes: ???
Abilities: Understanding the feelings of others
Weakness: N/A
Weapons & Items: N/A
Rosie - Debut: Blast to the Past Part 1 (Sonic SatAM Character)
Rosie is kind hearted and was the nanny for Sonic, Sally, Bunnie, Antoine, and Rotor when they were little kids. Originally, during the early years of Robotnik's rule, she was captured the one day she left Knothole and roboticized. When Sonic and Sally used the Time Stones to go back to the past, Rosie figured out that "Alicia" & "Juice" were really Sally and Sonic. Sally made Rosie promise to never ever leave Knothole just before Rosie helped the young versions of the Freedom Fighters escape to Knothole. When Sonic & Sally returned to the present, Rosie was still around and had just finished fixing dinner for everyone.

Details
Species: Woodchuck
Color: Brown
Eyes: Blue
Age: Unknown
Year Of Birth: Unknown
Residence: Knothole
Abilities: N/A
Weakness: N/A
Weapons & Items: N/A