Query Returned 420 Items
Rotor - Debut: Heads or Tails (Sonic SatAM Character)
I'm happy to be a handyman.
Rotor is the handyman/scientist/inventor of the Freedom Fighters. While not one of the main fighters, he can definitely hold his own in battle during missions when it's necessary. Rotor takes a lot of pride in his workshop where he spends most of his time constructing many things to help out the Freedom Fighters.

Details
Nick Names: Rote
Species: Walrus
Color: Purple (Heads or Tails), Blue (all others)
Eyes: Black
Age: Unknown
Year Of Birth: Unknown
Residence: Knothole
Likes: Being a team player, his workshop
Dislikes: Spotlight
Abilities: Machinery, making weapons/gadgets
Weakness: N/A
Weapons & Items: N/A
Rotor The Walrus - Debut: Sonic #0 (Sonic Archie Character)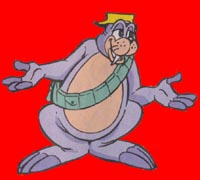 Everyone else on the team certainly represents something. So what does Rotor represent? Not only is he the brains of the group, but he's the glue that holds them together as well! A walrus inventor with high technical skills, Rotor is the only member of the Freedom Fighters who can fight Robotnik's technology WITH technology. Not being much of a socialite, like Sonic, Rotor keeps to what he knows: building anything he wants and fixing anything he can. Though he can program them, the one thing he can't fix are computers - they tend to backfire grossly on him most of the time. Because he is a fast-learner, he continuously takes things apart to learn how to put it back together. Sonic thinks of him as slow as a lava flow, but underwater -- zoom-- like a torpedo! As a valued member of the Freedom Fighters, Rotor has exceptional skills in mechanics and electronics. He has a very fast mind and can fix complex mechanical problems with ease. Having grown up next door to Sonic, the both of them being best friends, they escaped together to the palace when Robotnik took over - unfortunately, he was also separated from his parents as well. His mom escaped with his little brother (a baby at the time) to the arctic. Rotor's father and older brother (who he hasn't seen since), was captured and supposedly roboticized. Rotor misses his family a lot, but since his mother, Skeeter, and the Walrus herd are now free from control by Robotnik, he is happy.
Details
Nick Names: Rote, Boomer
Species: Walrus
Color: Purple
Eyes: Blue
Age: 16
Year Of Birth: 3218
Residence: Knothole
Likes: ???
Dislikes: ???
Abilities: Extremely Talented in Mechanics
Weakness: Very Slow and VERY Quick To Panic
Weapons & Items: Utility Belt, Smoke Bombs, The Bathysphere

Associations
Brother: Skeeter
Father: Sherman
Walrus Herd
| | | |
| --- | --- | --- |
| | | |
Rouge - Debut: Sonic #98 (Sonic Archie Character)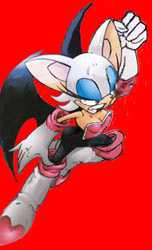 Rouge is a treasure hunter who loves jewels. She is occassionally employed by the President of Station Square to go on special missions as Rouge is one of his best agents. On a botched mission, Bunnie went to rescue her, but Rouge mistook Bunnie for a cyborg and the two fought for awhile until Sonic cleared the misunderstanding. However, Julie-Su is the one she gets along least with after making her intentions clear about going after Knuckles.
Details
Species: Bat
Color: White
Eyes: Aqua
Age: Unknown
Year Of Birth: Unknown
Residence: Station Square
Likes: Jewels, Knuckles
Dislikes: ???
Abilities: Flying, strength
Weakness: N/A
Weapons & Items: None
Rouge The Bat - Debut: Sonic Adventure 2 (Sonic Sega character)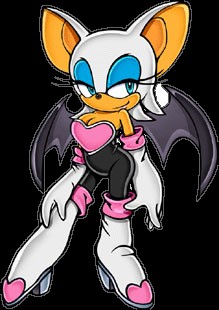 Sneaky and sly, when it comes to top secret spies, Rouge the Bat fits the profile perfectly. She's hired from the government to investigate strange matters, one of which was the disapearance of the military's cancelled project: Shadow. She was ordered to find Dr. Eggman, and follow him aboard the Space Colony ARK to investigate what they were up to, and even went as far as to steal 3 Chaos Emeralds from the military's Federal Reserve Bank, just to keep her cover. Though you could imagine she enjoyed that little endeavour, as Rouge has an obsession with jewels to go on the side of her spying methods. This same obsession lead her to stumble upon the Master Emerald, as well as Knuckles.
Rouge will go to any lengths to track down new and interesting jewels, and has developed what is practically a natural radar to help her track down jewels. She has also learned many techniques to allow her to search for them virtually anywhere, such as digging and scaling walls. Rouge is a true treasure hunter at heart, and perhaps this certain nack will lead her back to a certain echidna she's keeping her eye on...

Details
Japanese Name: ルージュ・ザ・バット
Romanized Name: Ruuju za Batto
Species: Bat
Color: White
Eyes: Aqua
Age: 18
Birthdate: June 19
Height: 105 cm
Weight: ???
Residence: ???
Likes: Jewels
Dislikes: ???
Abilities: Kick, Fly, Climb, Swim, Dig, Drill Drive, Hip Drop, Black Wave, Charm Wave
Weakness: ???
Weapons & Items: Pick Nails, Iron Boots, Treasure Scope, Mystic Melody

Associations
Rival: Knuckles the Echidna
Teammates: Shadow the Hedgehog, E-123: Omega
Employer: The President

Appearances
Sonic Adventure 2
Sonic Adventure 2: Battle
Sonic Heroes
Sonic Battle
Shadow the Hedgehog
Sonic Riders
Sonic the Hedgehog (2006)
| | | |
| --- | --- | --- |
| | | |
Ryan Baggit - Debut: STC # (Sonic Fleetway Character)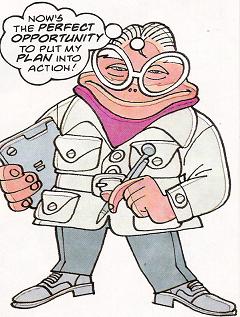 Ryan Baggit, Collector Supreme and the arch enemy of Norris Wimple. Ryan is the King of Collectors, trivia master extraordinaire. Ryan took advantage when Sonic agreed to do an autograph signing in the Metropolis Zone. Using a specially made pad and pen they created an energy barrier around Sonic, trapping him in an energy bubble. Ryan's fiendish plan to add Sonic the hedgehog to his collection would fulfil his dreams to be recognised by society for who he really was, and he also gained a great paper weight in return. He was challenged by Norris Wimple to a trivia quiz for Sonic's freedom, and the two sparred with information about Sonic's past exploits. Ryan won by recounting how Sonic defeated the Master Sentinel, but in the mean time Sonic rolled the energy bubble towards Ryan. In order to escape being caught by the electric shot Ryan released Sonic and got a Super-Spin Attack instead, but in his own words; "What an honour!"
Details
Full Name: Ryan Baggit
Nick Names: Collector Supreme
Species: Toad
Color: Pink
Eyes: Blue
Likes: Collecting Things
Dislikes: Being Hurt
Abilities: Super Trivia Knowledge
Weakness: Egoistical

Associations
Enemies: Norris Wimple
Heroes: Sonic
| | | |
| --- | --- | --- |
| | | |
Rykor - Debut: Knuckles #8 (Sonic Archie Character)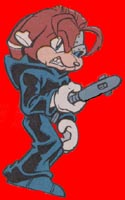 Nothing is really known about Rykor other than the fact that he was Julie-Su's direct superior when she was a member of the Dark Legion.
Details
Full Name: Sergeant Rykor
Species: Echidna
Color: Brown
Eyes: Blue
Age: Unknown
Year Of Birth: Unknown
Residence: Floating Island
Likes: ???
Dislikes: ???
Abilities: N/A
Weakness: N/A
Weapons & Items: Super-powered billy club
Sabre - Debut: Knuckles #4 (sonic archie character)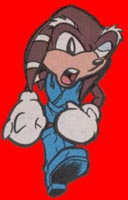 The son of the mystic Athair, Sabre often takes the role of "leader" among the Brotherhood. Sabre is the brains of the group and often the peacemaker. He is also usually the best in problem solving as well. He refuses to speak with Athair since Athair wouldn't return to the Floating Island as a Guardian when Janelle-Li, Sabre's grandmother, was about to die.
Details
Species: Echidna
Color: Brown
Eyes: Blue
Age: 65
Place Of Residence: Haven
Likes: ???
Dislikes: ???
Abilities: Glide and chaos emerald-induced powers
Weakness: None
Weapons & Items: n/a

Associations
Mother: Crystal-La
Father: Athair
Wife: Jenna-Lu
Son: Locke
Grandson: Knuckles
Mentor: Archimedes
Various: Brotherhood
Safron - Debut: Knuckles #14 (Sonic Archie Character)
Safron is one of Charmy's friends from early on in his life. She is also his fiancee. While kind, she is naive and can be a little slow in terms of understanding things because of her naivety.

Details
Species: Bee
Color: Pink
Eyes: Purple
Age: Unknown
Year Of Birth: Unknown
Residence: Golden Hive Colony
Likes: ???
Dislikes: Being underestimated
Abilities: Flying, shrink to bee size
Weakness: N/A
Weapons & Items: None

Associations
Fiance: Charmy
Sally - Debut: Sonic #0 (Sonic Archie Character)
Sally was raised in the pressures and responsibilities of royalty all her life. Not knowing much of her mother, she got used to living with her father the King, until Robotnik took over. He devastated everything and then her father mysteriously disappeared... Since then, Sally lived in Knothole Village as the the leader of the Freedom Fighters, determined to defeat Robotnik and win back her rightful heritage as ruler of the soon to be free Mobius. Heroic, intelligent, and very wise in modern situations as well as war tactics, She's more than your normal princess as she studied immensely under the tutelage of her royal teacher, Julayla after the King vanished. She is serious about her work and is committed to her cause.
Shortly after Sonic returned from space, the couple had a huge fight, and they still have not gotten back together. Sally almost had to marry Antoine and become the queen, but Sonic and Elias revealed that Antoine was actually Anti-Antoine. After this, Elias became the king and it is unknown exactly what Sally's duties shall be.

Details
Full Name: Sally Alicia Acorn
Nick Name: Sal
Species: Ground Squirrel
Color: Brown
Eyes: Light Blue
Age: 16
Date Of Birth: Day 186 of the Year 3220
Place Of Residence: Knothole Village
Abilities: Great Leadership Skills, Good With Computers, Skilled In Martial Arts
Weakness: Lack Of Speed And Strength.
Weapons & Items: Nicole - Hand Held Computer

Associations
Father: King Maximillian Acorn
Mother: Queen Acorn
Brother: Prince Elias Acorn
Sister-in-Law: Meg
Niece: Alexis
Father-in-Law: Joss
| | | |
| --- | --- | --- |
| | | |
Sally - Debut: Heads or Tails (Sonic SatAM Character)
Sally is a princess, but other than the fact that she is referred to as "Princess" by others at times, you wouldn't know otherwise based on her attitude or behavior. She is the tactical planner of the Knothole Freedom Fighters as she comes up with many of the plans for raids. With her computer, Nicole, she has access to a lot of information which she uses in coming up with plans as well as downloading as much information from Robotnik during raids on Robotropolis. She uses her head a lot since even though she's athletic, she is not able to take on Swatbots like Sonic, Bunnie or Dulcy can. Sally misses her father a lot and waits for the day that they can be together again now that she knows where he is exactly. She may tease Sonic often, but she also happens to like him--A LOT. Much of her teasing him for his reckless behavior is a result of her worrying about it causing him to get hurt one day (something she constantly talks to Bunnie about).

Details
Full Name: Princess Sally Alicia
Nick Names: Sal, Sal Gal, Bean
Species: Ground Squirrel
Color: Pink (Heads or Tails), Brown (all other episodes)
Eyes: Blue
Age: 16
Year Of Birth: 3219
Residence: Knothole
Likes: Flowers, poetry
Dislikes: Robotnik
Abilities: Planning, computer hacking, athletic
Weakness: Lack of physical strength
Weapons & Items: Nicole

Associations
Father: The King
| | | |
| --- | --- | --- |
| | | |