Query Returned 420 Items
Hero of the Year Award - Debut: STC # 14 (Sonic Fleetway Item)
This trophy was presented to Sonic in the Metropolis Zone in a secret event held right under Robotnik's nose. However Sonic managed to make it into the award ceremony wearing a disguise in time to receive the award and expose the dingo in charge as servant of Robotnik. Escaping an obvious trap he and Tails returned to the Emerald Hill Zone and waited, Sonic revealing that the Hero of the Year Award was actually a tracking device designed to lead Robotnik to his secret base, however Sonic defeated the robots sent after him and left the award in pieces.

Hershey - Debut: Sonic #47 (Sonic Archie Character)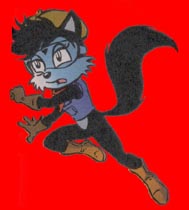 While Hershey was forgiven by everyone for her accidental role in the near death of Princess Sally, the guilt from the ordeal still bothers her and she has never forgiven Drago for using her, especially since she thought that he did love her. Currently, she's a member of King Acorn's Secret Service as Geoffrey recruited her for the job. Her smarts and agility make her valuable in a fight, even though she hates any kind of precipation or water. Still, she might even have a little crush on Geoffrey as well.
Details
Full Name: Hershey the Cat
Species: Cat
Color: Black
Eyes: Light Green
Age: 19
Year Of Birth: 3216
Residence: Knothole
Likes: ???
Dislikes: Water, being wet
Abilities: Decent Fighter, good at using computers
Weakness: Trusting
Weapons & Items: None

Associations
Ex-Boyfriend: Drago
Mother: Cocoa
Husband: Geoffrey St. John
Hidden City of the Ancients - Debut: Sonic #80 (Sonic Archie Place)
High Sheriff - Debut: Sonic #58 (Sonic Archie Character)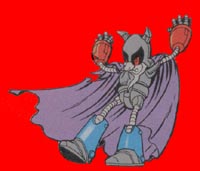 Residing in the country of Mercia, General D'Coolette - known there as the High Sheriff - may not be the strongest of Robotnik's underbosses - but he is the hardest case of them all. Please see the entry on General D'Coolette for more information.
Details
Real Name: General D'Coolette
Species: Coyote
Age: Unknown
Year Of Birth: Unknown
Residence: Knothole
Likes: ???
Dislikes: ???
Abilities: Power over Snottingham
Weakness: None documented
Weapons & Items: N/A
Highview Corrective Centre - Debut: STC # (Sonic Fleetway Place)
After his mock trial Captain Plunder was sentenced to hanging until he was sorry, I mean dead. Captain Plunder spent four weeks waiting for the execution at the Highview Corrective centre, during the time all his appeals for a retrial were denied. As the reporter claimed at the luxurious prison Highview the emphasis was on rehabilitation rather than punishment. None of Highview's inmates have ever re-offended, mainly because they hang them all. Inside the luxurious centre Captain Plunder was hung by his arms next to Simpson the Cat and kept in the command of Mister Gullets, however when Plunder learnt that Simpson knew a secret way out of the cell he used a mechanical device in his hook to break free. Plunder and Simpson escaped through the hole and defeated Mister Gullets before escaping through a tunnel dug by Billy Gulch. The prisoner had spent twenty ears digging it, but the day before he was going to use it they pardoned him and the poor guy never used it. Meanwhile Plunder's crew, led by filch were coming the other way through the tunnel, and Plunder and Simpson hid from the crew not recognising who they were in the dark. The crew reached the prison, found no Plunder and were promptly captured, all except for the ghost Filch who escaped by walking through the wall…

Associations
Employees: Mr Gullets
Prisoners: Simpson the Cat, Captain Plunder, Filch,
| | | |
| --- | --- | --- |
| | | |
Hope - Debut: Sonic #92 (Sonic Archie Character)
Hope was two years old when the overlanders left Mobius after the Great War to search for a new home. While they travelled in space, she was in "coldsleep" which allowed her to learn about Mobius' history. When the overlanders returned to Mobius because of their power source being drained, she was the first one to see Sonic and was scared of him at first. Like the other Overlanders, she trusted Robotnik at first. However, she always felt he was hiding something and one day ran into a roboticized Mobian (though she didn't know that at the time) which scared her. When Robotnik revealed that the Overlanders were all being exposed to hazardous chemicals, he showed Colin, Agnes, and Hope that he was a robot and roboticized both Colin and Agnes. Hope escaped, but when she was surrounded by Shadowbots, Sonic and Sally rescued her. After spending time in Knothole, she realized that Overlanders and Mobians are not that much different. Knothole is the most beautiful place she'd ever seen and has been allowed to stay instead of going to Station Square along with the other Overlanders.

Details
Full Name: Hope Kintobor
Species: Overlander
Color: White
Eyes: Blue
Age: Unknown
Year Of Birth: Unknown
Residence: Robotropolis
Likes: ???
Dislikes: ???
Abilities: N/A
Weakness: N/A
Weapons & Items: None

Associations
Grandmother: Lady Agnes
Step-father: Colin Kintobor
Step-brother: Snively Kintobor
| | | |
| --- | --- | --- |
| | | |
Horizontal And Vertical - Debut: Sonic #2 (Sonic Archie Group)
Anyone familiar with Superman's nemesis Mr. Mxyzptlk , the reality warping imp from the fifth dimension, is bound to get a field day off these two. In a deliberate spoof on Superman's "greatest foe" - Al (The Short one) and Cal (The Tall one), are the epitome of annoyance in Sonic's universe. A group of troublemaking imps, Al and Cal hail from an area called the Unknown Zone and basically: all they ever want to do is play! They can warp reality with a single thought and it usually relates to nothing but complete confusion for Sonic and Tails. Either playing practical jokes on each other or thier victims or just spreading a little mischief, Al and Cal are basically screwy from the get go. However even they were not able to escape the madness that was the Ultimate Annihilator. When the massive nuclear powered weapon exploded "killing" Doctor Robotnik - it caused the buffers between Zones to literally break down, resulting in the creation of new ones, the destruction of old ones, or the mutations of other ones. The latter is what happened to the Unkown Zone - and when Sonic and tails were dragged into it yet again, they came to find that the dimension had now reverted into a complete warzone with a "roboticiszed" Al and Cal permanently locked in war: the complete opposite of thier previous incarnation. Sonic and Tails, after wearing off the effects of the zone on themselves, managed to escape without harm, but for right now Al and Cal's dimension is still "World War 3" and whether or not they managed to change the effects that the Annihilator had on the zone and themselves, is still questionable...

Details
Nick Names: Al & Cal
Species: Reality Warping Imps
Age: Unknown
Year Of Birth: Unknown
Residence: The Unknown Zone
Likes: War
Dislikes: Peace
Abilities: You name it - nine times out of ten they can do it
Weakness: N/A
Weapons & Items: No need for weapons, manipulate magic and reality
| | | |
| --- | --- | --- |
| | | |
Hyper Metal Sonic - Debut: Journey to Eggmanland (Sonic Anime Character)
Ice Pick Peak - Debut: Sonic Christmas Blast (Sonic AoStH Place)
Ice Pick Peak is an extremely high mountain that is part of the key to ultimate velocity and is an extremely dangerous mountain to climb.

Insectra Empire - Debut: STC #111 (Sonic Fleetway Group)
This story just happened to have oh so many similarities to the TV Movie Star Wars. The Insectra Empire are virtually based on the Empire from that series, and Dark Visor on Darth Vader and so on and so forth...
Led by their emperor Dark Visor the Insectra Empire has a goal to take over their galaxy and end the ten thousand year war they have against their rival planet The Blurrgh. However, no one actually has any idea what the war was about in the first place and both armies are too crazy to call a truce. They kidnapped Shortfuse and brainwashed him into obeying their commands to try and win this war, but Amy and Tekno managed to track down their lost friend to free him from them. During this battle The Blurrgh shot down the Insectra Empire's ship causing them to land on a planet called Kaamdaarn, home to a spiritual and peaceful race. Because of the flow of energy on the planet the two empires' weapons couldn't function forcing them to give in. Both races then agreed to live peacefully together on Kaamdaarn after this.

Details
Species: Alien insects
Color: Green (Wear purple)
Eyes: Yellow
Age: Unknown
Residence: Kaamdaarn
Likes: War
Dislikes: The Blurrgh
Abilities: None
Weakness: Useless without weapons

Associations
Enemies: The Blurrgh, Amy Rose, Tekno The Canary, Shortfuse The Cybernik
| | | |
| --- | --- | --- |
| | | |