Query Returned 420 Items
Windy Wallis - Debut: STC # 102 (Sonic Fleetway Character)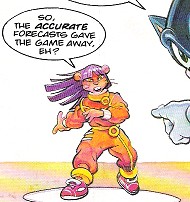 Windy Wallis the Weather Gerbil once had a promising career lined up as a weapons engineer for Robotnik, until Sonic defeated him and brought her world crashing down around her, so she became a weather forecaster instead. With her technical know how she built a machine to control the weather and became one of the best forecasters in the business because she was always right. But when her predictions became even more erratic and she caused flash floods and heat waves simultaneously Sonic hunted her down and destroyed the machine by spraying water on it. Windy was swept up by her own tornado and disappeared. She returned a long time later, this time to fight Tails who defeated her plans for revenge by piloting a flying toilet into her blimp and forcing her to crash down to earth. Her final appearance was alongside Agent X, once again fighting against the Freedom Fighters. But again she failed and escaped with him in a ship.
Details
Species: Gerbil
Color: Pink and Purple, wears Yellow
Eyes: Yellow
Abilities: Weather Control
Notes: Inspired by Wincey Willis (actually Florence Winsome Dimmock, but Wincey Willis was her stage name), the first weathergirl on TVAM, a morning TV program in the UK. Unfortunately the joke went over a lot of people's heads as Windy Willis left long before issue 100 came around, however in Nigel Kitching's defence Windy willis did look something like a gerbil, thanks to her unique cheeks :)

Associations
Friends: Agent X, Robotnik
Enemies: Sonic, Tails
| | | |
| --- | --- | --- |
| | | |
Winerville - Debut: Too Tall Tails (Sonic AoStH Place)
Winerville, Mobius' biggest sausage and hot dog producing town, even the people are made of meat. A fair size city it has almost everything any one could ask for.

Wolf Pack - Debut: Sonic #46 (Sonic Archie Group)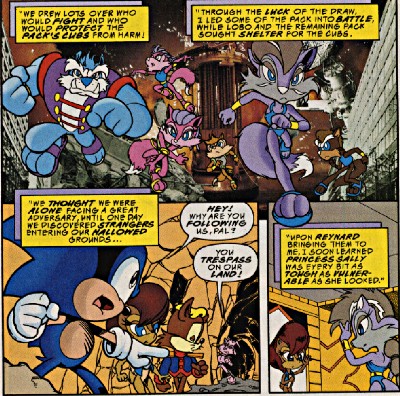 A "Native American-like" tribe of wolves, the Wolves were once a proud race, honored in thier heritage and living only off of what nature provided for them The lived in an uncharted area called "The Great Unknown" which lay just beyond the Great Canyon. However - shortly after Robotnik's coup of Mobotropolis, their lives were thrust into turmoil as Robotnik ran them off of thier native lands, and roboticised thier people. Only a handfull are left unrobotisiced, while the rest fight valiantly to free thier lands. Princess Sally, Sonic, and Antione stumbled upon them after recieving a Freedom Fighter list via King Acorn (Game Guy - Sonic SatAM) and sought to unite other Freedom Fighters for thier cause. After some rather hilarious moments with Antione's "curse" and defeating a Waste Pod, the Wolf Pack Freedom Fighters became valuable allies ever since.
Lupe
- The leader of the Wolf Pack (currently roboticized and not with the pack), Lupe is the oldest of everyone, somewhere along the lines of 30 years old. Already married and with children, Marcos & Maria, Lupe left her home to protect the freedom of their people while her husband Lobo stayed home to watch the children. That alone shows you how strong of a woman she is.
Canus
- The second member of the group, Canus is the gentle giant. Large and burly, yet kind and well meaning, Canus serves as the strength of the group as well as its cook. He's mostly quiet and is the only member who can usually keep Reynard and Diablo from biting each others heads off.
Leeta And Lyco
- The third and fourth members - these pink wolves are the "identical twins" of the group. Both extremely acrobatic and wiry they work best as a team ALWAYS and are especially willing to help whenever needed.
Reynard
- Never one to spitefully lash out but ALWAYS one to question everything, reyanard was the person that first discovered Sonic, Sally, and Antione trespassing in the Wolf Caves. He's usually very inquisitive much to Diablo's nerves and this usually results in a tizzy between the two.
Diablo
- If ever there was a grump, Diablo is IT. Anyone remember Grouchy Smurf - give him fur and make him look like an animal and you have Diablo Wolf. This dark furred vulpine is the most stubborn and usually ends up getting into it with Reynard
Aerial and Athena
- The final members of the group came MUCH LATER and caused quite an uproar aong the Wolf Pack when they came along. You see, Aerial and her sister Athena are two overlander girls. Athena being deaf, and Aerial being fully talkative, both are the lone survivors of a forgotten Overlander City...
Drago
- (No longer a freedom fighter) Needless to say, Drago WAS the traitor (suspected by Lupe) in the "Death Of Princess Sally" and has become a shame to the Wolf Pack
Details
Current Members: Reynard, Canus, Diablo, Leeta, Lyco, Aerial, Athena
Year Of Birth: Varies
Age: Varies
Base Of Operations: The Great Unknown And Great Canyon
| | | |
| --- | --- | --- |
| | | |
Wood Village Zone - Debut: STC #85 (Sonic Fleetway Place)
A village once plagued by Robotnik's Troopers who demanded constant tax off the residents. And thanks to some trickery off a donkey called Clive the villagers were losing even more money... But once Tails turned up to save the village from the Troopers and put Clive right it became a peaceful place.

Associations
Residents: Clive The Donkey, George, Mildred
Wynmacher - Debut: Knuckles #6 (Sonic Archie Character)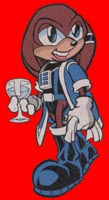 A cook and an athlete in his college days, Wynmacher is the one who helped Lara-Le find herself after her disastrous relationship with Locke. Easy going and very affectionate toward Lara-Le, he has a healthy relationship with Knuckles, who doesn't mind him at all.
Details
Nick Name: Wyn
Species: Echidna
Color: Brown
Eyes: Blue
Age: 44
Year Of Birth: 3193
Residence: Echidnaopolis
Likes: Cooking
Dislikes: ???
Abilities: N/A
Weakness: N/A
Weapons & Items: None

Associations
Wife: Lara-Le
Step-Son: Knuckles
Son: Kneecapeon Mace
Xenin - Debut: Knuckles #22 (Sonic Archie Character)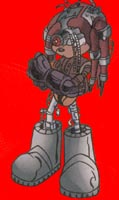 Did you hear why dingos are generally considered the laziest, most shiftless furballs around? No? Because all they do is hang around! HA HA HA HA!
Xenin is the strongest member of the Dark Legion as he was "rebuilt" to be able to withstand Knuckles' attacks--which he can. He's "more than an echidna" and completely ruthless as he doesn't care whether he kills anyone who stands in his way or not. He just follows his orders and has "fun" beating or threatening others. He also tells really dumb jokes.

Details
Species: Echidna
Color: Brown
Eyes: Robotic
Age: Unknown
Year Of Birth: Unknown
Residence: Floating Island with the Legion
Likes: Fighting/Threatening enemies; following Dimitri's orders
Dislikes: ???
Abilities: Very Strong, has great indurance
Weakness: None
Weapons & Items: Plasma Gun
Xenor Krell - Debut: STC # 152 (Sonic Fleetway Character)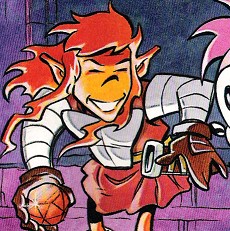 When Amy Rose and Tekno stumbled across Xenor Krell in Casle Grimm she told them that she was on a quest to recover the stolen Ultragem which she needed to power her people's cities. Since Xenor had been damaged by Serpentia Amy went on ahead and recovered the Ultragem for her, but when they presented it to Xenor she revealed her true colours as a thief. Xenor planned to use the Ultragem to conquer the world and enjoyed playing with Amy Rose and Tekno, she even destroyed Serpentia with ease. However Amy Rose defeated her by playing on her vanity, changing the castle into Solid Silver and then using the Silver to reflect the Ultragem's rays back at Xenor who was reduced to mist along with the gem.
Details
Species: Unknown
Color: Orange
Hair: Red
Eyes: Black
Age: Unknown
Residence: Planet Gremlyn
Likes: Power
Clothes: Wears Armour
Zed Monkeys - Debut: STC #96 (Sonic Fleetway Group)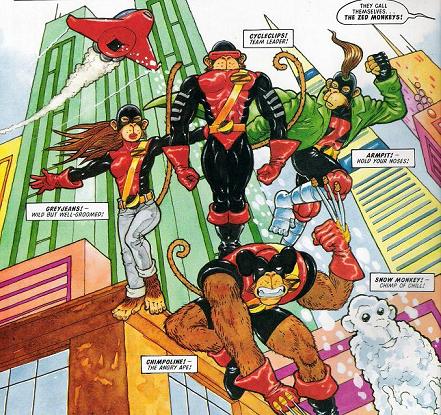 If the image didn't tell you this group parodies the Marvel series X-men. Such parodies are ridiculously common in the Fleeway one off stories.
The group consisted of Cycleclips ("Team leader"), Grey Jeans ("Wild but well-groomed"), Armpit ("Hold your noses"), Chimpoline ("The angry ape") and Snow Monkey ("Chimp of chill") and were lead by Professor Zed. However, it turned out they were more posers instead of heroes and the villains always managed to escape them thanks to "Hero Hour", a time where their professor told them to stand in heroic poses for an hour. Sonic suspected something was up about this and discovered that Professor Zed was actually the Zed Monkey's enemy Madmeano. Even after his defeat the Zed Monkeys didn't learn from their experience and changed Hero Hour to Agony Hour, in which they stood around for an hour feeling sorry for themselves instead. Sonic decided it was best to leave them to their games.

Details
Species: Monkeys
Color: Four brown, one white
Eyes: Black, white or unknown
Age: Unknown
Residence: Professor Zed's School for Gifted Monkeys
Likes: Looking good, posing for an hour
Dislikes: Betrayal
Abilities: Snarling, throwing bicycle clips, melting or extreme armpit odours
Weakness: Completely deluded, care more about posing then saving people, no actual super abilities
Weapons & Items: Bicycle clips

Associations
Enemies: Madmeano
| | | |
| --- | --- | --- |
| | | |
Zone of Confusion - Debut: Trail Of The Missing Tails (Sonic AoStH Place)
The Zone of Confusion a completely isolated zone of which only Robotnik was able to gain entrance to and sealed his own cousin inside. The Zone has its own laws of physics and things can get extremely crazy as you go deeper into the zone.

Zonic - Debut: Super Special #8 (Sonic Archie Character)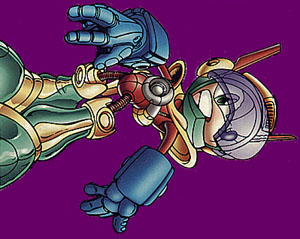 Zonic is a zone cop and has the responsibility to make sure that balance is kept between the different realities. He walks sideways as a result of being from the No Zone. He's the one responsible for allowing the Freedom Fighters to use the Cosmic Interstate without incident during their missions in the past and asks for Sonic's help to take care of zone instabilities that occur from time to time. Zonic is in fact the No Zone's version of Sonic.
Details
Full Name: Zonic the Zone Cop
Species: Hedgehog
Color: Blue
Eyes: Green
Age: Unknown
Year Of Birth: Unknown
Residence: No Zone
Likes: Chili Dogs
Dislikes: ???
Abilities: N/A
Weakness: N/A
Weapons & Items: None