Query Returned 420 Items
Merlin Prower - Debut: Sonic Live (Sonic Archie Character)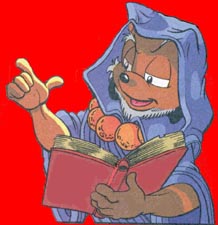 Meet the last of our mystery men - Merlin Prower, a sorcerer and charlatan, Merlin was once under the reign of King Acorn as Royal Wizard - possibly after Ixis Naugus was banished by Robotnik. Those that DO know of his existance DONT even know of the person that they were actually meeting. Sonic met him only once as a child, trading a bag of "shiny stones" for Tails' sneakers, and as Sonic sped off - Merlin vanished in a puff of smoke. When Knuckles met him, he was on his quest for the Sword Of Acorns - and since he didn't know anything of Tails' real name - Miles Prower - Knux never made the connection to Merlin Prower. Tails knows possibly NOTHING of him, and neither does anyone else. However - it has been hinted at in spoilers that Merlin may posibly know of tails' role as The Chosen One. What he knows and when he wil take action is yet to be seen. But for right now - we, and Tails, will just have to wait....
Details
Species: Fox
Color: Orange
Eyes: Blue
Age: Unknown
Year Of Birth: Unknown
Residence: Unknown
Likes: ???
Dislikes: ???
Abilities: POSSIBLE liason to The Ancient Walkers, a sorcerer and charlatan, he can tap into abilities even Sonic, Knuckles, and Tails have yet to discover
Weakness: None documented
Weapons & Items: None

Associations
Nephew: Tails
Brother: Amadeus
Sister-in-Law: Rosemary
| | | |
| --- | --- | --- |
| | | |
Mertopia - Debut: The Little Merhog (Sonic AoStH Place)
Mertopia is a massive underwater civilization for the merhogs that enjoy their life and their civilization. Complete with everything an underwater city needs, it is extremely interesting to see.

Mesmer - Debut: STC #84 (Sonic Fleetway Character)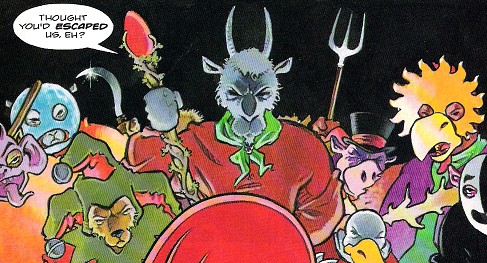 Mesmer hypnotised an entire village into believing that they were followers of a cult and had to make a sacrifice in order to get good crops every year. The sacrifice he chose for this was his own sister, but it turned out the whole event was a set up to lure out Knuckles (Who was staying at a local tavern called The Green Man after crossing the Mobian Channel). After rescuing the girl Knuckles took her to a safe place and let her stand guard while he rested for an hour. But since she was under Mesmer's control she went back to the village and told her brother where Knuckles was. Once captured Knuckles was made the new sacrifice but was soon able to escape and get the staff used to control the villagers from Mesmer, breaking the spell. After being defeated Robotnik revealed himself to being disguised as the tavern's landlord and told Knuckles of his plans to use Mesmer's powers to rule Mobius. But this plan was never put into action and Mesmer didn't appear again after this.
Details
Full Name: Unknown
Nick Names: None
Species: Ram
Color: Whitish Grey
Eyes: Black
Age: Unknown
Residence: Unnamed Village
Likes: Unknown
Dislikes: Unknown
Abilities: Hypnosis
Weakness: Can't use powers if staff is removed
Weapons & Items: Staff

Associations
Family: Sister (Name not revealed)
Allies: Doctor Robotnik
Enemies: Knuckles The Echidna
| | | |
| --- | --- | --- |
| | | |
Metal Knuckles - Debut: Sonic R (Sonic Sega Character)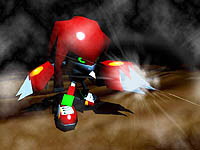 It only takes one glance to guess who this mechanical behemoth is in homage to. Using what seems to be the same technology as Metal Sonic, Metal Knuckles can mimic virtually every ability Knuckles can put out, only better. He's stronger, faster and tougher than the original, and once he gets going there's no stopping him. As effective a machine as Metal Knuckles appears to be, he has only appeared during the World Grand Prix in Sonic R.
Details
Japanese Name: ???
Romanized Name: Metaru Nakkurusu
Species: Badnik
Color: Red
Eyes: Green
Age: NA
Height: ???
Weight: ???
Likes: NA
Dislikes: NA
Abilities: Gliding
Weakness: None

Associations
Creator: Dr. Eggman
Enemies: Sonic the Hedgehog, Miles "Tails" Prower, Amy Rose, Knuckles the Echidna
Metal Robotnik - Debut: Sonic the Movie (Sonic Anime Character)
Metal Sonic - Debut: Sonic the Hedgehog CD (Sonic Sega character)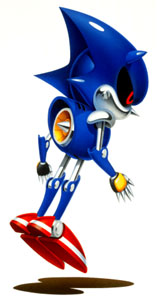 Probably one of the most diabolical of all of Dr. Eggman's creations, Metal Sonic was designed to be the perfect match for his nemesis, Sonic the Hedgehog. And by all means he was, and packs in a few more dirty tricks than his organic counterpart. Metal Sonic's sleek design and size, unlike Dr. Eggman's first clunky and slow excuse for a Sonic clone, Silver Sonic, corrospond almost exactly to that of Sonic. But more important, it is Sonic's speed that Metal Sonic can match.
The first time Eggman tested his creation was on the Little Planet, where he pitted Sonic against his ingenius doppleganger. Of course, regardless of pulling a few nasty tricks like electric shocks, inevitably met his fate by running into a wall. It seems that the early version of LIPS A.I. couldn't keep up with his speed...
After being rebuilt, Eggman upgraded Metal Sonic with the very special ability to transform into giant, red mutant version of himself, and used him in his attempt to steal the Chaos Rings from Carnival Island. In this form, he packed a good punch, but it really defied the whole "sleek and fast" idea of his design, and in the long run made him no more effective.
One more important ability Metal possess is to imitate the attacks of his enemies, a technique used mostly while guarding the Death Egg II. Attacks Metal Sonic could use included Spin Attack, Propeller Dash, Knuckle Glider, Magic Hammer, Tongue Attack, Bomb Attack, Shoulder Throw, and Super Spin.
Though Metal Sonic is a mindless drone controlled to obey Dr. Eggman's every command, he like other characters, enjoys kart racing now and again in his ultra speedy little car, the Blue Devil. Of course, why he would need such a thing in the first place is quite confusing.
For now, Metal Sonic rests within a tube in Eggman's lab. But I seriously doubt this is the last we'll see of him.
Stats
Main CPU:
LIPS A.I. EGGMAN Custom Chip (the head processor containing 3 max output links) Internal CPU (Fage type) has a conversation system capable of high mathematical logic enactment. At the slightest sign of danger, the neuro connections simultaneosly inform each section of the body to correspond.
Sub CPU:
The power control system is governed by the Neo Super FX DSP Chip (Which has a 5 link system connecting to each section of the body). The TV picture imaging compenstion unit is the Next Risk Chip Series 3 Model (each eye has an 8 link system utilizing RGB imaging).
Frame:
Monokock Chitan Manufacture
Kauling:
Strength Enhanced Blue Metal Techtite Manufacture
Main Engine:
255 cc, 4 Valve Organ Fusion Engine
Maximum Output: 55ps/6800rpm
Maximum Torque: 7.54kg-m/4000rpm
Secondary Engine:
Tesla Power Coil, which produces electricy through electro-magnetic induction
Maximum Output: 256kw

Details
Japanese Name:
Romanized Name: Metaru Sonikku
Species: Badnik
Color: Blue
Eyes: Red
Age: NA
Height: 76.54 cm
Weight: 125.3 kg
Likes: NA
Dislikes: NA
Abilities: Can Match Sonic's Speed, Electric Attack, Energy Blast, Shield Attack, Imitation
Weakness: Just Can't Stack up to the Real Thing ;)

Associations
Creator: Dr. Eggman
Enemies: Sonic the Hedgehog, Miles "Tails" Prower, Amy Rose, Knuckles the Echidna, Mighty the Armadillo, Charmy Bee, Espio the Chameleon, Vector the Crocodile, Bark the Polarbear, Bean the Dynamite

Appearances
Sonic the Hedgehog CD
Sonic & Tails 2
Sonic Drift 2
Chaotix
Sonic the Fighters
Sonic R
Sonic Adventure
Sonic Adventure 2
Sonic Adventure 2: Battle
Sonic Heroes
Sonic Rivals
| | | |
| --- | --- | --- |
| | | |
Metal Sonic - Debut: Journey to Eggmanland (Sonic Anime Character)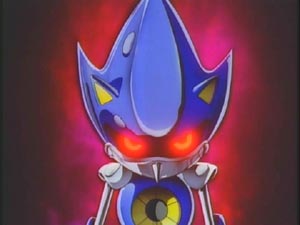 Created by Eggman/Robotnik, Metal Sonic is a robot with all of Sonic's abilities as planned. However, he also possesses Sonic's personality and knowledge inside of him as well. That personality aspect (brought out partly by Tails) caused Metal to change from totally obeying Eggman/Robotnik to make decisions on his own.
Details
Full Name: Hyper Metal Sonic
Nick Name: Metal
Species: Robot
Color: Blue
Eyes: Red
Residence: Eggmanland
Likes: Same as Sonic
Dislikes: Same as Sonic
Abilities: Speed, Flying
Weakness: A specific frequency
Weapons & Items: N/A

Associations
Creator: Eggman
Rival: Sonic
Metallix Mark 1 - Debut: STC # 24 (Sonic Fleetway Character)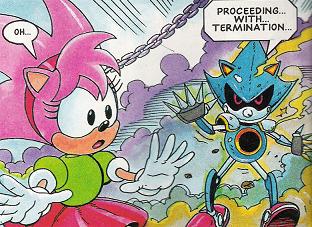 The original Metalix created by Grimer for Doctor Robotnik was quite simply perfect, the design was sleek yet powerful. Capable of speeds matching Sonic and equipped with the ability of flight, a blaster equipped on the stomach and impressive strength Metallix, the Metal Sonic was completely superior. Robotnik was so impressed with the design that even after Sonic defeated the Metallix on the Miracle Planet he set up a production line in his old base on the Special Zone, there he allowed them to create an army with which Sonic would have no chance again, but when the Metallixes turned on him the destroyed them using an inbuilt self destruct switch hidden in their design.
Details
Species: Robot
Color: Blue
Residence: The Special Zone
Dislikes: Sonic, Robotnik
Abilities: Flight, Blaster, increased strength, super speed
Weakness: The neck

Associations
The Brotherhood of Metallix:
Creators: Grimer, Robotnik

Appearances
24
25
26
27
28
49
50
54
55
56
57
58
59
60
61
62
67
68
69
70
71
72
79
| | | |
| --- | --- | --- |
| | | |
Metallix Mark 2 - Debut: STC # 108 (Sonic Fleetway Character)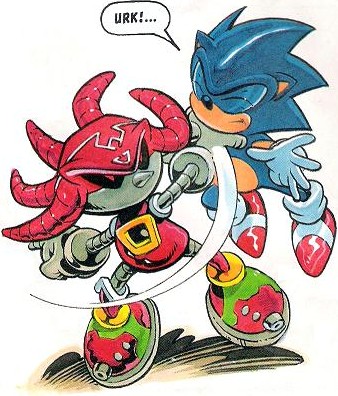 Almost as soon as the Metallixes had been decommissioned Grimer was prepared to restart the project. He claimed the problem was that a design based on Sonic was unstable but they now had a new enemy just as powerful as Sonic to beat. The design based on Knuckles never saw the light of day whilst Robotnik was still emperor but once he had lost his power and been kidnapped by the Drakon Empire he took to drastic measures.
The Emperor Ko-Door challenged Robotnik to provide a champion to fight Sonic in a trial to the death which they would use to decide weather or not Sonic was guilty of attacking a Drakon Sentinel in the Aqautic Ruins Zone. Robotnik turned to Grimer and created a new range of Metallixes. These newer designs may not be as sleek and fast as the original but had lightning fast reactions and impressive strength that caught Sonic off guard. Not only did the metallix successfully knock Sonic out and kidnap him for trial on their first encounter but it squarely smashed Sonic in a dual to the death in the arena. Robotnik had suggested that he let Metallix become a temporary Prosectioner for the trial. If it hadn't been for Tails who helped Sonic escape and crushed the Metallix beneath a bulkhead door, Sonic would have been killed. Despite Tails interference Ko-Door ruled that Sonic was innocent and refused a retrial. Despite his anger Robotnik was later seen to be developing more of these Metallixes in his base on Flickies Island but fortunately Robotnik never used them.
Grimer was obvious proud of his creation and later used one to kidnap Sonic, squarely beating the hedgehog in a match. Fortunately for Sonic he was released with no memory of the encounter and fake rubble suggesting he had beat it, allowing his ego to remain intact.

Details
Species: Robot
Color: Red
Residence: Flickies Island
Dislikes: Sonic, Robotnik
Abilities: Blaster, increased strength

Associations
Creators: Grimer, Robotnik

Appearances
108
109
110
And More
| | | |
| --- | --- | --- |
| | | |
Mighty The Armadillo - Debut: Sega Sonic The Hedgehog (Sonic Sega Character)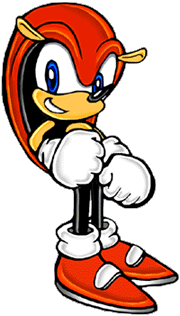 Mighty The Armadillo is possibly the strongest of the Sonic cast. It's been said that he is as strong as Sonic is fast. And his speed isn't bad either. He's very clever but often tends to jump into many situations without thinking.
Mighty may be most known as one of the memebers of the Chaotix but he also shares a bond with Sonic as it was Mighty, another associate by the name of Ray The Squirrel, and Sonic that thwarted a plan of Robotnik to capture Sonic on Eggman Island long before Sonic had met Knuckles. He's an old friend of Knuckles, and joined up with the Chaotix when Robotnik threatened Carnival Island and the Chaos Rings.
He can jump up the steepest of walls with ease, and when he kicks-off, he can take even the most wary of Badniks by surprise. He can also accelerate to great speed by kicking off a wall and hitting the ground running.

Details
Japanese Name: ???
Romanized Name: Maiti za Arumajiro
Species: Armadillo
Color: Red And Black
Eyes: Black
Age: 16
Birthdate: June
Height: ???
Weight: ???
Residence: Unknown
Likes: Strength, Weightlifting, Fighting
Dislikes: Weakness In Anything
Abilities: Speed, Spin Attack, Super Strength, Kicking Off Walls, Spin-Dash
Weakness: Hot Temper, Goes Into Situations Without Thinking

Associations
Friends: Sonic the Hedgehog, Ray the Squirrel, Knuckles the Echidna, Vector the Crocodile, Charmy Bee, Espio the Chameleon, Heavy, Bomb, Miles "Tails" Prower
Enemies: Eggman, Metal Sonic

Appearances
Sega Sonic Arcade
Chaotix
| | | |
| --- | --- | --- |
| | | |