Query Returned 420 Items
Lara-Su (M:25YL) - Debut: Sonic #131 (Sonic Archie Character)

Lara-Su has been raised by both of her parents, who have tried to shelter her from the kind of life they lived as kids/teenagers. However, Lara-Su resents it as she wants nothing more than to become a Guardian like her father and fight. She's quick-witted and has a short temper. She's also a very good fighter in her own right and does her best to follow her own path.
Details
Nick Name: Su
Species: Echidna
Color: Red
Eyes: Violet
Age: 16
Year Of Birth: 3245
Residence: Angel Island
Likes: Being a Guardian
Dislikes: Manik's crush on her
Abilities: Glide and manipulate chao energy
Weakness: None
Weapons & Items: N/A

Associations
Father: Knuckles
Mother: Julie-Su
Aunt: Lien-Da
Cousin: Rutan
Friends: Salma, Riki-Le, Sonia (before the "reset")
LaTour Estate - Debut: The Price of Freedom (Sonic SU Place)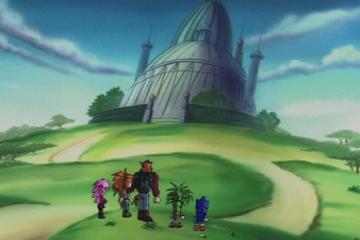 Once a wealthy family the LaTour's fortune was eaten up by Robotnik's taxes and the daughter, Mindy's, expensive shopping habits. Eager to keep his daughter pampered LaTour offered to house a factory for Robotnik, to build watches that were secretly spying devices, but when Sonia confronted him with what he was doing he agreed to cease production. Aware Sleet and Dingo were on their way to collect taxes the LaTour's fled, pausing to take one last look at the life they were leaving behind...
Associations
Residents: Mindy LaTour and her father
Lien-Da - Debut: Knuckles #22 (Sonic Archie Character)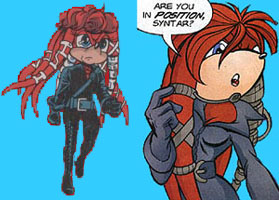 Kommissar, the twin sister of Kragok, is a schemer and like her brother has no qualms about killing as it is hinted that they masterminded the "accidental death" of their step-mother, who they both hated. They both didn't like Luger's more "peaceful" reign over the Dark Legion and their father "mysteriously disappeared" which allowed them to take over the Legion, with Kragok as first in command. Kommissar also has deep hatred for Julie-Su as she never wanted another sibling when her mother, Merin-Da, died due to illness. Currently she's the leader of the Flame Legion, a branch of the Dark Legion (which is the middle of its own civil war).
Details
Also Known As: Kommissar
Species: Echidna
Color: Red
Eyes: Blue
Age: 33/34
Year Of Birth: Unknown
Residence: Floating Island
Likes: ???
Dislikes: Julie-Su
Abilities: Leadership
Weakness: None
Weapons & Items: None

Associations
Father: Luger
Mother: Merin-Da
Brother: Kragok (her twin)
Step-Mother: Mari-Su
Half-Sister: Julie-Su
Nephew: Remington
| | | |
| --- | --- | --- |
| | | |
Locke - Debut: Sonic #33 (Sonic Archie Character)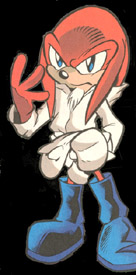 Locke, following the traditions handed down generation after generation, "abandoned" his son Knuckles and lied to him about his mother and family. It continues to haunt him to this day because of his doomed relationship with Lara-Le, who he still loves. This does not mean that he does not watch over Knuckles. Before it was only behind a computer screen in the confines of Haven - home of The Brotherhood Of Guardians of which he is currently a member. Before Knux was born Locke had a dream induced by the Ancient Walkers, that foretold of a dark dismal future in which Knuckles went up against what looked to be a giant Robotnik robot. Its unknown whether Knux died in the dream, but Locke was so spooked over it that he went to his grandfather Athair for help. After Athair telling him of the coming of the Guardian Savior, Locke began to experiment on himself, and subjected Knux' egg to Chaos Emerald Radiation, thus making his son a "living Chaos Battery." Locke is still unsure if he made the right choice or not. For advice, Locke goes to his father Sabre, though he doesn't always follow it or agree with it. Due to the tradition of guardians - the youngest one was destined to be left alone and to fend for themselves. After protest from Lara - his wife, Locke began training Knuckles and one day Knuckles watched in horror as he entered the large wall of flames in The Forbidden Zone. Knuckles now knows that his father exists and is ALWAYS asking questions which Locke is usually hesitant to answer. It almost seemed as if Locke's entire world was crumbling around him - The Brotherhood is constantly arguing with him, and Lara - now his ex-wife has gone on to marry anew. If ever the phrase "too little, too late" was to come into play - Locke may be king definition of it.
Details
Species: Echidna
Color: Red
Eyes: Blue
Age: 40
Place Of Residence: Haven
Likes: History, Science
Dislikes: Reading the Tombs (indirectly faith)
Abilities: Technology wiz, Glide and chaos emerald-induced powers
Weakness: Doesn't know how to listen or communicate, slow to change

Associations
Mother: Jenna-Lu
Father: Sabre
Ex-wife: Lara-Le
Son: Knuckles
Mentor: Archimedes
Various: The Brotherhood
| | | |
| --- | --- | --- |
| | | |
Luke Perriwinkle - Debut: The Hedgehog In the Iron Mask (Sonic SU Character)
"Always gratifying to meet a fan"
Details
Species: Hedgehog
Color: Blue
Eyes: Black
Residence:
Likes:
Dislikes:
Abilities: Acting
Weakness: Overacting
Weapons & Items : Booby Trapped Iron Mask
Lupe - Debut: Sonic #46 (Sonic Archie Character)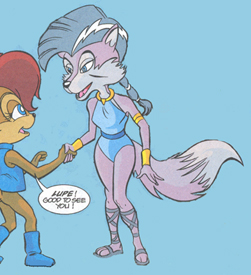 As the leader of the Wolf Pack, Lupe represented the strong spirit of the team and lent a helping hand toward Sally whenever she could. Lupe, in defiance of the general anti-overlander sentiment among Mobians, adopted two lonely overlander girls into the Pack. Unfortunately when the Pack reached home to reunite with the family members they had left behind, the Pack was caught off guard and captured by Uncle Chuck, who was under Robotnik's control--the current Robotnik (not the dead one). Lupe was roboticized, but she fought off the mind control long enough to enable the rest of the Pack to escape. As the control was starting to take affect, she figured she would be better off staying instead of becoming a possible danger to the Pack. In memory of her leadership and bravery, the Wolf Pack put up a tomb stone dedicated to Lupe. Due to nearly everyone being deroboticized, Lupe is now leading the Wolf Pack again.
Details
Species: Wolf
Color: Gray
Eyes: Blue
Age: 30s somewhere
Year Of Birth: Unknown
Residence: Unknown
Likes: ???
Dislikes: ???
Abilities: Leadership, fighting skills
Weakness: None
Weapons & Items: None

Associations
Husband: Lobo
Son: Marcos
Daughter: Maria
| | | |
| --- | --- | --- |
| | | |
Lupe - Debut: Cry of the Wolf (Sonic SatAM Character)
Lupe is the leader of the 10 remaining wolves that make up the Wolf Pack Freedom Fighters. Her father was captured by Robotnik near the beginning of Robotnik's take-over. Very courageous and clever, she plans out the many successful raiding missions the Wolf Pack have had.

Details
Species: Wolf
Color: Gray
Eyes: Blue
Age: Unknown
Year Of Birth: Unknown
Residence: The Great Unknown
Likes: Nature
Dislikes: Destruction of homeland, Robotnik
Abilities: Leadership
Weakness: N/A
Weapons & Items: N/A
Mad Mike and Big Griz - Debut: The Robotnik Express (Sonic AoStH Group)
Freedom fighters with the muscle to back it up, 'Da Bear Warriors, as they call themselves, aren't too intelligent upstairs. In fact they first mistake Scratch and Grounder as Sonic and Tails, until the real Sonic and Tails prove they are the real things. Loyal to Sonic and Tails, 'Da Bear Warriors are always willing to use their muscle, and their customize dune buggies, to help Sonic stop Robotnik from taking over Mobius.

Details
Nick Names: 'Da Bear Warriors
Species: Bear
Color: Brown
Eyes: Black
Age: N/A
Residence: Mobius
Likes: Sonic
Dislikes: Robotnik
Abilities: Strong
Weakness: Not exactly smart
Madge - Debut: STC #100 (Sonic Fleetway Character)
Madge took Super Sonic off the streets after he lost his memory but had no idea herself about whom he was. She felt sorry for him because he kept having nightmares and couldn't remember who he was but her husband had no sympathy for "the boy" at all. The two argued about whether he should stay or go but Super Sonic made up his own mind to leave knowing he'd never find his memories by staying where he was. As a goodbye present she gave him Arthur's beer money so he could survive on the road for a while.

Details
Species: Unknown
Color: Brown
Eyes: Black
Age: Old
Residence: Metropolis City
Likes: Caring for the less fortunate
Dislikes: Bullying
Abilities: None
Weakness: None

Associations
Family: Arthur (Husband)
Friends: Super Sonic
Mama Robotnik - Debut: Mama Robotnik's Birthday (Sonic AoStH Character)
The most evil person on the planet, Mama Robotnik is the spitting image of Robotnik, minus the mustache. So evil they keep her locked up in the asylum, but when she does escape, Robotnik does his best to keep away from her; she is the only person he fears. Angered by her son's inability to act extremely evil, take over Mobius, and capture Sonic, Mama Robotnik takes complete control of Robotnik's operations. Her plans are extremely sophisticated and which could probably if it hasn't for Robotnik's robot. She is usually recaptured at the end of the failure, much to Robotnik's delight, only to promise she'll escape again.

Details
Species: Human
Color: White
Eyes: Black
Age: N/A
Residence: Insane Asylum
Likes: Seeing Robotnik rule
Dislikes: Seeing Robotnik fail
Abilities: Strong when angry
Weakness: Considered insane