Query Returned 45 Items
[Pages: 1 | 2 | 3 | 4 | 5]
Tails Doll - Debut: Sonic R (Sonic Sega Character)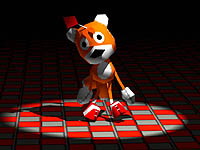 It's hard not to look at this thing without getting a chill down some part of your body. Clearly an imitation of Miles "Tails" Prower, Tails Doll doesn't seem to adhere to the same construction as Metal Sonic and Metal Knuckles. In fact, he doesn't seem to be a robot at all, he's... just a doll. A doll who appears to draw his power from a mysterious red jewel on his head, which allows him to float above the ground, giving a hovering kind of feel. Tails Doll, along with the mysterious technology it utilizes, has appeared once in Sonic R.
Details
Japanese Name: ???
Romanized Name: Teirusu Dooru
Species: Badnik (?)
Color: Orange
Age: NA
Height: ???
Weight: ???
Likes: NA
Dislikes: NA
Abilities: Hovering

Associations
Creator: Dr. Eggman
Enemies: Sonic the Hedgehog, Miles "Tails" Prower, Amy Rose, Knuckles the Echidna
Tikal - Debut: Sonic Adventure (Sonic Sega Character)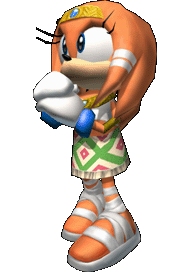 The servers are the seven Chaos. Chaos is power, power enriched by the heart. The controller serves to unify the Chaos...
Long ago, Tikal was the daughter of Pachacamac, chieftan of the Echidna tribe. She, believing strongly in peace and harmony, was very turned off by the tribe's greed and warful ways. Seeking relinquishment, Tikal felt at peace when at a nearby mysterious temple which held the seven mystical Chaos Emeralds (the servers), and the Master Emerald (the controller). This shrine was also home to the Chao, who lived in peace under the protection of a powerful and trusting force. Tikal had easily made peace with this force, and in return it allowed to play peacefully with the Chao. It was this same barrier that was preventing the Echidna tribe from stealing the seven Emeralds for their own power-hungry purposes.
Tikal did all she could to prevent their full on attack against the shrine, not even the emotion of her cause was enough to sway the decision of her greedy father, who had her, along with many innocent Chao, trampled by his men to clear the seemingly clear path open to harness this emmense power. But then, the shrine's once peaceful and gentle guarding force, now filled with rage and anger as thick as the atmosphere surrounding it, absorbed the power of the Chaos Emeralds, and slaughtered every last one of the Echidnas. Though she hated them, Tikal, barely able to withstand the horror of this meaningless destruction found only one solution. She used the controlling powers of the Master Emerald to seal the guarding force, Chaos, along with her own soul, within the gem's confines.
Much time passed, and eventually the Master Emerlad was shattered open by Dr. Eggman, releasing both Tikal and the still vengeful Chaos. Using her ability to show visions of the past, she assisted our heroes in defeating Chaos, and turning him back into the loving, peaceful creature he once was. Afterwards, they both dissapeared. Where? We may never know.

Details
Japanese Name: ティカル
Romanized Name: Tikaru
Species: Echidna
Color: Orange
Eyes: Aqua
Age: 14 (spirit/deceased)
Height: 95 cm
Weight: ???
Likes: Peace, Chao
Dislikes: Meaningless War and Greed
Abilities: Temporarily Warping People Back in Time
Weakness: Limited to a Spiritual Body

Associations
Father: Pachacamac

Appearances
Sonic Adventure
Sonic Adventure 2
Sonic Adventure 2: Battle
| | | |
| --- | --- | --- |
| | | |
Vector The Crocodile - Debut: Chaotix (was due to appear in the Beta version of Sonic 1) (Sonic Sega Character)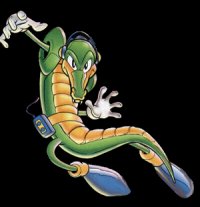 Vector may have a BIG mouth but that nothing compared to the size of his heart. Brash and brazen yet carefree and happy-go-lucky, Vector never lets a serious situation get in the way of a good time (or his favorite song). This cool croc is NEVER without his headset, even in the most dire of battles.
If there's anything Vector loves as much as music, it's eating and speeding. He loves the rush of running when he isn't jammin' with his friends or investigating the local food courts. It's not yet known exactly how Vector got hooked up with the Chaotix...
When Vector does a spin attack or spin dash, he rolls himself up into a ring shape. His 8-directional Power Boost move works like a jump or spin-dash within a jump, giving this cool croc some extra height or some quick acceleration. He can also scale walls almost as fast as Knuckles.
It is also rumoured that this croc was once part of Sonic's old band.

Details
Japanese Name: ベクター・ザ・クロコダイル
Romanized Name: Bekutaa za Kurokudairu
Species: Crocodile
Color: Green And Yellow
Eyes: Black
Age: 16 (Chaotix), 20 (Sonic Heroes)
Birthdate: March
Height: 180 cm
Weight: 200 kg
Residence: Unknown
Likes: Music, Food, Friends, Speed
Dislikes: Not Much Of Anything
Abilities: Speed, Spin Attack (Ring Version), Power Boost, Climbing, Acrobatic Skill, Spin-Dash (Ring Version)
Weakness: Size
Weapons & Items: Headphones

Associations
Friends: Espio the Chameleon, Charmy Bee, Knuckles the Echidna, Mighty the Armadillo, Heavy, Bomb, Sonic the Hedgehog, Miles "Tails" Prower
Enemies: Dr. Eggman, Metal Sonic

Appearances
Was Due to appear in Sonic 1 Sound Test screen
Chaotix
Sonic Heroes
Shadow the Hedgehog
| | | |
| --- | --- | --- |
| | | |
Wave the Swallow - Debut: Sonic Riders (Sonic Sega Character)
Wave is a mechanical genius and member of the Babylon Rouges, her speciality being Extreme Hears. Her father was the mechanic for the previous generation of Babylon Rogues and she more than lives up to him.
More talented than even Tails or Eggman in terms of designing and maintaining boards she still isn't above cheating to get her way, demonstrated when she booby trapped Sonic's board to make sure Jet won the championship.

Westside Island - Debut: Sonic the Hedgehog 2 (16-bit version) (Sonic Sega Place)

Though a small and, for the most part, normal island, Westside Island, also known as the Island of Illusions, holds many secrets. Including the remains of a long lost civilization.
It is said that long ago, these people used the power of 7 magical stones to build a powerful (and clearly Roman-esque) society. But of course, this power followed only in greed, and those stupid people started fighting over control of the stones. Of course, the gods (or what is said to be the gods) weren't too pleased with this, so they took these stones away from the people, and hid them where they would never be found.
Westside Island is relatively small with about 8 zones, but houses some unique animals (Locky, Wocky, Becky, Tocky, and an unidentified rat) as well as the native animals found on South Island (minus Picky. Man, I miss that little guy...). Westside Island was also the home to everyone's favorite trademark sidekick, Tails! Even with all the mystery and adventure still hiding in the island, Sonic and co. have never seemed to have decided to make a trip back there, and sadly, probably never will.

Details
Nick Name: The Island of Illusions
Zones
Sonic the Hedgehog 2 (16-bit verison)
Emerald Hill Zone
Chemical Plant Zone
Aquatic Ruin Zone
Casino Night Zone
Hill Top Zone
Mystic Cave Zone
Oil Ocean Zone
Metropolis Zone
Sky Chase Zone

Associations
Emerald Hill Zone
Furries: Flicky, Ricky
Badniks: ...
Chemical Plant Zone
Furries: Locky, Pocky
Badniks: ...
Aquatic Ruin Zone
Furries: Flicky, Pecky
Badniks: ...
Casino Night Zone
Furries: Flicky, Becky
Badniks: ...
Hill Top Zone
Furries: Locky, Wocky
Badniks: ...
Mystic Cave Zone
Furries: Cucky, Rat?
Badniks: ...
Oil Ocean Zone
Furries: Rocky, Pecky
Badniks: ...
Metropolis Zone
Furries: Locky, Wocky
Badniks: ...
Sky Chase Zone
Furries: Tocky, Cucky
Badniks: ...
| | | |
| --- | --- | --- |
| | | |