Query Returned 87 Items
Norris Wimple - Debut: STC #102 (Sonic Fleetway Character)
Norris Wimple could well be the biggest nerd on Mobius as his interests include UFO spotting, measuring the boot marks of sports players and badnik spotting. The last of these hobbies got him into trouble twice, so Amy and Tekno had to save both times him before he decided to give up on this hobby. A while later he got on TV for making a possible UFO sighting even though he had yet to get the film developed. D.R.A.T (The Doctor Robotnik Appreciation Tribe) thought that this photo might be of a secret weapon being developed by Robotnik instead of a UFO and set out to get the film off Norris. However, Amy and Tekno managed to save him once again, and when the film was developed it turned out that Norris had mistaken Tails for a UFO in the first place so the photo was worthless (Except to Tails who thought it was a good likeness).

Details
Species: Unknown
Color: Peach with red hair
Eyes: Black
Age: Unknown
Residence: Metropolis City
Likes: Badnik spotting, UFO spotting, measuring the boot marks of sports players, Fabian Vane
Dislikes: "The Curse of Robotnik", being mocked
Abilities: None
Weakness: Oblivious to danger, can't tell friend from foe, believes everything he reads
Weapons & Items: Sonic costume

Associations
Hero: Fabian Vane
Allies: Amy Rose, Tekno The Canary
Enemies: D.R.A.T.
| | | |
| --- | --- | --- |
| | | |
Nutzan Bolt - Debut: STC # 35 (Sonic Fleetway Character)
"Now for the Neck Saw! Ha ha ha!"
Nutzan Bolt was once Robotnik's chief operative in the Chemical Plant Zone, a fiendishly clever robot obsessed with Mega Mack. He had planned to dismantle the barrier that held the Mega Mack supply in the zone. His main adversaries were the Freedom Fighters the Flock, a band of outlaw sheep who constantly dogged his efforts. He was eventually defeated when Tails joined forced with the Flock and managed to crush him thanks to a fluke computer malfunction. However Nutzan Bolt was not to be defeated, his head detached itself from his body and he made a new one out of living ice. He proceeded to freeze the zone, informing it's inhabitants he would kill them all if they didn't hand over Tails dead or alive. Unfortunately, when Tails did arrive he managed to annoyed Nutzan Bolt so much that he melted, drowning in his own Mega Mack.

Details
Species: Robot
Color: Purple/White
Eyes: Black
Residence: Chemical Plant Zone
Dislikes: The 'S' Word
Abilities: The Neck Saw, Survive decapitation
Weakness: Temper

Associations
Employees: Sol Furic, Tess Tube
Enemies: Tails, The Flock
| | | |
| --- | --- | --- |
| | | |
Okrym-Ro - Debut: STC #78 (Sonic Fleetway Character)
Orkym-Ro was an evil Tantaror priest who died after a long illness. After dieing his body was placed in a stone coffin for transport to the after life. Three of his followers then took a ship and using the Tantaragor idol transported themselves to Mobius in order to collect slaves. They believed that Orkym-Ro had to be buried in a sacred monument, and to build such a monument they would need slaves from Mobius. Somehow news of the ghost ship spread and Captain Plunder enlisted Knuckles help to seize the Ghost Ship and escape with the Idol, however Knuckles soon returned and the heretics reclaimed their means of going home. Fortunately it had all been a trick, Knuckles was working with Ekkletos, the spiritual leader of the Tantaror and they were now already back in their own dimension and captured, ready for punishment for capturing people from other worlds.

Details
Species: Tantaror
Color: Orange

Associations
Followers: Heretic Tantarors
Enemies: Ekkletos
| | | |
| --- | --- | --- |
| | | |
Omen - Debut: STC #95 (Sonic Fleetway Character)
A magician sent by Robotnik along with two gorilla henchmen to stop the protest being held to protect the Fauna. He seemed to have a personal hatred towards Ebony and saw her as a rival magician during their battle. He would probably have won against her if one of his associates hadn't angered the Fauna enough to drive him out personally.

Details
Species: Either rat or mouse
Color: Brown (Wears yellow)
Eyes: Black
Age: Unknown
Residence: Presumably Metropolis City
Likes: Being the most superior magician
Dislikes: Ebony
Abilities: Magic
Weakness: Unknown

Associations
Enemies: Ebony, Pyjamas, Knuckles The Echidna
Omni Viewer - Debut: STC #8 (Sonic Fleetway Character)
The Omni Viewer is an old friend of Sonic and the Chaotix Crew, the latter's' choice mode of transport about the Special Zone. Nobody's quite sure where he comes from but he's been invaluable to both due to his power to travel instantaneously across Space, between Mobius and the Special Zone and even back and forwards in time. Unfortunately this advantage had backfired twice, when both Robotnik and the Metallix hacked into his systems for their own nefarious means. It's the Omni Viewers fault that Robotnik conquered Mobius in the first place.

Details
Color: White
Residence: Special Zone
Abilities: Space/Time Travel

Associations
Friends: Sonic, Chaotix Crew, Knuckles
Enemies: Robotnik, Metallix, Super Sonic
Oscar the Pig - Debut: STC # --- (Sonic Fleetway Character)
Details
Species: Pig
Colour: Pink
AKA: Porker Lewis

Associations
Employee: Hammerhead

Appearances
Knuckles Knock Out Special
Peter Android - Debut: STC #110 (Sonic Fleetway Character)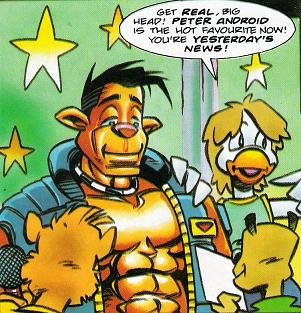 For anyone uninformed this is an in joke of the fickle nature of the British music industry, especially around boy bands. Peter Android is based of Peter Andre, a fading star who at one point had been the coolest man on the planet (according to the British Music Industry who have long since changed their minds, two thousand odd times.)
When the truth about Fabian Vane's rise to fame came out his career suddenly disappeared and according to Chloe his replacement was already lined up for the screaming girls to adore...

Details
Color: Golden orange
Eyes: Blue

Associations
Predecessor: Fabian Vane
Planet Gremlyn - Debut: STC # 152 (Sonic Fleetway Place)
Planet Gremlyn is home to the Ultragem, hidden safely away in Castle Grimm, Amy and Tekno reached it through the Eternity Ring...

Details
Location: In a Distant Galaxy
Pochacamac - Debut: STC # 181 (Sonic Fleetway Character)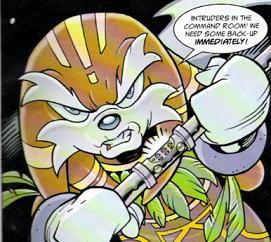 Pochacamac was the spiritual leader of the Echidnas, he provided guidance for his people in the war against the Drakon Empire. He stole the Chaos Emeralds from the Drakon empire and sent his daughter to retrieve a great warrior from the future. Tikal returned with Sonic and the Drakon Soldier who would eventually become Chaos. Pochacamac wanted to use to secure a peace settlement but the Drakon's attacked first. In the fight the Chaos Emeralds were hit and became unstable, as everyone fled the Drakon Fish was left stranded and became Chaos. According to Tikal this was the beginning of the Great War, however Pochacamac and Sonic were more concerned with fighting Chaos. When Sonic's physical attacks proved useless against the water fiend Pochacamac returned him to his own time using Chaos Energy which he took from Chaos, weakening the monster so Knuckles could deal with it… When the battle was over and the Drakon invaders were gone Pochacamac Tikal and Knuckles were left pondering their fate. This was the beginning of a war that would decide the fate of their entire race. With the exception of Knuckles who would still be alive eight thousand years later, everything else was lost to history…
Details
Species: Echidna
Color: Brown with yellow stripes
Eyes: Blue
Age: Old
Residence: 8,000 years ago, Megaopolis City

Associations
Daughter: Tikal
Friends: Knuckles, Sonic
Enemies: Drakon Empire
| | | |
| --- | --- | --- |
| | | |
Porker Lewis - Debut: STC # 1 (Sonic Fleetway Character)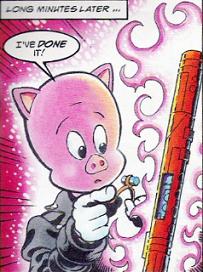 Porker Lewis was always just an ordinary pig. An ordinary pig who happened to be a mechanical genius but otherwise perfectly normal, one of the many animals Sonic regularly rescued. That all changed when Sonic invited Porker, Johnny Lightfoot and Tails to join him into the Special Zone to visit the Omni Viewer and to explain to them his own past and how Doctor Robotnik had come about. Unfortunately Robotnik had set up a trap and Porker was sucked forwards in time along with Sonic by six months. From then on he became a part of Sonic's freedom fighters.Porker soon began to show technical abilities and became the techno wiz of the gang, it was Porker who worked the Kintobor computer and downloaded Kintobor from the mainframe into a ring then onto a laptop. However the stress became too much for him and he retired to the Floating Island to help Knuckles restore the islands lost systems.
He was later revealed to be a refugee from the special zone and wanted criminal to boot. His original name had been Oscar the Pig, chief employee of Hammerhead. Oscar thought he was working to create a cheap clean and safe energy supply for the city, however he suspected something more. So one night he broke into Hammerheads office and discovered that he had actually been building an enormous super bomb. Oscar burned the records and fled, when Hammerhead was caught by police he made sure everyone believed Oscar had been his right hand man. Somehow Oscar escaped to Mobius and lived a normal life as Porker Lewis. Fortunately for Porker Lieutenant Furor played a ruse and let Porker go free with the words, "We're never going to see Oscar the Pig in the Special Zone again are we Porker?" Returned to the Floating Island Porker seemed to flit from one home to the other, helping whoever was convenient. Porker saved Knuckles life thanks to his control of the Guardian Robots and was the first one to identify exactly what Chaos was. He remained with Sonic until the end…

Details
Alias: Oscar th Pig
Species: Pig
Color: Pink
Eyes-Blue
Residence: Floating Island/Emerald Hill Zone
Abilities: Techno wizz
Weakness: Inimidated easily

Associations
Friends: Sonic, Tails, Johnny Lightfoot, Amy Rose, Knuckles
Enemies: Hammerhead, Robotnik, Zachary
| | | |
| --- | --- | --- |
| | | |