Query Returned 154 Items
Menniker - Debut: Knuckles #1 (Sonic Archie Character)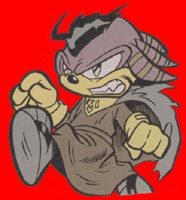 Menniker was very devoted to his father, Dimitri, and when Dimitri (as Enerjak) was believed dead (buried under Mount Fate) he still continued to visit. He saw some energy released and figured that his dad was asking him to continue his work. While Menniker pretended to comply with the technology reduction put in place by the Echidna Council and enforced by Edmund, as the first Guardian, Menniker secretly rallied all the echidnas outraged by the Council's decision. This group would become to be known as the Dark Legion. After Steppenwolf exiled Menniker and his group into the Twilight Zone, Menniker and the Dark Legion eventually escaped. Menniker planned a surprise attack on the Floating Island with the overlanders. However, Aaron, the current Guardian at the time, accidentally discovered the plot and tried to disarm the missile when the overlander leader fired it. Menniker jumped on the missile to stop Aaron but mentioned to Aaron not to press a button since it would cause the missile to detonate. Aaron purposely pressed it, killing them both, but saved the Floating Island.
Details
Species: Echidna
Color: Unknown
Eyes: Unknown
Age: Unknown
Year Of Birth: Unknown
Residence: Echidnaopolis/Twilight Zone (dead)
Likes: His father, technology
Dislikes: Edmund, Steppenwolf, echidnas that followed the Council
Abilities: Leadership, cleverness
Weakness: None
Weapons & Items: Gun

Associations
Father: Dimitri
Uncle: Edmund
Cousin: Steppenwolf
| | | |
| --- | --- | --- |
| | | |
Merlin Prower - Debut: Sonic Live (Sonic Archie Character)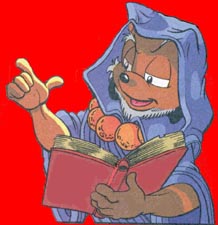 Meet the last of our mystery men - Merlin Prower, a sorcerer and charlatan, Merlin was once under the reign of King Acorn as Royal Wizard - possibly after Ixis Naugus was banished by Robotnik. Those that DO know of his existance DONT even know of the person that they were actually meeting. Sonic met him only once as a child, trading a bag of "shiny stones" for Tails' sneakers, and as Sonic sped off - Merlin vanished in a puff of smoke. When Knuckles met him, he was on his quest for the Sword Of Acorns - and since he didn't know anything of Tails' real name - Miles Prower - Knux never made the connection to Merlin Prower. Tails knows possibly NOTHING of him, and neither does anyone else. However - it has been hinted at in spoilers that Merlin may posibly know of tails' role as The Chosen One. What he knows and when he wil take action is yet to be seen. But for right now - we, and Tails, will just have to wait....
Details
Species: Fox
Color: Orange
Eyes: Blue
Age: Unknown
Year Of Birth: Unknown
Residence: Unknown
Likes: ???
Dislikes: ???
Abilities: POSSIBLE liason to The Ancient Walkers, a sorcerer and charlatan, he can tap into abilities even Sonic, Knuckles, and Tails have yet to discover
Weakness: None documented
Weapons & Items: None

Associations
Nephew: Tails
Brother: Amadeus
Sister-in-Law: Rosemary
| | | |
| --- | --- | --- |
| | | |
Mighty the Armadillo - Debut: Knuckles' Chaotix (Sonic Archie Character)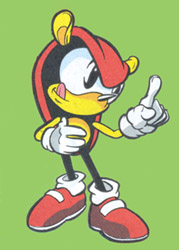 Mighty lived a regular life on the Floating Island as he grew up. He and Sonic are close friends as they met several years ago in an unknown base run by Robotnik that they shut down with the help of a squirrel named Ray. However, Ray went missing during that incident and it was only recently that Ray was rescued from the limbo he'd been in for years. Mighty joined up with the Chaotix when Robotnik threatened the Happyland Amusement Park. Since then Mighty has helped Knuckles much in his task of guarding the Floating Island and is loyal to Knuckles' cause as one of the founding members of "The Chaotix." Mighty also had his hand in being the first to meet Charmy Bee upon his venture to the Floating Island and introducing the bee to all his friends there. He can jump up the steepest of walls with ease, and when he kicks-off, he can take even the most wary of Badniks by surprise. Mighty likes to lift weights and brag a heck of a lot about his strength, but the dude really is humble, even if it doesn't show at times. He's very good friends with everybody and helps them whenever they need it.
Details
Species: Armadillo
Color: Red & Black
Eyes: Blue
Age: 15
Year Of Birth: 3220
Residence: Floating Island
Likes: ???
Dislikes: ???
Abilities: Strength: Mighty's strength is much larger than that of a regular animal allowing for some amazing feats
Weakness: Tends to jump headlong into situations without thinking.
Weapons & Items: N/A

Associations
Best Friend: Ray the Squirrel
| | | |
| --- | --- | --- |
| | | |
Mina the Mongoose - Debut: Sonic #76 (sonic archie character)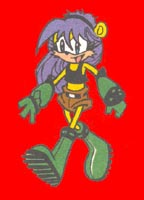 When the Freedom Fighters returned from space, Sonic met Mina in the re-named "Robotropolis" while she was attempting to find Robotnik (SA-style Eggman) so she could find out why her family had to be roboticized. Sonic stopped her and Mina is currently living in Knothole. Rosie gave Mina the responsibility of baby-sitting some of the younger children. Mina first displayed that she also has super speed when she saved Sonic and herself from an attack from Com-bots by getting them away from them. She's not anywhere near as fast as Sonic. Sonic was originally the only friend she seemed to have in Knothole and she likes him a lot. However, she now has a major singing career and love (Ash) of her own.
Details
Species: Mongoose
Color: Yellow
Eyes: Teal
Age: 15
Year Of Birth: 3220
Place Of Residence: Knothole Village
Likes: Sonic
Dislikes: Tragedies
Abilities: Super Speed, singing
Weakness: Not Thinking Ahead

Associations
Mother: Isabella
Boyfriend: Ash
Mobie - Debut: Sonic #32 (Sonic Archie Character)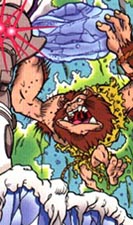 GRFMF??
Mobie was found incased in ice by Antoine after an ambush of swatbots attacked them. Mobie is believed to be 8000 yrs old. After revived, he put up a fight and went in search for anyone he knew from 8000 years ago I assume.. Like they would be around. After recapturing him again and to help ihs problem with his sense of 'unearthly' environments, Uncle Chuck let Mobie off in the Mobian Jungle where Snively would wreak havoc with the the Eco-Destroyer. But would then suffer consequences. At this time, Mobie is most likely still residing in the jungle.

Details
Species: Mobus Ursidae Sapiens
Eyes: Black
Age: Approx. 8000 years
Year Of Birth: N/A
Residence: Mobian Jungle
Likes: Painting
Dislikes: Beinf confused and adjusting to the new surroundings
Abilities: Great strength
Weakness: Hard time of trying to understand anyone
Weapons & Items: Club
Mobius - Debut: Sonic #0 (Sonic Archie Place)
Mobius is the name of the planet where Sonic and the others live. In Sonic #124-25, the Mobians discovered that humans used to be the dominant species on the planet and it was called "Earth" at the time. Xorda's attempt at eradicating life on Earth resulted in the creation of the Mobians, who along with the humans/overlanders live on the planet.

Details
Original Name: Earth
Inhabitants: Mobians, humans/overlanders

Associations
Important Places: Knothole, Angel Island, Megaopolis, Station Square, Mobotropolis/Robotropolis, Downunda, Albion
Mobotropolis - Debut: Sonic #0 (as Robotropolis) (Sonic Archie Place)
Mobotropolis was originally founded as the capital city of the Kingdom of Acorn. However, when Julian successfully completed his coup of King Max over a decade ago, he took the name Robotnik and renamed the city "Robotropolis." He proceded to practically kill all life in the city and replace it all with machines and robots, some robots being roboticized Mobians who fought against his rule. As the center of Robotnik's power, it was the place where Sonic and Freedom Fighters did most of their attacking. Once Robotnik Prime was finally defeated, Mobotropolis was rechristened and begun the slow healing process. However, its restoration was still in progress when Robo-Robotnik retook the city, forcing the kingdom to take refuge once again in Knothole. He also created a shield to surround the city so that if the Freedom Fighters are not careful he can trap them in the city with it. The city was destroyed, and the shield is currently standing and containing the nuclear fallout from the missile attack that brought it down.

Details
Nick Names: Robotropolis
Inhabitants: None currently
Location: Not far from Great Forest

Associations
Important Former Residents: King Maximilian, Sally, Sonic, Robotnik, many others.
| | | |
| --- | --- | --- |
| | | |
Monk - Debut: Knuckles #30 (Sonic Archie Character)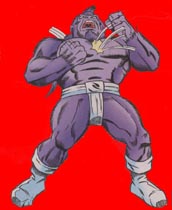 Monk usesd to bully Knuckles when Knuckles was around 10 years old. He became so good at it that the Brotherhood (in disguise) threw him off the Floating Island. After about 5-6 years, Monk managed to return. Wanting to go back to old times, he tried to bully Knuckles again but found that Knuckles wasn't exactly the same. However, that was the least of his worries as Hunter used him and Knuckles as his next targets for his hunting game. Forced to work with Knuckles due to a collar that caused immense pain when the two were separated, he attacked Hunter directly when Hunter was distracted trying to shoot Knuckles. Monk was shocked and fell a great distance to the ground below. Whether it was the shock or the fall that killed him is debateable.
Details
Species: Gorilla
Color: Purple
Eyes: Red
Age: Unknown
Year Of Birth: Unknown
Residence: Floating Island (dead)
Likes: Bothering/Fighting Knuckles
Dislikes: Being hurt by Knux
Abilities: Strong, big, tall
Weakness: Brains (not very swift)
Weapons & Items: None
| | | |
| --- | --- | --- |
| | | |
Monkey Khan - Debut: Sonic #55 (Sonic Archie Character)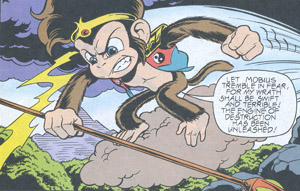 The engine of destruction has been unleashed!
Many years ago, before the roboticiser, Robotnik dealt in the process of creating "cyborgs" - half animal, half robot. However Robotnik quickly scrapped that project due to the fact that none of the Mobian Monkeys could handle it, except for one - Monkey Khan. Robotnik had built him to be TOO POWERFUL and as a result he ended up with a hotheaded powerhouse that he couldn't control. Locking Monkey Khan in a metallic crypt in which he couldn't escape, Khan rested there for 10 years until Sonic, Sally, and Antione accidentally discovered it and freed him. Sonic and Khan hit off on the wrong spot IMMEDIATELY and as a result they ended up fighting each other more than anything else. However in the long run they parted as friends as Khan left to return to his native home of the Dragon Kingdom. It wasn't until a few weeks later that Sonic and Tails discovered him at the base of Mount Stormtop under the control of The Iron King and Iron Queen. They managed to free Khan from the grip of the Iron Queen as well as destroying her "Eternal Flame" spell that she had set upon Mount Stormtop. Khan decided to stay there among the simple villagers and live out his supposed destiny as prophecised "Monkey King" of the Dragon Kingdom. He defended the villagers from various attacks until Robotnik (SA-style Eggman) took him off guard and captured all the villagers and roboticized them all. Monkey Khan has an intense hatred for all overlanders now. When Sonic was trying to warn the overlanders--who had just returned after a decade in space--of the dangers of Robotnik, Monkey Khan's attack in blind hatred scared the overlanders and they went straight into the "safety" of Robotnik.

Details
Nick Names: M.K
Real Name: Ken Khan
Species: Chinese Monkey
Color: Brown
Eyes: Blue
Age: Unknown
Year Of Birth: Unknown
Residence: The Dragon Kingdom/Mount Stormtop
Likes: ???
Dislikes: Overlanders
Abilities: Can control the weather with the power ring band around his head
Weakness: N/A
Weapons & Items: Atom Bat (Powered by A Chaos Emerald), a flying cloud

Associations
Father: Lau Khan
| | | |
| --- | --- | --- |
| | | |
Moritori Rex - Debut: Knuckles #16 (Sonic Archie Character)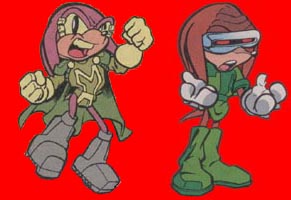 Moritori Rex was the grandmaster of the Dark Legion back during the eras of Guardian Hawking and Guardian Tobor (probably started earlier but those were his most important years). He had a son named Luger and has three grandchildren: the twins, Kragok and Kommissar (Lien-Da is her real name), and Julie-Su (who he rather have nothing to do with since she's a "traitor"). Moritori's claim to fame is that he figured out a way to spy on other zones without being detected. He used this ability to spy on Hawking and Tobor. Echidnaopolis had been taken off the Floating Island and put into it's own zone because of the dangerous radation levels from a dingo nuclear missile attack. Hawking went off to Haven and Tobor was now the official Guardian. Moritori decided to attack Echidnaopolis then and had a one-on-one fight with Tobor. He was losing the fight but he used his zone traveling device to take just the two of them to the Floating Island where some ruins collapsed on them. Then, Hawking searched the ruins for Tobor but he mistakening took Moritori instead thinking he had Tobor. Moritori then pretended to be "Tobor" and was a part of the Brotherhood and none of the Guardians knew anything was wrong. Unfortunately for Moritori Rex, the fact that the Brotherhood has kept Knuckles in the dark actually came in handy for when the real Tobor came back to the Floating Island after wandering Mobius in shame for decades. Things got worse for Moritori when Knuckles accidently found Haven and totally blew his cover (along with kicking his butt). Moritori Rex got some revenge back when the Dark Legion took over Haven, but they didn't get Locke or Spectre who both rectified that little situation. He was last seen working as a high level operative when Dimitri was in charge of the Legion. His current whereabouts are unknown.
Details
Species: Echidna
Color: Brown
Eyes: Brown
Age: Unknown
Year Of Birth: Unknown
Residence: Floating Island
Likes: ???
Dislikes: Knuckles & Julie-Su
Abilities: Great Schemer
Weakness: None
Weapons & Items: Optic eye beam laser

Associations
Grandfather: Dimitri
Father: Menniker
Son: Luger
Grandchildren: Kragok, Lien-Da (Kommissar), & Julie-Su
| | | |
| --- | --- | --- |
| | | |