Query Returned 154 Items
Kragok - Debut: Knuckles #1 (Sonic Archie Character)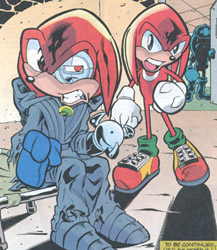 Enerjak may be the definitive Knuckles villian, but Kragok is the DEFINITE Knuckles rival! Just as evil as his Great Grandfather Enerjak, Kragok - the son of Luger - is 33-4 years old. An insane rival of Knuckles he's akin to looking at Knuckles in a mirror. Kragok hates Knuckles with a heated passion (which is mutual) and if you get the two in a room together they'll beat each other silly for hours and probably never stop. Kragok had been trapped in the Twilight Zone - the Dark Legion's old prison - along with Tobor, one of the lost guardians. However, when the portal to the zone opened up with a Dark Legion airship nearby, Tobor forced Kragok along with himself into the beam from the Quantum Cannon, which destroyed the cannon as well as killed them both.
Details
Species: Echidna
Color: Red
Eyes: Black
Age: 33/34
Year Of Birth: Unknown
Residence: The Twilight Zone (Dead)
Likes: ???
Dislikes: ???
Abilities: Third in command of the Dark Legion, Knuckles biggest rival
Weakness: None documented
Weapons & Items: Technology! Dark Legion! Tanks! Fire! Guns! THE CLAW

Associations
Father: Luger
Mother: Merin-Da
Sister: Lien-Da (Kommissar--his twin)
Step-Mother: Mari-Su
Half-Sister: Julie-Su
Son: Remington
| | | |
| --- | --- | --- |
| | | |
Lara-Le - Debut: Knuckles #4 (Sonic Archie Character)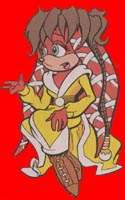 Lara-Le is Knux's mother. But she wishes she could have been more of a mother to him...You see a mother has almost no role in the upbringing of a guardian as all she did was basically give birth - and that it. This often led to many conflicts between her and Locke and overall their ultimate divorce. With the city of Echidnaopolis having vanished completely from the face of The Floating Island and trapped in it's own pocket zone due to a nuclear holocaust and The Hyper Zone Projector made by Hawking, the only traces of civilization were the "Marble Garden Zone" ruins left in its wake. Lara, as well as the city's inhabitants, had no way to escape the zone and thus so Knuckles went most of his life thinking that she was possibly dead. In truth - Guardians did have a way to exit back and forth between the Echidnaopolis Zone and the Floating Isle, and Locke often used this to his advantage. This meant that while Locke told Knuckles his mother was "gone," Lara could do nothing but sit trapped in Echidnaopolis without hope of ever seeing her son. It sounds cruel - but it certainly wasn't intentional...henceforth years later - due to The "Endgame" saga when Robotnik's Ultimate Annihilator exploded, it sent an omega wave of massive proportions all over Mobius, creating new zones, destroying some old ones, and breaking down the buffers protecting hidden ones. And one of those hidden zones now opened was none other than the lost city of Echidnaopolis! As Knuckles investigated, he came to face to face with his long lost mother. Currently they have established a relationship. Lara originally couldn't tell Knuckles the truth about Locke and how he was still alive and it broke her heart to do so. But that still doesn't keep her from trying to be an active figure in his life. Whether its talking to Julie-Su, or just dishing motherly advice, Lara cares the world for her son and is always ready to lend a shoulder whenever need. Currently she is on her honeymoon with her new husband, Wynmacher. While Knuckles still has problems dealing with the fact of a new stepfather, he also respects Wyn as well.
Details
Species: Echidna
Color: Red
Eyes: Green
Age: 37
Residence: Echidnaopolis
Likes: ???
Dislikes: ???
Abilities: None
Weakness: None
Weapons & Items: None

Associations
Sons: Knuckles (with Locke), Kneecapeon Mace (with Wynmacher)
Ex-Husband: Locke (Divorced)
Husband: Wynmacher
| | | |
| --- | --- | --- |
| | | |
Lara-Su (alternate universe) - Debut: Sonic #106 (Sonic Archie Character)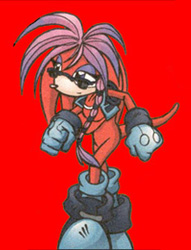 The daughter of Knuckles and Julie-Su, she was raised by Julie-Su and was led to believe that Remington killed Knuckles. However, in Lara-Su's attempt to change the past in her reality, she ended up in this Mobius' reality which was different from the one she knew. While she witnessed what she thought was Knuckles' "death" (she never did find out that Knux was faking it), she did manage to prevent Julie-Su from being killed by a sniper. When she returned to her proper world and time, she was finally told the truth about her father. Knuckles went crazy after asorbing a lot of chaos energy and is currently leading the Dark Legion attempting world conquest in her world.
Details
Species: Echidna
Color: Red
Eyes: Purple
Age: approx 14
Year Of Birth: approx 3241 (alternate future)
Residence: Floating Island (alternate)
Likes: ???
Dislikes: ???
Abilities: Can retract her knuckles at will and other chaos energy enhanced powers
Weakness: N/A
Weapons & Items: None

Associations
Father: Knuckles (alternate)
Mother: Julie-Su (alternate)
Other Relations: Brotherhood and Dark Legion (alternate)
| | | |
| --- | --- | --- |
| | | |
Lara-Su (M:25YL) - Debut: Sonic #131 (Sonic Archie Character)

Lara-Su has been raised by both of her parents, who have tried to shelter her from the kind of life they lived as kids/teenagers. However, Lara-Su resents it as she wants nothing more than to become a Guardian like her father and fight. She's quick-witted and has a short temper. She's also a very good fighter in her own right and does her best to follow her own path.
Details
Nick Name: Su
Species: Echidna
Color: Red
Eyes: Violet
Age: 16
Year Of Birth: 3245
Residence: Angel Island
Likes: Being a Guardian
Dislikes: Manik's crush on her
Abilities: Glide and manipulate chao energy
Weakness: None
Weapons & Items: N/A

Associations
Father: Knuckles
Mother: Julie-Su
Aunt: Lien-Da
Cousin: Rutan
Friends: Salma, Riki-Le, Sonia (before the "reset")
Lien-Da - Debut: Knuckles #22 (Sonic Archie Character)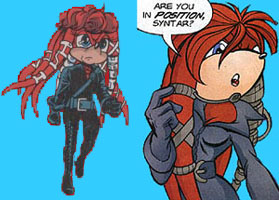 Kommissar, the twin sister of Kragok, is a schemer and like her brother has no qualms about killing as it is hinted that they masterminded the "accidental death" of their step-mother, who they both hated. They both didn't like Luger's more "peaceful" reign over the Dark Legion and their father "mysteriously disappeared" which allowed them to take over the Legion, with Kragok as first in command. Kommissar also has deep hatred for Julie-Su as she never wanted another sibling when her mother, Merin-Da, died due to illness. Currently she's the leader of the Flame Legion, a branch of the Dark Legion (which is the middle of its own civil war).
Details
Also Known As: Kommissar
Species: Echidna
Color: Red
Eyes: Blue
Age: 33/34
Year Of Birth: Unknown
Residence: Floating Island
Likes: ???
Dislikes: Julie-Su
Abilities: Leadership
Weakness: None
Weapons & Items: None

Associations
Father: Luger
Mother: Merin-Da
Brother: Kragok (her twin)
Step-Mother: Mari-Su
Half-Sister: Julie-Su
Nephew: Remington
| | | |
| --- | --- | --- |
| | | |
Locke - Debut: Sonic #33 (Sonic Archie Character)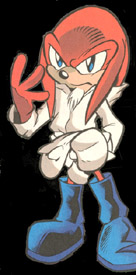 Locke, following the traditions handed down generation after generation, "abandoned" his son Knuckles and lied to him about his mother and family. It continues to haunt him to this day because of his doomed relationship with Lara-Le, who he still loves. This does not mean that he does not watch over Knuckles. Before it was only behind a computer screen in the confines of Haven - home of The Brotherhood Of Guardians of which he is currently a member. Before Knux was born Locke had a dream induced by the Ancient Walkers, that foretold of a dark dismal future in which Knuckles went up against what looked to be a giant Robotnik robot. Its unknown whether Knux died in the dream, but Locke was so spooked over it that he went to his grandfather Athair for help. After Athair telling him of the coming of the Guardian Savior, Locke began to experiment on himself, and subjected Knux' egg to Chaos Emerald Radiation, thus making his son a "living Chaos Battery." Locke is still unsure if he made the right choice or not. For advice, Locke goes to his father Sabre, though he doesn't always follow it or agree with it. Due to the tradition of guardians - the youngest one was destined to be left alone and to fend for themselves. After protest from Lara - his wife, Locke began training Knuckles and one day Knuckles watched in horror as he entered the large wall of flames in The Forbidden Zone. Knuckles now knows that his father exists and is ALWAYS asking questions which Locke is usually hesitant to answer. It almost seemed as if Locke's entire world was crumbling around him - The Brotherhood is constantly arguing with him, and Lara - now his ex-wife has gone on to marry anew. If ever the phrase "too little, too late" was to come into play - Locke may be king definition of it.
Details
Species: Echidna
Color: Red
Eyes: Blue
Age: 40
Place Of Residence: Haven
Likes: History, Science
Dislikes: Reading the Tombs (indirectly faith)
Abilities: Technology wiz, Glide and chaos emerald-induced powers
Weakness: Doesn't know how to listen or communicate, slow to change

Associations
Mother: Jenna-Lu
Father: Sabre
Ex-wife: Lara-Le
Son: Knuckles
Mentor: Archimedes
Various: The Brotherhood
| | | |
| --- | --- | --- |
| | | |
Lupe - Debut: Sonic #46 (Sonic Archie Character)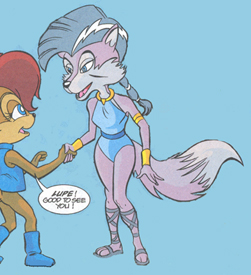 As the leader of the Wolf Pack, Lupe represented the strong spirit of the team and lent a helping hand toward Sally whenever she could. Lupe, in defiance of the general anti-overlander sentiment among Mobians, adopted two lonely overlander girls into the Pack. Unfortunately when the Pack reached home to reunite with the family members they had left behind, the Pack was caught off guard and captured by Uncle Chuck, who was under Robotnik's control--the current Robotnik (not the dead one). Lupe was roboticized, but she fought off the mind control long enough to enable the rest of the Pack to escape. As the control was starting to take affect, she figured she would be better off staying instead of becoming a possible danger to the Pack. In memory of her leadership and bravery, the Wolf Pack put up a tomb stone dedicated to Lupe. Due to nearly everyone being deroboticized, Lupe is now leading the Wolf Pack again.
Details
Species: Wolf
Color: Gray
Eyes: Blue
Age: 30s somewhere
Year Of Birth: Unknown
Residence: Unknown
Likes: ???
Dislikes: ???
Abilities: Leadership, fighting skills
Weakness: None
Weapons & Items: None

Associations
Husband: Lobo
Son: Marcos
Daughter: Maria
| | | |
| --- | --- | --- |
| | | |
Mammoth Mogul - Debut: Sonic & Knuckles: Mecha Madness (Sonic Archie Character)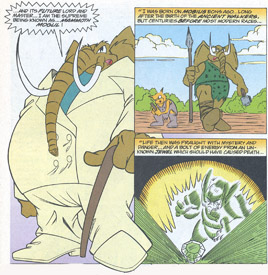 There is always someone else who is smarter, stronger and even more ruthless than you.
Mammoth Mogul was born eons ago a simple wooly mammoth that lived in the natural order of things, but his whole life changed when he came upon an unknown meteorite-like jewel that fell from the sky, embedded itself into its chest and granted him limitless power. He became master of all he surveyed, but was eventually dethroned by the other races of the planet. During the time afterwards, he discovered that the jewel he found was the most potent form of energy in the universe - the Chaos Emerald! With it he had evolved faster than any other animal on the planet and he was ready again after centuries of dormancy, to take his former position as Mobius' ruler. With Robotnik out of the way thanks to Snively and The Ultimate Annihilator, Mogul sought to take the Floating Island's Chaos Emerald, but failed realising the direct approach wouldn't work. Next he schemed to obtain the mystical Sword of Acorns - King Acorn's magical talisman that serves as an enery conduit capable of draining the powers out of anyone - or anything!...In his quest for power, it took the Chaotix and the Freedom Fighters combined to fully defeat him, but what they didn't realise is that in the end Mogul STILL had the sword and Sonic and Knuckles were left with the fake! With step one out of the way, his next appearance peaked as he drained EVERY DROP Enerjak's Chaos Emerald Power using the Sword of Acorns. Reducing Enerjak to aged dust, Mogul became super and reverted into "Master Mogul"! And infused with the power of 12 Chaos Emeralds with all but the Floating Islands emeralds left he went completely mad with power! After battling Super Sonic, Hyper Knuckles, and Turbo Tails, The Freedom Fighters, The Chaotix, General Stryker, and even with Athair and The Ancient Walkers stepping in, Mogul succeeded in getting into the Island's Chaos Chamber but had absorbed TOO MUCH POWER and thanks to Locke and Sabre - Knuckles' father and grandfather - he finally ended up encased forever in the newly dubbed "Master Emerald" - which consisted of a 14th Chaos Emerald with Mogul's life essence trapped dormant in its core! Recently, Mogul escaped from the core when RoboRobotnik (SA-style Eggman) shattered the Master Emerald. Mogul hasn't been seen or heard from since.

Details
Species: Mammoth
Color: Light brown
Eyes: Glowing
Age: Unknown
Year Of Birth: Unknown
Residence: Unknown, was inside the Master Emerald
Likes: Giving long speeches on how much power he has
Dislikes: Sonic, Tails and Knuckles, and the rest of the good guys, since they messed his plans up
Abilities: Looked good as a Master Emerald-incased dicoration, but is otherwise unknown in location
Weakness: being off guard when giving an ego talk
| | | |
| --- | --- | --- |
| | | |
Mari-An - Debut: Knuckles #11 (Sonic Archie Character)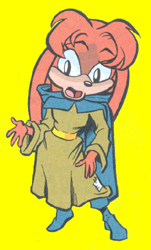 A member of the Lost Tribe of Echidnas looking for Albion, when the Tribe arrived in Mercia she realized that her brothers were missing. When Knuckles was going to search for them by himself, she showed him that she knows how to take care of herself and the two went off together. Eventually they split up to cover more ground, and when she ran into Knuckles again, he was with Rob, who challenged her to a fight on a log in the nearby creek. After easily knocking Rob into the water, the two exchanged a glance and it was love at first sight. The trio ran into Sonic and Tails and the five of them saved Yanar from being hung by the High Sheriff and rescued the Tribe (who had been captured and were working as slaves). While Knuckles led the Tribe to Albion, she decided to stay in forests of Mercia with Rob in his fight against the High Sherriff.
Details
Species: Echidna
Color: Light Red/Dark Orange
Eyes: Purple
Age: Unknown
Year Of Birth: Unknown
Residence: Mercia
Likes: ???
Dislikes: ???
Abilities: hand to hand combat
Weakness: None documented
Weapons & Items: Staff/Sword

Associations
Brothers: Zax, Raynor
Husband: Rob O' The Hedge (they also have a child)
| | | |
| --- | --- | --- |
| | | |
Master Emerald - Debut: Sonic #56 (Sonic Archie Item)
Originally, the Floating Island was held up by 12 chaos emeralds. 11 of them were "lost" when Enerjak rose to power and only 1 held up the Floating Island. In Super Sonic vs. Hyper Knuckles special, Knuckles managed to get another chaos emerald from the zone he & Sonic fought in--so 2 chaos emeralds held up the Floating Island. Then, Mammoth Mogul robbed Enerjak of his 11 chaos emeralds and added them to his 1 (Mammoth Mogul has lived so long because he's had a chaos emerald embedded into his chest) giving him 12 chaos emeralds. In Sonic #56, Master Mogul (as he called himself) went for the 2 chaos emeralds that held up the Floating Island to add to his power. However, Locke & Sabre caused a chaotic explosion and as a result the Master Emerald (as it was called) was created with the power of 14 chaos emeralds and Mammoth Mogul's life essense trapped inside. Mammoth Mogul was freed from inside the Master Emerald when Robotnik broke the M.E. into pieces in Sonic #79. Knuckles got back most of the pieces--but not all. Currently, the Master Emerald holds up the Floating Island.

Details
Color: Green
Residence: Floating Island

Associations
Notable: Mammoth Mogul at one point was trapped inside it
| | | |
| --- | --- | --- |
| | | |