Query Returned 154 Items
E.V.E - Debut: Sonic #21 (sonic archie character)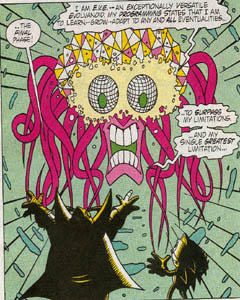 I have the freedom of choice... not limited by boundaries...Be they of the mind...Or the vast reaches of infinity
E.V.E was created by Robotnik with DNA from him and Sonic. His main attempt was using it/her to get rid of Sonic. However, he was close but his creation backfired as that EVE learned too much and the DNA from Sonic overpowered from what she got with Robotnik. The resulted in what was thought to be annihilation of the great Robotnik but as it turned out, was just a transfer to a orbitting server powered by a different dimensional Robotnik (RoboRobonik) E.V.E. was last seen escaping into the vast reaches of space and her location was unknown until Sonic came across her, destroying worlds and incorporating their raw materials into herself. Sonic persuaded her to stop, and she destroyed herself.

Details
Full Name: Exceptionally Versatile Evolvanoid
Eyes: Green
Age: ???
Year Of Birth: ???
Place Of Residence: Outer Reaches of Space
Likes: ???
Dislikes: ???
Abilities: E.V.E has the abililty to adapt and "feel" She can utilize her mistakes and evolve to the next level. She cannot die, but excel.
Weakness: N/A
| | | |
| --- | --- | --- |
| | | |
Ebony Hare - Debut: Knuckles #13 (Sonic Archie Character)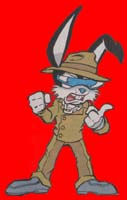 Ebony Hare is out to make money and doesn't care what he has to do to get it, even if it includes killing someone. He had his own scientist develop a sauce filled with "lemon sundrop dandelion" poison in it and caused those who had too much of it to get sick. However, in small doses, it made those who ate food with it want it more so they would buy more of the food. Ebony's biggest supply of the stuff was sent to Happyland Amusement Park, which he semi-took over from Renfield the Rodent after the Chaotix were hospitalized (from eating the food in the park) since it made the Echidna Security Team very suspicious. Unfortunately for his sake, it didn't stop Remington, Julie-Su, Espio, Mighty, and Vector from ending his operation and landing him and his cohorts in jail.
Details
Full Name: Downtown Ebony Hare
Species: Hare
Color: Black
Eyes: Blue
Age: Unknown
Year Of Birth: Unknown
Residence: Echidnaopolis (jail)
Likes: Being in charge
Dislikes: Being questioned
Abilities: Sneaky
Weakness: Can't fight, can't shoot
Weapons & Items: Gun

Associations
Bodyguard: Blackjack
Lady Friend: Foxy
Associate: BeeJay McThing
| | | |
| --- | --- | --- |
| | | |
Echidnaopolis - Debut: Knuckles #4 (Sonic Archie Place)
This is the main city for finding echidnas outside of Albion. Originally part of Downunda, until a comet was spotted that could have destroyed it, it is now the main city of the Floating Island. It's played host to various fights between the Dark Legion (aka DL) and whoever was the current Guardian at the time (and Brotherhood behind the scenes). The most notable known altercations that occurred inside Echidnaopolis were Steppenwolf versus the DL during the DL's creation, Tobor versus the DL when Echidnaopolis was in its zone (explained next), and Knuckles/Chaotix/Constable Remington/General Stryker versus the Enerjak-led DL. For about the past 200 years, Echidnaopolis had been removed from the Floating Island and put into its own pocket zone due to radiation from a dingo nuclear strike. It only returned to the Floating Island thanks to Robotnik's Ultimate Annihilator, which weakened barriers between zones and caused Echidnaopolis to return to its proper place. The downside was when it returned, it destroyed the dingo's city so both the echidnas and dingoes have to learn to get along with each other in the same city.

Details
Inhabitants: Mainly Echidnas and Dingoes
Location: Floating Island (near body of water that surrounds Angel Island Zone)

Associations
Important Residents: Constable Remington, General Stryker, Harry
| | | |
| --- | --- | --- |
| | | |
Elias - Debut: Knuckles #19 (Sonic Archie Character)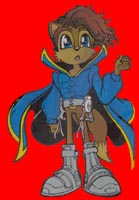 Prince Elias' background comes from the far-off Floating Island. Way back before Robotnik's coup, Queen Alicia and a toddler boy named Elias were carted off to a safe haven on the Floating Island. However, en route, they were attacked and King Acorn feared his wife and son dead. What was not known was that the convoy ships DID make it, but most of the crew died, barring Queen Alicia who fell into a near 10 year coma, Prince Elias, who remained unscathed, and one of the colonels under Geoffry St. John's late father. Discovered by the Guardians of the Floating Island during that time, they took in the Prince and raised him. While the Colonel stayed at the Royal Compound on the Floating Island, where the prince went to live at the age of 10. The Brotherhood made sure to keep the Queen in stasis until she could someday be revived. Prince Elias thought his father died in the Robotnik takeover, King Acorn thought his son died in the Great War, and Sally - who was a child at the time - knew where neither of them were.
Ten years later, King Acorn found word that that the Queen may still be alive and after sending The Secret Service to the Floating Isle, they came upon not only The Brotherhood Of Guardians but Prince Elias and the comatose Queen Acorn as well. The Prince returned and was given the throne. However, he rejected this and ran away to start a family. During the kingdon's recent troubles, and with his father comatose, Elias has reconsidered and become the current King.

Details
Full Name: Elias Acorn
Species: Ground Squirrel - Half Chipmunk, Half Squirrel
Color: Brown
Eyes: Blue
Age: ???
Year Of Birth: Unknown
Residence: Mobotropolis
Abilities: Very Thoughtful and can also take care of himself in a fight
Weakness: Lack of Speed
Weapons & Items: N/A

Associations
Father: King Maxmillian Acorn
Mother: Queen Alicia Acorn
Sister: Princess Sally Acorn
Wife: Meg Acorn
Step-daughter: Alexis
| | | |
| --- | --- | --- |
| | | |
Emerson - Debut: Sonic #72 (Sonic Archie Character)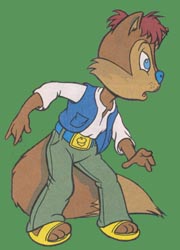 Prince Emerson meet an overlander boy called Paladin who was roughly the same age as he when walking though the forest. They were having a friendly conversation as Paladin was showing Emerson how to shoot a gun. However, when Paladin chose a bird as his target, Emerson jumped in the way of the shot and was killed. King Theodore found Emerson lying on the ground and saw Paladin who was running away. King Theodore forbade contact with overlanders, who he felt had to be fierce and violent and also began the policy among Mobians of not using guns.
Details
Full Name: Prince Emerson Acorn
Species: Squirrel
Color: Brown
Eyes: Blue
Age: Unknown
Year Of Birth: Unknown
Residence: Mobotropolis (in the past)
Likes: Hiking
Dislikes: Seeing an animal get hurt
Abilities: Climbing
Weakness: N/A
Weapons & Items: None

Associations
Father: King Theodore Acorn
Espio the Chameleon - Debut: Knuckles' Chaotix (Sonic Archie Character)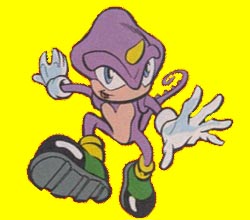 Espio The Chameleon is often quite reserved and his past is a mystery to all except maybe Knuckles....Espio the Chameleon is quick and strong, and has an intense drive in everything he does. Nothing is known of Espio's past by anyone, but it seems that he lived a normal chameleon's life, until he met Knuckles. Then his world was flung upside-down with all the things he had to help his newfound friend with. But Espio has stayed a loyal friend to Knux and the other Chaotix. Espio's lashing Tongue Attack can whip the hardest of Badniks into shape, and his whirling attack can leave any opponents spinning their heads! His unique ability to run along walls and ceilings can get him out of any tight spots, and he can also change his color at will to blend into the scenery. Espio is very secretive in nature and kind of short-tempered just like Knux. He's serious a lot, but is willing to be friendly when he has too. Espio is a vital member to the Chaotix. He can often be found with the rest of the team in their adventures on the Floating Island but when he's alone, he likes to hang out in his invisible treehouse home in The Rainbow Valley.
Details
Species: Chameleon
Color: Purple
Eyes: Blue
Age: 16
Year Of Birth: 3219
Residence: Floating Isle
Likes: ???
Dislikes: ???
Abilities: Stealth: Espio's natural ability to take the color of his surroundings and virtually turn invisible is very useful
Weakness: Not very strong
Weapons & Items: N/A

Associations
Best Friend: Valdez the Chameleon (currently roboticized)
| | | |
| --- | --- | --- |
| | | |
Evil Sonic (alternate universe) - Debut: Sonic #11 (Sonic Archie Character)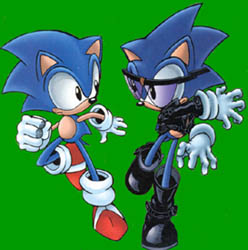 Sporting tinted shades, a leather jacket, and black shoes, Evil Sonic may look like a hokey villian - but he's EVERYTHING Sonic is: only meaner. Basically a punk, Evil Sonic is the type that commands trouble at every second, and if no trouble is there - then he goes out to cause trouble just for the heck of it! Sonic usually manages to outsmart him if the two aren't beating each others brains out in a speed filled fist fight - but every time that Evil Sonic has come back: its always with a new twist! Leader of the Anti-Freedom Fighters, Evil Sonic terrorizes his universe's Mobotropolis constantly, while that areas Doctor Robotnik, a kind country doctor, can only sit and do nothing. The Anti Freedom Fighters are his personal "goon squad" and together they have even travelled to Sonic's own universe to wreak some havoc. At one point he went as far as to ally himself with the real Doctor Robotnik, which only resulted in him making a permanent enemy out of his rival - The Anti-Knuckles!
But his biggest evil was none other than allying himself with The Robo Robotnik - the Robotnik from a parallel universe that would eventually come to be known as Robotnik Mk II. Stealing an artifact called "The Giant's Hand" from an area in the Cosmic Interstate known as the Nuetral Zone, Evil Sonic was partially responsible for Robo Robotnik's invasion of the various Sonic universes and his ultimate decapitation!
Because of Sonic Prime, SU Sonic, Sonia, & Manic he was captured and held in a prison cell under the watch of Zonic. He's a bit slippery, throught, and he escaped twice. The first time, he went to Mobius Prime, where he was recaptrued thanks to the efforts of Antoine Prime. The second time, however, he went to his own zone, where he got into a conflict with Anti-Antoine. Anti-Antoine was switched with Antoine Prime, and then Evil Sonic saw how good this was so he switched himself with Sonic Prime and caused trouble briefly.

Details
Species: Hedgehog
Color: Blue
Eyes: Green
Age: 16
Year Of Birth: 3219
Residence: Mobotropolis
Likes: Causing trouble, destorying things
Dislikes: Sonic, order
Abilities: Super Speed
Weakness: N/A
Weapons & Items: None

Associations
Gang: Anti-Freedom Fighters
| | | |
| --- | --- | --- |
| | | |
Fearsome Foursome - Debut: Sonic & Knuckles: Mecha Madness (Sonic Archie Group)
Serving underneath the auspices of Mammoth Mogul as his personal enforcers, the Fearsome Foursome first came upon the scene when Mogul reintroduced himself to the Chaotix as one of the Ancient Rulers of Mobius. Each one given thier own special powers, The Foursome are more than willing to carry out thier orders whenever necessary and are always ready to dish out whatever is commanded of them! After near-succesfully impersonating the Freedom Fighters and Chaotix respectively thanks to Mammoth Mogul's manipulation of Chaos Energy, The Foursome were finally brought down when each group figured out what was going on after all the confusion! Since then they had remained jailed up until Robotnik's break out of the Prison Cells at the Devil's Island Gulag. Wreaking havoc with Snively as current commander along with Warlord Kodos, Arachnis, Drago, and Slueth Dog - the Foursome helped out whenever necessary in the attempt to take back Mobotropolis from the Freedom Fighters, by kidnapping Nate Morgan. Afterwords, they were roboticized and apparently destroyed. They have apparently returned in flesh form since the Xorda conflict, only to be turned once agian into Robots by a mysterious, unknown entity.

Sergeant Simian - The leader of the Fearsome Foursome, Simian most likely hails from the warlike Guerilla Camps of the Great Mobian Jungle (Sonic #45). Armed to the teeth with grenades, guns, and anything else in his arsenal, Simain posses the power of strength and is often the first to question any orders given to him.
Predator Hawk - The second member of the group, Predator Hawk is most likely the tactical man. Skilled exceptionally in the powers of flight, Hawk is quick, agile, and very skilled at flushing out his opponents from hiding. Hawk is a sort of "wild card" of the group and is also one of the most outspoken, usually putting out his comments whether needed or not.
Lightning Lynx - The third member of the group, Lightning Lynk is the only member of the group that could probably go toe to toe with Sonic - Lynx was blessed with the power of Super Speed! While he is certainly not as fast as Sonic, he can certainly run rings around anybody! Lynx is basically the show off of the group, seeming to be impulsive in action, but will take any order given to him.
Flying Frog - The fourth and final member of the group, Flying Frog is the goofball, and you can tell it by his expressions, right down from the Buck teeth and long face to the slack jaws, Frog is the groups comic relief. Flying Frog does not "fly" per se but most likely uses the flaps connected to his arms and legs to soar against the wind currents sort of like what Knuckles does with his dreads.

Details
Current Member names: Sgt. Simian, Predator Hawk, Lightning Lynx, and Flying Frog
Year Of Birth: Unknown
Age: varies among members
Base Of Operations: Various

Associations
Work With: Drago, Sleuth Doggy Dogg
| | | |
| --- | --- | --- |
| | | |
Feist - Debut: Sonic #48 (Sonic Archie Character)
Feist was once an underling of Ixis Naugus who resided in the Zone of Silence. Sonic first encountered him when using Doctor Quack's machine to enter King Max's dream about his time in the Zone. Not much is known about Feist's origin, but it has been revealed that he actually despised Naugus.
When Super Shadow and Turbo Tails sealed all of the universe's Chaos Emeralds in the Zone of Silence, Feist, the only living being in the Zone, used the Chaos energy to reshape both the Zone and the Emeralds themselves. The Zone of Silence became the Special Zone, and the thousands of Chaos Emeralds became seven Emeralds, each of a different color.
Feist can apparently monitor Mobius Prime from the Special Zone. Because he has seen Sonic combating Naugus, he considers Sonic an ally, and granted him one of the new Chaos Emeralds. Feist also warned him that the next Emerald he asked for might not come so easily.

Details
Species=Unknown, possibly panda
Color=Black and White
Eyes=Green
Age=Unknown
Residence=The Special Zone
| | | |
| --- | --- | --- |
| | | |
Fiona Fox - Debut: Knuckles #26 (Sonic Archie Character)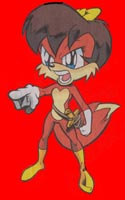 Several years ago, Fiona was among many other Mobian prisoners at an unknown base controlled by Robotnik. She met Mighty and Ray (who were also prisoners) who attempted to help her when a robot guard said that "other plans" were in store for her. Eventually the guards put down their rebellion and while Mighty and Ray were put in separate cages, she was taken to Robotnik himself. Sonic, who was infiltrating the base at the time, freed Mighty and Ray and the three tried to rescue her. However, when things didn't go according to plan and Ray mysteriously disappeared, Mighty started destroying the place by lifting machines like they were sheets of paper. Robotnik abandoned the base during the confusion and took Fiona with him.
Robotnik made a robot duplicate of Fiona and then left her in a cell to rot. She managed to dig her way out after awhile and she met Nic the Weasel. The two became friends and stuck together until a recent run-in with Mighty. Fiona is currently residing in Knothole City and has joined the Freedom Fighters as a member of both the "Brain Trust" subdivision and the regular combat team.
Fiona's grudge against Sonic eventually turned to respect, admiration, and eventually romantic feelings for him. Only after Fiona and Sonic began dating did Fiona learn that Tails had a crush on her. Despite the fact that this has strained the relationship between Sonic and Tails, Fiona does not seem to care about Tails' feelings at all. Fiona and Sonic continue to date and are often seen together.

Details
Species: Fox
Color: Dark Red
Eyes: Blue
Age: ???
Year Of Birth: ???
Residence: Knothole City
Likes: Her freedom
Dislikes: Unknown
Abilities: Fighting skills, Medical skills
Weakness: Lack of strength
Weapons & Items: Dagger

Associations
Friend: Nic the Weasel
| | | |
| --- | --- | --- |
| | | |