Query Returned 154 Items
The Zone of Silence - Debut: Sonic # ?? (Sonic Archie Place)
The Zone of Silence is still a mystery in many ways. Once Ruled by Ixis Naugus, it was the place of exile for King Max, the Original Freedom Fighters, and possibly many others.
Ixis Naugus was returned to the Zone of Silence and is presumably still there, plotting an attempt to get revenge on Sonic and his friends.

Details
Also Known As: The Void

Associations
Notable Residents: King Maximillian Acorn, Ixis Naugus, the Original Freedom Fighters
Thunderhawk - Debut: Knuckles #16 (Sonic Archie Character)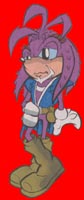 Monitor of the country of Downunda, this purple echidna is the loudmouth complainer of the group. He's always ready to make his opinion known--including thinking a Knuckles/Julie-Su pairing would be "interesting."
Details
Species: Echidna
Color: Purple
Eyes: Blue
Age: Unknown
Year Of Birth: Unknown
Residence: Haven
Likes: ???
Dislikes: ???
Abilities: Chaos powers that all Guardians possess
Weakness: n/a
Weapons & Items: None

Associations
Father: Spectre
Son: Sojourner
Tikal - Debut: Sonic #79 (Sonic Archie Character)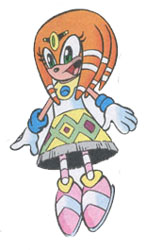 Tikal is the daughter of Pachamac, who was the leader of the Knuckles Clan, the warrior caste of the echidnas. When the Knuckles Clan accompanied the scientists in leaving Albion they arrived in Mysterious Cat Country and ended up battling with the natives. The scientists left, but the Knuckles Clan stayed. One day, Tikal and her father found a temple in the ruins. While Pachamac had to leave for a battle, Tikal stayed and discovered the chao and Chaos. She befriended them all. However, Pachamac decided the seven chaos emeralds that the chao had were needed and despite Tikal's pleadings went after them anyway. Chaos, trying to protect the chao, became angry and destructive until Tikal imprisoned Chaos in the Black Emerald. When Robotnik freed Chaos from the Black Emerald, Tikal's spirit was also freed. She found Knuckles who she accompanied until Chaos became Perfect Chaos. It was at that time that she finally changed from a glowing ball to her old echidna form. She helped Sonic become Super Sonic and after Perfect Chaos was defeated, she disappeared along with Chaos.
Details
Species: Echidna
Color: Orange
Eyes: Green
Age: Unknown
Year Of Birth: Unknown (hundreds of years ago)
Residence: Unknown
Likes: Chao, peace
Dislikes: Greed
Abilities: Show visions, manipulate chaos energy
Weakness: N/A
Weapons & Items: None

Associations
Father: Pachamac
| | | |
| --- | --- | --- |
| | | |
Tobor - Debut: Knuckles #17 (Sonic Archie Character)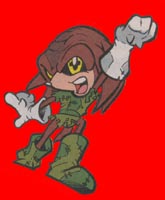 Tobor was the first Guardian in charge of Echidnaopolis after the nuclear attack incident on the Floating Island, which left the city in its own pocket zone. It wasn't long before Moritori Rex led the Dark Legion, with its tanks and blasters, against the citizens of Echidnaopolis, armed with only farming tools. Eventually, Tobor and Moritori went one-on-one, but when Tobor seemed to gain the advantage, Moritori used a device that transported the two of them into ruins on the Floating Island which buried the duo. Some time later, Tobor heard his father calling his name, but soon realized the Hawking mistook Moritori Rex for himself. After a day, Tobor freed himself from the rubble but with a feeling of shame, wandered the Mobian mainland where a doctor gave him cybernetic eyes to replace his failing real eyes. Many years later, Tobor finally returned to the Floating Island and met Julie-Su, who he attacked at first, but allowed her to take him to met Knuckles, the current Guardian. When Knuckles went to "interrogate" Kragok, Tobor eventually sensed trouble. While the portal to the Twilight Zone was still open, Tobor made sure that it closed with him and Kragok in the zone so that there would be one less Legionnaire to contend with. That same attitude was on display when the two finally managed to escape the Twilight Zone right in front of a Dark Legion aircraft, which was firing a beam that Tobor made sure to destroy along with Kragok even though he knew it meant his own death.
Details
Species: Echidna
Color: Brown
Eyes: Yellow
Age: Unknown
Year Of Birth: Unknown
Residence: Killed in a suicide stunt, which also killed Kragok
Likes: His family, especially his father
Dislikes: Moritori Rex, and all Dark Legionnaires
Abilities: Glide, sensing chaos energies
Weakness: His anger
Weapons & Items: n/a

Associations
Father: Hawking
Mother: Sonja-Ra
Wife: Voni-Ca
Son: Spectre
| | | |
| --- | --- | --- |
| | | |
Tommy Turtle - Debut: Sonic #117 (Sonic Archie Character)
Tommy was a friend that the Freedom Fighters had believed dead until recently. Sonic found that he was in the company of several villains, who were working for Robotnik. After Robotnik betrayed the villains, Tommy apparnetly gave his life to save Sonic. However, a year later, Sonic and comany met an identical turtle claiming to be Tommy. They trusted "Tommy" until he turned out to be a robot, but they found that the actual Tommy was alive and in the clutches of Robo-Dyne Systems. Once they rescued Tommy, he became a member of the Brain Trust portion of the Freedom Fighters. He is good frinds with Rotor. Because of an encounter with Robotnik's nanites, Tommy has recently gained the ability to change his shell into things such as wings or a jetpack.

Details
Species: Turtle
Color: Green
Eyes: Blue
Age: 17
Year Of Birth: 3220
Residence: Knothole Village
Likes: Organizing, Technology
Dislikes: Unknown
Abilities: Organizational skills, technical ability
Weakness: Unknown
Weapons & Items: None
| | | |
| --- | --- | --- |
| | | |
Twilight Zone - Debut: Knuckles #1 (Sonic Archie Place)
About 400 years ago, Steppenwolf used his newfound chaos powers to exile Menniker and the Dark Legion into another zone away from Echidnaopolis and the rest of Mobius. It was called the Twilight Zone by the Legionnaires and is basically a place in limbo. Any time the Dark Legion got out of the Twilight Zone, the current Guardian and the Brotherhood would send them back (until Knuckles). Knuckles made a brief visit to the Twilight Zone while Tobor and Kragok resided in the Twilight Zone together for some time until recently getting free.

Details
Inhabitants: Echidnas (mostly the Dark Legion)
Location: Unknown

Associations
Important Past Residents: Menniker, Moritori Rex, Luger, Kragok, Kommissar, Julie-Su, and Tobor
Uma Arachnis - Debut: Sonic #53 (Sonic Archie Character)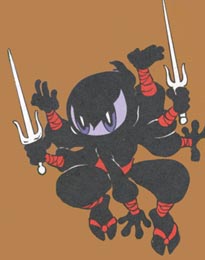 Uma Arachnis is "the mystery villain", extremely quiet and observant - All that is known of her is the fact that she somehow has ties to Ixis Naugus, whom she met in the Zone Of Silence. Being a spider, she can cling to walls, shoot webbing, and can move around like lighning in situations - making her a quick and agile oponnent. She rarely speaks unless it is necessary, and the other villians often find her bewildering. Her true motives are known only to herself, and not even Sonic or Sally know or have any recollection of who she is or what she wants. For now she still remains as the second wild card, and until Ixis Naugus or herself reveal her intentions, she used to slink back into the shadows behind Warlord Kodos and follow through her intentions - whatever they may be. Recently she laid her eggs in the Great Forest, just before dying from the effects of prolonged exposure to the toxins in Robotropolis.
Details
Species: Spider
Color: Black
Eyes: Purple
Age: Unknown
Year Of Birth: Unknown
Residence: Currently dead from radiation poisoning
Likes: ???
Dislikes: ???
Abilities: Ninja Warrior, Can cling to walls like a spider
Weakness: N/A
Weapons & Items: Nunchuckus, Sai

Associations
Partner: Kodos
| | | |
| --- | --- | --- |
| | | |
Uncle Chuck - Debut: Sonic #30 (Sonic Archie Character)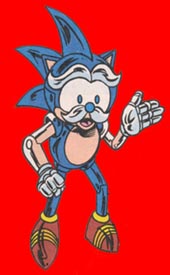 Chuck has had a hard life. He and his brother Jules were once two of the greatest heroes to the kingdom. Jules being the brawn, and Charles being the brains they were practically unstoppable! Charles was the Royal Engineer for the King and was given his title when he created the Roboticizer, a machine built to roboticize people's limbs lost in wars, accidents, and other tragedies. However, Warlord Julian (Later known as Robotnik) sabotaged the machine and made it so that it completely took away a person's will and roboticized them from head to toe. Charles didn't know of this deception, and when Jules was badly injured in the reat War, Chuck roboticised him, and Jules became a robotic vegetable, the first in Robotnik's army that would come along later.
Chuck blamed himself heavily and quit his job, opened up a chili dog chain raising his orphaned nephew Sonic (Jules' son) until Robotnik fully took over. Charles was later captured and roboticized in the Robotnik coup, and turned into a robot devoid of control just like Jules. However, thanks to Sonic, a power ring, and Charles own determimation, he broke control of his body away from Robotnik and served a spy for the Freedom Fighters. In the defeat of Robotnik, Charles finally felt at peace with himself after helping clear Sonic's name of murder in the supposed death of Princess Sally. He still blames himself for the roboticiser but he's not as harsh as he used to be.
Since being derobotized by Ceneca-9009, Sir Charles has become a senior member of the "Brain Trust" subdivision of the Freedom Fighters.

Details
Full Name: Sir Charles Hedgegog
Species: Hedgehog
Color: Light Blue
Age: Unknown
Year Of Birth: Unknown
Residence: Robotropolis/Knothole
Likes: ???
Dislikes: ???
Abilities: Knowledge, technical aptitude
Weakness: Extremely Self-Critical at times to the point where it seems he beats himself up over his mistakes
Weapons & Items: Roboticized weapons

Associations
Brother: Jules
Sister-in-Law: Bernie
Nephew: Sonic
| | | |
| --- | --- | --- |
| | | |
Universalamander - Debut: Sonic #4 (Sonic Archie Character)
You wanna stop me? You gotta go through me
Universalamander was created by Robotnik after a raid of capturing random animals which the only one was a salamander. The salamander was roboticized and enlarged because the buzzbombers mistook a certain button for the AC. As Universalamander trudged on threatening the Knothole Residents, Super Sonic (in his first appearance in the comic) appeared and shrunk it with some sort of shrink ray and Universalamander was left running away.

Details
Species: Robotic Salamander
Color: Green
Eyes: Red
Age: ???
Residence: Unknown
Likes: Chaos, Destruction
Dislikes: Anyone Who Faces Him
Abilities: Crush anything beneathe feet
Weakness: Lacks Intelligence
Weapons & Items: NA
Vector the Crocodile - Debut: Sonic The Hedgehog: Triple Trouble (sonic archie character)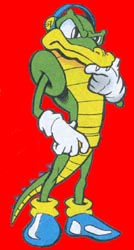 Usually the FIRST member of the Chaotix to get into trouble - Carefree and happy-go-lucky, Vector never lets a serious situation get in the way of a good time (or his favorite song). This cool croc is never without his headset, even in the most dire of battles. If there's anything Vector loves as much as music, it's eating and speeding when he isn't jammin' with his friends or investigating the local food courts. It's not yet known exactly how Vector got hooked up with the Chaotix or with Knuckles for that matter as it seems the two have known each other quite a while....Vector's buzzing spin attack, whereby he rolls himself up into a ring shape, is not as quick as the usual Sonic Spin, but it does have a much wider range. His Power Boost move works like a jump within a jump, giving this cool croc some extra height. Vector lived a normal crocodile life on the Floating Island. Early on, Vector learned to love music and has been listening to the upbeat songs all the way through childhood. Now, he helps Knuckles out by guarding the island with him and doing other things he might need help with. Vector can get quite annoying at times with his booming walkman and his rap talk, but he's ALWAYS good friend to others - except maybe Julie-Su - and can help out a lot when he's needed. Vector doesn't exactly trust Julie - to tell the truth he can't stand her - and finds it his job to keep an eye on her. He deeply resents the fact that Knuckles seems to often spend more time with her and less with them, but he's slowly accepting it.
Details
Full Name: Vector Crocodile
Nick Names: None
Species: Crocodile
Color: Green
Eyes: Black
Age: 16
Year Of Birth: 3219
Place Of Residence: The Floating Island - Swampy Swamp
Likes: Music
Dislikes: The Dark Legion
Abilities: Extremely powerful swimmer
Weakness: Hard to trust others
Weapons & Items: His walkman doubles as a super sonic sound device which allows Vector to manipulate sound, Ring Tether

Associations
Chaotix: Espio, Charmy, Mighty, Ray, Julie-Su
| | | |
| --- | --- | --- |
| | | |