Query Returned 154 Items
Sleuth Doggy Dogg - Debut: Sonic #27 (Sonic Archie Character)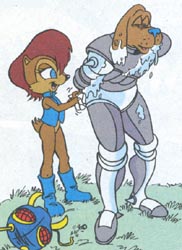 Now buddy buddy with Drago Wolf after their escape from the Devil's Island Gulag, Sleuth Doggy Dog was the original traitor to the Kingdom of Acorn! Serving in the Freedom Fighter's Spy Network, headed by Sonic's Uncle Chuck, Sleuth Dogg worked along side 2 other Networkers - Kicksalot and Fly Fly Freddy. What none of them knew however was that Sleuth was a double agent - working alongside of Doctor Robotnik! It led to many situations going wrong on reconaissance missions, such as Sonic getting captured and brainwashed, The Combots invading the Great Forest, and other such mishaps that involved the Spy Network. For the longest time - no one could figure out how Robotnik could seemigly anticpate much of their moves. And then came the dissapearance of Fly Fly Freddy....Upon a mission to gather Power Rings to the Zone Of Silence's crystallization effects upon King Acorn - Sleuth revealed himself as the treasonous traitor he was! Roboticizing Freddy, Sleuth and an army of Swatbots laid their attack at the Lake Of Rings in hopes to capture the FF's once and for all! Sadly, Freddy was shot down in the ensuing fracas, but Sleuth was brought down thanks the perfect timing of a Power Ring and the quick actions by Knuckles who had returned just in time to repay a favor. Sleuth was imprisoned and sentenced to the Devil Island Gulag for an indefinite sentence - but escaped along with the rest of the gang upon Robotnik's mass breakout! Currently he's on the run along with the rest of them - but with his tendencies to stab anybody in the back that comes his way, along with knowing a few Robotnik secrets, he can make a formidable opponent if necessary...
Details
Species: Bloodhound
Color: Light brown
Eyes: Black
Age: Unknown
Year Of Birth: Unknown
Residence: Currently None
Likes: Steaks
Dislikes: ???
Abilities: None
Weakness: N/A
Weapons & Items: Usually operating from a Swatbot suit, he uses the weapons that a Swatbot normally uses
| | | |
| --- | --- | --- |
| | | |
Snively - Debut: Sonic #8 (sonic Archie Character)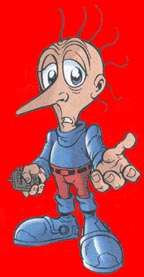 Snively is small and physically weak, but he's still quite formidable as an opponent. Assisting Robotnik in his takeover of Mobius at the end of the Great War, he served as Robotnik's second-in-command. However, the term "lackey" sometimes fit Snively better. He claims to have more technical and computer skills than Robotnik does, and often came up with the some plans. At the same time, his long nose and high nasal voice often leaves him subject to ridicule from Sonic and the Freedom Fighters.
Changing the DNA-based organic coding in the Ultimate Annihilator so that it would only effect Doctor Robotnik, Snively successfully killed his uncle. Because he continued his villainous ways, he soon after landed in jail. Snively and several other inmates escaped and due to his perceived leaderhsip role in the escape he became their de facto leader.
Because he was promised revenge against his father, Snively worked as Robotnik Mk II's assistant and allowed himself to be roboticized in a failed attempt to get the overlanders to let themselves be roboticized. However, he was later restored to flesh by Ceneca-9009. After the Xorda conflict, Snively disappeared into obscurity, but later returned to help the Freedom Fighters as a member of the "Brain Trust" subdivision. Living in Knothole, he developed a bond with his step-sister, Hope Kintobor.
In spite of his tendency to betray his allies, Robotnik recruited Snvely once again. Snively left Knothole with barely a word to anyone but Hope, and he regained his spot as Robotnik's lackey. Possibly because Snively has proven his cunning many times over, Robotnik seems to hold him in higher regard than he once did, and Snively now wears a green uniform similar in design to Robotnik's own clothing.

Details
Full Name: Colin "Snively" Kintobor, Jr.
Species: Overlander
Age: 29
Date Of Birth: Day 134 of the Year 3206
Place Of Residence: Robotropolis
Likes: Tuning up his laugh, plotting
Dislikes: His uncle, being his lackey
Abilities: N/A
Weakness: Small, short

Associations
Uncle: Julian Kintobor (Dr. Robotnik)
Father: Colin Kintobor
Step-Sister: Hope Kintobor
| | | |
| --- | --- | --- |
| | | |
Sojourner - Debut: Knuckles #16 (Sonic Archie Character)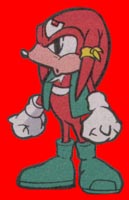 Sojourner is the whiner. The son of Thunderhawk, Sojourner doesn't have much going for him and seems to be the guy that would always prefer "the easy way out" rather than all the other hoopla the rest of the Brotherhood goes through. However, Sojourner does believe that the group is hypocritical since it uses technology to fight the Dark Legion.
Details
Species: Echidna
Color: Red
Eyes: Blue
Age: Unknown
Year Of Birth: Unknown
Residence: Haven
Likes: ???
Dislikes: Being involved in anything that doesn't directly concern Echidnaopolis
Abilities: Chaos powered abilities a Guardian possesses
Weakness: The fact that he likes the easy way
Weapons & Items: None

Associations
Father: Thunderhawk
Daughter: Janelle-Li
Sonic The Hedehog - Debut: Sonic #0 (Sonic Archie Character)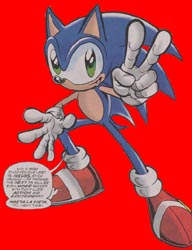 The most famous hero on Mobius, Sonic is best known for his defeat of Robotnik Prime and his heroic actions preventing the Xorda from destroying Mobius and its solar system.
Raised in Mobotropolis before Robotnik Prime's coup, Sonic was an average child except for his abnormal speed. Sonic lost his parents to the roboticizer and was taken in by his Uncle Chuck until he too was roboticized. During Robotnik Prime's coup Sonic and a few others were herded to Knothole Villiage by the Original Freedom fighters. It was from them that Sonic got the inspiration that owuld one day make him a hero.
As Sonic developed his incredible speed, his attitude became legendary. Irreverent, confident, impatient and energetic, Sonic fought constantly to overthrow Robotnik Prime and continues the fight against his successor, Robotnik Mk II.
In addition to his uncanny speed, Sonic has the ability to absorb Chaos Energy. Absorbing a great ammount of this energy causes him to transform into Super Sonic. As Super Sonic, all of his natural abilities are enhanced and he gains the ability to fly, among other strange powers. His skin and eye colors change to yellow and red respectively, and he takes on an aura of yellow energy. It has happened also that Sonic has transformed even further into Ultra Sonic. Ultra Sonic is even more powerful and has the ability to adapt to his surroundings by taking on new forms.
After the Xorda attack, Sonic was teleported into space, where he spent a couple months trying to return to Mobius. But when he returned, a whole year had passed, and things were very different. Sonic is still not completely adapted to the changes he has seen.

Details
Full Name: Olgilvie Maurice Hedgehog
Nick Names: The Blue Blur, True Blue
Species: Hedgehog
Color: Blue
Eyes: Green
Age: 16
Date Of Birth: Day 162 of the Year 3220
Place Of Residence: Knothole Village
Abilities: Super Speed, Spin Dash Attack, Figure Eight Move, Super Peel-Out Move, Whirlwind Attack
Weakness: Very very impatient, likes to jump into things without using his brain first.
Weapons: Power Rings, Chaos Emeralds

Associations
Uncle: Sir Charles Hedgehog (Uncle Chuck)
Father: Jules The Hedgehog
Mother: Bernadette The Hedgehog (Bernie)
| | | |
| --- | --- | --- |
| | | |
Spectre - Debut: Knuckles #16 (Sonic Archie Character)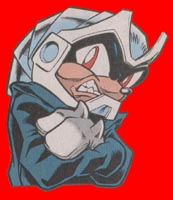 Spectre is the wild card of the Brotherhood. Dark and ruthless, he is always trailed by a cloud of smoke, his fur is jet black and his eyes are blood red and his head is covered with a robotic visor. He's the most mysterious member as he doesn't speak much but when he does he seems to display an immense hatred against the Dark Legion, who he seems to enjoy fighting.
Details
Species: Echidna
Color: Black
Eyes: Red
Age: Unknown
Year Of Birth: Unknown
Residence: Haven
Likes: ???
Dislikes: The Dark Legion
Abilities: The various chaos abilities Guardians possess (uses telekinetic & blasting powers mostly)
Weakness: None
Weapons & Items: None

Associations
Mother: Voni-Ca
Father: Tobor
Son: Thunderhawk
Station Square - Debut: Sonic #80 (Sonic Archie Place)
In Mysterious Cat Country and inside a mountain with a plane sticking out of it, there is a city that is completely legendary and is called the Hidden City of the Ancients. In this city are the only known humans of Mobius, who have 5 fingers compared to the overlanders who have 4 fingers. Six Super Emeralds are used to generate power throughout the city and until Robo-Robotnik helped revive Chaos, the citizens of this city have kept themselves completely secluded from the rest of Mobius. The only visitor prior to Robo-Robotnik, the Freedom Fighters, and Knuckles was Nate Morgan during his travels across Mobius until he reached the south pole.

Details
Population: 23,856,427 humans and overlanders

Associations
Important Residents: Mayor Bullyani, the President, Commander Brass
Steppenwolf - Debut: Knuckles #1 (Sonic Archie Character)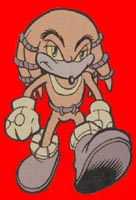 Always friendly with his cousin Menniker, he helped out his father, Edmund, in enforcing the "new" technology guidelines for the citizens of Echidnaopolis. However, unlike his father, he paid attention to the growing opposition which walked around the city in dark hoods. When he was found out watching a secret meeting of this group, Steppenwolf managed to avoid the laser fire and get a boogie to escape, but the boogie was shot down. He survived the crash and hid. However, members of the group were looking for him and Edmund, who was looking for Steppenwolf, was shot & killed from behind when he attack two of their members. After the members were gone, Steppenwolf cried over his dad's body and was eventually approached by the fire-ant called Christopheles. Christopheles promised to help and trained Steppenwolf in the sciences, built up his strength, and taught him how to access the power of the chaos emerald. Christopheles finally took Steppenwolf to a "secret" top of the line facility called "Haven." Meanwhile, the warring between the followers of the Council new law and the Dark Legion (as it was finally known as) got worse. Steppenwolf approached the Council and reminded them that there's always more than one option in whatever happens just before leaving to confront the Dark Legion. When he approached the Grandmaster, he was very surprised to find out that it was his cousin, Menniker. Steppenwolf still opened the portal to exile the Dark Legion though he didn't like it at all. Years later, Brutus Kintobor came to the Floating Island with evil intentions, but Steppenwolf had the fire-ants mentally attack all the overlanders who ran away promising not to return. This event caused him to allow his son, Moonwatcher, to learn about Haven as the two then alternated duties over watching the Floating Island and checking out the mainland of Mobius for any beings that might try to hurt the echidnas on the Floating Island. He obviously went down in history as a very important echidna among the citizens of Echidnaopolis as many generations later Hawking would show Knuckles a statue of Edmund & Steppenwolf each holding up the Floating Island.
Details
Species: Echidna
Color: Unknown
Eyes: Unknown
Age: Unknown
Year Of Birth: Unknown
Residence: Echidnaopolis (dead)
Likes: His father
Dislikes: ???
Abilities: Various tuning into the energies of a chaos emerald
Weakness: None
Weapons & Items: None

Associations
Father: Edmund
Uncle: Dimitri
Cousin: Menniker
| | | |
| --- | --- | --- |
| | | |
Substitute Freedom Fighters - Debut: Sonic Live (Sonic Archie Group)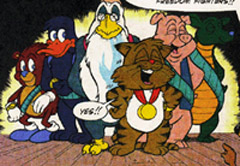 The Substitute Freedom Fighters were created after an incident involving the total capture of the core Freedom Fighters after falling into a trap Robotnik's. They managed to rescue them and it was decided they needed a backup group and Larry Lynx was chosen to become the leader.
Details
Current Member Names: Larry, Cyril, Dylan, Penelope, Hamlin, Arlo
Year Of Birth: N/A
Age: Varies among members
Base Of Operations: Knothole City
Swatbots - Debut: Sonic #1 (Sonic Archie Character)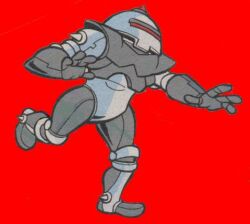 Usually found in the employ of Doctor Robotnik, Swatbots are most likely found patrolling the streets of Robotropolis. Programmed with the "Priority One" code, when Sonic the Hedgehog is sensed in the area they will go on a red alert and attack at all costs. Swatbots are easily taken out by Sonic most of the time, but they still maintain and serve a good purpose to the Doctor when necessary.
Details
Species: Robot
Color: Gray
Residence: Scattered throughout Mobius
Abilities: None
Weakness: None
Weapons & Items: Blasters
Tails - Debut: Sonic #0 (sonic archie character)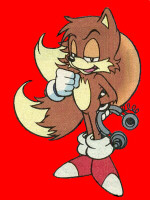 I wanna fly high so I can reach the highest of the heavens. Somebody will be waiting for me, so I have gotta fly higher!
Tails seemed to have been abondened after his parents were roboticized as a little kid, but even as a baby he was fond of Sonic and has hung out with Sonic, Sally, Rotor and Antoine from a very young age. His two tails have been of invaluable assistance to the Freedom Fighters as well. Tails Idolizes Sonic and wants to be like him. He's also committed to his cause and gets very determined to do his job when he takes part in missions, resulting in an extreme bravery.
When infused with enough Chaos Energy, Tails has the ability to become Turbo Tails. As Turbo Tails, all of his natural abilities are enhanced. He is also invincible to all attacks, and glows a dark orange color.
On one of his earliest solo adventures, Tails learend that he was the Chosen One who would bring about the Great Harmony. Although, as the Chosen one, Tails has defeated Master Mogul and saved the multiverse, it is possible that there will be more surprises in store for him.
Tails is a member of the "Brain Trust" subdivision of the Freedom Fighters but also joins the combat team on occasion. Currently, he is not on speaking terms with Sonic after finding out that Sonic was dating his crush, Fiona Fox.

Details
Full Name: Miles Prower
Nick Name: Tails
Species: Double Tailed Fox (debated at times as a Kitsune)
Color: Orange/Brown
Eyes: Light Blue
Age: 11
Date Of Birth: Day 297 of the Year 3225
Place Of Residence: Knothole Village
Abilities: Skilled With Magic, Good at Machine Maintenance, Flight Mode (Using Twin Tails), Whirlwind Attack, Helicopter Attack
Weapons: Power Rings, Chaos Emeralds, Tornado - Biplane, Sea Fox - submarine
Weakness: Not as fast as Sonic

Associations
Father: Amadeus Prower
Mother: Rosemary Prower
Uncle: Merlin Prower (Magician)
| | | |
| --- | --- | --- |
| | | |