Query Returned 154 Items
Ray the Squirrel - Debut: Knuckles #26 (Sonic Archie Character)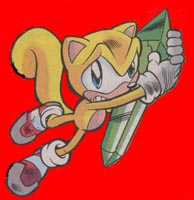 Several years ago, Ray was among many other Mobians being taken to an unknown base controlled by Robotnik. On the way to the base, Ray was polite to everyone and even gave up his seat to a girl. He also met Mighty, who was also being held captive, and Sonic, who was on one of his first ever Freedom Fighter missions. Inside the base, he and Mighty attempted to help a fox named Fiona when a robot guard said that "other plans" were in store for her. Eventually the guards put down their rebellion and put Mighty and Ray in separate cages, while Fiona was taken to Robotnik himself. Sonic freed Mighty and Ray and the three tried to rescue her. However, things didn't go according to plan and when Ray touched the power stone, he mysteriously began to disappear. Sonic made a mad dash to get him, but he didn't succeed. Mighty was very upset over the whole thing, but Sonic told Mighty to never give up hope. When Mighty returned to the base recently along with Fiona and Nic, to everyone's surprise Ray was there still holding onto the power stone, but unable to escape. Nic "freed" Ray by blasting the gem, and Ray went with Mighty to the Floating Island where he was introduced to Mighty's friends in the Chaotix.
Details
Species: Squirrel
Color: Yellow
Eyes: Blue
Age: 15
Year Of Birth: 3220
Residence: Floating Island - Rocky Hill with Mighty
Likes: Helping others
Dislikes: ???
Abilities: Fly
Weakness: N/A
Weapons & Items: None

Associations
Best Friend: Mighty
| | | |
| --- | --- | --- |
| | | |
Remington - Debut: Knuckles #4 (Sonic Archie Character)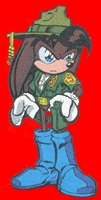 Knuckles cannot be everywhere at once - especially since Echidnaopolis rematerialized on the Island. Guardians guard the island but underneath them are the Constables that leads the Echidna Security Team in Echidnaopolis - The current one being the lop haired Remington. Contemplative and easy to get along with, Remington gets his orders i.e Knuckles and also has a secret connection to enigmatic Brotherhood. Remington, who was trained by the previous Constable Holmes, acts as a police chief to Echidnaopolis - oftentimes recruiting The Chaotix to handle some jobs in town. Though he is by no means a true member of The Chaotix team he will help and often gives the orders in Knuckles' absence to them. A well known villain of Remington and the Chaotix are none other than the Drug Dealer and Mob Boss - Downtown Ebony Hare, whose LSD food poisoning case resulted in the death of Mello, the near death of Charmy, and put the entire Chaotix into the hospital. Remington seeks to make sure people like Ebony are never let loose into the streets again - and though he can be condescing at times, he keeps his place with Knuckles and does realize that IN THE LONG RUN - it is Knuckles that gives the rules. Since Robotnik took control of Angel Island, however, Remington has become a lowly peasant like the rest of the echidnas. He was apparently killed, but is being stored by Robotnik for uncertain purposes.
Details
Species: Echidna
Color: Brown
Eyes: Blue
Age: 27
Year Of Birth: 3208
Residence: Echidnaopolis
Likes: ???
Dislikes: ???
Abilities: Excellent Physical Fighter, Good with diplomacy
Weakness: None
Weapons & Items: Occasionally carries a gun

Associations
Girlfriend: Komi-Ko
Father: Kragok
Aunts: Lien-Da, Julie-Su
| | | |
| --- | --- | --- |
| | | |
Renfield the Rodent - Debut: Knuckles' Chaotix (Sonic Archie Character)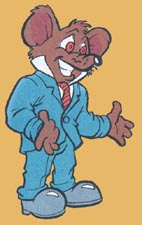 Renfield runs the Happyland Amusement Park on the Floating Island. First he helped Robotnik lure the Freedom Fighters into a trap, which resulted in the formation of the Chaotix since Knuckles needed help to save them. The next time he appeared he was using a "secret sauce" on the food served in the park to keep kids wanting to come back to eat the food at the park. However, he wasn't in control of the operatiion as Downtown Ebony Hare took over and put Renfield in his place. The dosage on the food was too high and resulted in Mello's death and putting the original four Chaotix members in the hospital. After Remington and the Chaotix shut down Ebony's operation, Renfield was allowed to continue running the amusement park--WITHOUT the sauce (unless he wants Remington to arrest him as an accomplice).
Details
Species: Rat
Color: Brown
Eyes: Reddish Brown
Age: Unknown
Year Of Birth: Unknown
Residence: Happyland Amusement Park on the Floating Island
Likes: Making Money
Dislikes: ???
Abilities: Slyness
Weakness: Can't defend himself
Weapons & Items: None

Associations
Bodyguard: Ripper
| | | |
| --- | --- | --- |
| | | |
Rob O' The Hedge - Debut: Knuckles #11 (Sonic Archie Character)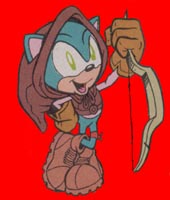 Faraway in the country of Mercia there once was a band of Freedom Fighters that fought against a tyrant known simply as "The High Sherriff" - an underboss of Doctor Robotnik. Their leader, a hedgehog called Rob headed the Krazy Kritter Freedom Fighters and their fight for freedom went on - until distaster struck...The entire roster of the Krazy Kritter FF's fell to the roboticizer, leaving Rob behind to fend for himself against the sherrif. Rob sent his only relative - a cousin named Amy Rose - off to Knothole village where she would be safe while he kept the fort. Enter a couple of years later when Sonic, Knuckles, and Tails arrive. While Knuckles had come face to face with Athair, an associate named Yanar, and a group of "lost echidnas" known as The Forgotten Tribe, Sonic, on quest to find Ixis Naugus, discovered that the High Sherriff was really the roboticized father of Antoine D'Coolette, one of the Knothole Village Freedom Fighters. Taken prisoner by General D'Coolette, Sonic, Tails, and Yanar awaited their fate while Knuckles, Rob, and an echidna named Mari-An sought to find out what became of the passengers of Tails' crashed biplane and the now kidnapped Forgotten Tribe. Sonic and Tails, after their own escape, helped Rob to free what was left of the Forgotten Tribe and save Yanar from facing a sentence of a public hanging but in the end it was not enough to restrain General D'Coolette who managed to escape in an explosion. Sonic and company rescued their friends and The Forgotten Tribe and parted ways with Rob, vowing to return. Afterwards - while on a quest to locate the lost city of Albion with Knuckles, Rob discovered his true love in the form of Mari-An, the same echidna that assisted Knuckles before. Together the two stayed behind and continue to live in the forests of Mercia. And together they guard the Stonehenge-like entrance to Albion.
Details
Species: Hedgehog
Color: Cyan
Eyes: Green
Age: Unknown
Year Of Birth: Unknown
Residence: Mercia
Likes: ???
Dislikes: ???
Abilities: Archer/ Assortment of trick Arrows
Weakness: A tad clumsy
Weapons & Items: Bow and Arrows

Associations
Cousin: Amy Rose
Wife: Mari-An (has a child)
| | | |
| --- | --- | --- |
| | | |
Roboticizer/Deroboticizer - Debut: ??? (Sonic Archie Item)
The Roboticizer was originally developed by Sir Charles Hedgehog for medical purposes. It could transform a limb or even an entire body from a thing of flesh into a thing of metal and circuits. When Jules was injured, Sir Charles used the Roboticizer to make him a robot. It worked, but Jules became a zombie who could not talk or think. Charles blamed himself, not knowing that it was Julian (also known as Robotnik) who caused this. Shortly after, Robotnik began using Roboticized Mobians as his slaves. A Roboticized Mobian, or "Robian" normally has no free will of his or her own and is foced to work as a drone for Robotnik. Robians in close proximity to the Ultimate Annihilator were given their free will back, but this was later taken away from all but Jules and his wife, Bernie. A Power Ring can often restore free will, as can the Sword of Acorns. A Robian can only be "deroboticized" with a deroboticizer or the machine that roboticized him or her, and only then if all of his or her parts are the original parts from the roboticization process. In other words, making modifications to ones own robian body will eliminate the possibility of deroboticization. If an Overlander is Roboticized unwillingly, he or she becomes a statue.
All Robians were "derobotized" by Ceneca-9009, except Jules, for medical reasons. It is apparently impossible to to Roboticize mobians.

Details
Inventor: Sir Charles (Uncle Chuck)
First Roboticized Mobian: Jules Hedgehog
| | | |
| --- | --- | --- |
| | | |
Robotizer/Derobotizer - Debut: Sonic #118 (Sonic Archie Item)
The Robotizer, or Derobotizer, is similar to the Roboticizer, but it as also different in many ways. Simply put, the Robotizer can turn any being of flesh into a being of metal, or any being of metal into a being of flesh. This means that any robot in a body that was not created through Roboticization or Robotization can be Derobotized, regardless of tampering. For instance, Snively and Robotnik MkII were Derobotized while in froms that were created from scratch. The Robotizer was invented long before the Roboticizer. It was invented to turn the metallic inhabitants of Biotex into flesh. It was later used to turn Sonic and Tails into robots and back, at the same time derobotizing Robotnik MkII and Snively. Finally, it was used illegally by its creator to derobotize all Robians (except Jules).

Details
Inventor: Ceneca-9009
Robotnik MkII - Debut: Sonic #19 (Sonic Archie Character)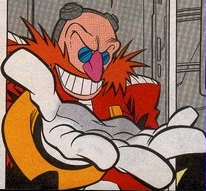 Robotnik MkII, formerly Robo-Robotnik, comes from another zone where he took over all of Mobius and defeated its version of Sonic. While Sonic Prime and the Freedom Fighters of Mobius Prime thought that they had gotten rid of him a long time ago, Robo-Robotnik survived because of his ability to transfer his consciousness into another robotic body. He has come to Mobius Prime to conquer it and defeat Sonic and the Freedom Fighters, who defeated the original Robotnik Prime.
He once used Snively as a lackey (completely aware of the fact that Snively caused the death of Robotnik Prime) and for a time he posessed the ability to roboticize anyone with a touch of his hand. He planned to roboticize the overlanders, led by Colin Kintobor, that were living in Robotropolis thinking the city is a safe haven from the "warlike and horrible" furries. It was partially foiled by Sonic and Sally, though Hope lost her family to roboticization. Later, he lost Robotropolis due to a missile attack launched by Station Square's O.T.I.S. and the Bem returned him to being a flesh and blood overlander.
More recently, Robotnik has apparently not been in touch with Snively, who has defected to join the Freedom Fighters. Instead, he relies on the aid of his robot "daughter," Mecha, and A.D.A.M., a sentient computer virus.
This entry describes the version of Robotnik formerly known as Robo Robotink, originating in a parallel zone. For other versions of Robotnik, see Dr Robotnik (disambiguation).

Details
Full Name: Robotnik Mach 2
Nick Names: RoboRobotnik (no longer applies), Eggman
Species: Overlander
Eyes: Red
Age: 46
Date Of Birth: Day 253 of the Year 3189
Place Of Residence: Robotropolis
Likes: Toturing others, Roboticization
Dislikes: Any other species than himself
Abilities: Roboticize anyone with his hands
Weakness: Shape
Weapons & Items: Swatbots, Shadowbots, Combots, Roboticizer

Associations
Adopted Nephew: Snively
"Son": Adam
"Daughter: Mecha
| | | |
| --- | --- | --- |
| | | |
Robotnik Prime - Debut: Sonic #0 (sonic Archie character)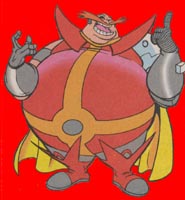 Years ago, in the time of the Great War, Robotnik Prime (then called Julian) was marked for death by his fellow Overlanders on the grounds of betrayal. Running away from the doom that awaited him, he and his nephew Snively took refuge with the benevolent King Acorn - who was already in dire need of help due to the worsening consequences of The Great War. Feeling that he could bring victory to the Mobians, King Acorn appointed Julian as Warlord in exchange for his knowledge of the Overlander armies. With Julian's charge, the Mobians won the Great War and in 3224, the last day of the Great War, King Acorn ordered the dismantling of the War Ministry and Julian's appointment to Minister of Science- just as Sonic's Uncle Chuck abandoned the post due to the roboticization of Jules, Chuck's brother.
Julian, however, had other plans. He had actually stolen the plans for the roboticizer from Sir Charles, and launched a coup on all of Mobotropolis. Rechristened "Ivo Robotnik", he banished King Acorn to the Zone of Silence indefinitely, and took over the now rechristened Robotropolis. From then on Robotnik gained more and more power through treachery, until he had virtually the entire planet under his rule. He uses the roboticizer as his main weapon, turning the good people of Mobius into his mindless robotic slaves. He also has an endless army of SWATbots and Badniks to carry out his evil intentions.
Thanks to Sonic and the Freedom Fighters, and some evildoings on Snively's part, Robotnik died in an attempt to kill Princess Sally and wipe Knothole off the face of the Planet with the Ultimate Annihilator - a large electron gun controlled by satellites that can focus on anywhere on the planet. When the Annihilator backfired, Robotnik Prime was wiped out of existence.
This entry describes the version of Robotnik from Mobius Prime, now deceased. For other versions of Robotnik, see Dr Robotnik (disambiguation).

Details
Full Name: Ivo Robotnik
Birth Name: Julian Ivo Kintobor
Nick Names: Ivo, Buttnik, Warlord Julian
Species: Overlander
Eyes: Coal Gray
Age: 45
Date Of Birth: Day 253 of the Year 3189
Date Of Death: Day 164 of the Year 3235
Place Of Residence: Robotroplis
Likes: 10w40, Roboticization, Torturing others
Dislikes: Any species other than himself
Abilities: Super Genius IQ, Huge mechanical intellect
Weakness: Very large and overweight
Weapons & Items: Swatbots, Roboticizer, Misc other other bots

Associations
Nephew: Snively
Brother: Colin Kintobor
Niece: Hope
| | | |
| --- | --- | --- |
| | | |
Robotropolis - Debut: Sonic #0 (Sonic Archie Place)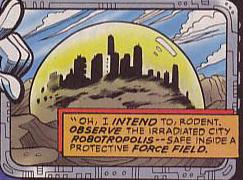 Robotropolis is currently uninhabited by organic life forms. It was destroyed by the Station Square nuclear missile attack, and is surrounded by a protective sheild. It's just as much of a threat as ever-- if the sheild were taken down, the nuclear fallout would be released into the area, and the consequences might be disastrous. For information on the city's history, see
Mobotropolis.
Details
Inhabitants: Robots
Location: Not too far away from the Great Forest

Associations
Important Past Resident: Robotnik Prime, Robo-Robotnik/Eggman and Snively
Rosie - Debut: Sonic #47 (Sonic Archie Character)
Rosie is the "mother-figure" for the Freedom Fighters. Sally's governess when Sally was very young, Rosie also watched over Sonic, Rotor, Antoine, and Tails when they were kids in Knothole. She's always calm and ready to listen to everyone's problems and give advice as needed. Rosie is also pretty perceptive in figuring out how to say or do just the right thing to cheer up anyone, especially the Knothole Freedom Fighters, whenever they need it.

Details
Species: Woodchuck
Color: Brown
Eyes: Blue
Age: Unknown
Year Of Birth: Unknown
Residence: Knothole
Likes: Helping others
Dislikes: ???
Abilities: Understanding the feelings of others
Weakness: N/A
Weapons & Items: N/A