Sonic HQ / Gaming Info / The Games List / Sonic 3 & Knuckles - Sega Genesis, Sega Megadrive
[an error occurred while processing this directive]

Title: Sonic The Hedgehog
US Release Date: June 23, 1991
Japan: ???
Europe: ???
System Console: Sega Genesis/Megadrive
Genre: 2D Platformer
Cart Size: 4 megabits
First Appearances: Sonic The Hedgehog, Doctor Robotnik, Badniks, Scrap Brain
Other Sonic 3 & Knuckles Sections
[an error occurred while processing this directive]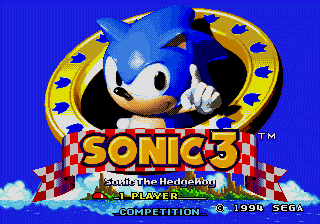 Even though called Sonic 3 this is the fourth installment in his series of Sega Genesis games. This game was released on February 2, 1994, "Hedgehog" Day. The zones in this game may only be 2 acts, but the acts were twice as big as the ones in Sonic 2. Therefore there was a lot more to discover in this game. Just realize that if you're locking on Sonic and Knuckles you'll be heading over ground not mentioned in here sometimes. Doctor Robotnik has returned but this time he's not alone....this time he's brought Knuckles The Echidna and rebuilt his greatest invention - The Death Egg!!! Enjoy!
[an error occurred while processing this directive]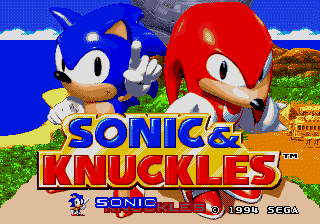 Released on October 14, 1994, Sonic and Knuckles was a revolutionary game because it was the first (and only game so far) containing Lock On Technology, which gave it the ability to hook up to other games. In this case, you could plug Sonic 2 or 3 into the top of the Sonic and Knuckles cartridge to play as Knuckles in those games. It boosted Sonic 3 even farther, Knuckles traveled over new ground in some zones and now there were 14 emeralds. Because of there being 14, you could now access Hyper Sonic, Hyper Knuckles, and Super Tails. You can also stick Sonic and Knuckles in the Genesis and play it on its own. The zones are about the same size as the ones in Sonic 3, and most of them have 2 acts. Some only have 1. Like Sonic 3, there is a boss in every act, except for Hidden Palace Zone.