Special Zone - This Looks Awful Familiar...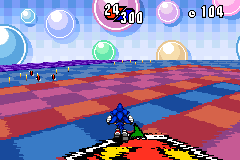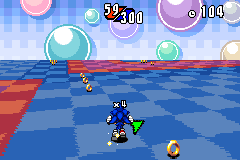 The Special Stages are back, and a whole lot tougher to get into. In any given act, you'll find Special Rings (Sp Rings) strewn about the stage. Collect all seven without losing a life and finish the act to gain entry.
The stages themselves aren't all that different from Sonic CD's: Free-roaming, mode-7 fests, although not quite as colorful. With rings littering the stages, it's your job to collect a set amount within the time limit. Do so, and you win yourself a Chaos Emerald. But trying desperately to stop you is an old "friend" of Amy's from Sonic Adventure, Zero!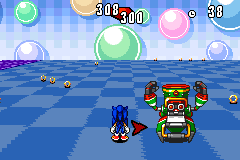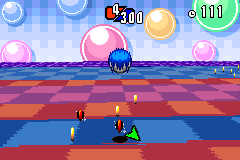 Zero will make a direct beeline to you immediately after the stage begins. A little arrow pointer will help you keep track of his whereabouts: it'll point towards him in any direction, and changes color due to Zero's proximity. Green tells you he's far off, yellow means he's closing in, and red signifies he's almost upon you! Fortunately, you can bat him away with a well-timed jump. Other things to watch out for are bounce pads (for grabbing elusive rings) and dash pads. Also, you'll find red objects among the rings. These count as 5 rings toward your total.
In order to make the quota, you'll have to employ the 'ring multiple' factor. After collecting a few rings in a row with no more than a second in-between them, you'll see a multiplier (x2) appear above your character's head. Any rings collected while this is activated will be multiplied by whatever number appears (in this case, you'll gain two rings for every one you pick up). Keep collecting rings in succession to raise the multiplier... it's possible to take it up as far as x9 (one ring=nine!). With this knowledge, it shouldn't be long before you complete your quota. However, the stage won't end until time runs out. In the meantime... watch out for Zero.

In order to unlock some of the hidden modes and secrets in Sonic Advance 2, you'll need to collect seven emeralds for EACH character. That's 28 emeralds total. (Need help finding those elusive rings? Try this tasty little FAQ, brought to you by yours truly.)