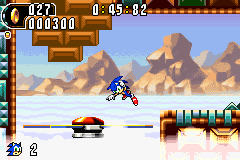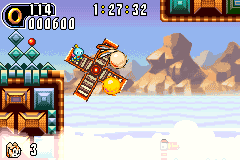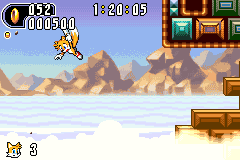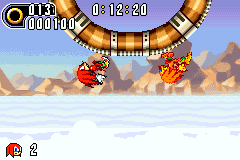 In this newly-seen area of Angel Island, great gusts of wind will keep you from falling into the great abyss below. Widely considered to be the hardest of the zones in Sonic Advance 2, you'll have to stay up as high as possible to avoid certain death. Along the way, you can use floor-mounted fans to guide you in the right direction, or floating springs to keep you aloft. Windmill-like devices will either hurt or help you, depending on how you approach one. They might toss you into the air, towards the ground, or across the screen. Learn to use them wisely.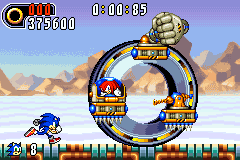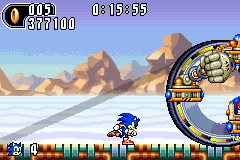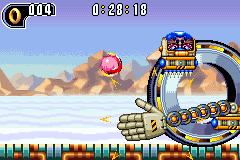 This Boss Attack is different depending on who you're playing as. If this is your first time here with Sonic, you'll be up against Knuckles! Anyone else, and it'll be Eggman at the wheel.
Both use the same contraption: a monstrous ring-wheel machine with 3 slowly rotating parts. The cockpit (and your specific attack target), a laser gun that fires sporadically, and the gloved hand, the most hated appendage in all of Sonic fandom. Why? Simple. Unlike other things like spikes or projectiles (where, if you're hit once you either lose all your rings, or you die if no rings), this thing negates that rule, occasionally landing a killing blow that takes you out, rings or no rings. Learn to avoid the gloved one at all costs! Aim for the cockpit, or alternatively (and preferably), break the laser gun. 4 hits will destroy the gun, and 8 will do in the cockpit, taking out the machine (and that gloved menace) with it.
As Sonic, after destroying the machine (and after a stern talking to) Knuckles will join up.