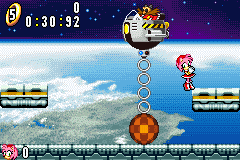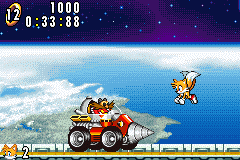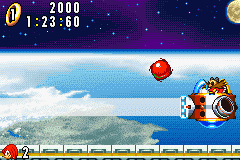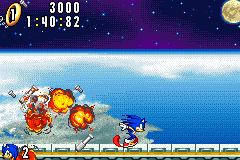 Eggman makes his last stand here, and as such this zone is incredibly short. However, you'll be battling a total of 3 different bosses here. First up in Eggman's arsenal is a blast from the past: an exact replica of Sonic 1's Green Hill Zone boss (with SA-design flavor)! Dig that classic boss tune. Just avoid the large metal ball and strike Eggman 4 times to disable him (must of been in a hurry to put this one back together!). Travel along the path afterwards and meet Eggman's next classic revival: Sonic 2's Emerald Hill Zone boss. Still as easy as the first time it reared its metallic drill. Jump to get out of the way and crash down hard. 4 hits and it's scrap. Follow Eggman to his next challenge.
This time Eggman gets serious and employs a NEW machine...and a tough one at that. His new pod utilizes a rotating shield that protects it from your attacks. The only time you can hit him is when the shield drops. That's also the time Eggman decides to attack. He'll use 3 different ways to strike at you:
1. A laser beam that travels across the screen, jump to avoid it.
2. Balls of energy that bounce past you, shot at high or low angles. Keep low to avoid them.
3. Use of a mechanical arm that will seek you out anywhere on screen. If it grabs you, it'll shake and slam you into the ground. By the time you recover, all of your rings will have vanished. Avoid at all costs.
All three of his attacks come by very quickly, and leave very little room for error. Also, every once in awhile Eggman, rather than attack directly, will float over to the other side of the screen. Make sure to jump out of his way. It'll take a good 8 hits to knock this boss out of commission. Afterwards, Eggman escapes, and the space platform begins to self-destruct!
SPECIAL NOTE: If you have collected all of the Chaos Emeralds, and if you have completed each character's game beforehand, AND this is your SECOND time beating X-Zone with Sonic, get ready to travel as Super Sonic to...