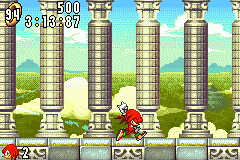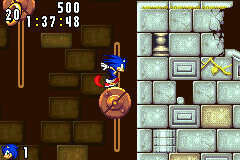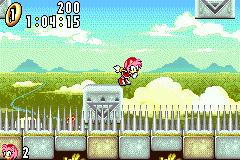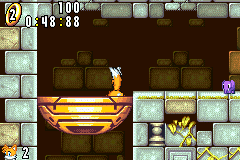 Eggman's unmistakable trail has led Sonic and cohorts back to Angel Island, the humongous floating isle kept aloft in the sky by the power of the Master Emerald, and previously the setting of Sonic 3. This zone looks like a combination of Marble Garden Zone (Sonic 3) and Sky Sanctuary Zone (Sonic & Knuckles). Here you'll find massive pits and cloud platforms to bounce across said pits. The spinning bowl platforms returns, along with the grinding rails. You'll also find a new transportation device that travels along a groove in the wall as you run on it. Watch out for platforms that fall as soon as they're stepped on, and boulders that come tumbling out of crevices as you pass them.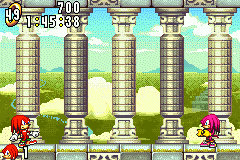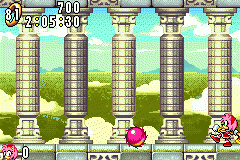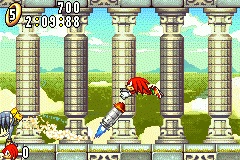 Reaching the end of Act 2, you'll find Knuckles blocking your path. Wasn't he one of the good guys? No one is more surprised than Knuckles himself! Take on the faux Knux, who attacks in a very similar fashion to S&K's Knuckles battle: he'll use his patented glide attack and punches, with some spin dashes thrown in for good measure. You'll notice that this fight is ALOT tougher than in Sonic & Knuckles, and it's gonna get alot tougher! After he receives 4 hits, the fake casts off its skin and shows its true form: that of a mechanical doppelganger not unlike Mecha/Silver Sonic! In this form its speed increases, and utilizes a new attack in the form of heat-seeking missiles shot straight outta his mouth! You'll need to attack it 4 more times to trash it for good. Eggman is NOT pleased with his new robot's failure, and vamooses out of there.


In Act 2, be on the lookout for the round brown platforms that turn and move as you run on them. You'll know their nearby when you see a stone background rather than clouds and sky. Try to head to the top of the screen, and if you encounter grey blocks that slowly fall when stepped on, you're on the right track. Keep going 'till you hit the spring.